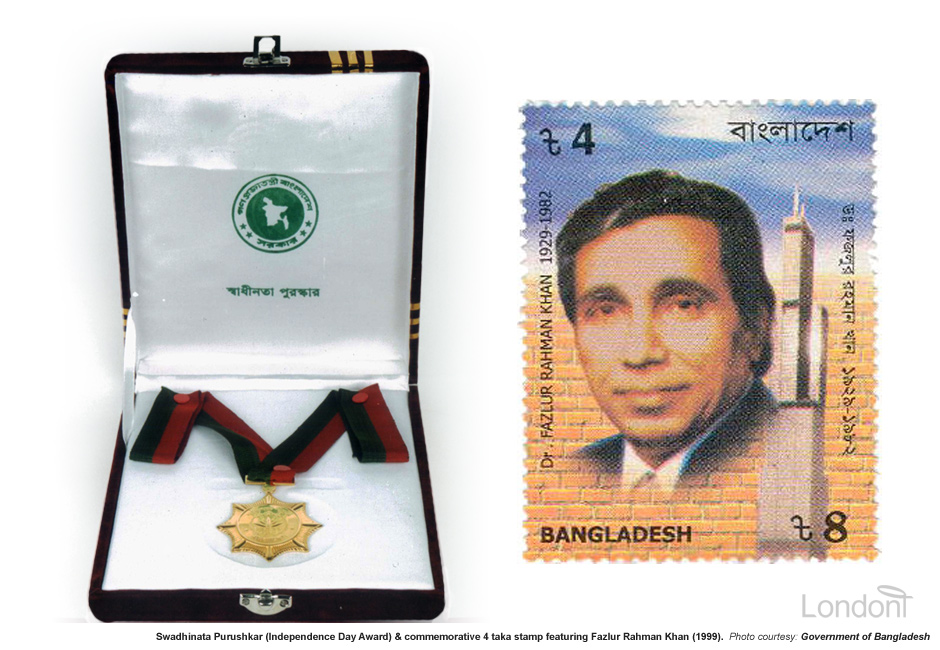 Swadhinata Purushkar and honorary stamp by Government of Bangladesh
In 1999 the Government of Bangladesh posthumously awarded Fazlur Rahman Khan the 'Swadhinata Purushkar' (Independence Day Award), the country's highest state honour, in recognition of his contribution. The people of Bangladesh were particularly grateful for Fazlur Khan's grand efforts during 1971 Swadhinata Juddho in creating public opinion and amassing emergency fund for Bengalis in need.
Fazlur Khan received the prestigious award along another eminent Bengali - architect Mazharul Islam.
Later, a commemorative postal stamp was published in memory of Fazlur Khan. He face appeared in a 4 taka stamp along with a small replica of his most famous design, the Sears (Willis) Tower. Since stamps are widely circulated functional object, the Government of Bangladesh had hoped that this would arouse greater curiosity amongst the public as most Bengalis regrettably are unaware, or know very little, about this child of the Bangladesh soil.
'Most famous Bangladeshi-American of the 20th century'
In May 2005 the Bangladeshi-American Foundation, Inc. (BAFI), a non-political membership-based non-profit organisation, posthumously honoured Fazlur Rahman Khan by conferring him the title of the most famous Bangladeshi-American of the 20th century.
US President Barack Obama praises American-Muslim who "built our tallest building" (i.e. Fazlur Khan)
On 4 June 2009 in an address to the Muslim world at Cairo University, Egypt, US President Barack Obama paid tribute to the American Muslims who have enriched the United States. One of the accomplishments he listed was that an American Muslim "built our tallest building" - a reference to Fazlur Rahman Khan who designed Chicago's Sears (Willis) Tower.
I also know that Islam has always been a part of America's story. The first nation to recognize my country was Morocco. In signing the Treaty of Tripoli in 1796, our second President, John Adams, wrote, "The United States has in itself no character of enmity against the laws, religion or tranquility of Muslims." And since our founding, American Muslims have enriched the United States. They have fought in our wars, they have served in our government, they have stood for civil rights, they have started businesses, they have taught at our universities, they've excelled in our sports arenas, they've won Nobel Prizes, built our tallest building, and lit the Olympic Torch. And when the first Muslim American was recently elected to Congress, he took the oath to defend our Constitution using the same Holy Qur'an that one of our Founding Fathers - Thomas Jefferson - kept in his personal library.

US President Barack Obama praises Muslim contribution to America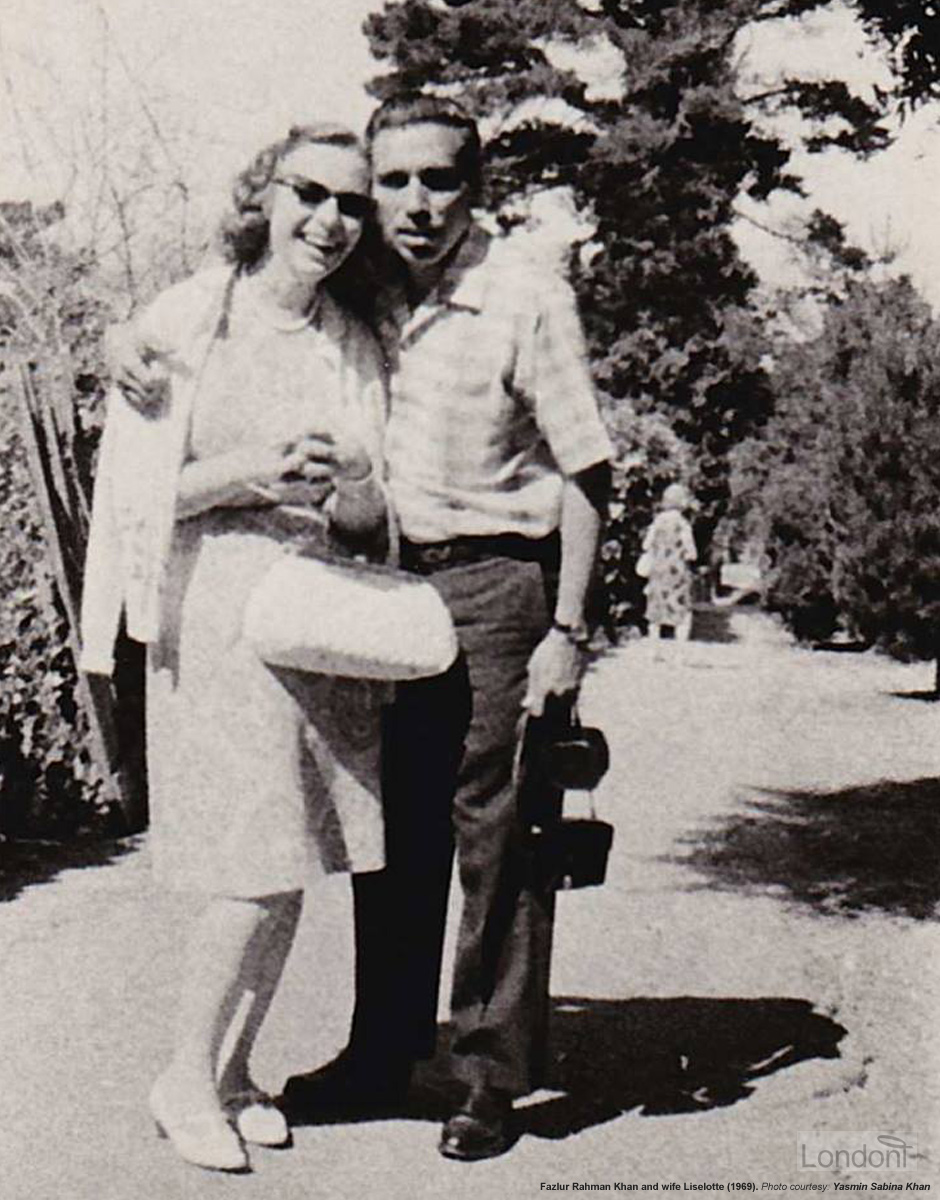 What others have said about him
Apparent from all of Khan's citations are that his main legacy will be that he, more than any other individual, ushered in a renaissance in skyscraper construction during the second half of the 20th century. He epitomised both structural engineering achievement and the need for creative collaborative between architect and engineer. To him, for architectural design to reach its highest levels it had to be grounded in structural realities.

Richard Weingardt, author of "Engineering Legends: Great American Civil Engineers - 32 Profiles of Inspiration and Achievement" (2005)
His loss to the engineering and architectural profession is irreplaceable. His passing leaves an equal void in the well of human concern and kindness to which he contributed in full and overflowing measure. We count ourselves fortunate that we could be among those who reaped the benefit of his professional, personal and humanitarian generosity.

Lynn S. Beedle, Director at Council of Tall Buildings and Urban Habitat
Every so often a person arrives on this planet whose contact with essentiality transcends normative thought. Fazlur Khan was such a person. He was called by the name structural engineer but in actuality his philosophic capabilities combined with his humanity made his title insignificant. By not only focusing upon Man's Rules but by ennobling them with his unique perception of natural laws was he able to add to all of our combined knowledge of the conditions of existence. By remaining the true Bengali poet Rabindranath Tagore described was he able to make believable concepts that, under normal circumstances, are impenetrable.

He was justifyably proud of his profound impact on the several diverse architectural strains present in our brilliant city. He was to have become the president of the Chicago Architectural Club and its second annual journal is dedicated to him. His was a conciliatory spirit whose aim, both through the concepts of reflection as well as of action, was to meld rather than to separate. He was my good and great friend who counseled me professionally while scolding me personally and I will miss his gentle touch both with reality and pre-existence for as long as I live.

Stanley Tigerman of Tigerman, Fugma & McCurry
Beyond his achievement as a community leader, and beyond his splendid professional accomplishments, Fazlur's greatness lay in his unbounded appreciation of each human being. A distinguished Muslim philosopher, who was among the mourners 40 days ago, caught that unique quality in a couplet by Muhammad Iqbal, which he wrote in the condolence book.

"Love your life in such a way that, should death be eternal,
God should be ashamed of that."

Truly, it was a life lived in such a way which we commemorate.

Ralph W. Nicholas, University of Chicago (6 May 1982)
He demanded the best, and he gave the best. Characteristically, before he left on his final trip, Fazlur was correcting a student's thesis - not only for the content, which would have been sufficient, but also for style, even grammar and spelling. Nothing was too trivial for his meticulous care and attention.

Today, and in the years to come, whenever one of his students stops to rethink a project, to clarify an idea, to express it simply, to study the human implications, he pays tribute to this extraordinary teacher.

Myron Goldsmith, Partner at SOM
Dear Fazlur,

...Logic tell us that soon afterwards [after burial] you will join earth and we will not see you - but my heart is unable to accept it. Because, I can hear you talking and arguing with me about life, universe and how insignificant an individual's role is in the total picture - maybe it is true and you are right - but I cannot accept the fact. Individual does make a difference. You made the difference and made this country richer and made us all so proud of you. Yes, you are gone - but your spirit, your ideals, your philosophy of life, and your contribution will live with us forever.

We cannot and will not forget you. Goodbye, Fazlur. Goodbye.

May God be with you.

Chandra K. Jha, founder of India League of America (ILA) (2 April 1982)
He fought the wind and the force of gravity
with elegance of vision
and form.

But, beyond these professional goals, well fulfilled,
his concerns were the gravity of the human condition
and its amelioration.

The winds of war and evil, which he chose to engage
through beauty, tranquility, and love.

The elegance of life which he maintained,
by the elegance of his behaviour toward all of us he touched,
by example of deeds
and by an open heart
to all who sought his advice.

The form of cities which he so much understood,
proud towers, structures and spaces
that celebrate the human intellect, and,
in the tradition of great engineers, builders and architects,
maintain truth and integrity in all the great
many structures he conceived.

Vision which he now leaves to all of us
Lisl, Yasmin, Zillur, Martin,
his family around the globe, his friends,
his partners, students, and colleagues
from east to west.

His is a clear spirit
protected by a life he dedicated
with charity to all,
with compassion to the unenlightened,
guidance to those who seek enlightening,
inspiration to engineers as well as to architects,
such as only a great engineer and humanist
could confer.

We will miss our good doctor,
but we will all live a more significant life
because of the path he marked
with his life.

Bruce J. Graham, Partner at SOM (2 April 1982)
My father was, undoubtedly, exceptionally gifted as an engineer and dedicated to the advancement of his field. But by complementing his technical insight with human awareness and collaboration, he not only made his work more enjoyable for himself and more meaningful for his profession, but also transformed the nature of his accomplishments.

Yasmin Sabina Khan, daughter
Fazlur was a very complex person. His life had many facets. Since his death, however, some aspects of his personality have been highlighted over and over again by his friends, his colleagues and his students when they talked to me, when they wrote to me and when some of them cried with me. First, they always mentioned the type of person he was and how he related to other people, and second his achievements as an engineer.

Fazlur was not only a diplomat but an accomplished peacemaker. He was interested in people and loved to be of help to others. People trusted him and respected him. He had only friends and no enemies. Fazlur was not a natural psychologist. However, in dealing with people he relied largely on his sharp intellect in evaluating situations and acted on the compassion he felt for the people. The humanity which many of you have talked about was very real to him. but it was not something which came easily to him. He had to work on it.

The very fact, however, that he was able to achieve such a mastery in human relationship by conscious effort in learning about people tells us a great deal how one can achieve things which may not come to us easily and intuitively.

I wanted to share with you these reflections some of what I understood about the man and about his strength and weaknesses.

I wanted you to know that with real effort one can achieve what he achieved as a man in his relationship with other fellow man through constant efforts. And on the other hand his achievements as an engineer were based on both continuous learnings and on some insights into nature which are shared by just a few.

I know that there will be many projects that he worked on will be built in the future. And I hope that we can carry forward his goal of making engineers more humane through books and other means of educational programs.

However, the best tribute to him would be to continue his eternal quest for knowledge that was such an integral part of him. In addition, I hope that every one of us will recognise and cherish as he did every spark of creativity within each of us and everyone around us.
Don't miss...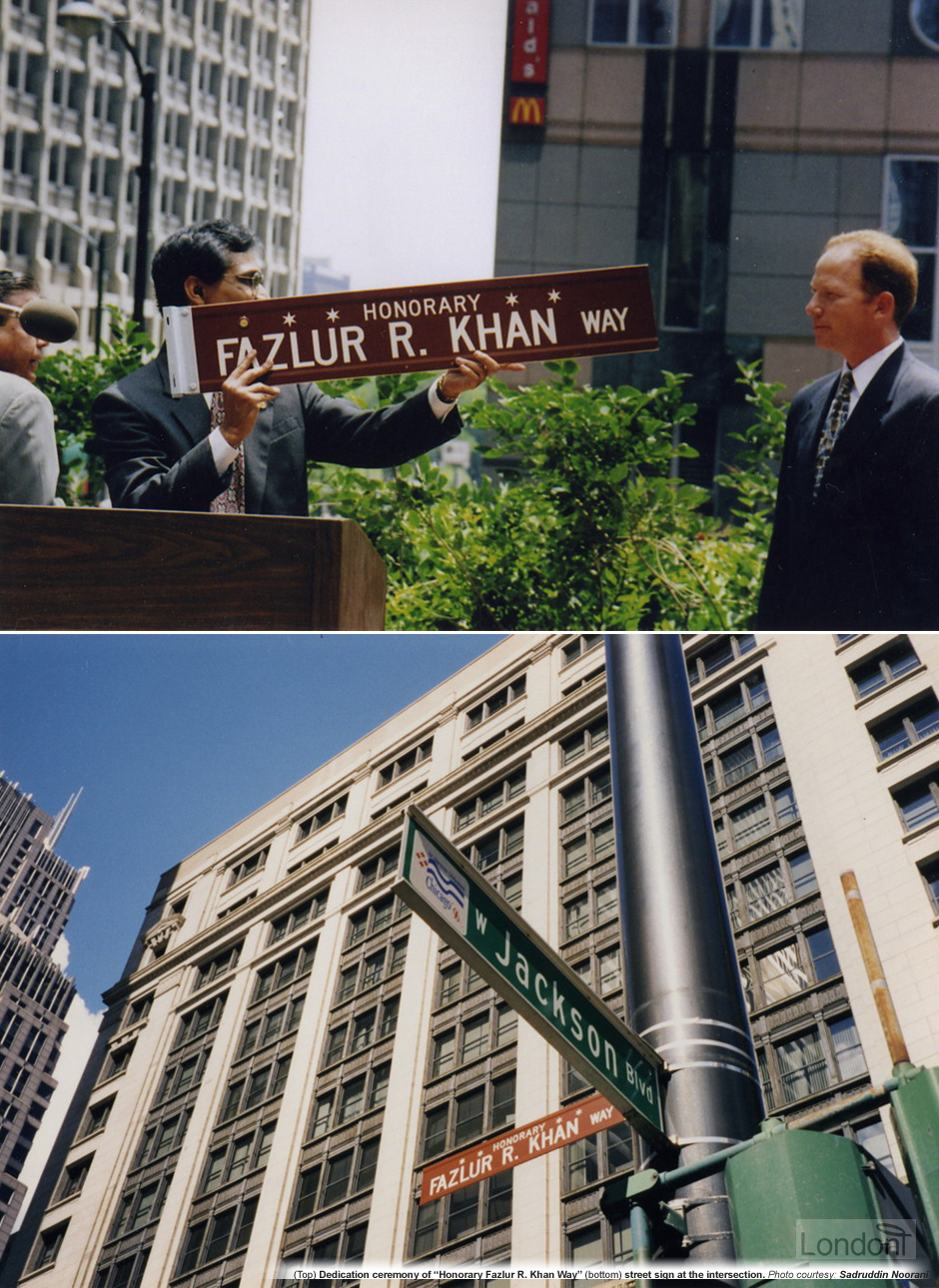 "Fazlur R. Khan Way"
Posthumously, in 1998 the city of Chicago named the intersection of West Jackson Boulevard and South Franklin Street, located at the foot of the Sears Tower, "Fazlur R. Khan Way" in honour of their high regard for Fazlur Khan's accomplishments as an engineer.
One year later, in 1999, Engineering News-Record listed him as one of the world's top 20 structural engineers of the last 125 years. He was named as one of its top 125 people of the last 125 years, a list that included such luminaries as inventor Thomas Edison, architect Frank Lloyd Wright and structural engineer Gustave Eiffel.
Khan combined technical genius with a sensitivity for people and where they work.

Engineering News-Record in 1999 after declaring Fazlur Khan as one of its top 125 people of the last 125 years
Three decades earlier, in 1970 when Fazlur Khan was 41 years old, the Chicago Junior Chamber of Commerce had named him Chicagoan of the Year in Architecture and Engineering.
A replica of the "Fazlur R. Khan Way" street sign is also displayed above the "Khan Sculpture" within Sears (Willis) Tower.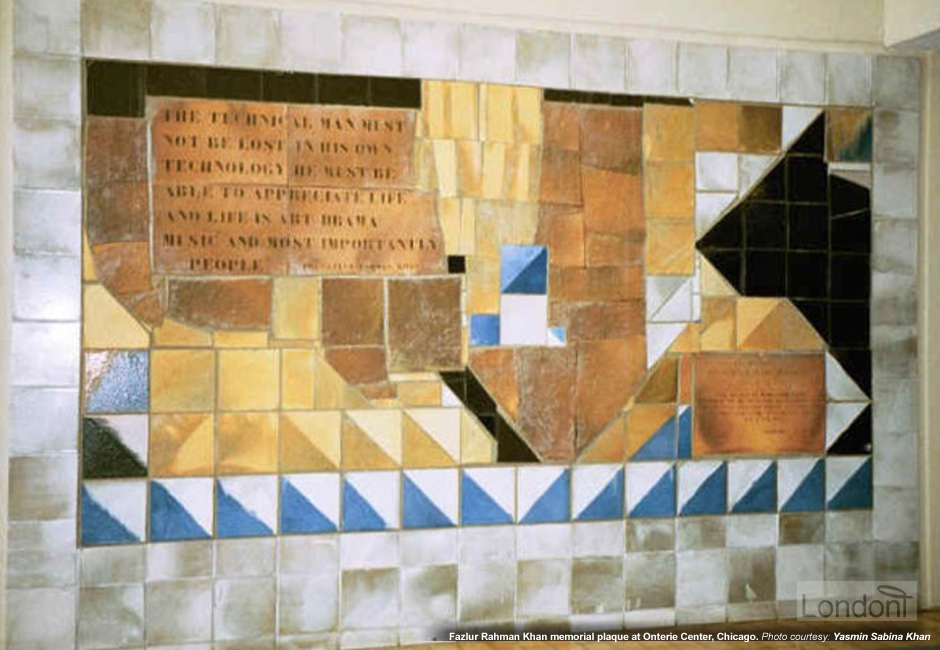 Memorial plaque in Onterie Center, Chicago
A large mosaic memorial plaque of Fazlur Rahman Khan can be found on the east wall of the office lobby of the Onterie Center in Chicago. The mosaic was added by Chandra K. Jha, former President of India League of America and original owner and developer of the Onterie Center, and designed by French-born artist Juan Gardy-Artigas from Barcelona, Spain.
The tile wall mural adorning the oak-paneled lobby includes two text sections. On one section it features Fazlur Khan's famous statement which he made to an editor after being voted 'Construction's Man of the Year' by Engineering News-Record in 1972:
The technical man must not be lost in his own technology. He must be able to appreciate life; and life is art, drama, music, and most importantly, people.
The other text section dedicates the building to the memory of Fazlur Khan:
In Memoriam

Dr. Fazlur Rahman Khan (4-3-29 – 3-27-82)

World-renowned structural engineer, whose lasting contributions to architecture illuminated all our paths. We dedicate this plaque with gratitude to Dr. Khan for his leadership in engineering practice which culminated in this structure, Onterie Center - his final work.
The lobby containing the plaque has became a kind of shrine for structural engineers.
Many structural engineers from around the world have come to Chicago and visited the building and viewed the memorial wall and mosaic plaque.

Deborah Zroka, President of the Structural Engineers Association of Illinois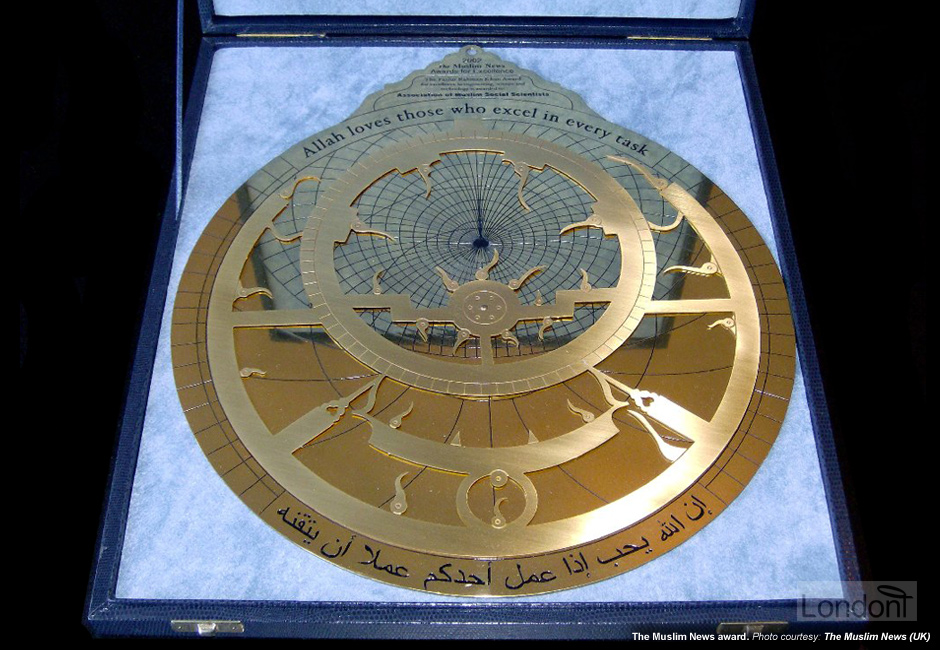 "Fazlur Khan Award for Excellence in Engineering, Science & Technology" by The Muslim News Awards
In 2000 The Muslim News, the largest independent Muslim newspaper in Britain, launched the 'The Muslim News Awards for Excellence' to recognise achievement and promote excellence within the UK Muslim community.
The newspaper, first published in 1989, receives a large readership from mainly second and third generation Muslims whose ethnicity range from Bengali to Turkish to Afro-Caribbean. It's the oldest and most well established Muslim newspaper in UK and is the most consulted paper in UK, both by Muslims and Non-Muslims, on domestic and international issues relating to Muslims.
The Award is a prestigious event held every year (except in 2003 and 2007) and is well attended by top dignitaries, both Muslims and Non-Muslims, from various profession.
It [i.e. The Muslim News Awards for Excellence] highlights the achievements in the Muslim community. It is also intended that by identifying Muslim achievers and success stories around the UK, we will go some way towards providing the much needed positive role models for our younger generation, and towards countering the misconceptions and prejudice that, more often than not, surround Muslim community representation in the media.
There are numerous award categories and all but one are named after Muslims individual or organisation who have excelled in that profession. Amongst these categories is the 'Fazlur Rahman Khan award for excellence in engineering / science / technology' which is given to people or organisation who have achieved excellence in those field. Other category includes 'Ibn Sina award for health', 'Ibn Khaldun award for excellence in promoting understanding between global cultures and faiths', and 'Malcolm X young person's award for excellence' which is given to an individual, organisation or initiative run by young people (16-25 years), whose principal aim is to support and create opportunities for their peers. The only category to be named after a non-Muslim is the 'Annemarie Schimmel award for championing a Muslim cause' which is given to a non-Muslim individual, initiative or organisation which/who has supported a Muslim cause.
Al Biruni award for excellence in community relations = For promoting understanding and respect between Muslim and non-Muslim communities at the national or local level.
Ibn Sina award for health = This award recognises those who excel and promote in health issues.
Al-hambra award for excellence in arts = For achievement to fine art, the performing art or architecture.
Ibn Battuta award for excellence in media = For fair, accurate and balanced reporting on an issue involving Muslims nationally or internationally.
Uthman Dan Fodio award for excellence in community development = For a person, project, or initiative aimed at raising the quality of life of Muslims locally or nationally.
Malcolm X young person's award for excellence = To be given to an individual, organisation or initiative run by young people (16-25 years), whose principal aim is to support and create opportunities for their peers.
Alija Izetbegovic award for good citizenship = For showing courage and determination in securing rights for British Muslims.
Ummul Mu'minin Khadijah award for excellence in enterprise = For achievement in business and commerce.
Annemarie Schimmel award for championing a Muslim cause = For a non-Muslim individual, initiative or organisation which /who has supported a Muslim cause.
Allama Iqbal award for creativity in Islamic thought = For the development of a new, innovative and challenging approach to the understanding and application of Islam.
Faezeh Hashemi award for excellence in sports = For outstanding sporting achievement or the initiation of a sports project for the benefit of the Muslim community at national or local level.
Fazlur Rahman Khan award for excellence in engineering / science / technology.
Sankore University award for excellence in education.
Ibn Khaldun award for excellence in promoting understanding between global cultures and faiths = For a person or organisation who has demonstrated outstanding achievement in, or commitment to, promoting international understanding between cultures and/or faiths.
Imams Hasan and Husayn children's award for excellence = This award is for a child (5 to 15 years) who has demonstrated outstanding achievement.
Iman wa Amal special award = For outstanding contribution to Islam and Muslims. a special award at the discretion of the judges.
Winners
The first winner of the "Fazlur Khan Award for Excellence in Engineering, Science & Technology" was Professor M. Y. H. Bangash, a professor of nuclear/aerospace structures from Pakistan, in 2000.
2000: M. Y. H Bangash

() Professor of nuclear/aerospace structures. Published over 75 research papers and 24 books. Designer of nuclear power. Worked at the UK Atomic Energy Commission as a Consulting Engineer. Originally from northern Pakistan. Won Full Bright Scholarship to USA in 1960 and studied at the Massachusetts Institute of Technology. Active in voluntary work - he has been President of the Council of Muslim Education at the Islamic Cultural Centre at Regent's Park in London and has also been active with the Union of Muslim Organisations.

2001: Monzur Ahmed (Technology) & Salim Al-Hassani (Science and engineering)

() Monzur Ahmed is a consultant gastroenterologist at a busy city hospital in Birmingham. He has researched extensively on the phases of the moon and devised free computer programs and Internet webpages that calculate prayer times, the beginning of lunar months, and the direction of Makkah. Salim Al-Hassani is Professor of Mechanical Engineering at the University of Manchester Institute of Science and Technology. He is well known in the field of impact engineering and publishes and lectures all over the world. He is also actively involved in Manchester's Muslim community, and helped to set up Manchester Central Mosque, the Muslim Youth Foundation and student Islamic societies at UMIST and Manchester University.

2002: Association of Muslim Social Scientists

() Provide a unique platform for the development of Islamic thought through research, scholarship and publications. Since its inception in 1996, it has created an awareness of Islamic alternatives and opinions on topical and emerging academic issues relevant to Muslims. The association hosts successful conferences in the UK and Europe, drawing on the contribution of analysts and researchers throughout the Muslim community.

2004: Fazlun Khalid

() After a long career with the Commission for Racial Equality, Fazlun Khalid forged a second as a foremost expert on ecology from the Islamic perspective. He has established the NGO, the Islamic Foundation for Ecology and Environmental Science, and is a consultant to the World Wide Fund for Nature and a Director of training at the Alliance of Religions and Conservation. Fazlun has written Qu'ran, Creation and Conservation and has edited Islam and Ecology. He lives in Granada, Spain.

2005: Prof. Tariq Salim Durrani

() Deputy Principal and Professor of Signal Processing at the University of Strathclyde. He is Director of the Institute for System Level Integration and the Scottish Electronics Technology Group. He is responsible for lifelong learning, staff development and the promotion of entrepreneurship as well as university and industry collaborative research. He is also a Fellow of the Royal Academy of Engineering, the IEE and the Royal Society of Edinburgh.

2006: Saghir Akhtar

() An internationally renowned academic in drug delivery of genome-based therapeutics. He is currently Chair of Drug Delivery and Director of the Centre for Genome Based Therapeutics at Cardiff University. He has won many awards and prizes for his work and is a prolific writer in his field, having written over 100 scientific papers.

2008: Dr Afia B Ali

() After obtaining a PhD in Neuroscience from University College London, Dr Afia B. Ali received a Wellcome International Prize Traveling Fellowship to work at the University of Paris, and obtained further scholarships to work in research at Oxford University. Dr Ali received a New Investigators Award from the Medical Research Council for her work at the London school of Pharmacy, which secured her a tenured position at the university, where she is now based. Dr Ali's research has a direct relevance to human neuropathology and the design of drugs to treat such disorders as depression and anxiety.

2009: Mohamed EL-Gomati

() As an internationally renowned scientist and researcher based at York University, Professor Mohamed El-Gomati has written more than 180 articles, patents, and books. He has excelled in the field of novel instrumentation, developing and building several state-of-the-art instruments in surface analysis and microscopy. He has acted as a scientific referee to the British Government and UNESCO. Among his inventions are the world's first multi-spectral analytical microscope and the world's first parallel electron energy analyser for surface analysis.

2010: Dr Haifa Takruri-Rizk

() Palestinian and British. After completing a BSc in Electrical Engineering from BirZeit University in Palestine, she moved to the UK to study for an MSc degree at UMIST. Half way through the MSc research, Thorn EMI Flow Measurement (later sold to Schlumberger Industries Flow Measurement) offered her a sponsorship. Schlumberger further sponsored her for PhD studies. After completing PhD, she worked as a lecturer at BirZeit University for one year and then returned to the UK in 1992 to work at University College Salford. Joined the Centre for Networking and Telecommunications Research (CNTR) from its establishment in 1999. Dr Takruri-Rizk's research interests include intelligent buildings, networked appliances and remote sensing. The area of intelligent buildings looks at the use of different networking technologies in monitoring and controlling building services. The networking technologies being investigated include power line, wired LAN, wireless LAN and the Internet. The building services include environmental services such as heating, ventilation and air conditioning (HVAC), security and safety services such as fire detection systems, intruder alarm and CCTV, and utility services such as elevator systems. Dr Takruri-Rizk is supervising research investigating the application of wireless and power line networking in monitoring and controlling building services.

2013: Saeed Durrani

() Nuclear scientist. Born in Pakistan. For 50 years held academic post and researched at numerous universities around the world including University of Oxford, Cambridge University, and University of Birmingham. Written over 300 research papers and dozens of books. Has worked in UK Atomic Energy Authority and Pakistan Atomic Energy Commission. Has a passion for literature and is the Chairman of the Iqbal Academy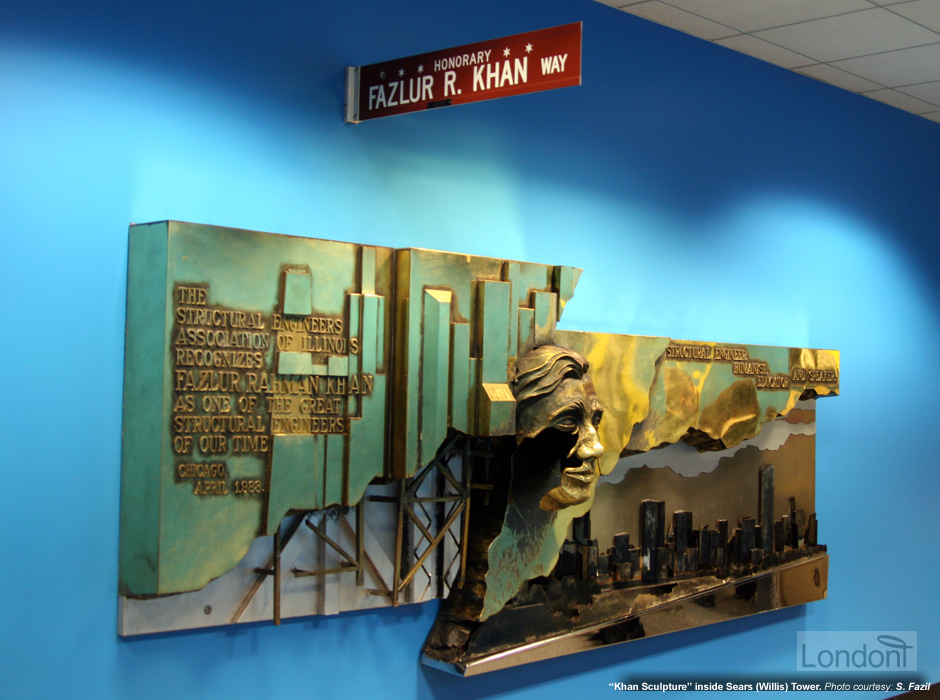 "Khan Sculpture" at Sears (Willis) Tower
Chicago still remains one of the premier cities in the world for structurally significant architecture, and much of that distinction is the legacy of Fazlur Khan. Chicago is also noted for its monumental outdoor sculpture, with downtown plazas dominated by works of Picasso, Calder and Miro. In 1988, six years after Fazlur Khan's untimely death, the Structural Engineers Association of Illinois (SEAOI) initiated an effort to have a sculpture erected to honour his memory, and it commissioned the Spanish sculptor Carlos Marinas to create a bas-relief in stainless steel and bronze. The long rectangular 4 x 11-foot work has as its focus the head of Fazlur Rahman Khan, flanked by the Chicago skyline and a representation of the structural foundations and frames of some of the buildings.
Confusingly, the image of Khan appears to be in a rift between the two sides of the bas-relief, which are offset as if a sheared along an earthquake fault, an unlikely event in Chicago.

Henry Petroski, Writer
An early rendering of the sculpture shows it without inscription, but when it was unveiled in 1988 it bore superimposed on the cut-away structures the words:
The Structural Engineers Association of Illinois recognises Fazlur Rahman Khan as one of the great structural engineers of our time.
To the right of Fazlur Khan's image, over the skyline, he is further identified as "structural engineer, humanist, educator and speaker".
For many years not wanted by any building or organisation, including John Hancock Center, Sears Tower, and Illinois Institute of Technology
For all the remarkable qualities of Fazlur Khan that the sculpture evokes, a site for its permanent display was not easily found. The proprietors of the John Hancock Center and Sears Tower did not wish to locate in their lobbies the image of the engineer that made their buildings possible. Neither did the Chicago Art Institute, Chicago Academy of Sciences, Museum of Science and Industry, Chicago Cultural Center or Chicago Historical Society accept the tribute to Fazlur Khan, nor did the Institute of Technology, where Fazlur Khan had been adjunct professor of architecture.
Though their refusal may have been due in part to what they perceived to be the too prominent place given to the sponsoring organisation in the inscription, thus blurring the line between plaque and sculpture, local structural engineers took the rebuff as a further example of the anonymity of engineers, their poor treatment by the media and their status relative to architects in the windy city.

Henry Petroski, Writer
On its arrival in Chicago, the work of art was unveiled at an artist's reception in the lobby of an office building and remained on display there for several weeks, after which it was put on display in the lobby of City Hall. Then, with no permanent home, it was put in storage. Finally, after almost a year, the Brunswick Building, one of the early applications of Khan's tubular framing principle, agreed to provide a permanent home in its plaza for the sculpture. However, the plaza is dominated by Joan Miro's 25-foot tall Miss Chicago, which dwarfed the 4-foot by 11-foot bas-relief mounted on the wall behind it. Making matters worse, after a couple of years of outdoor display, welding on the Marinas sculpture began to rust and deteriorate.
The sculpture finally found an appropriate indoor environment in 1993, when new management at Sears Tower agreed to mount it near to the elevators at the Skydeck ticket area of the building, through which 1.5 million tourists pass each year on their way to the observatory on the 103rd floor.
It is fitting that Khan is finally recognised in this manner in one of the most widely recognised structures, the one located at Fazlur R. Khan Way.

Henry Petroski, Writer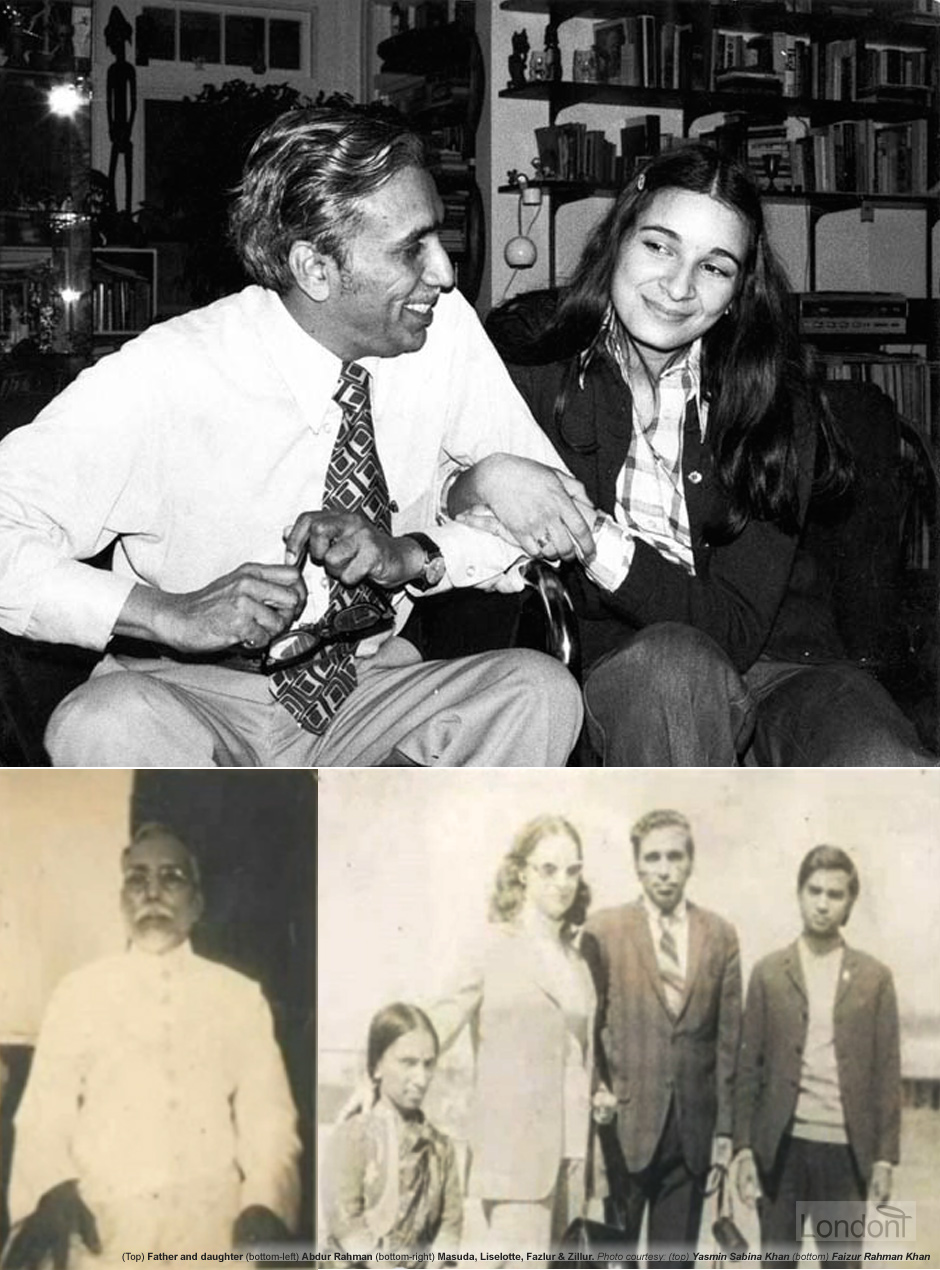 Family's dedication to continue legacy
Yasmin Sabina Khan, Fazlur Rahman Khan's only child, was 22 years old when her dad passed. Like her father, Yasmin Sabina Khan became a structural engineer and has forged a respectable career.
Preface to "Building Blocks: The John Hancock Center" (2000)
In 2000 Yasmin wrote the introduction to Ezra Stoller's book "Building Blocks: The John Hancock Center". The small book (96 pages) contains black-and-white photographs of the John Hancock Center under construction and shortly after its opening. The photographs are taken by the author, Ezra Stoller who is an architectural photographer. Yasmin's introductory text is the only text in the book and briefly tells the story of Fazlur Khan's collaboration with Bruce Graham on this record-setting residential tower.
The book combines opening text by Khan's engineer daughter with the incomparable architectural photographer Ezra Stoller's marvelous black-and-white shots of the building, taken both during construction and shortly after the building's opening. Khan provides a concise and charming summary of the major decisions made by Graham and her father (who would collaborate again on 1974's Sears Tower in the same city), such as the Hancock's tapering shaft - which not only makes the building look taller than its 1,127 feet but which also narrowed rentable square-footage with every rising floor - and the famous X-shaped cross-trusses that kicked off a generation of towers with steel bracings built visibly into their curtain walls rather than hidden behind them.

But of course Stoller's photographs are what capture the improbable romance of this rather industrial-looking building: workmen walking the beams of the uncompleted monolith with all the Windy City quivering vertiginously beneath them; a profusion of stunning sidewalk perspectives; the adjoining spiral ramp, hopelessly evocative of Wright's Guggenheim, that residents drove their cars up to get to the sixth - through eighth-floor garages; the coldly chic "state-of-the-art" bank offices with pen sets, typewriters, and ashtrays perched on every desk; and women in minidresses peering out of the enormous windows of their austerely appointed parlors in the sky. America already lost Jack, Bobby, and Dr. King - and inflation, Watergate, and the protracted toll of Vietnam were still a few years off--but for a brief moment, the Hancock seemed to say, right alongside Neil Armstrong, "America, I want to take you higher". A compact valentine to Big John, the book vividly captures that heady, bittersweet moment with great energy and verve.
Online presence
In addition to the book, Yasmin has tried reaching a global online audience by creating a website http://drfazlurrkhan.com, blog and Facebook page dedicated to her dad.
Fazlur Khan's bhatija (brother's son) Faizur Rahman Khan, son of (Fazlur's elder brother) Imar Rahman Khan, also contributes to the online presence of his talented uncle through his YouTube channel. Faizur, an Engineering graduate just like his uncle, is a prominent businessman in Dhaka,Bangladesh, and has a long career as a Managing Director, especially in the real estate sector.
Other websites dedicated to Fazlur Rahman Khan include the 'Khan Endowed Chair at Lehigh'.
Faizur Rahman Khan

(Born )
"In the Sky" film
In 2009 Mind Venture Management Consultancy based in Bangladesh took the initiative to produce a 110-minute long feature film on Fazlur Rahman Khan titled "In the Sky". The film was directed by Khijir Hayat Khan, famed for creating patriotic films such as 'Astitey Amar Desh' and 'Jaago'. The story follows a young Bengali graduate who considers Fazlur Khan his idol and decides to go to Chicago to follow in his footsteps and study his achievements.
This initiative of Mind Venture is part of a bigger project to inspire talented young individuals. The idea is to highlight the exemplary lives of remarkable individuals, who have offered much to society. Generations can draw inspiration from their examples and achievements.

Ishrat Akhond, Executive producer of the film and CEO of Mind Venture Management Consultancy
The idea for the film came from CEO of the Consultancy Ishrat Akhond, after Khijir had approached her about creating a film on a patriotic theme. Both parties then met Faizur Rahman Khan who lent his support to the project.
Though a book on him was published [referring to Yasmin's Engineering Architecture book] it failed to make an impact on the masses. We strongly believe that a film can do in this regard what no other medium can.

We have gathered here to discuss this film and we're also looking for investors. The proposed budget for the film is around four crore. About 80% of the film will be shot in the US.

Faizur Rahman Khan (2009)
I had the opportunity to know F.R. Khan during the last 16 years of his life. He changed the whole concept of designing high-rises in the '60s. Between 1960 and 1982, he designed several landmarks all over the world.

Though the engineering fraternity is well aware of Khan's achievements, the masses in Bangladesh are not fully familiar with his contributions. A film would be the perfect tool to generate interest in him, especially among the young.

Professor Jamilur Reza Chowdhury, noted engineer and educationist, lends his support for the film
"Engineering Architecture: The Vision of Fazlur R. Khan" (2004) by Yasmin Sabina Khan
To keep her dad's memory alive, Yasmin has written a comprehensive book about him and the impact of his work. The book titled "Engineering Architecture: The Vision of Fazlur R. Khan" was published in 2004, 22 years after Fazlur Rahman Khan had passed away, by W. W. Norton & Company. The Hajj Terminal makes the front cover of the book with a small photo of a young Fazlur Khan, looking lost in thought, appearing at the bottom-left corner of the cover.
The 416-pages long book focuses on his career and the many innovative ideas he came up with during his short but glittering career. It describes his childhood in British India, his early engineering studies, and the "special personal qualities that shaped his life". Working in the same engineering profession as her dad, Yasmin was able to use her experience to craft a book that could be appreciated by engineers, architects, or anyone interested in building design.
'Engineering Architecture: The Vision of Fazlur R. Khan' presents a considerably more detailed story of my father's life and work. In this book I examine my father's innovations within the context of his personal beliefs and the social setting of the time in which he practiced. I have tried to convey his personal character and philosophy along with his manner of working with people, because these were important aspects of his design accomplishments.
It is a story that spans two continents and two generations, the tribute of an American-born daughter to her Bangladeshi father, Fazlur Khan, whose move to Chicago in the 1950s would forever change the field of structural design.
Yasmin spent 7 years researching and writing the book after a friend suggested that she should write a book dedicated to her father. It was her first major writing effort in what had been, until 1997, a career in building design in San Francisco and Boston.
After my father died in 1982, a couple of professors said they would like to write a book about him, but they never did. Then my mom died in 1995. She had been putting his papers together, and I saw how much material was available.

...Although by nature very gentle and philosophical, he was a driven man, I wanted to incorporate these aspects of his personality into the book because people really loved him.

The book is also a good example for students of how exciting and creative a career in engineering can be.
Critical praise
'Engineering Architecture: The Vision of Fazlur R. Khan' has earned considerable praise from architecture and engineering reviewers for its blend of technical detail and personal/historical context for Khan's achievements.
Fazlur R. Khan is one of the most influential structural engineers of the 20th century… his daughter has written an account of his achievements and laced his creative timeline with descriptions of his theories and practices.
Seldom is the life and work of a designer described so abundantly as in this book about Fazlur Khan (1929-1982). Written by his daughter, Yasmin, who has earned her own record as designer, this book is very personable story of a driven technician with a deep love of his profession... [R]eads like a novel.
[A] moving tribute to an important figure--one that would surely make him as proud of his daughter as she clearly is of him.
Yasmin Sabina Khan has written an engaging intellectual biography of her father. . . . This lengthy book is rich with ideas relevant to historians of technology...[A]n excellent variety of illustrations... Khan's carefully researched work contributes substantially to the literature on mid-twentieth century large-scale building.
In her book about her father, Yasmin Khan establishes herself in the company of the most admired science writers, for she presents complex engineering matters in such a straightforward and accessible manner that they are immediately understandable, and delightfully so, to the lay reader. Moreover, she recounts her father's success as one of the world's most revered structural engineers as a highly readable human biography.
A worthy and delightfully written tribute to a remarkable man.
[A] much needed book… The prose reads swiftly, the chapters are well-organized, and, most important, the stories they narrate are compelling.
A great read. Khan's daughter both understands and honors his work, and it would be difficult to find a better book about this master of modern structures.
Here is a book that will make you proud to be a part of the design/construction community… [A]n inspiring biography.
Among several eminent Kahns and Khans in…American construction, none better deserves a full study…[S]upplants the only previous book-length study.

Construction History: Journal of the Construction History Society
Korean translation of "Engineering Architecture..."
Yasmin's book "Engineering Architecture: The Vision of Fazlur R. Khan" has been translated into Korean. It's the first time the book has been translated into a foreign language
I am very happy that my story of my father's life and work has been made available to new readers with this Korean translation. My father would have been pleased as well. He devoted much of his time to sharing the knowledge he had acquired. He traveled widely and, through his presentations and writings, sought to provide designers around the world access to the latest developments in structural engineering.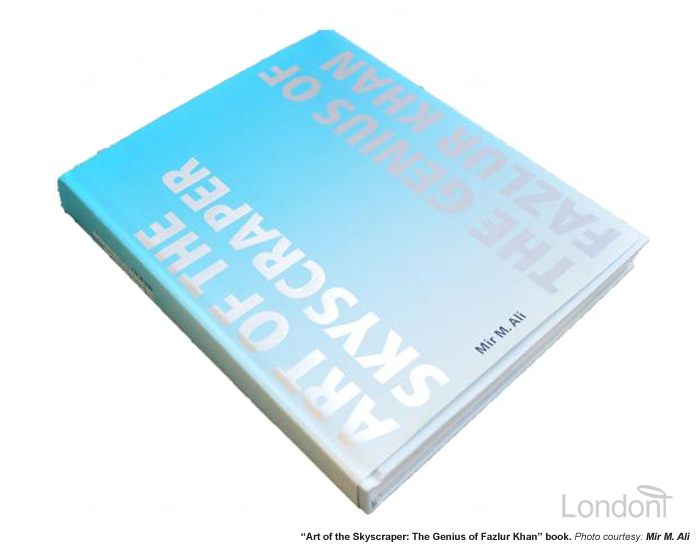 "Art of the Skyscraper: The Genius of Fazlur Khan" (2001) by Mir M. Ali
In 2001 Mir M. Ali, Professor Emeritus and Chairman of Structures Division (1993 - 2003 and 2007 - 2010) at the University of Illinois, wrote "Art of the Skyscraper: The Genius of Fazlur Khan" where he offers a vivid portrait of the engineering giant. Published three years before Yasmin Sabina Khan's "Engineering Architecture: The Vision of Fazlur R. Khan", it was the first book on the life and work of Fazlur Khan.
As a former structural engineer at Skidmore, Owens & Merrill (SOM) Mir Ali knew Fazlur Rahman Khan personally and had worked with him on some of his projects. In the process of writing the book, Mir Ali interviewed a number of Fazlur Khan's colleagues, friends and advisers and included their impressions and anecdotes in the book.
The "Art of the Skyscraper: The Genius of Fazlur Khan" contains 16 chapters spread over 239 pages that include many illustrations and pictures. In the first few chapters of the book, Mir Ali discusses Fazlur Khan's childhood, youth, education, and early years of his professional career. In the latter chapters, he addresses the development of tall buildings in Chicago, and highlights Fazlur Khan's innovations, contributions and leadership role in the design and development of tall buildings, focusing on the period from 1950 to the early 1980s when Fazlur Khan worked mostly at the Chicago offices of SOM.
This, the first published book on the life and work of Fazlur Khan, stands as a powerful testament to this revolutionary mind - and to the technological advances it engendered. More than a source book for research in tall buildings or a biography, though it is both of these, Art of the Skyscraper gives us a tangible link, through photographs and architectural renderings, to the extraordinary sensitivity - to aesthetics, to engineering - that marked everything to which Khan lent his mind and hand.
"Art of the Skyscraper: The Genius of Fazlur Khan" is an important book on the life and accomplishments of one of the greatest structural engineers of the twentieth century whose influence continues today. Professor Ali has presented a tribute to the brilliance of Dr. F R Khan that will keep his memory everlasting. He has done a wonderful job of combining the biography of Dr. Fazlur Rahman Khan with the technical problems and challenges associated with the construction of tall buildings. It is a fascinating story of the genius of Dr. Fazlur Rahman Khan; a must read for all technical and non-technical minds; and an invaluable resource for students, architects, and engineers.

Dr. Ahmed S. Khan, Senior Professor at DeVry University, Addison, Illinois