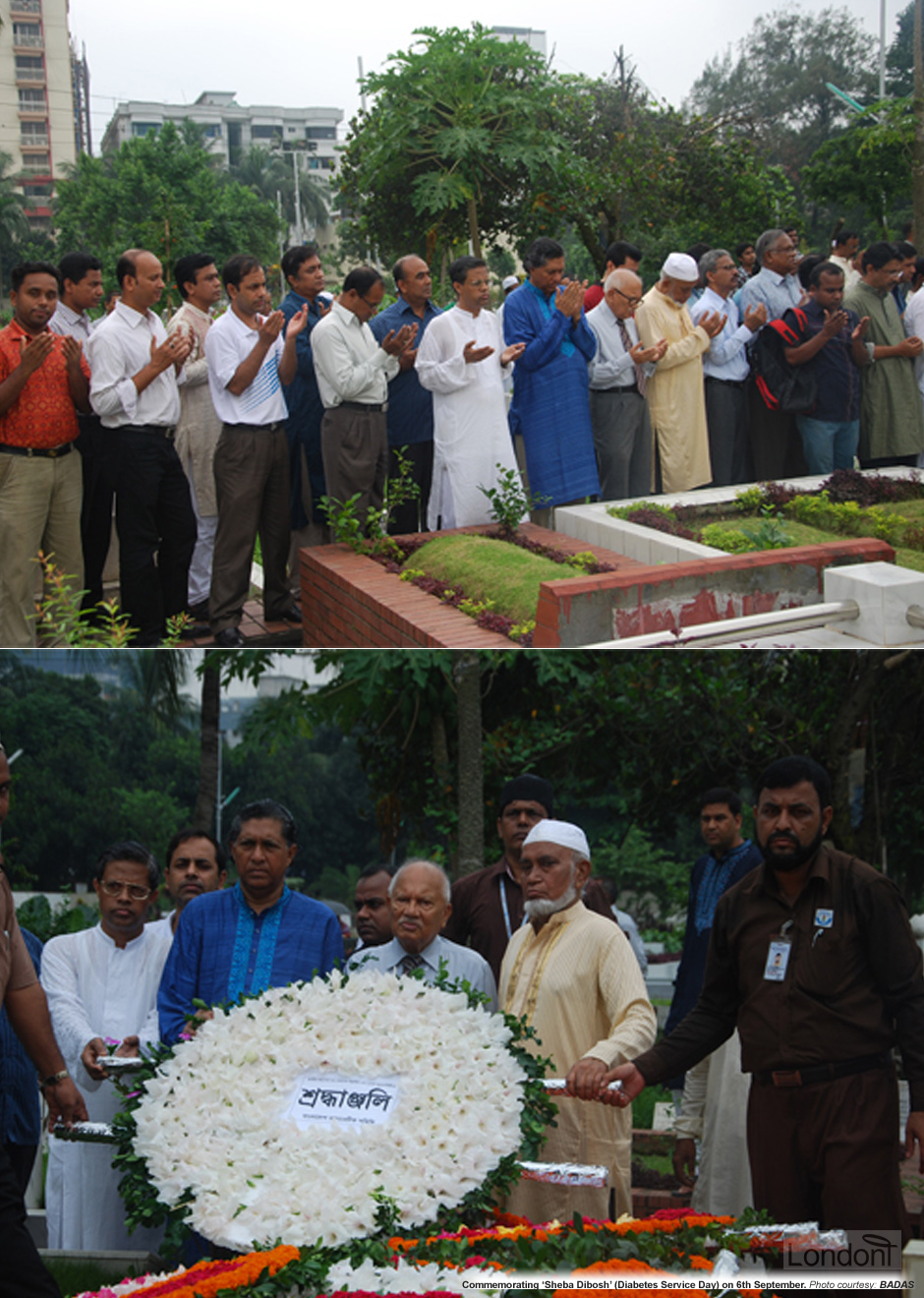 Remembrance days: Diabetes Awareness Day, Sheba Dibosh & World Diabetes Day
28th February, the day the Diabetic Association of Bangladesh was founded, is celebrated annually as 'Diabetes Awareness Day'. The campaign draws attention to issues of paramount importance to the diabetes world and keeps diabetes firmly in the public spotlight. Meanwhile 6th September, the day Dr. Mohammad Ibrahim passed away, is commemorated as 'Sheba Dibosh' (Diabetes Service Day).
Internationally, in more than 160 countries and territories, 14th November is observed as World Diabetes Day. It was created in 1991 by the International Diabetes Federation (IDF) and the World Health Organization (WHO) to promote awareness of diabetes and to combat the global rise of the condition. World Diabetes Day became an official United Nations Day in 2007 with the passage of United Nation Resolution 61/225. Each year the IDF features a new theme to address issues facing the global diabetes community. While the themed campaigns last the whole year, the day itself is celebrated on 14th November, to mark the birthday of Frederick Banting who, along with Charles Best, first conceived the idea which led to the discovery of insulin in 1922.
Centenary birthday anniversary of Dr. Mohammad Ibrahim
On 31 December 2011 the 100th birth anniversary of Dr. Ibrahim was celebrated. All institutes and affiliated organisation of Bangladesh Diabetic Somiti celebrated the day. Special prayers was offered and Diabetes Screening Program were arranged and special diet for the admitted patients were served. A photo exhibition was also arranged reflecting the life and works of the Late National Professor. A new museum, "Ibrahim Memorial Museum", was inaugurated to preserve and protect memories of Prof. Ibrahim.
"Visionary and Missionary National Professor Dr. Mohammad Ibrahim" documentary
In 2010 Mahbubul Alam Taru directed a 56-minute documentary titled "Visionary and Missionary National Professor Dr. Mohammad Ibrahim'" which focused on the works and contribution of this great son of the soil. The premiere show of the documentary was held in the National Museum, Dhaka, where Chief Justice Mostafa Kamal and National Professor M. R. Khan were the main guests.
Since my childhood, I have seen him as a social activist. He was very religious.

Chief Justice Mostafa Kamal said the documentary will encourage others to follow the ideology of Dr. Ibrahim
It is Dr. Mohammad Ibrahim who inspired me to establish an organisation like the Institute of Child Health.

Prof. M. R. Khan, National Professor of Bangladesh
The documentary was later shown at all the diabetes centre in 56 districts of Bangladesh.
Mahbubul Alam Taru

()
What others say about Dr. Mohammad Ibrahim...
Those of us who know him personally, would not have met a man of his metor. Simple and humble but philanthropic and most indulgent to the care of underprivileged diabetics. Vocational rehabilitation of diabetes in rural Bangladesh was his exemplary contribution in the third world.

He persistently endeavoured to change the educational pattern and concept of medical practice from episodic to an anticipatory and comprehensive one, from clinical to preventive and promotive so as to meet the challenge of modern times with contemporary technology through example rather than precept.

We pray for a restful abode for him and his life to be a continuing inspiration for those who work for diabetics in the underprivileged social order.
Dr. Ibrahim was a dynamic leader. He was very firm about what he wanted to achieve - and would go ahead and do it. He was firm, he might appear frightening but when you knew him well you would see he was at heart a very gentle man. I will always remember him for his contribution to women's development in Bangladesh. He took a very bold step in 1976 by appointing 13,000 women to work in village family planning programmes. Due to some bureaucratic procedures, the appointment could not take place for a long time. But Professor Ibrahim gave orders to complete the appointment by 31 March 1976. To do this in 1976, when only 6% of the women of Bangladesh were literate, was a miracle.

Mahnur Rahman, former Director of Training at the National Institute of Population Research and Training (NIPORT) in Bangladesh
National Professor Mohammad Ibrahim was a celebrated physician, a gifted teacher, a talented organiser and a great reformer. His contributions in the field of medicine in general and diabetes in particular have been nothing less than phenomenal.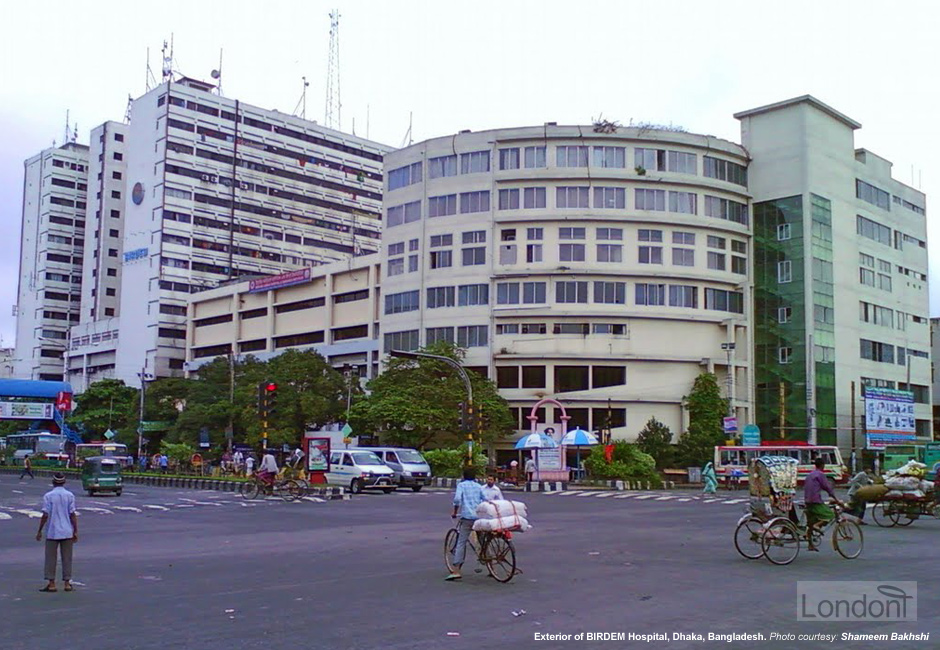 BIRDEM
The Bangladesh Institute of Research and Rehabilitation in Diabetes, Endocrine and Metabolic Disorders (BIRDEM) is the central institute of Bangladesh Diabetic Somoti. it is a multi-sectoral health care centre, educational and research institute located at Shahbagh area in Dhaka. The hospital is housed in a 15-storied building established on a government plot and financed by the government.
It has the largest diabetic out-patient turnover in the world under one roof and it is one of the largest health-complexes in Bangladesh providing almost all types of clinical and diagnostic facilities that is expected of a modern hospital. The hospital has 674 beds - among these 30% beds are free. Poor diabetic patients and case of academic interests are entitled to these free beds where all investigations and treatment (including medications) are provided without any charge. The in-patient departments have taken the characteristics of almost a general hospital, although diabetic and other endocrine patients are always given priority.
BIRDEM maintains a separate research department staffed by full-time researchers. With large number of international collaborations the institute is now widely acclaimed as one of the most advanced diabetic research centre in the world. In recognition of its innovative, extensive and high quality services BIRDEM was designated in 1982 as a 'WHO-Collaborating Centre for Developing Community-oriented Programmes for Prevention and Control of Diabetes'. It is the first such centre in Asia and the first of its kind outside Europe.
The clinical services of BIRDEM provide comprehensive diabetic care free of charge to all the registered diabetic patients. The fund collected by 'Cross financing' system i.e through medical care and diagnostic service to other patients, is spent for imparting free medical service to the diabetic patients. The patients are entitled to get medical supervision, consultations, diabetic education (which includes basic knowledge on overall health), advice on nutrition, social support and rehabilitation, if necessary. Insulin, oral hypoglycemic agents, and medicines are supplied free or at subsidized cost.
BIRDEM Academy
In 1986 the BIRDEM Academy was established with the objective of producing adequate qualified manpower for medical institutions in the country including BIRDEM. The Academy conducts diploma and degree courses like DEM, MPhil, MD and PhD in Endocrine Medicine. Besides, post graduation courses are also conducted on subjects like general surgery, ophthalmology, medicine, critical care medicine, etc, under the University of Dhaka and Bangabandhu Sheikh Mujib Medical University (BSMMU).
PhD.
MD in...Endocrinology & Metabolism, Radiology & Imaging, Gastroenterology, Internal Medicine, Neonatology, and Critical Care Medicine.
MS in...Obstetrics and Gynaecolgy, General Surgery, and Ophthalmology.
M. Phil in...Immunology, Biochemistry, and Radiology & Imaging.
Diploma in...Dermatology, Endocrinology & Metabolism (DEM), and Anesthesioslogy.
Other initiatives
BIRDEM is one of seven institutions currently working as part of the Bangladesh Diabetic Association to serve people.
Bangladesh Institute of Research and Rehabilitation in Diabetes, Endocrine and Metabolic Disorders (BIRDEM) = Website www.birdem-bd.org.
Rehabilitation and Vocational Training Centre (RVTC) = Main objective is to train the poor Diabetics to help them to get employment after getting training in different trades like computer technology, beautification, dress making, printing, etc. The organisation helps them to be self supportive leading a meaningful, respectful life in society by generating their own means and resources and not become a burden on their family so as to lead a normal life. Website www.rvtcbd.org.
National Health Care Network (NHN) = Established June 1996 to provide quality laboratory services all over the country. It has 13 out-patient centres throughout Dhaka city and 5 others throughout the country (at Ashulia, Gazipur, Comilla, Narayanganj and Patuakhali). Website www.nhn-dab.org.bd.
Ibrahim Cardiac Hospital & Research Institute (ICHRI) = A non-profit and highly reputable organisation to prevent and treat cardiac patients, to create awarness and to develop skilled manpower. Website www.ichri.org.
Ibrahim Medical College (IMC) = Established in 2002. The college offers 5-year MBBS Course as approved by Bangladesh Medical and Dental Council (BM & DC) leading to MBBS degree of the University of Dhaka. The goal and objectives of the college is to create leaders of medical profession, who are competent, committed, caring and willing to serve the community. The college provides excellent broad based education with a focus on professional development. Website www.imc-bd.org.
Bangladesh Institute of Health Sciences (BIHS) = The objective of BIHS is to create a Model Educational Institute encompassing all disciplines of biomedical and health sciences. Website www.bihs.edu.bd.
Kidney and Liver Transplant Unit (KALTU) = Formed in November 2004. Four kidney transplantation operations were performed on the same day. Regular kidney transplantation started on March 2005. In June 2010 the unit performed the first ever liver transplantation operation in Bangladesh and total two liver transplantations have been successfully done.
Dr. Ibrahim was very much aware about the quality of the service provided to the patients. He used to tell the patients: "We are grateful to you for giving us the opportunity to serve". His humility was legendary and most genuine. Deep empathy and compassion were characteristics of his dealing with his patients, especially those who were poor and in pain. He also motivated other doctors to serve the patients with empathy.

He included social welfare, health education, nutritional education and rehabilitation in the diabetes healthcare delivery system. He believed that an institution achieves its goal and excellence not by bricks and mortars; nor by machine or metals but by its human resources.
Helping the aged
Dr. Mohammad Ibrahim was also involved in the care of the old and the aged. He was the chairman of the Bangladesh Association of Geriatrics during 1978-89 and helped to set up the Institute of Geriatric Medicine and Research. He was also Chairman of the Retired Government Employees Welfare Association from 1976-88. For his work on the old and the aged, he was elected a Member of the Executive Committee of the International Federation of the Aged, London.
Awards galore
In 1963, the Pakistan government honoured Dr. Mohammad Ibrahim with the Sitara-i-Khidmat (Star of Service) award for his special contributions to medical science.
In 1979 the Government of Bangladesh awarded Dr. Ibrahim the Swadhinata Purushkar (Independence Day Award), the highest civilian award in Bangladesh. This was followed by numerous Gold Medal from various reputable organisations throughout the country, such as Begum Zebunnesa and Kazi Mahbubullah Trust (1981), Mahbub Ali Khan Memorial Trust (1985), Comilla Foundation, Comilla (1986), Khan Bahadur Ahsanullah Memorial Trust, Ahsania Mission, Dhaka (1989), and Islamic Foundation Bangladesh (1989).
First physician to become National Professor of Bangladesh
In 1984, in recognition of his great contribution to medicine and to humanity, the Government of Bangladesh appointed Dr. Mohammad Ibrahim as the National Professor of Bangladesh. He was first physician to receive such high distinction. The following year he became a Fellow of Bangla Academy (1985) and the year later a Founder Fellow of Islamic Academy of Sciences, Amman, Jordan (1986)
Passing & burial
On 6 September 1989 Dr. Mohammad Ibrahim passed away in Dhaka. His death anniversary is observed as 'Sheba Dibosh' (Diabetic Service Day) to endorse and honour his great contribution to socio-medicare services.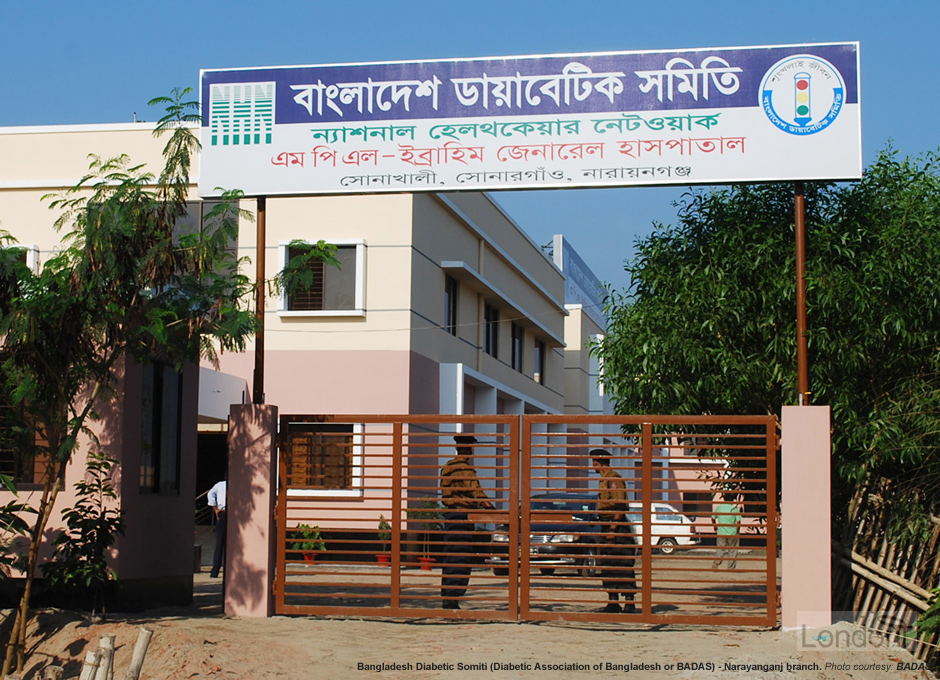 Father of diabetic care in Pakistan & Bangladesh
Diabetic Association of Pakistan
Back in 1956 the real extent of the problem of diabetes in the country was not evident. People thought that diabetes is a disease of the affluents and hardly anyone anticipated that diabetes would be an epidemic even in the developing countries - except Dr. Ibrahim. Foreseeing the problem, Dr. Ibrahim organised and led a team of social workers, philanthropists, physicians, and civil servants to establish the Diabetic Association of Pakistan on 28 February 1956 in a tin-shed building at Segun Bagicha area of Dhaka with only 23 patients. The association was a non-profit voluntary socio-medical service organisation. Primarily an adhoc committee was formed to run the organisation. Later, on 21 May 1956 the first Office Bearers of the Association has been formed with Dr. Ibrahim himself as the Vice President and the following members:
President: Major Dabiruddin

()

Vice President: Nurjahan Morshed

()

Secretary: A. M. Salimullah Fahami

()

Joint Secretary: Tahera Karim

()

Joint Secretary: Dr. M. A. Mannan

()

Treasurer: F. Dosani

()
The ground-breaking organisation was formed by Dr. Ibrahim to help the most needy. With this in mind, he gave free primary care to the diabetic patients irrespective of socio-economic, racial or religious status. Even rich patients were not allowed to buy the primary diabetic care, but could donate money to the association. The resources and fund was raised through motivation programs.
No diabetic patients should die untreated, unfed or unemployed even if she/he is poor.
In 1957 the Association started an out-patient clinic in a small semi-permanent structure of about 380 sq feet (35.3 sq m) at Segun Bagicha.
Pursuing dream whilst juggling professional & academic career
Dr. Mohammad Ibrahim worked tirelessly to fulfill his vision of a healthy diabetes-free nation whilst simultaneously juggling his professional and academic responsibilities. In 1958 he served as the Governor at the Pakistan chapter of the American College of Chest Physicians. Four years later, in 1962, he received his FCPS (Fellowship of College of Physicians & Surgeons) degree - postgraduate training in specialties of Medicine - from Pakistan College of Physicians and Surgeons and served as the Professor of Medicine and Principal at Sir Salimullah Medical College and Hospital until 1964. During the same time, in 1963, the Government of Pakistan honoured Dr. Ibrahim with the Sitara-i-Khidmat state award for his special contributions to medical science.
In 1964, he was appointed Director and Professor at Jinnah Post Graduate Medical Center in Karachi, West Pakistan. While in the western wing, Dr. Ibrahim opened two new branch of the Diabetic Association of Pakistan in Karachi and Lahore respectively and became the Chairman at the Karachi branch.
Three years later, in 1967, he received his FRCP (Fellows of RCP) degree from the Royal College of Physicians (RCP) in London, UK. The following year he began the Applied Nutritional Research and Training Program. From 1969-70, Dr. Ibrahim served as Chairman at the Pakistan National Science Council in Islamabad, West Pakistan.
Renamed to 'Bangladesh Diabetic Somiti' (Diabetic Association of Bangladesh) after 1971 Muktijuddho
Following the creation of Bangladesh in 1971 after nine-months of genocide, Dr. Ibrahim returned to the country and retired from government duty, engaging wholeheartedly in his work as a physician, in his social work and in the diabetic health care program. He renamed the Diabetic Association of Pakistan to Bangladesh Diabetic Somiti (Diabetic Association of Bangladesh or DAB for short). The organisation is also known by 'Bangladesh Diabetic Association' or BADAS for short. Initially when the organisation was formed in 1956 there was no indoor facilities at Segun Bagicha. Patients in need of hospitalisation were sent to other hospitals. However, by the beginning of 1970s few short-stay beds were established to take care of the serious patients.
Dr. Ibrahim was aware of the quality of the service provided to the patients. He used to tell patients: "We are grateful to you for giving us the opportunity to serve". Deep empathy and compassion were characteristics of his dealing with patients, especially those who were poor and in pain. He also motivated other doctors to serve the patients with empathy. He included social welfare, health education, nutritional education and rehabilitation in the diabetes healthcare delivery system. He always believed that an institution achieves its goal and excellence neither by bricks and mortar, nor by machine or metal, but by its human resources. He spent all his life in developing talented human resources.
Over the years, the clinic has turned into a diabetes care and research complex at Shahbag, Dhaka. After the death of Prof Ibrahim in 1989, the highrise building which houses BADAS was renamed as 'Ibrahim Memorial Diabetes Centre'.
One of the leading health complexes in Bangladesh
The Diabetic Association of Bangladesh is managed by a 32-member National Council comprising heads of universities, financial institutions, research organisations, donor agencies, community organisations as well as social leaders and government officers. Eighteen (18) members from the life member category and 6 members from the Affiliated Association category are directly elected by the representative life members and Affiliated Association members respectively in the Annual General Meeting (AGM).
BADAS' Diabetes Care and Research Complex, now converted into a large modern diabetic hospital, has both indoor and outdoor treatment facilities and it provides pathological and X-ray services. The hospital is World Health Organisation's regional collaborating centre for diabetes research in Southeast Asia. It serves about 300 outdoor patients daily and has about 461 paying and 80 non-paying beds and also 89 cabins. There are about 310 doctors, 171 paramedics and 523 nurses associated with BADAS. It employs 4,678 staff and has over 350 volunteers.
The organisation has about 102 health care facilities and 60 affiliated organisations throughout the country including in Bagerhat, Bhola, Cox's Bazar, Gaibandha, Jhendiah, Kishoreganj, Magura, Sunamganj and Tangail.
Provide total healthcare including rehabilitation for all diabetics irrespective of gender, economic and social status through different institutions of Diabetic Associations of Bangladesh.
Expand these services to provide affordable BADAS healthcare for all Bangladeshi through self-sustaining centres of excellences.
For human resources development create requisite specialized quality manpower (Physician, Technicians, Nurses and other related) of high ethical standards for manning these institutions and for the country.
Develop leadership in healthcare through dedicated and transparent management system.
Develop industries for diabetic and other health food and manufacturing medicines.
Following the guidance and philosophy of its founder, the Diabetic Association of Bangladesh has upheld its vision that no diabetic should die untreated, unemployed or unfed even if poor and all people shall be provided with affordable health care service.
Growth
Starting with only 39 patients in 1956, BADAS, along with its affiliates, now serves the largest number of registered diabetic patients receiving regular and comprehensive health care under a single umbrella in the whole world. At the end of financial year 2012 (July 2011 - June 2012) the total number of registered patients was 2,110,146 of which 251,370 were registered as new patients.
In 1980 DAB established the Bangladesh Institute of Research and Rehabilitation in Diabetes, Endocrine and Metabolic Disorders (BIRDEM) at Shahbag, Dhaka, to produce qualified manpower in diabetes, endocrine and metabolism. The out-patients centre of DAB was also shifted to BIRDEM. Through its Academy, BIRDEM conducts the largest number of postgraduate courses in the private sector. It conducts specialised postgraduate courses for diploma and degrees such as MPhil, MD, PhD, and MS in various medical and health science disciplines under the Postgraduate Faculty of Medicine of the University of Dhaka.
Along with its mother organisation BADAS, BIRDEM has 42 district level branches in the country.
Over the last five decades the Association has created the largest infrastructure and registered patients base in the world for the prevention and care of diabetes. In addition, next to the Government, it is now the largest comprehensive health care provider as well as the health manpower generating organisation in Bangladesh.
Health Care Development Project (HCDP)
Pre-natal Care Project (PCP)
Preventative Foot Care Project (PFC)
Distance Learning Project (DLP)
Diabetes Prevention Project (DPP)
BADAS-ORBIS Eye Care Project
Diabetes Prevention Intervention Study (DPIS)
Extension of Diabetic Care Project (EDC)
Mother & Child Health (MCH)
Changing Diabetes in Children (CDIC)
Bringing awareness nationwide
In addition to traditional marketing techniques, the Bangladesh Diabetic Association employ innovative modern approach to bring awareness to the masses in this developing nation.
Rally
Discussions
Question/answer session (doctors with patients)
Radio & tv programs
Distribution of awareness materials and diabetes/health magazine
Children art competition
Screening of diabetes in various centres and in the community of high risk people
Milad (special prayer)
Free heart camp
Free consultation on diabetes management and treatment at Hajj Camp & publication of book
Prevention and awareness for young and Type 1 diabetes
Video animation for the prevention and control of diabetes
Educational tools for the patients
Clay model of the food items
In 2012 a full length feature film called "Dui Beayier Kirti" had been released in cinema halls throughout Bangladesh to create diabetes awareness.
Member of International Diabetes Federation (IDF)
In 1959, three years after it was founded, the Diabetic Association of Bangladesh became a member of the world-renowned International Diabetic Federation (IDF). The IDF is an umbrella organisation of over 200 national diabetes associations in over 160 countries. It represents the interests of the growing number of people with diabetes and those at risk. The Federation has been leading the global diabetes community since 1950 and is a highly respected player in the field.
As a member of IDF, we express solidarity with the vision and mission of IDF in creating global awareness, fight NCD in general and diabetes in particular. We get more training opportunities and exposure, recent updates about diabetes and networking.

Dr. Ahmed Razee, President of Diabetic Association of Bangladesh (2013)
International Diabetes Federation (IDF)

()
Internationally, BADAS collaborates with leading health organisations in order to make sure the people of Bangladesh receive the best service. These organisations include: United Nations Population Fund (UNFPA), U.S. Agency for International Development (USAID), World Diabetes Foundation (WDF), University of Oslo, Women and Children First UK, ORBIS International, AUS AID and European Union (EU).
BADAS has gained international reputation for its diabetes health care model branded as 'Ibrahim Model'. It has also emerged as a major general health care provider all over Bangladesh. BADAS is contributing, to a large extent, in both undergraduate and postgraduate manpower development in Bangladesh through formal and informal educational and training programs.
Working till his death
From 1972, until the day of his death, Dr. Ibrahim continued working diligently as chairman of the Bangladesh Diabetic Society. At the same time, from 1975 to 1977 Dr. Ibrahim served as Advisor to President Ziaur Rahman for the Health and Population Control, Labour and Human Resources and Social Welfare Ministries. He was involved with many philanthropist efforts, having established many such organizations and served in important capacities at many national institutions.
In 1978 Dr. Ibrahim received the FRCP degree from the Royal College of Physicians in Glasgow, Scotland, UK.