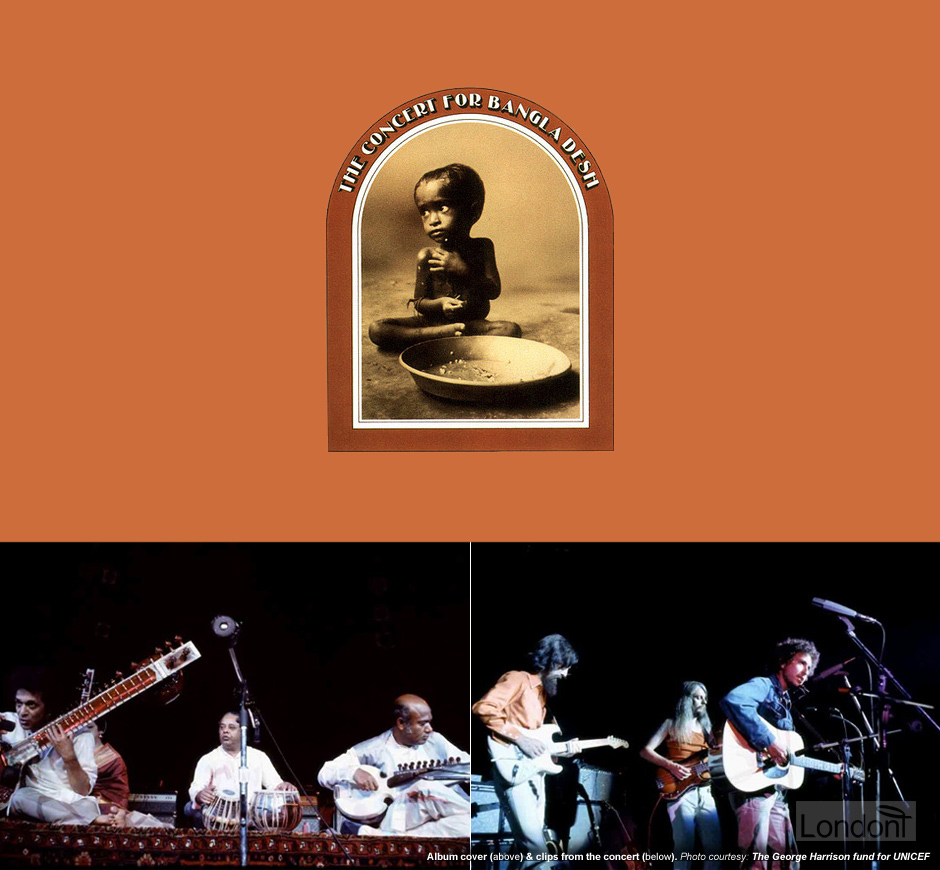 The Concert for Bangladesh
The Concert for Bangladesh (or Bangla Desh, as the country name was spelt originally) was the name for two benefit concerts organised by Indian Bengali sitar maestro Ravi Shankar and British spiritual Beatle George Harrison, held at 2.30 pm and 8 pm on Sunday 1 August 1971, playing to a total of 40,000 people at Madison Square Garden in New York City. The shows were organised to raise international awareness and fund relief efforts for refugees from East Pakistan (now Bangladesh), following the 1970 Bhola cyclone and the civil war-related Bangladesh atrocities. The concerts were followed by a bestselling live album, a boxed three-record set, and Apple Films' concert documentary, which opened in cinemas in the spring of 1972.
Ravi Shankar

()

George Harrison

()
Bangladesh's Beatle hero
In early 1971, Ravi Shankar consulted his friend George Harrison regarding helping to raise awareness of the human misery and dire situation of Bengalis in East Pakistan, especially after the disastrous 1970 Bhola Cyclone and the growing atrocities committed during the Bangladesh Liberation War. In response, Harrison recorded the single "Bangla Desh" and pushed The Beatles' Apple Records to release Shankar's single "Joi Bangla", featuring Ali Akbar Khan and Alla Rakha and produced by George Harrison himself, in a dual-pronged effort to raise funds.
Shankar's original hope was to raise a humble $25,000 through a small fund-raising concert of his own, compered perhaps by actor Peter Sellers. However, by late June 1971, following the publication of Anthony Mascarenhas' powerful "Genocide" article in London's Sunday Times, and with the record and film outlets available to Harrison through The Beatles' Apple organisation, the idea had grown to become a star-studded extravaganza.
It was early in April 1971 that news reached me of an unfolding humanitarian crisis in my homeland of Bengal. My heart went out to the Bengali speaking people of Bangladesh and it was natural for me to reach out and want to help the refugees and the hundreds of thousands of little children.

I expressed my concern to George Harrison. He knew about the turmoil of my mind and a concert to raise funds was initiated. An enormous amount of money was collected and this could never have been achieved without the help of dear George. What happened is now history: it was one of the most moving and intense musical experiences of the century.

Again and again I am asked which concerts stand out in my memory, and it is very difficult to remember all the prominent ones as my career spans over seventy-five years of performances; but the Concert for Bangladesh was very significant to me as the conception of the idea came from me and the people needing aid were very close to my heart; some of them, of course, being distantly related to me.
Harrison took the idea and started calling his friends, persuading them to join him in a large concert at the most prestigious venue in America: Madison Square Garden, in New York City.
Harrison had hoped to rope in the other three Beatles - John Lennon, Paul McCartney and Ringo Starr. Harrison flew to New York on 13 July 1971 to see Lennon, who agreed to consider participating in the show as well. However, Harrison stipulated that Lennon's wife Yoko Ono could not perform with him. Lennon agreed, but left New York two days before the event following an argument with Ono regarding his and Harrison's agreement. Paul McCartney declined because of the bad feelings caused by The Beatles' legal problems on their break-up.
George came up and asked if I wanted to play Bangla Desh and I thought, blimey, what's the point? We're just broken up and we're joining up again? It just seemed a bit crazy.
Ringo Starr's commitment had never been in question. He agreed instantly and even interrupted the filming of his movie 'Blindman' in Almeria, Spain, in order to attend.
The final line up featured a supergroup of performers that included George Harrison, Ringo Starr, Bob Dylan, Eric Clapton, Billy Preston, Leon Russell and the band Badfinger. In addition, Shankar and two other legend of Indian music, Ali Akbar Khan and Alla Rakha, along with Kamala Chakravarty, were to perform a separate set.
Thus, mixing Western rock with Indian classical music, The Concert for Bangladesh was organised within five weeks. It was the first benefit concert of its type, and the first of such magnitude.
Having previously worked in administrative roles at Apple headquarters and Friar Park, O'Dell set about contacting local musicians from the Harrisons' rented house in Nichols Canyon, as Harrison took the long-distance calls, hoping more than anything to secure Bob Dylan's participation. Almost all of those first-choice names signed on immediately, while a day spent boating with Memphis musician Don Nix resulted in him agreeing to organise a group of backing singers. As for a date for the concert, early August had been advised by a local Indian astrologer, and as things transpired, the 1st of that month, a Sunday, was the only day that Madison Square Garden was available at such short notice.
Ali Akbar Khan

()

Alla Rakha

()

Bob Dylan

()

Eric Clapton

()

Billy Preston

()

Leon Russell

()

Kamala Chakravarty

()

Badfinger

()
Ground-breaking concert
In his role as "master of ceremonies", George Harrison began the afternoon show (or matinee) by asking the audience to "try to get into the Indian music section" of the programme. He introduced Ravi Shankar and the latter's fellow musicians − sarodist Ali Akbar Khan, tabla player Alla Rakha, and Kamala Chakravarty on tamboura. Shankar proceeded to explain the reason for the concerts, after which he and the other musicians opened the concert by performing a traditional dhun, titled "Bangla Dhun" (Bangla Tune).
As Harrison's musical biographer, Simon Leng, would later note, to have Shankar, Khan and Rakha on the same stage amounted to a supergroup in their own right.
A short intermission ensued while the stage was cleared and a Dutch TV film was shown, displaying images of the atrocities and natural tragedies taking place in former East Pakistan. One of the many revelations within the film was that America was supplying weaponry and financial aid to the Pakistani army, led by military dictator General Yahya Khan.
Once the film was over, Harrison appeared on stage to thunderous applause from the New York crowd along with his star-studded temporary band, comprising comprising Ringo Starr, a very sick Eric Clapton (he'd been suffering from heroin withdrawal), Leon Russell, Billy Preston, Klaus Voormann, Jim Keltner and 18 others. Backed by an Phil Spector's orchestra, Harrison began the Western portion of the concert with "Wah-Wah", followed by his Beatles hit song' "Something" and the gospel-rocker "Awaiting on You All".
It was George Harrison's first live appearance (except two short cameo in 1969) before a paying audience since the The Beatles had quit touring five years earlier in August 1966.
The fact is, George was never a frontman. He was standing in front of the audience, talking to them, and you can see how uneasy he feels about that. It was not his thing. He just wanted to do it for his friend [sitarist Ravi Shankar]. That's why I think it is so strong.

Voormann, who played bass in the band for the historic concert
Klaus Voorman

()

Jim Keltner

()

Phil Spector

()
Harrison was followed by a medley of performers, culminating in Bob Dylan, who'd been out of the spotlight for several years and was uncharacteristically nervous (it was Dylan's first live performance since his motorbike accident in 1966) The appearance of Bob Dylan on the same stage as two former Beatles caused a sensation. Dylan performed five of his decade-defining songs from the 1960s: "A Hard Rain's A-Gonna Fall", "Blowin' in the Wind", "It Takes a Lot to Laugh, It Takes a Train to Cry", "Love Minus Zero/No Limit" and "Just Like a Woman". Harrison and band then returned to perform a final segment, consisting of "Hear Me Lord" and his recent international number 1, "My Sweet Lord" (with Clapton and Jesse Ed Davis handling the signature slide-guitar motif).
George Harrison closed the concert with "Bangla Desh", the special song he had written for the occasion and released in America only three days earlier.
With minor changes, the second and final show began at 8 pm. Once again "Bangla Desh" was performed at the end as a rousing encore.
The second show was widely acknowledged as superior to the afternoon performance, although Village Voice reviewer Don Heckman noted that many in the audience reacted to the Shankar–Khan opening set with a lack of respect. Not aiding the Indian musicians was the failure of a microphone on Rakha's hand drums, Heckman observed, so denying the crowd a vital element of the musical interplay between sitar and sarod.
'Bangla Desh' song by George Harrison
'Bangla Desh' song was written "in 10 minutes at the piano" and composed by George Harrison. The emotive lyrics describes 'friend' Ravi Shankar approaching George Harrison for help. As with the concerts, Harrison made a point of steering clear of the politics behind the problem, his lyrics focusing instead on the human perspective.
My friend came to me
With sadness in his eyes
He told me that he wanted help
Before his country dies

Although I couldn't feel the pain
I knew I had to try
Now I'm asking all of you
To help us save some lives

Bangladesh, Bangladesh
Where so many people are dying fast
And it sure looks like a mess
I've never seen such distress

Now won't you lend your hand and understand?
Relieve the people of Bangladesh

Bangladesh, Bangladesh
Such a great disaster, I don't understand
But it sure looks like a mess
I've never known such distress

Now please don't turn away
I want to hear you say
Relieve the people of Bangladesh
Relieve Bangladesh

Bangladesh, Bangladesh
Now it may seem so far from where we all are
It's something we can't neglect
It's something I can't neglect

Now won't you give some bread to get the starving fed?
We've got to relieve Bangladesh
Relieve the people of Bangladesh
We've got to relieve Bangladesh
Relieve the people of Bangladesh

"Bangla Desh" song by George Harrison
"Bangla Desh" was Pop music's first charity single. It was recorded in a Los Angeles, USA, studio on 4 July 1971 with co-producer Phil Spector and musical contributions from Starr, Russell, Voormann, Keltner and a horn section led by Jim Horn. The song was released as a non-album single later that month, on 28 July 1971, in USA - three days before the Concert for Bangladesh at Madison Square Garden - and two days later in UK. It attracted an impressive amount of airplay in the days leading up to the concerts, 'lending the relief project an authentic social and political significance'.
The fact that Harrison spelt it as two words is indicative of how little the new country name had been acknowledged by the western media at this time.
The single achieved considerable, though not spectacular, commercial success: it reached number 10 in Britain and number 23 in Americas Billboard Hot 100. "Bangla Desh" was included on the 1976 compilation 'The Best of George Harrison', which remains the only official CD release on which the song is available.
In 2010 AOL Radio listeners placed it at number 10 in a poll to decide the ten best post-Beatle George Harrison songs.
To the utter consternation of [US President] Nixon and [Secretary of State] Kissinger, George Harrison's 'Bangla Desh' hit the chart. It was a thrilling moment in the midst of all the sad news emanating from the battlefront. Even the Western journalists covering the civil war in East Pakistan were not yet using the word 'Bangladesh'.

Professor Farida Majid, academic
Fund raised & international awareness
The two Madison Square Garden shows raised $243,418 (£120,000), which was given to UNICEF to administer on 12 August 1971. By December 1971 - when Victory was finally achieved by Bangladesh - Capitol Records presented a cheque to Apple Corps for around $3,750,000 for advance sales of the Concert for Bangladesh live album.
Here was something from that happened arguably first 'here's-the-coming-home-truth' at the highest level of politics that existed at this planet and I think that's the end combination of a long process of people in music starting using their ability to do something outside of music, making the mistake first of thinking it was just music and understanding it wasn't, it was to do with politics not just fundraising and utilising those things through to its logical end to the ultimate seat of power.

Bob Geldof on how The Concert for Bangla Desh had inspired him
By mid 1985, according to an article in the Los Angeles Times, nearly $12 million had been sent to Bangladesh for relief. Around this time, Harrison would give Bob Geldof "meticulous advice" to help ensure that Live Aid's estimated £50 million found its way, as intended, to victims of the Ethiopian famine.
More importantly, as a result of the electrifying concert, overnight the name of the country Bangladesh came to be known all over the world and people became aware of the region's plight. Millions of dollars were raised and given to UNICEF who distributed milk, blankets and clothes to refugees.
The awareness is more important than money, because even if we make $5 million it's still small compared to the size of the problem, so really it's more important to bring the awareness to massive people.
Overnight everybody knew the name of Bangladesh all over the world.
Because of its positioning as a humanitarian effort, all descriptions of the show included a summary of the catastrophe in South Asia. Overnight, because of their fascination with rock stars, masses of people became educated about geopolitical events they had not even been aware of the week before. The tragedy in Bangladesh moved to the fore as an international issue.

Gary Tillery, author
A two-disc special edition DVD of The Concert for Bangladesh was issued in 2005, with the concert on disc one and a 2005 documentary, "The Concert for Bangladesh Revisited with George Harrison and Friends", on the second disc.
Popular depiction
In popular culture The Concert for Bangladesh was satirized in two episodes of The Simpsons, "Like Father, Like Clown" and "I'm with Cupid". In the former, Krusty plays it while a visitor at the Simpsons household. In the latter, Apu Nahasapeemapetilon has, in his record collection, the Concert Against Bangladesh with a picture of a mushroom cloud on the cover, reflecting Indian-Pakistani nuclear rivalry in the region.