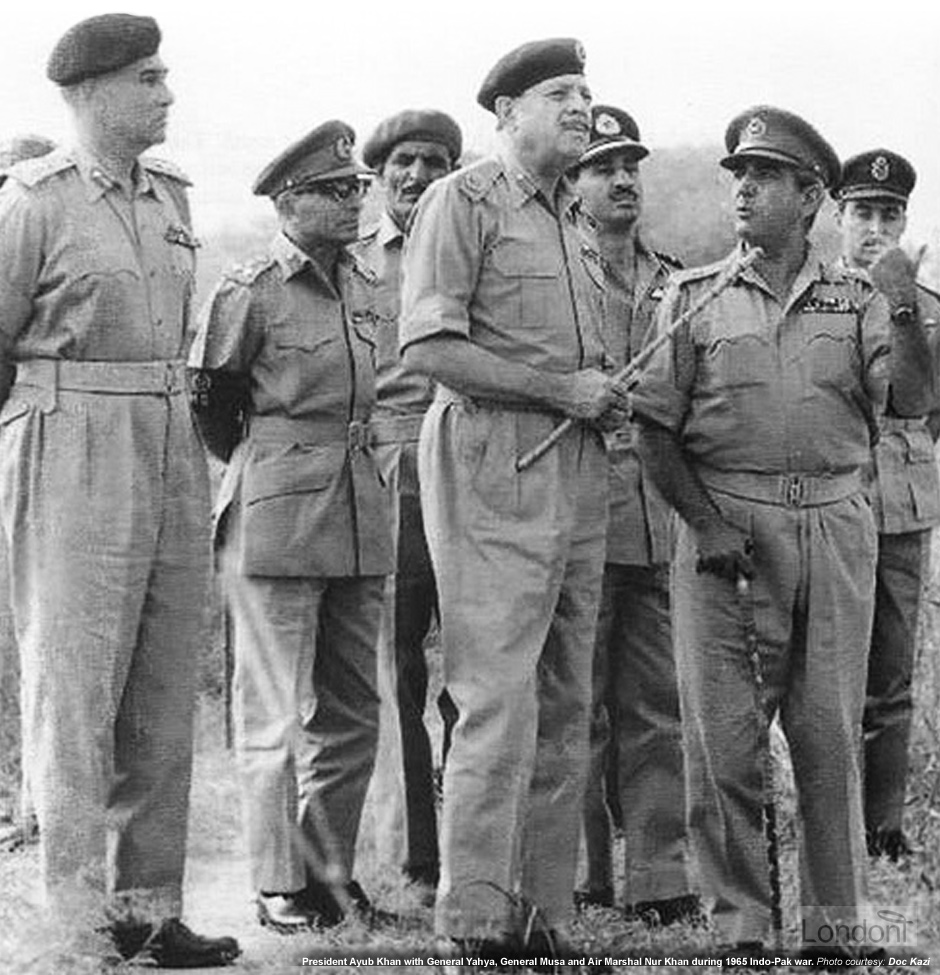 Socio-political storm before the cyclone
End of Ayub Era, beginning of Yahya Khan's military dictatorship
During the course of 1968 and into the early months of 1969, there was widespread political agitation against the government of President Ayub Khan. The anti-Ayub movement was led by Maulana Abdul Hamid Khan Bhashani, former first President of Awami Muslim League now the peasant leader of the left-wing National Awami Party (NAP), who prompted and hastened the withdrawal of the infamous Agartala Conspiracy case and the unconditional release of Awami League leader Sheikh Mujibur Rahman from captivity. Maulana Bhashani orchestrated a series of jalao-gherao (arson and surround) movement - a form of non-violent sit-in strikes designed to 'encircle' the governmental official against whom a protest was directed - and raised the slogan 'Bangla jago, agun jalo' (Wake up Bengal, and start a fire) immediately before and during the 1969 student-mass movement which eventually led to the shameful downfall of the dictatorial regime of Ayub Khan. The Maulana was lovingly called "Majloom Jononeta" (leader of the oppressed) because of his uncompromising commitment to the needs of the poor, landless, peasants, workers, sharecroppers, abandoned, exploited and repressed people of the society.
Allegations of ethnic discrimination and lack of representation had caused turmoil and conflict between the two wings of Pakistan. The Awami League, the largest political party in East Pakistan, espoused Bengali nationalism and sought greater autonomy for the province through their controversial 6-Dafa Andolon (Six-Point Programme), which most West Pakistanis saw as secessionist. For the very first time in its history, the Bengali middle class was beginning to coalesce as a large, vocal group around the personality of Sheikh Mujibur Rahman - referred lovingly as 'Bangabandhu' (pronounced Bongabondhu), meaning Friend of Bengal.
Ayub Khan had already lost the services of Minister of Foreign Affairs Zulfikar Ali Bhutto, who resigned on 16 June 1966, became a vocal opposition leader, and founded the Pakistan Peoples Party (PPP) in Lahore on 30 November 1967. Bhutto and his comrades were arrested a year later on 13 November 1968 under Defence of Pakistan rules, 1965, section 33-B, for launching a nationwide tour agitating against the military dictatorship of Ayub Khan. Bhutto spent three months in jail in Lahore before being released on 10 February 1969 and put under house arrest in his home in Larkana.
Thus, by 1968 it was obvious that except for the military and the civil service, Ayub Khan had lost most of his support. Ayub Khan's illness in February 1968 and the alleged corruption of members of his family further weakened his position. In West Pakistan, Bhutto's PPP called for a "revolution", in the east, the Awami League's 6-Dafa became the rallying cry of the opposition.
The Ayub Khan era is most remembered for its impressive growth rates, which have been unprecedented in Pakistani history, for its strong macroeconomic performance, and for its sound economic management in formulating and implementing economic plans, policies, and programs. But this period was also characterised by regional inequity, which hampered the process of national unification and ultimately led to the breakup of Pakistan, as well as by class inequities and the concentration of economic power. Nonetheless, the Ayub government was successful in its objective of creating a substantial class of large industrialists, most of whom were Muhajirs from Karachi and from a different ethnic group than Ayub Khan.
As President Ayub's popularity plummeted, he decided to give up his rule which started over 10 years ago on October 1958. On 24 March 1969 after a protracted period of unrest and turmoil, Ayub Khan suddenly resigned and in a letter to the Commander-in-Chief of the Army, General Agha Mohammad Yahya Khan, asked him to step in to deal with the crisis, as it was "beyond the capacity of the civil government to deal with the...complex situation".
I am left with no option but to step aside and leave it to the defence forces of Pakistan, which today represent the only effective and legal instrument, to take full control of the affairs of the country... to save the country from utter chaos and total destruction.

Letter sent by President Ayub Khan to General Yahya on 24 March 1969
On the evening of 25 March 1969, Pakistan's first military ruler went on air to inform the country that since he could not preside over what he called the 'disintegration of Pakistan', he had decided to hand over the country to General Yahya Khan, the President's most loyal lieutenant who had received promotion over seven more-senior generals in 1966 to the army's top post.
In the tumultuous year leading up to Cyclone Bhola, mass protests and unrest had become a staple of everyday life across East and West Pakistan. Pakistanis, fed up with military dictatorships, were demanding democracy. The military government headed by Ayub Khan was by then in its 12th year of power. However, what people received instead from their leaders was further dictatorship. The country's powerful feudal elites simply exchanged the unpopular Ayub for General Yahya Khan, then chief of the armed forces.
Ayub Khan

()

Yahya Khan

()

Maulana Bhashani

()

Sheikh Mujibur Rahman

()

Zulfikar Ali Bhutto

(1928 - 1979) Fourth President (1971-1973) & 9th PM of Pakistan (1973-1977). Founder of Pakistan Peoples Party (PPP) in 1967. Obtained Political Science (1950) degree from University of California, Berkley, and Law degree from Christ Church, Oxford University, UK. Early political career as Minister of Commerce (1958) and Minister of Foreign Affairs (1963 – 1966) under Ayub Khan regime. Resigned from cabinet ostensibly in 1966 on grounds of ill-health. Disagreed strongly with Ayub's conciliatory policy with Indian over Kashmir at the time, and made several bitter and lengthy speeches in the United Nations Security Council. Opposed Sheikh Mujib's premiership in 1970 and allegedly responsible, along with Yahya Khan, for massacre of 3 million Bengalis in 1971 Bangladesh Liberation War. Signed Simla Agreement (2 July 1972) with Indian PM Indira Gandhi to free 93,000+ Pakistani Prisoners of War. A nationalist-socialist with close ties with China. Consider father of Pakistan's Nuclear weapon programme. Born in Larkana, Sind, Pakistan, to a prominent Muslim Rajput family. Son of Sir Shah Nawaz Khan and Lady Khurshid Bhutto née Lakhi Bai. Mother converted from Hinduism to Islam before marriage. Eldest daughter Benazir Bhutto, from his second Iranian-Kurdish Shi'a Muslim wife Begum Nusrat Ispahani, became 11th PM of Pakistan. Hanged at Central jail, Rawalpindi, on 4 April 1979 on charges of murder of a political opponent.
Bengali Speaker of the National Assembly denied his constitutional right
When Ayub Khan finally handed over power to Yahya Khan he violated the provisions of the constitution he himself had imposed on Pakistan in 1962 which required him to transfer power to the Speaker of the National Assembly. The Speaker at the time happened to be a Bengali, Justice Abdul Jabbar Khan. Under normal circumstances it ought to have been Justice Abdul Jabbar Khan to assume the office of President. Justice Abdul Jabbar Khan had been the Speaker of the National Assembly since June 1965 and took over from Justice Fazlul Quader Chowdhury, another fellow Bengali, who acted as President of Pakistan from time to time when Ayub Khan left the country.
It is interesting to recall that every time the president left the country on official visits abroad, the Speaker, first Fazlul Quader Chowdhury and then Abdul Jabbar Khan (Moulvi Tamizuddin Khan had died in 1963) quickly assumed charge as acting president of Pakistan. It was therefore with much amazement that the country discovered that Ayub Khan did not engage in talks with the Bengali Jabbar Khan over a possible transfer of power to the latter.
After this incident, Justice Abdul Jabbar Khan quit politics that same year and engaged himself in promoting education by setting up schools and madrassahs and other social organisations.
Abdul Jabbar Khan

(1902 - 1984) Speaker of the Pakistan National Assembly, and philanthropist. Passed Matriculation from Barisal Zila School (1919) and IA from Barisal Brajamohan College (1921). Obtained BA (Hons) (1924) and MA Degree (1925) in Arabic from Dhaka University, and BL degree in 1927. Joined the Bengal Civil Service (Judicial) in 1929 and served in the capacity of subordinate judge, additional district judge and district judge till 1956 when he was appointed as justice of the Dhaka High Court. Retired from civil service in 1962 and joined as an activist of Pakistan Muslim League. Made president of East Pakistan Muslim League (Convention) in 1964. Elected a member of the Pakistan National Assembly from Barisal under the basic democracies system in 1965, and elected Speaker of the National Assembly (10 June 1965 - 25 March 1969). Established a number of educational and various social and welfare institutions. Born at village of Baherchar Khudrakathi, Babuganj Upazila, Barisal. Died in his home in Gulshan area, Dhaka.

(A. K. M.) Fazlul Quader Chowdhury

(1919 - 1973) Speaker of the National Assembly of Pakistan (1963 - 1965) Passed Matriculation from Noakhali Zilla High School (1934) and I.A. from Brojomohan College (B.M.College, 1936) of Barisal district securing first division in both cases. Gained BA (Hons) in History from Presidency College of Calcutta (1938) and stood 5th in order of merit. Completed Law Degree. Elected Vice-president of Carmichael Hostel Students Union for successive two terms (1938 - 1940). Inspired by revolutionary spirit of Netaji Suvash Bose and later by Allama Enayet Ullah Mashreki (founder of Punjab Khaksar Party) and became a follower. Became Speaker of Pakistan National Assembly (29 November 1963 - June 1965). Warned Sheikh Mujibur Rahman on 16 March 1971 regarding Bhutto's political intention during Bangladesh Liberation War. However, continued to support Muslim League during Muktijuddho and declared a 'traitor'. Arrested by Mitro Bahini and jailed. Dad Khan Bahadur Abdul Jabbar Chowdhury was a police officer. Born in the village of Gohira of Raojan, Chittagong district. Died in mysterious circumstances in Dhaka Central Jail on 18 July 1973.
CMLA Yahya promises return to democracy
Like his predecessor Ayub Khan, Yahya Khan's first act in office was to declare martial law.
The announcement of resignation by Ayub Khan was followed early next day, 26 March 1969, by a Proclamation (official announcement) issued by General Yahya Khan in which he imposed Martial Law throughout the country and assumed the powers of the Chief Martial Law Administrator (CMLA), while still retaining his old role as the army's Commander-in-Chief. The Constitution of 1962 was abrogated (or abolished), the National and Provincial Assemblies were dissolved, and the President, the Central and Provincial Ministers and the Provincial Governors ceased to hold office. It was announced that no courts would have any power to call in question any Martial Law regulation or any judgment of a military court, or to issue any writ or order against the CMLA or any person acting under his authority. However, unlike the 1958 martial law of Ayub Khan, the political parties were not banned although their activities were restricted.
In the wake of mass strikes and disturbances, the new CMLA addressed the nation and disclaimed any political ambitions. He promised restoration of a civilian government and duly held out assurances that his job was to create conditions conducive to the holding of general elections in Pakistan.
Quarter of a century after gaining independence Pakistan was without a constitution, democracy and a form of government.
General Yahya divided the country into two administrative zones - Zone 'A' (West Pakistan) and Zone 'B' (East Pakistan). Major General Muzaffar-ud-Din, who was the General Officer Commanding (GOC) of the 14 Division, became the Martial Law Administrator (MLA) of Zone 'B' (East Pakistan) and established his headquarter in Governor's House (now known as Bangabhaban), Dhaka, on 30 March 1969. Two weeks later, on 8 April 1969, General Yahya issued an order empowering the MLAs of Zone 'A' and 'B' to be Governors of their respective province also. Thus Major General Muzaffar-ud-Din exercised the power and function of both MLA and Governor of East Pakistan until 23 August 1969 when Lieutenant General Sahabzada Muhammad Yaqub Khan replaced him.
The privilege of meeting the Governor without prior appointment by the Chief Secretary of EP was discontinued during this time. The serving of alcohol in Bangabhaban that remained prohibited since Monem Khan's time [1962 - 1969] was once again introduced.

Official website of Bangabhaban (President's House, Bangladesh)
Two days before General Yahya took over, on 23 March 1969, Ayub Khan had appointed Dr. Mirza Nurul Huda, a Bengali, as Governor of East Pakistan. He was sworn in as Governor by Justice Badruddin Ahmad Siddique, Chief Justice of East Pakistan High Court, who would later gain fame for refusing to conduct the oath of office of General Tikka Khan during the 1971 Swadhinata Juddho (Bangladesh Liberation War). However, once General Yahya came to power and abrogated the Constitution in the evening of 25 March 1969, Dr. Huda's two day tenure as Governor came to an abrupt end and he returned to his former role as Professor and appointed Chairman of the Department of Economics of Dhaka University.
During the barely 60 hours of his tenure of office, Dr. Mirza Nurul Huda had brought certain changes of style as reflected by his visits to the Shaheed Minar and the graves of the three national leaders. He also opened out to the public the broad road in front of the Governor's House, and silenced the siren heralding the approach of the Governor's motorcade. He reintroduced the publication of Governor House circulars announcing his appointments and visitors.
Muzaffar-ud-Din

()

Mirza Nurul Huda

(1919 - 1991) Educationist, agricultural economist and a political personage. Born in village of Jangalia, Tangail, Dhaka Division. Achieved first in first class in both BA (1940) and MA (1941) in Economics from Dhaka University (DU). Awarded Kalinarayan Scholarship (KNS) for his outstanding results in the Honours examination. Joined Bengal Civil Service (1944) and left for higher studies in 1947. Obtained Ph. D. in Agricultural Economics from Cornell University, New York (1949) and joined DU as Reader in Economics (1949) and later became Professor (1960). Career extended to role as a member of the Taxation Enquiry Committee and Credit Enquiry Committee and Drafting Committee of the First and Second Five Year Plans of Pakistan, member of the Planning Commission of Pakistan (1962 - 65), President of Pakistan Economic Association (1965), Minister for Finance and Planning of the Government of East Pakistan (1965 - 1969), Governor of East Pakistan for two days (23 March 1969 - 25 March 1969), member of the Council of Advisors to President Justice A. M. Sayem (1975) and was in charge of the Ministries of Commerce and Planning, Finance Minister (1979), Advisor to President Ziaur Rahman (1980), and Vice-President of Bangladesh (1981 - 1982). Awarded Hilal-i-Khidmat in 1968. Wrote approximately 20 research publications http://www.bangabhaban.gov.bd/nurulhuda.html and edited the book "The Test of Time: My Life and Days" written by Tamizuddin Khan.

B. A. (Badruddin Ahmad) Siddique

(1915 - 1991) Accomplished lawyer, Chief Justice of East Pakistan, a humanitarian activist, and diplomatic dignitary. Passed Intermediate Arts from Dhaka College, where he was the tennis champion. Graduated from Calcutta University and obtained a law degree from Dhaka University (1937). Joined law practice as a junior partner of Huseyn Shaheed Suhrawardy. Advocate in Calcutta High Court (1946) and involved in the Commission on the Hindu-Muslim riots of Calcutta. Various prominent role including Legal Counsel to the State Bank of Pakistan and to various private companies (1952 - 1957), Attorney General of East Pakistan (1957), judge in Dhaka High Court (1960), Chairman of East Pakistan Red Cross (1969), member of Executive Committee of World Judges Conference in Geneva (1967), Chief Justice of East Pakistan High Court (16 November 1967), and one of the four Vice Chairmen of International League of Red Cross (1969). Actively participated in relief work as Chairman of Pakistan Red Cross during 1970 Bhola Cyclone. Famously refused to administer oath of General Tikka Khan as Governor of East Pakistan on 8 March 1971. Became Chairman of Bangladesh Red Cross (1975) upon request by President of Bangladesh. Became Adviser to the President in 1986 with the rank and status of a Cabinet Minister. Represented Bangladesh as Ambassador Extraordinary and Plenipotentiary, Permanent Representative of Bangladesh to the United Nations, New York (1986 - 1988). Born in Dhaka in the Baliadi Zamindar family.
Yahya Khan becomes 'President'
On 31 March 1969, five days after taking charge, Yahya Khan took oath as the third president of the country by another Proclamation. The new regime announced that a new Constitution would be drafted. Four days later, on 4 April 1969, he promulgated (put into effect) the Provisional Constitution Order, 1969, which, with some variations, followed the scheme of the Laws (Continuance in Force) Order, 1958.
Yahya Khan gave the impression that his regime was transitory in character... but soon Yahya proved to be even more autocratic dictator. Again the military leaders seized control of the decision-making processed and the bureaucrats were made responsible to them.
Chief Justice Hamoodur Rahman: "Yahya's assumption to power an illegal usurpation"
The action leading to Yahya Khan's rise to the top role in the country were later declared void by the Supreme Court of Pakistan in 1972, after Yahya Khan had fallen from power. In Asma Jilani v. Government of the Punjab, the nature and scope of the Martial Law imposed by Yahya Khan in 1969, and the legal nature of the regime, came up for consideration. In its remarkable decision, Chief Justice Hamoodur Rahman retroactively invalidated the Proclamation of Martial Law of 1969, and ruled that Yahya Khan's assumption of power was an "illegal usurpation".
In Asma Jilani, the Supreme Court of Pakistan examined the circumstances through which Yahya Khan came to power in 1969. This indicated that the letter of 24 March 1969 from President Ayub Khan to Yahya Khan contained no express indication that the latter person was being appointed as successor to the presidential office, or that he was being invested with authority to abrogate the Constitution of 1962. For the Court, the letter in question called upon Yahya Khan to only discharge "his legal and constitutional responsibilities to the country". According to the Court, this did not mean that Yahya Khan could assume the office of President, for the Constitution of 1962 made specific provisions for succession to the office of President. The Court thus concluded that Yahya Khan's assumption of the office of President was unconstitutional and illegal.
Civilian cabinet appointed with a Bengali-friendly Governor of East Pakistan
An Election Commission was formed on 28 July 1969 headed by a Bengali Supreme Court judge, Justice Abdus Sattar, who later became elected President of Bangladesh (on 15 November 1981) under Ziaur Rahman government. On 5 August 1969 Yahya Khan appointed a civilian cabinet.
On 23 August 1969, Lieutenant General Sahabzada Yaqub Khan replaced Major General Muzaffar-ud-Din as Martial Law Administrator and Governor of East Pakistan. Muzaffar-ud-Din returned to his old role as GOC of 14 Division and after two months left East Pakistan to become the Chairman of Agricultural Development Corporation of West Pakistan.
The new administration formed a committee of deputy and provincial martial law administrators that functioned above the civil machinery of government. The generals held power and were no longer the supporting arm of the civilians - elected or bureaucratic - as they had been throughout much of the country's history. In the past, every significant change of government had relied, in large part, on the allegiance of the military. However, Yahya Khan and his military advisers proved no more capable of overcoming the nation's problems than their predecessors. The attempt to establish a military hierarchy running parallel to and supplanting the authority of the civilian administration inevitably ruptured the bureaucratic-military alliance, on which efficiency and stability depended. Little effort was made to promote a national program. These weaknesses were not immediately apparent but became so as events moved quickly toward a crisis in East Pakistan.
On 1 September 1969, President Yahya appointed Vice-Admiral Syed Muhammad Ahsan as Governor of East Pakistan, whilst Air Marshal Nur Khan became Governor of West Pakistan. Admiral Ahsan, until recently Commander-in-Chief of the Navy and Deputy CMLA, was a former Aide-de-Camp (ADC, i.e. secretary) to Lord Mountbatten (Viceroy of India) in 1946-47 and to Muhammad Ali Jinnah after independence. He was sworn in as Governor of East Pakistan by Justice Salahuddin, a senior judge of Dhaka High Court, at the Durbar Hall of the Governor House (known today as Rashtopati Bhabhan). Chief Secretary S. M. Shafiul Azam read out the commission of appointment whilst Lt. General Sahabzada Yaqub Khan (Martial Law Administrator of East Pakistan) and Major General Muzaffar-ud-Din (GOC of 14 Division) were among the witnesses.
He earned instant popularity in East Pakistan for trying to solve the East-West political crisis by meeting President Yahya and the political leaders of both wings often. He also enjoyed public contact and was seen active in dealing with East Pakistani grievances.
After he [Vice-Admiral Ahsan] was relieved as Chief of Naval Staff at the end of August 1969, Chief Martial Law Administrator and Commander-in-Chief of Pakistan Army General Yahya Khan appointed him to become the Governor and Martial Law Administrator of East-Pakistan on 1 September 1969, as Ayub Khan had asked his brother to make this appointment. The assignment was considered very difficult by the Pakistan High Military Command, and many senior officers from the Pakistan Armed Forces were reluctant to accept appointments in East Pakistan. The crises in East Pakistan was at its peak and situation was deteriorated under the Military administration of Major-General Muzaffar-ud-Din. By tradition, the Chiefs of the respective Armed services were expected to retired from their services once they had complete their tenure, but in this case Syed Mohammad Ahsan was appointed to the province as a serving uniformed admiral. However, the situation in East Pakistan was at critical point, and Military Government wanted an administrator with a good reputation in the province. Therefore, Vice-Admiral Syed Mohammad Ahsan's service was extended and he was given a command assignment that was considered very difficult.
Abdus Sattar

()

Sahabzada Yaqub Khan

()

Syed Muhammad (S. M.) Ahsan

(1920 - ) Vice-Admiral of Pakistan Navy and Governor of East Pakistan (1 September 1969 - 1 March 1971). Born in Hyderabad, India. Educated at the Nizam's College. Joined Royal Indian Navy (1938) and had naval training in UK (1938 - 1940). Actively participated in the Atlantic, the Mediterranean and the Indian Ocean during World War II. Awarded the Distinguished Service Cross for taking part in operations in Arakan. Specialised in Signals in the UK and was instructor at a technical school in Liverpool, England. Aide-de-Camp (ADC) to Lord Mountbatten in 1946-47 and to Jinnah after independence. Prominent role include Naval Attach at Washington (1955 - 56), Chief of Staff to the C-in-C, Navy (1959 - 60), Deputy Chief Military Planning Officer, SEATO at Bangkok, Chief Military Planning Officer, Chairman of the Inland Water Transport Authority East Pakistan (1964), C-in-C of the Pakistan Navy (1966), Deputy CMLA and member of President's Council of Advisors (1969). Promoted to Rear Admiral (1962) and Vice Admiral (1967). Awarded Sitara-e-Pakistan (1965) - the only naval officer to win the award - Hilal-e-Quaid-i-Azam (1968) and Distinguished Service Order by British Government.
Party politics now allowed and election detail set
On 28 November 1969, Yahya Khan made a nationwide broadcast announcing his proposals for a return to constitutional government. General elections for the National Assembly were set for 5 October 1970. This election was to be the first general election on 'a one man one vote' basis of adult franchise in the country to elect the members of the National and Provincial Assemblies. This would provide a built-in majority for the East, but he still maintained that provincial autonomy must be consistent with a strong federal government at the centre.
In keeping with the full restoration of democracy, it was announced that as from 1 January 1970 - New Year's day - all restrictions on political parties will be lifted and party politics would be allowed, although martial law will remain in force. President Yahya passed Martial Law Regulation Number 60 which permitted political activity once again and another ordinance was soon followed which allowed public rallies for electoral purposes.
Yahya's action was prompted in part by his regime's lack of a political agenda. After his first broadcast to the nation he reportedly 'sat down holding his head in dismay... woefully remarking "What should we do now?". On another occasion he reportedly declared, "I made no particular attempt to know how to run a government... for 32 years I had been in the army... and so I thought running the country was no different from running the army". While Ayub had sought to modernise Pakistan and Zia-ul-Haq later wielded power in order to Islamicise it, Yahya regarded the introduction of martial law in March 1969 merely as an interim measure. He had been totally sincere when he declared during his first press conference of 10 April [1969] that he had not come to stay and that there would be a restoration of political activity as soon as possible. However, he lacked not only vision but political acumen, a trait exacerbated by his vanity. From November 1969 until the announcement of the national election results, he discounted the possibility of an Awami League landslide in East Pakistan. When this duly arrived, the western wing's nightmare scenario materialised: either a constitutional deadlock, or the imposition in the whole of the country of the Bengalis' longstanding commitment to unfettered democracy and provincial autonomy.
President Yahya held a series of talks with the leading politicians and promised general elections within 18 months for the transition of the country from military dictatorship to democracy. But the question of autonomy for East Pakistan was still looked upon with suspicion bordering on secession.