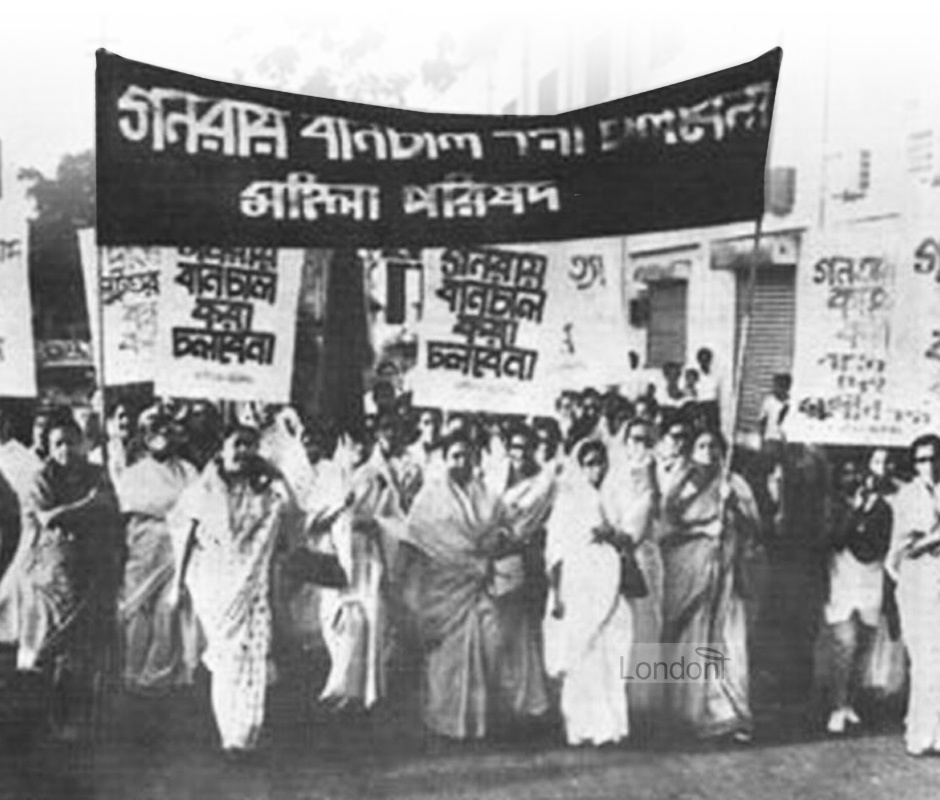 Women were the first to defy Section 144 curfew
It was women – most of whom were only schoolgirls at the time - who first defied the curfew under Section 144, tore off the police barricade and assembled under the mango tree (Amtola) in the Dhaka University campus premises to join the movement. However, their contributions are not yet written in details nor properly documented.
There were a number of women including Dr Halima Khatun, Dr Sufia Khatun, Rawshan Ara Bachchu, Sufia Ibrahim, Fazilatunnessa, Rani Bhattachariya, Pratibha Mutsuddi, Sofia Khan, Zulekha, Nuri, Sara Taifur, Sufia Ahmed, Safia Khatun and others among them. Police charged batons brutally and around 8 schoolgirls including Sufia Ibrahim and Rawshan Ara Bachchu got injured. A good number of female students were also arrested.
On 21 February 1952 we girls were not frightened but rather participated in the movement alongside boys. I know how difficult it was for a girl under the then social circumstances.

Bhasha Shoinik Rawshan Ara Bachchu on women's brave contribution during Bhasha Andolon
Rawshan Ara Bachchu

(Born) Bhasha Shoinik. Joined Gonotantrik Pragotishil Chhatra Front (Democratic Progressive Student Front) in 1950 to protest stifling education policy of the then Pakistan government and a hike in student fees in the University. Elected member of Women Students Residence Hall and Salimullah Muslim Hall elections. Strongly argued in favour of women's participation in politics in a radio programme on April 1950. Participated in the meeting held in Amtola, Dhaka University on 30 January 1952 to protest Khaja Nazimuddin's declaration to make Urdu the sole language of Pakistan on 27 January 1952.

Rani Bhattachariya

(Born 1927) Bhasha Shoinik. Joined Barisal Jagadish Saraswat girl's school as assistant teacher in 1951. Joined Language movement the same year. Participated in female demonstration in Barisal along with colleague Manjushree Sen and other teachers of the school on Ekushey February. Completed her 42-year-old teaching career and retired in 1992. Awarded number of prestigious awards including Ekushey Padak and Rokeya Padak. Acting President of Barisal Mohila Parisad since 1987. Born in Barisal.

Pratibha Mutsuddi

() Bhasha Shoinik. Student of Mahamuni Anglo Pali Institution and member of Students' Federation at her school life. Admitted into Chittagong College (1951) and Dhaka University (1954). During Bhasha Andolon, participated in demonstrations held in Chittagong city protesting the firing on students in Dhaka in 1952. Organised a female protest meeting consisting of students from Women's Hall of Dhaka University (today's Rokeya Hall) and assembled under Amtola after female students of Mittford and Medical College when breaking Section 144 during 21 February 1955. Subsequently arrested and sent to Lalbagh thana and later to the Dhaka Central prison. Released after two weeks.

Sofia Khan

(Born 1928) Bhasha Shoinik. Student of Bengali literature in Dhaka University (1948). Joined Students' Federation and was involved in mobilising female students of Muslim Girls' School, Quamrunnessa School, Banglabazar Girls' School and Eden College in the Language movement. One of those women who broke police curfew on Ekushey February.

Dr. Halima Khatun

(Born) Bhasha Shoinik. During Bhasha Andolon, assigned with the responsibility to mobilise female students from Muslim Girls' School and Bangla Bazar Girls' School and bring them in the DU Campus to break the section 144. Survived the tear gas and baton charge of police on this fateful day. Born in Ghatail of Tangail.

Sufia Ahmed

(Born) Bhasha Shoinik. Daughter of Justice Ibrahim Ahmed, a progressive father who inspired her to love and respect the mother tongue and support the Language Movement. Student of Barisal Brojamohan College (1948) when Jinnah declared Urdu as the sole language of Pakistan. Admitted to Dhaka University (1950). One of those female forerunners to break section 144 and deny the curfew in DU Campus on 21 February 1952. On November 1952, she travelled to Turkey as one of the 10-member cultural delegation and offered songs in Bengali defying opposition of the West Pakistani members of the team.
Anwara Khatun's leadership at a time of turmoil
Anwara Khatun, an Awami Muslim League member since its inception and a close associate of Hussain Shaheed Suhrawardy, Maulana Bhasani and Sheikh Mujibur Rahman, actively participated in the Bengali Language Movement from 1947 - 1952. She was an active member of the (second) Shorbodolio Rashtrabhasha Sangram Parishad and (third) Shorbodolio Kendrio Rashtrobhasha Kormi Parishad. She held many consultative meetings in her home at 23 Green Road, Dhanmondi, Dhaka during the Bhasha Andolon and played a vital role in organising women activists and making the student strike on 11 March 1948 a success.
Anwara Khatun was also one of the members along with Maulana Tarkabagish who famously staged a walkout as a protest against Chief Minister Nurul Amin's inaction during Ekushey February. The following day, 0n 22 February 1952, Anwara Khatun moved a resolution in the East Bengal Legislative Assembly demanding the unconditional release of all people arrested during the Ekushey protest, compensation to the victims, and punishment of the officers who were responsible for the murders and atrocities. In a fiery speech, she protested the killing of innocent people during those two fatal days and opposed the Muslim League government in the Constituent Assembly.
In 1966, Anwara Khatun led the Awami League after its male leadership was imprisoned during the Six-Point Movement.
Anwara Khatun

(1924 - 1988) Awami League MP and Bhasha Shoinik. Active member of the various Rashtrabhasha Sangram Parishad. Led Awami League during 1966 when male leadership was imprisoned. Died after prolonged illness.
Mamtaj Begum - just another forgotten women
Outraged by the killings on 21st and 22nd February 1952, Mamtaj Begum (Kalyany Roy Choudhury, b.1930), the then Headmistress of Narayanganj Morgan Girl's School, organised one of the largest women's demonstration in the country on 29 February 1952 in protest of the killings. She was immediately arrested. However, the ordinary people in Narayanganj, most of whom had no capacity to educate their children at Morgan High School, protested her unlawful arrest and created road barricades by cutting hundreds of trees over few miles to obstruct the police van from taking her away from Chashara station to Dhaka. Later the government proposed that she sign a 'mercy petition' admitting her mistake in exchange for her freedom. However, the fiery female teacher showed her resilience and fighting spirit by refusing to do this. As a result she was jailed, condemned and dubbed as a 'communist'.
Mamtaj Begum

(1930 - 1967) Headmistress of Narayanganj Morgan Girl's School falsely jailed and branded a communist for protesting Ekushey killings. Jailed for over a year. Husband divorced her and family disowned her. Died all alone in Armanitola, Dhaka.
Mamtaj Begum spent over a year in jail. When she was finally freed, she ultimately lost her job – and also her family. Her husband divorced her and did not allow their daughter to live with her.
She was also terminated from her school as the school was pro-government. Later she joined another school but could not survive colleague politics and conspiracy for long. Away from family, friends and the loved ones, Mamtaj Begum died all alone in Armanitola, Dhaka in 1967, after many days of hardship, starvation, abandonment and social exclusion as a 'bad woman who had dared to go even to prison and been forsaken by her husband'. She was only 37 years old.
Now, is not Mamtaj Begum a 'language martyr' although she was not shot dead by police guns? But she was nevertheless 'killed' by the suffocating shackles of a patriarchal family, society and existing system of establishment? In today's Dhaka nowhere can we find a single portrait or photograph of Mamtaj Begum. Thus, history becomes 'his-story' excluding 'her tale'.

Audity Falguni, Writer
There is almost no mention of the role of women in Language movement in books, media and internet and I see no effort to pass their legacy on to the future generations. A few people in Bangladesh know about the contribution of Mamtaj Begum. Only after 57 years (July 2009), the first portrait of Mamtaj Begum was handed over to Narayanganj Morgan Girls' High School and recently (August, 2010) a road in Narayanganj was named after her by the city mayor Dr. Selina Hayat Ivy in presence of Mamtaj Begum's only daughter Shahana Islam. I was shocked to learn that last year (2010) the 'Ekushey Padak' proposal for Mamtaj Begum was turned down as the minister concerned 'never heard' of Mamtaj Begum.

M. Emad, Journalist
Sylheti ladies' memorandum demanding Bangla
Abdur Rab Nishtar, the then Minister of Communication (who later became the Governor of Punjab) visited Sylhet on January 11 of 1947. A women's delegation then met the minister and placed their demands for making Bengali as one of the state languages in Pakistan. Begum Zobeda Khatun Chowdhury, Syeda Shahera Banu and Syed Lutfunnessa Khatun of Sylhet Muslim Mohila (Women's) League and head mistress of Sylhet Royal Girls' School, Rabeya Khatun, and others signed a memorandum demanding Bengali as one of the state languages and later sent this to Khawaja Nazimuddin, then Chief Minister of East Pakistan. The pro-government local Sylheti newspaper Daily Eastern Herald condemned Zobeda Khatun for taking such an initiative.
Those Bengali-speaking people of East Pakistan who oppose their own mother tongue, are nothing but the traitor son of a mother.
"Maa'go Ora Bole" by Abu Jafar Obaidullah