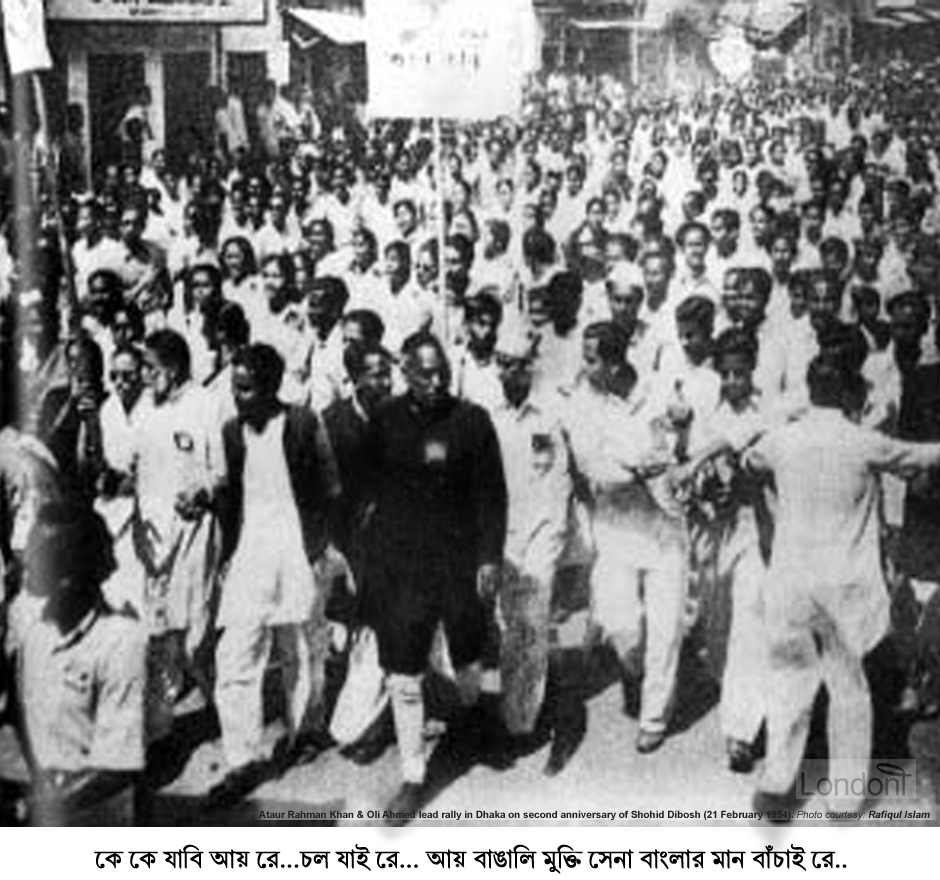 Rashtrobhasha Sangram Parishad
On 1 October 1947, the first Rashtrobhasha Sangram Parishad (State Language Action Committee), an organisation in favour of Bengali as a state language, was formed. The committee aggressively protested the exclusion of Bengali. Chemistry Professor Nurul Huq Bhuiyan of the Tamaddun Majlish founded the committee which attracted a large number of students and teachers from Dhaka University and other educational institutions. Nurul Huq Bhuiyan was also appointed the treasurer of the Parishad which spearheaded the Bengali Language Movement.
Nurul Huq Bhuiyan

()
The Rastrabhasa Sangram Parishad provided an organisational structure for launching and managing the language movement during the later month of 1947 and early months of 1948. It discussed various aspects of the language issue and strongly protested the conspiracy that had been hatched out by the 'Punjabi-Mohajir dominated Pakistani ruling elite' against the Bengali language and culture. The committee aggressively protested the exclusion of Bengali.
However, the exact role of Bangla was clouded.
In the efforts to argue the case for Bengali, the concepts of the state language of Pakistan got entangled. Some demanded that Bengali be made 'the' state language of Pakistan while some others demanded Bengali as 'a' State Language. Some expressed their views only in the context of East Bengal. Apprehending problems and chaos if more then one Lingua Franca was chosen, some wanted Bengali to be official language and the medium of instruction in East Bengal.

Anisuzzaman, Professor Emeritus at Dhaka University
Whilst the ordinary people, most of whom were uneducated, fought the anti-capitalist nature of the Urdu proposition, since they knew no other language than Bangla and weren't going to let it go without a fight, the middle-class and the ruling class fought against Urdu itself. They feared the dominance of Urdu would mean that their knowledge of English would become redundant therefore their fight was against Urdu and not against capitalism. And since the army, bureaucracy and business were already dominated by the Punjabis and other west Pakistanis, a linguistic advantage would further isolate and undermine the subjugated East Pakistanis.
If Urdu became the state language, the educated society of East Pakistan would become 'illiterate' and 'ineligible' for government positions.
What became clear was the time to protect the mother tongue and withhold its ancient and rich heritage had come.
Bengali intellectuals provide backing
On 5 November 1947, Purba Pakistan Sahitya Sangsad (East Pakistan Literary Society) - a society set up by Muslim intellectuals prior to Partition for the propagation of Muslim nationalism - arranged a reception for famous Bengali artist Zainul Abedin. It was presided by Prof. Qazi Motahar Hossain and included speakers such as Abul Kalam Shamsuddin, Prof. M. A. Quasem, Prof. M. Mansuruddin, Syed Ali Ahsan, Sardar Fazlul Karim, and Abul Hasnat, amongst others. The meeting passed two resolutions demanding the establishment of an Art College under the leadership of Zainul Abedin and adoption of Bengali as the State Language of East Pakistan.
A week later, on 12 November 1947, Tamaddun Majlis organised a discussion meeting at the Fazlul Huq Muslim Hall auditorium in support of Bengali language. Presided by Habibullah Bahar, the meeting was addressed by Syed Mohammad Afzal, poet Jasimuddin, Dr. Muhammad Enamul Huq, and Abul Hasnat, amongst others.
On 17 November 1947, a memorandum demanding that Bangla be adopted as the state language of East Bengal was signed by a number of Bangali luminaries and submitted to the Chief Minister, Khawaja Nazimuddin. The signatories included Maulana Akram Khan, Prof Abul Kashem, Maulana Abdullahil Baqi, Abul Kalam Shamsuddin, Abdul Karim Sahitya Bisharad, Abbasuddin (Ahmad), Zainul Abedin, Principal Ibrahim Khan, Prof M. Mansuruddin, Abul Mansur Ahmed, poet Jasimuddin, Begum Shamsunnahar Mahmud, Abul Hasnat, Prof. Qazi Motahar Hossain, Dr. S.M. Hossain, Prof. Atul Sen, Anwara Chowdhury, Maulana Mustafizur Rahman, Dr. S.R. Khastgir, Prof. Ganesh Basu, Mohammad Modabber, Shah Azizur Rahman, Syed Waliullah, Shaukat Osman, Abu Rushd, Syed Ali Ahsan, poet Ahsan Habib, Qazi Afsaruddin Ahmed, Abu Jafar Shamsuddin, Jahur Hossain Chowdhury, and many more.
Syed Ali Ahsan

()

Habibullah Bahar

()

Abul Hasnat

()

Maulana Abdullahil Baqi

()

Abul Kalam Shamsuddin

()

Abdul Karim Sahitya Bisharad

()

Prof. M. Mansuruddin

()

Zainul Abedin

()

Begum Shamsunnahar Mahmud

()

Qazi Afsaruddin Ahmed

()