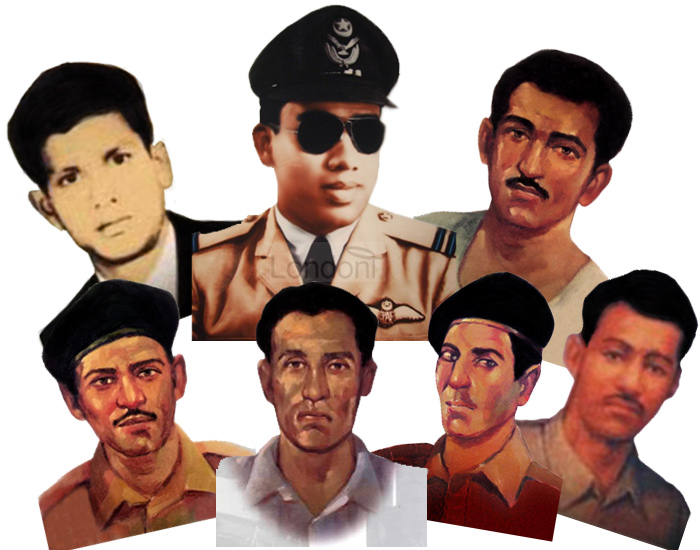 Bholo Bir
So many people - children, women, men, farmers, intellectuals, leaders - gave their life to protect the honour of Bangladesh and fight for her freedom. Out of all these shaheeds only 7 Heroes have been awarded with the highest gallantry award - the Bir Srestho. In our liberation war almost everyone sacrificed in some form or the other. But these heroes had displayed unprecedented dedication, unselfishness and courage, which will remain as sources of inspiration for the future generations to come. The award recognises their skill, technical and military proficiency, leadership, and above all, their courage in the hour of need. Each of the young men sacrificied their life for the greater good of the Bengalis.
7 'Bir Srestho'
Mohammad Ruhul Amin

(1934 - 1971) A well travelled naval engineer who defected during Bangladesh Liberation War from Pakistan Navy to look after the first two navy of Bangladesh - Padma and Polash. Killed trying to save these which were destroyed by Indian air attack in 'friendly fire'. Gave life to protect the infant Bangladesh navy. A large Bengali naval craft, BNS Shahid Ruhul Amin, named after him. Born in Bagpanchra village under Sonaimuri upazilla of Noakhali. Died aged 37.

(Lance Naik) Nur Mohammad Sheikh

(1936 - 1971) Member of East Pakistan Rifles (EPR) who fought with the Mukti Bahini in Jessore. Provided gun cover, even though unwell, and told colleagues to flee with the only Light Machine Gun (LMG) available when surrounded by Pakistani army. Fought all alone to save his countrymen. Eventually caught and incapacitated. Born in Moheshkhali village in Narail, Khulna division. Died aged 35.

(Lance Naik) Munshi Abdur Rouf

(1943 - 1971) Member of East Bengal Regiment (EBR) who fought with the Mukti Bahini in Comilla. When his colleague came under Pakistani attack, he crawled forward toward the trench, fired continuously and forced the army to retreat. Provided cover for colleagues to escape. Around 150 soldiers were saved because of him. Killed finally by a mortar. Born in Salamatpur village in Faridpur, near Dhaka. Died aged 28.

(Flight Lieutenant) Matiur Rahman

(1945 - 1971) One of the few Bengali pilot at the time. Attempted to hijack aircraft named 'Bluebird' being flown by Pakistani officer Rashid Minhaz to help the Bengalis in the Shadinota Juddho. But, a tussle ensued and plane crashed in the province of Sindh, Pakistan, killing both of them. After 30-year negotiation his body was finally sent from Pakistan's grave to Bangladesh in 2006. Born in Dhaka. Died aged 26.

(Sepoy) Mostafa Kamal

(1947 - 1971) Member of East Bengal Regiment (EBR) who joined Mukti Bahini around Brahmanbaria, Comilla. Provided cover for colleagues with only Light Machine Gun while they retreated to safety. Utilised last two grenades when the enemy came in close distance. Jumped out of his trench, charged with his empty gun shouting 'Joy Bangla' to provide decoy for colleagues. Killed in heavy volume of fire near a palm tree. Born in Poshchim Hajipur village of Bhola. Died aged 23.

(Captain) Mohiuddin Jahangir

(1949 - 1971) An expert in bomb disposal from Pakistan Military Academy. Fought with and led Mukti Bahini at Chapai Nawabganj border in Rajshahi district. Charged singlehandedly towards Pakistani light machine gun bunker with grenade whilst no artillery cover was provided. Shot in the forehead and chest from another bunker and killed in action. Bangladesh army's southern and main entry gate in Dhaka Cantonment named after him, 'Shahid Jahangir gate'. Born in Rahimganj village in Barisal. Died aged 22.

(Sepoy) Hamidur Rahman

(1953 - 1971) An adventurous fighter who joined Ziaur Rahman's 'Z' Force after defecting from Pakistan Army. Finally, fought with 'C' Company mukti bahini around Srimangal, Sylhet. Crawled to neutralise an effective light machine gun used by the enemy, fired from point blank and jumped inside the weapon pit. His dead body was recovered from the machine gun position two days later. He gave his life to neutralise the enemy and save his colleagues. Born in Khardo Khalishpur village of the Jhenaidah district, Khulna division. Died aged 22.
The gallant heroes embraced such heroic death as if they were long prepared for this to lay their lives for our independence. They have drawn with their blood the name and boundaries of Bangladesh in the global map.
Ekattorer Chithi (Letter from '71) by Shaheed Jinnah
Ekattorer Chithi (Letter from '71) by Shaheed Jinnah