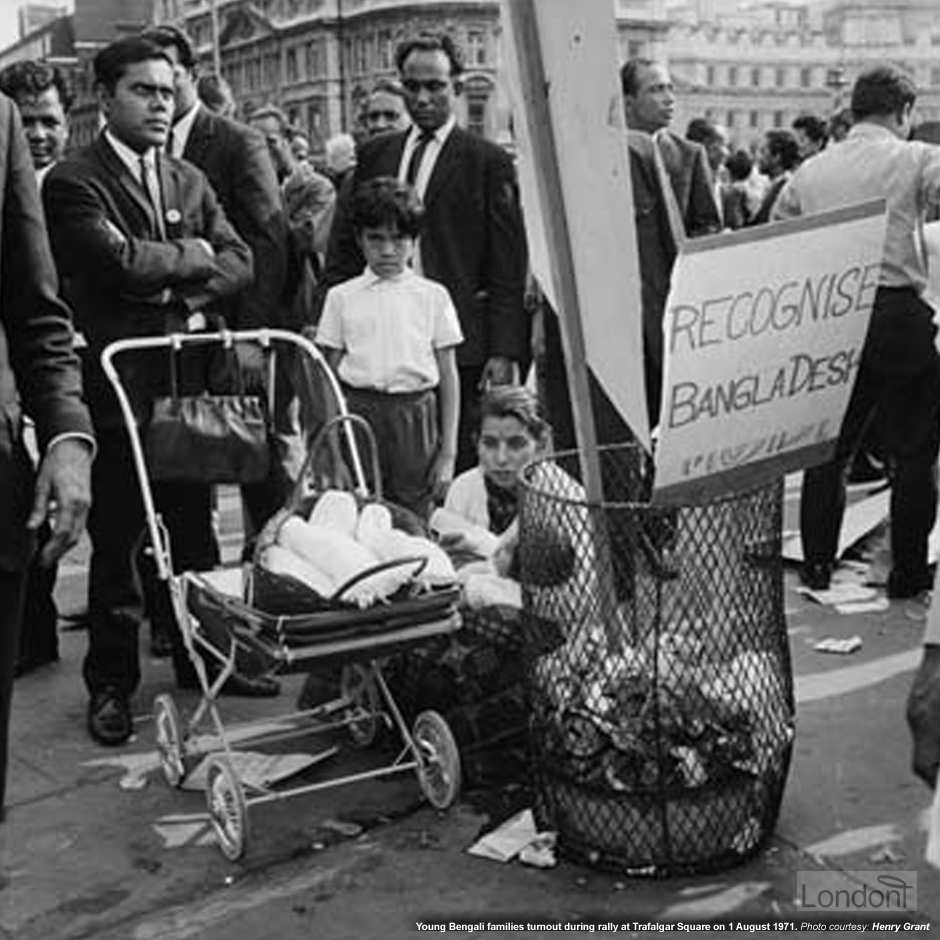 "Bangladesh Women Association"
Bengali women migrants in the UK played a vital role.
The first women's procession in London was on the 3 April 1971. The procession began at Charing Cross Station near the river Embankment and ended at Hyde Park corner. And though many male participants from different organisations participated in the demonstration, this march also successfully gathered around 300 women, many of who were young mothers or newly married. What was more incredible was that these women attended the entire procession with their children gripping tight to their captivating placards and yelling their slogans. Many had left their elder child with loved ones to attend the event.
"Not a penny not a gun, Yahya, Bhutto Tikka Khan"
"Stop stop genocide, Recognise Bangladesh"
"World Power act for humanity"
"Liberation Army, we are with you".
Later, women handed over a memorandum to 10 Downing Street and also to various embassies including the American Embassy. The procession was widely covered by the media. Demonstrators found support in a group of which Princess Anne was a trustee. Ferdous Rahman and her diplomat husband Habibur Rahman were actively involved in the demonstration. Habibur Rahman later resigned from his role as Education Officer in the Pakistan High Commission and worked for the Bangladesh Mission in London.
I had no reason to take part in these activities, because I was not expecting anything from all these and we were not directly affected by the war. But we were anxious of our friends, family and for the love of our homeland.

...We carried on event after the war ended, because we thought, we need to fight and take arms in our hands to get the women in the front, so we didn't stopped our work even after the war ended.

Anowara Jahan, a founding members of Bangladesh Women Association
The passion, drive and attitude that these women demonstrated were actually quite different from the conventional Bengali family customs and cultural traditions of the migrant family. They were enormously independent, and ..were also entirely comfortable, confident and quite often compromising their family commitments in order to fully participate in the movement. During the late 1960's early 1970's a lot of these women were in their early twenties and were new comers to England. The majority were not just young activists they were often newly married, with children or heavily pregnant. They were wives they were mothers and their commitments varied from maintaining their household duties, occasionally balancing this with part-time or full-time jobs and yet generating the time to organise and participate in demonstrations and campaigns. Occasionally they would have the support from family and neighbors so enabling them to leave their children behind however the harsh reality was that this luxury was not always available and often they were required to take their children along with them.

Yet these family obligations the cultural traditions did not prevent them from taking an active stand and fighting for justice. They demonstrated an immense amount of tenacity, patience and bravery in overcoming their various obstacles. The nationalism and the call of their national freedom compelled them to break these barriers.
Whilst the men were busy forming "a hive of patriotic committees", so were the women. Two of these pioneering women organisations were the 'Bangladesh Women Association UK' based in London and 'Women Welfare Association Midland' located in Birmingham.
The founding members of Bangladesh Women Association included Lulu Bilkis Banu, Anowara Jahan, Jebunnessa Baksh, Ferdaus Rahman, Munni Rahman, Shefali Huq, Khaleda Uddin, Sofia Rahman and some of the younger women. Sofia Rahman was the secretary for the first three months before passing the role onto Anowara Jahan as she could not continue due to family reasons. Monwar Uddin wrote the first constitution for the association though this was amended later.
Through these organisations hundreds of women participated in various demonstrations and campaigns to raise awareness and help the Bengali people.
I was the organiser of the Women Association that is why I had to move from place to place. I had to go to many people. We arranged a demonstration with the women participation only, at that time we brought women from East London, at that time there were few (Bengali) women here and they were also unwilling to come out of their houses. That is why we had to collect people, going door to door. The husbands were concerned with their security and demanded their full security, and told us to bring them back home. It was our responsibility to drop them off safely. The campaigns were usually arranged in Sundays and almost regularly. The whole nine months I was busy keeping aside my kids and family, whenever I was called to a demonstration or to go to somewhere for fundraising by film show, I was always there with some other participants. Most of the programme was arranged for women. The largest women gathering was achieved in the biggest demonstration, it was a huge demonstration, I alone took 150 women at least, and the number was quite a lot.

People from all over UK participated in all the rallies; they came from Birmingham, Manchester, Leeds and Bristol, all parts of England. Say for example when we gathered at Hyde Park for the long march, people from the whole of Great Britain joined the rally. They came on busses.

Kulsum Ullah, a founding member of Bangladesh Women's Association
Activities
The women collected money and goods and engaged with NGO's such as the Red Cross, Save the Children and War on Want. They sought support of British MPs and university students, and sent several telegrams to the first ladies of the world. They wrote letters every month which cost them £4, paid from their own pocket. Though later on they received small grant and fund these went straight to the campaign .
Bengali ladies attended various meetings, gatherings and engaged in mass communication. They narrated real stories of atrocities that were taking place. In order to attract the attention of the media and the general public the women went out wearing saris. On 14 May 1971, during the debate on Pakistan in British Parliament a significant number of women showed opposition even though politics was seen 'not as a women thing to do'. When America provided two ships of arms and ammunition to Pakistan, a woman by the name of Razia Choudhury carried out hunger strike in front of the American Embassy. To raise funds they organised coffee morning, fairs, jumble sales, film showings, cultural functions and collecting donations, selling Pan Supari (Beetle nut and leaf) along with various other Bengali food. They also created other extremely successful fundraising events alongside their husband, family members and on most occasions with the help of their community.
Female even travelled with their male counterparts to France to demand suspension of foreign aid to Pakistan.
We were writing letters to the leaders of the nations of the world, and to their wives as well. We also personally handed over letters to the leaders of the UK, some accepted us and some did not. We used to keep contacts with the different organisation in the UK. I was a bit of an out going type of person, so I used to go to those meetings. We had some hand written documents and I used to keep connection with those as well. Sometimes we use to collect money singing and arranging different types of programmes. We had arranged a huge mela at that time, and we raised £700 in a day. Today £700 is nothing but in those days it was a huge collection. For example, you can't get on a bus without 70 penny now, but it would take 4 penny then.
Women in London and Birmingham also organised a hunger strike in different places to attract the media and international attention. Some of the women, during that time were heavily pregnant yet commenced with the hunger strike putting their physical health at risk.
Many women could not attend public events but raised money and donations.
Those who cannot come to the demonstration they were still in the background, they were making samosas and pakoras for us and we collected it and then sold it.

Mrs Pasha, campaigner
We used to sell calendar and neck tie with the map of Bangladesh on it to raise money. In big gatherings and meetings the younger ones use to sell the items.
Non-Bengali women also contributed greatly. Some of these women even traveled to Bangladesh themselves to offer their assistance whilst others were heavily involved in the UK movement.