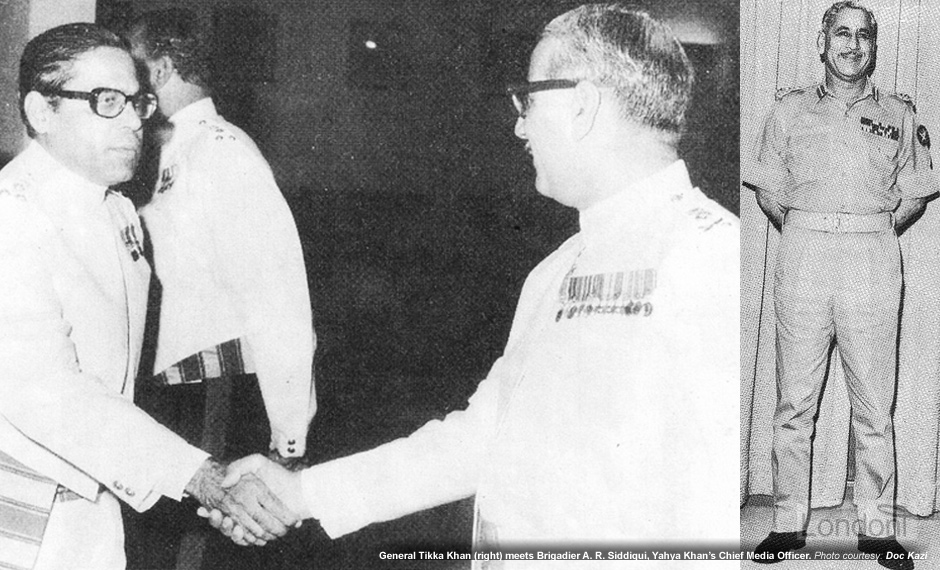 Notorious Pakistani general Tikka Khan takes charge in East Pakistan
Pacifist Pakistani Governor and MLA of East Pakistan both resign
Admiral Ahsan learned that the Central Military government had decided to launch a military operation in East-Pakistan in defiance of his recommendation and without his consultation. He had earlier warned Islamabad that if the assembly session was postponed a second time, it would lead to widespread disturbances, including ethnic violence. When it became apparent that they wouldn't heed his warning and an armed operation would take place, Admiral Ahsan resigned in protest from his position as Governor of East Pakistan on 1 March 1971, less than four weeks before the military action.
He picked up his personal belongings and did not waste a moment to stay in Eastern Military High Command's Headquarter in Dhaka. He immediately flew to Karachi and reported to Naval Combatant Headquarters (NHQ). Admiral Ahsan took honorary early retirement from Pakistan Navy, and permanently settled in Karachi. He remained silent and did not speak a word during the 1971 war.
What Yahya aimed at was not clear as the communication credibility had been lost in the polarisation; yet it is said that Yahya had a feeling that in the case of an army action in the province, Admiral Ahsan might not be very effective as he was a proven friend of Mujib's. Perhaps this was not so.
But who was responsible for creating this hostile atmosphere and hatred among the people? The situation deteriorated further after General Yahya Khan postponed the first session of the newly elected constituent assembly. It became very clear immediately after the election results that the generals were not prepared to transfer power to the Awami League. First the delay in summoning the National Assembly session and later its postponement confirmed the Bengalis' worst fears, that the election results were not acceptable both to the generals and to the majority of West Pakistani politicians. Zulfikar Ali Bhutto publicly called for a boycott of the assembly session. Such a transgression was bound to further fuel public resentment.

Admiral Ahsan in an article titled "A Nation's Shame", published in the Newsline magazine of September 2000
Vice Admiral Ahsan was sworn in as Governor of East Pakistan on 1 September 1969, taking some of the responsibilities previously assigned to Lt. General Sahabzada M. Yaqub Khan. On 23 August 1969, General Yaqub Khan assumed the command of East Pakistan as Martial Law Administrator (MLA) with absolute and authoritative governorship and political power and military power in East Pakistan. However, a notification issued by the cabinet secretariat on 1 September 1969 directed MLAs to refrain from performing the functions of Governor in their respective provinces with immediate effect, and Vice-Admiral Ahsan was sworn in as Governor of East Pakistan. General Yaqub Khan remained as MLA.
Now, in a strange twist of fortune, the urbane and erudite General Yaqub Khan - who according to General Niazi succeeded because he was "polished and was well-versed in English" - once again adorned the dual role of governor and martial law administrator when he was made the "head of civil administration in the province" in place of Vice Admiral Ahsan with effect from 1 March 1971. However, this dual role only lasted three days.
On 4 March 1971, General Yaqub Khan resigned after he suggested President Yahya settle things in East Pakistan politically and not militarily. Few days later, on 10 March 1971 - fifteen days before the Pakistani army began the Bengali massacre - General Yaqub Khan left East Pakistan in favour of West Pakistan just like Vice Admiral Ahsan before him. And just like Vice Admiral Ahsan, his role too was swiftly filled.
Immediately after taking over General Yaqub suggested that Yahya settle things politically and not militarily. Perhaps he was the first army general who had thought of settling political issues in their right perspective.

Paradoxically, this very earnest advice went down the drain. The suggestion was rejected, perhaps with condescension. General Yaqub found an honourable escape and quit the job on 4 March 1971, before it became too rowdy. The next day also proved unfortunate as Bengali radicals took to the streets shattering the town. Similar processions were reported from other parts of the province. They were also joined by Maulana Bhashani and Prof Muzaffar Ahmed's groups known for their separatist intentions.

Dawn (Pakistan)
Sahabzada Yaqub Khan

()
Pakistani military presence intensifies with appointment of General Tikka Khan
On 6 March 1971 President Yahya Khan announced that the Assembly session would be held on 23 March 1971. He warned the politicians that he and the armed forces would ensure at all costs the solidarity, integrity and security of Pakistan, and signalled his intention by appointing General Tikka Khan as the Governor of East Pakistan.
The appointment of hawkish Lt. Gen. Tikka Khan showed which way the Yahya-Bhutto duo was going to move.

Nitish K. Sengupta, author of "Land of Two Rivers: A History of Bengal from the Mahabharata to Mujib" (2011)
Tikka Khan

(1915 - 2002) Senior four-star Pakistani general. Served as first Chief of Army Staff of the Pakistan Army (1972 - 1976). Graduated from Indian Military Academy at Dehradun. Fought in World War II for Indian Army. Promoted in Major General in 1962 then Lieutenant-General in 1969. Joint role as Commander of Eastern Military High Command, Martial Law Administrator, and Governor of East Pakistan during 1971 Bangladesh Liberation War. Known as "Butcher of Bengal" for his massacre, especially during 'Operation Searchlight'. Posted as First Commander of II Corps at Multan, Pakistan, after Bangladesh stint. Appointed Defence Minister by Zulfiqar Ali Bhutto. Became Secretary General of Pakistan Peoples Party (PPP) after Bhutto executed in 1979. Imprisoned numerous times for political activities during late 1970s and 1980s. Appointed Governor of Pakistan's largest province, the Punjab (1988 - 1990). Died on 28 March 2002 after several years of illness. Received a state burial with full military honors. Buried in Rawalpindi, Pakistan.
Tikka Khan was an old hand at quelling disturbances. He was known as a tough, no-nonsense soldier who would not hesitate to use military force, or even brutality, to restore military regime's authority. He had already acquired the reputation of "Butcher of Balochistan" for his actions in 1958. Yahya Khan was clear in his mind about what he should do. The strategy would be to provide the necessary force, buy time for the preparations and strike hard at the appropriate moment. Encouragement also came from Tikka Khan.
Give me enough force and I will crush them [the Bengalis] in 48 hours.
Accordingly, Yahya Khan ordered the massive airlift to begin.
Justice B. A. Siddique, a Bengali, refuses to administer Tikka Khan's oath
Tikka Khan had arrived in Dhaka on 7 March 1971, a few days after the non-cooperation movement had started, to take up the dual role of Governor and Martial Law Administrator for the Eastern part, replacing Vice-Admiral Ahsan and Lt. General Shahabzada Yaqub Khan respectively. But he had not yet sworn it. Finally he decided to be formally sworn in as Governor on 9 March 1971 and summoned the chief justice of East Bangla, Justice Badruddin Ahmad Siddique (more popularly known as just B.A. Siddique) for the purpose of administering the oath. However, Justice Siddique very politely declined to perform the ceremony. So did the other judges of the Dhaka High Court - an act which was considered as one of the most striking event of that time. It also demonstrated the communal spirit that run through each Bengali's blood during that time, and also proved that Sheikh Mujib's directives were being obeyed even at the top level.
Finally, the Chief Justice of the Supreme Court of Pakistan had to be rushed to Dhaka to administer the oath.
B. A. (Badruddin Ahmad) Siddique

(1915 - 1991) Accomplished lawyer, Chief Justice of East Pakistan, a humanitarian activist, and diplomatic dignitary. Passed Intermediate Arts from Dhaka College, where he was the tennis champion. Graduated from Calcutta University and obtained a law degree from Dhaka University (1937). Joined law practice as a junior partner of Huseyn Shaheed Suhrawardy. Advocate in Calcutta High Court (1946) and involved in the Commission on the Hindu-Muslim riots of Calcutta. Various prominent role including Legal Counsel to the State Bank of Pakistan and to various private companies (1952 - 1957), Attorney General of East Pakistan (1957), judge in Dhaka High Court (1960), Chairman of East Pakistan Red Cross (1969), member of Executive Committee of World Judges Conference in Geneva (1967), Chief Justice of East Pakistan High Court (16 November 1967), and one of the four Vice Chairmen of International League of Red Cross (1969). Actively participated in relief work as Chairman of Pakistan Red Cross during 1970 Bhola Cyclone. Famously refused to administer oath of General Tikka Khan as Governor of East Pakistan on 8 March 1971. Became Chairman of Bangladesh Red Cross (1975) upon request by President of Bangladesh. Became Adviser to the President in 1986 with the rank and status of a Cabinet Minister. Represented Bangladesh as Ambassador Extraordinary and Plenipotentiary, Permanent Representative of Bangladesh to the United Nations, New York (1986 - 1988). Born in Dhaka in the Baliadi Zamindar family.
Tikka, known for an earlier demonstration of ferocity bordering on ruthlessness, had already earned a reputation as Butcher of Baluchistan. There was thus something of the portentous about his arrival in Dhaka. But such was the degree of political passion in the province that Justice B.A. Siddiqui, chief justice of the East Pakistan High Court, refused to swear Tikka in as the new governor. For the moment, therefore, Tikka was compelled to remain content with being martial law administrator for the province.

Daily Times (Pakistan)
Friction between Tikka Khan and Sheikh Mujib
One of the possible reason for President Yahya appointing Tikka Khan was the military dictator's ever-weakening hold on East Pakistan. Tikka Khan was convinced that he could bring Bengalis - and in particular Sheikh Mujib and his Awami League - 'to heel' if they stepped out of line. He mobilised the Pakistani Army and prepared for the massacre which were to be carried later in the month should the 'peace' talks fail.
After the swearing in, Tikka Khan is said to have summoned Mujib to his presence, but Mujib agreed to see the Governor only if he came to his house. This was the parting of the ways between Tikka Khan and Mujib, and perhaps between East and West Pakistan. Unable to stomach this personal insult, Tikka was bound to react violently against ostensible defiance on the part of Mujib and his Awami League. To Pakistani watchers, as well as to the General Staff of the Indian Army, a strong military action appeared imminent.

Sukhwant Singh, author of "India's Wars Since Independence" (2009)
During this period Sheikh Mujibur Rahman remained defiant. President Yahya's announcement that the National Assembly would meet in less than three weeks time did not deter Sheikh Mujib from going ahead with his action plan.
Between 1-15 March 1971, East Pakistan, under Bangabandhu Mujib's leadership 'assumed all the correlates of an independent State'. Never in history had such a phenomenon been noticed with not just the common people, but the administration, the judicial machinery, the police officials, the Bengal contingents of the army, and even the business community joining the non-cooperation movement and formally shifting loyalty from Pakistan to the authority of Bangabandhu in obedience to the people's electoral verdict of Dececmber 1970.

...Between 1-15 March 1971 Mujib played an unchallenged role in East Pakistan, controlling the entire machinery of administration. There is no other example in history where such a shift of loyalty emerged even before recognition of national independence. The total mandate that the people of East Pakistan gave Mujib in March 1971 had not been given to Gandhi, Nehru, Mao Zedong, Ho Chi Minh, Nkrumah or Julius Nyerere, or even Nelson Mandela.

Nitish K. Sengupta, author of "Land of Two Rivers: A History of Bengal from the Mahabharata to Mujib" (2011)