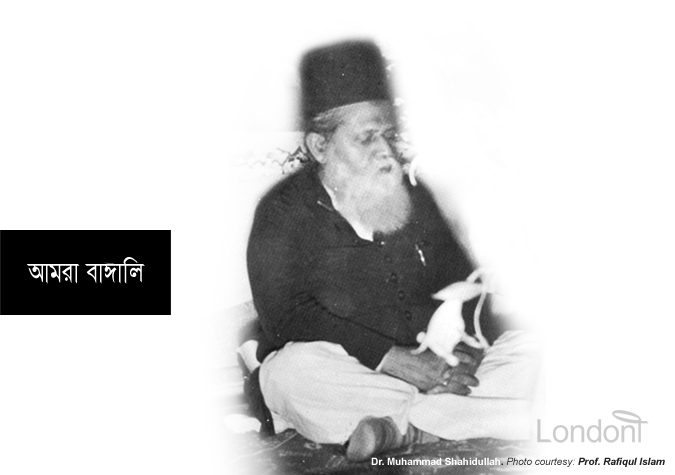 Dr. Muhammad Shahidullah
Born:

10 July 1885, village of Peyara, 24 (Chobbish) Parganas, West Bengal, India

Died:

13 July 1969, Dhaka (aged 84)

Profession:

Educationist, writer and philologist (linguist)

Recognition:

Swadhinata Purushkar (1980); Shahidullah Hall dormitory in DU named after him

National contribution:

Advanced the study of Bangla language and grammar. Established Pohela Baishakh festival
Hasani? Didn't know that! Spoke 18 languages!
Biography
Legacy
Shahidullah Hall dormitory in DU, Shahidullah scholarship at London Metropolitan University, 'Epitaph for the Martyrs' by son Murtaja Baseer
Timeline of few major events in Dr. Muhammad Shahidullah's life
1880s - Family moved from village home in Peyara to Howrah (near Kolkata). Shahidullah broke away from family tradition of Khadim (warden) to Pir Gorachand shrine and studied language instead
1899 - Passed school examination where he offered Sanskrit at third/classical language. Self-taught other languages including Persian, Urdu, Hindi, and Oriya
1904 - Passed finals from Howraz Zila School in first division. Admitted to Calcutta Madrasah and attended Presidency College in Calcutta as madrasah had no college department
1906 - Passed First Arts Examination (equivalent to HSC) with Sanskrit as a subject
1908 - Dropped out of BA Honours in Sanskrit from Hoogly College as affected by malaria. Moved to Jessore (Bangladesh) and worked as assistant teacher for a year
1910 - Graduated with BA Honours in Sanskrit from City College, Calcutta, becoming the first Muslim student to graduate in such subject
1910 - Refused entry to Masters in Sanskrit by some teachers of University of Calcutta. Subsequent uproar, known as 'Shahidullah Affair', led to university opening a new departement of comparative philology where Shahidullah became first and only student
1911 - Appointed secretary of 'Bangiya Mussalman Sahitya Samiti' (Bengal Muslim Literary Society) and co-edit and edit various publications and journals, including 'Angur' (1920), first children magazine of Muslim Bengal
30 December 1912 - Passed Masters Examination and eventually became proficient in 18 languages, including English, Farsi, German, and French
1913 - Missed out on state scholarship after formally being admitted to University of Freiburg, Germany, as disqualified in medical test
1914 - Passed law (LLB) degree from University of Calcutta with second division
1914 - Appointed Head Master of Sitakunda High School, Chittagong
1915 - Returned to 24 (Chobbish) Parganas, West Bengal, and practised law. Elected Vice-Chairman of town's municipality
1 June 1919 - Worked as Research Fellow under Dinesh Chandra Sen, the then Head of Department of Bengali, at University of Calcutta
2 June 1921 - Join newly established Dhaka University as lecturer in Department of Bengali and Sanskirt. Sole lecturer in Bengali language for 4 years
September 1926 - Sail to Europe for higher studies, mainly in France and marginally in Germany
1928 - 43-year-old Shahidullah became first Indian Muslim to receive doctorate degree, after University of Sorbonne conferred him a doctorate (PhD)
August 1928 - 1944 - Various roles with University of Dhaka including Head of Department of Bangla. Retired in 1944 as Reader and Head of Department of Bangla
1944 - Appointed principal at Bogra Azizul Huq College
1947 - 52 - Spoke in favour of Bangla, not Urdu, as state language of Pakistan during Bhasha Andolon (Language Movement). Spoke also againt Arabization of Bangla language. Presided over two days 'Purbo Pakistan Sahitya Shommelon' (East Pakistan Literary Conference), first of its kind in Pakistan
1948 - Rejoined Dhaka University and taught 6 years as department head and dean of the faculty of arts
1952 - Conferred 'Vidya Vacaspati' (Doctorate in Literature) honour by Bangiya Sahitya Parishat in Dhaka
15 November 1954 - Retired second time. But remained part-time lecturer in French in Department of International Relation (1953 - 56)
1955 - 58 - Appointed Professor and Head of Department of Bengali at Rajshahi University
3 December 1955 - Part of committee which recommended Bangla Academy
1958 - Awarded 'Tamga-e Husn-e Karkardagi' (Pride of Performance) by President of Pakistan
1965 - Editor-in-chief of critically acclaimed "Purba Pakistani Ancalik Bhasar Abhidhan" (later "Bangladesher Ancalik Bhasar Abhidhan") dictionary
1967 - Awarded 'Chevalier dans L'Ordre des Arts et des Lettres' (Knight of the Order of Art and Letters) by Government of France for his research on language and literature
13 July 1969 - Pass away. Buried on campus of Shahidullah Hall in University of Dhaka (named in his honour)
1980 - Awarded Swadhinata Purushkar (Independence Award) posthumously by Government of Bangladesh)