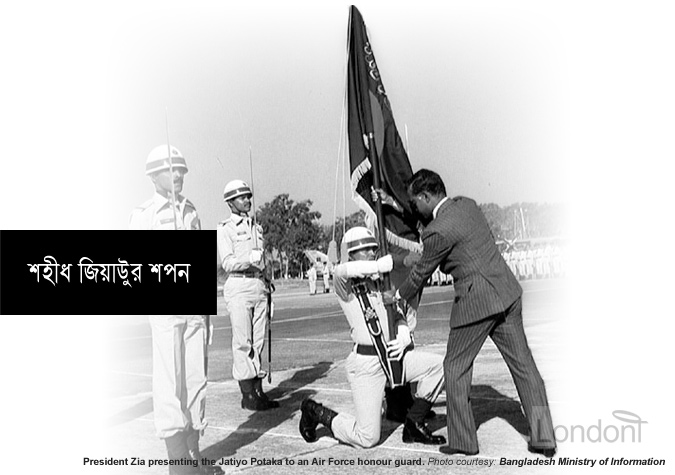 Assassination of Ziaur Rahman (1981)
Post the assassination of Sheikh Mujibur Rahman and family on 15 August 1975, Ziaur Rahman would transform from Deputy Chief of Army Staff to Head Chief, then CMLA, and finally became the 7th president of Bangladesh and founder of Bangladesh National Party (BNP).
On 30 May 1981, as president he visited south-eastern port city of Chotrogram (aka Chittagong) where he was assassinated by a faction of officers of Bangladesh Army whilst he was staying in Chittagong Circuit House. General Manzoor was alleged to have led the attack and he was subsequently murdered 3 days later.
Since today, over 30 years after his murder, nobody has been officially held responsible for Ziaur Rahman's murder, even when his wife, Khaleda Zia, came into power.
History
1975 - 76
Questionable role in Sheikh Mujib's murder - COMING SOON
1977
1978
1981
Aftermath
Hossain Ershad becomes President, wife Khaleda Zia enters politics, Zia Smriti Jadughar (Zia Memorial Museum)
Timeline of major events during assassination of Ziaur Rahman in 1981
21 July 1976 - 37-year-old former Sector Commander Lt. Col. Abu Taher hanged in Dhaka Central Jail under Zia's regime
30 April 1976 - Bogra Mutiny led by Sheikh Mujib's killer Colonel Syed Farook Rahman
19 November 1976 - Zia becomes Chief Martial Law Administrator (CMLA)
21 April 1977 - Zia becomes 7th President of Bangladesh after President Sayem resigns on grounds of ill health
1 October 1977 - Officers, mainly air force, attack President's house and Dhaka airport. Countless suspected plotters executed soon after
1978 - Senior army officers posted in different parts of country, including General Manzoor to Chittagong and Major Mir Shawkat Ali to Jessore
3 June 1978 - Zia beats his former Commander-in-Chief General Osmani in presidential election
1 December 1978 - Lt. Gen. Ershad appointed Chief of Army Staff (COAS) ahead of Major-General Manzoor
February 1979 - President Zia's newly formed BNP party wins parliamentary election
9 April 1979 - Lifts martial law and amends Constitution of Bangladesh, giving it more religious outlook and legalising indemnity act validating all actions from 15 August 1975 (the day Sheikh Mujibur Rahman was assassinated) to 9 April 1979
November 1975 - May 1981 - Minimum of 19 attempts to remove President Zia during his 6 year rule, including 10 coup attempts
20 May 1981 - Heated debated with Major-General Manzoor at army headquarter Dhaka regarding reimposition of martial law
29 May 1981 - Party disputes brings Zia to Chittagong
30 May 1981 - Assassinated within 20 minute killing spree early morning at Circuit House, Chittagong. Over 20 bullets entered body, primarily at face and chest. Buried hastily in remote hill near Engineering College in Rangunia upazila
1 June 1981 - Body exhumed, flown to Dhaka for state funeral and re-buried at Chandrima Uddyan, next to newly built Jatiyo Sangshad Bhaban (National Parliament) in Sher-e-Banglanagar locality. Elsewhere, General Manzoor shot dead in mysterious circumstances