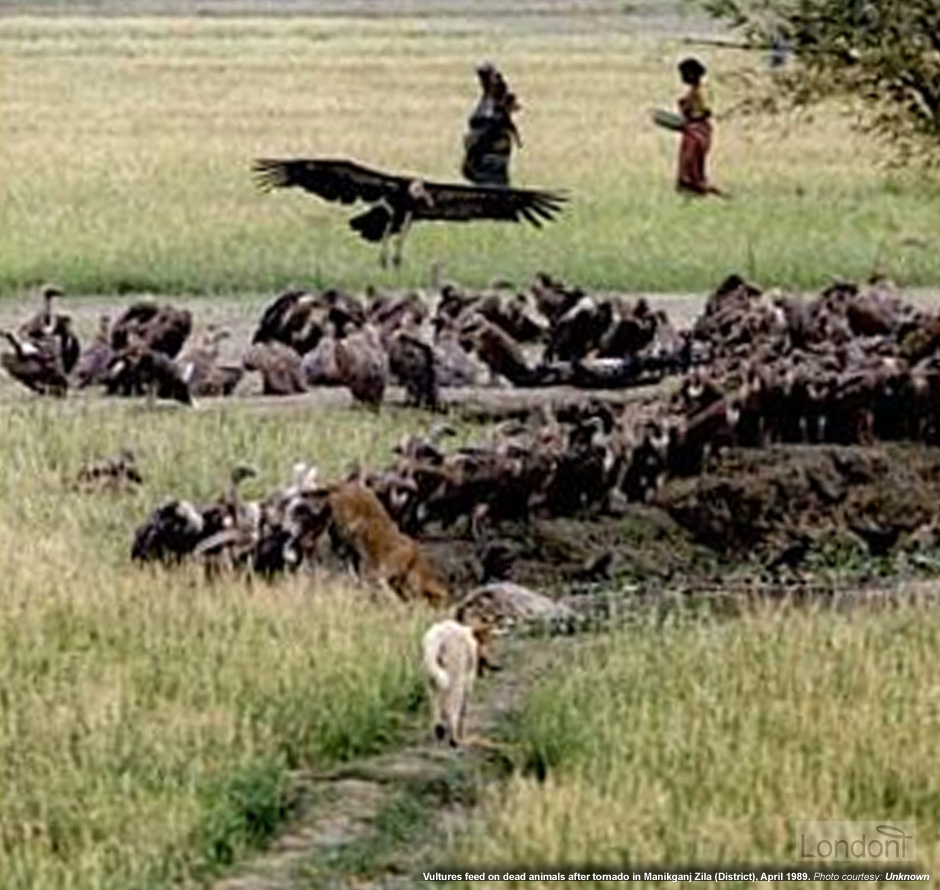 Around 1,300 people killed, 12,000 injured and 80,000 left homeless
A day after the tornado, Government officials estimated 600 people were killed and 12,000 others were injured http://articles.latimes.com/1989-04-28/news/mn-1938_1_fishing-boats-president-hussain-mohammed-ershad-tornado-hits-bangladesh. The final figure was even more gruesome. Around 1,300 people were believed to have lost their lives whilst a further 80,000 was made homeless http://www.aljazeera.com/weather/2014/04/deadliest-tornado-remembered-20144249293887609.html. The massive twister had hit five districts http://reliefweb.int/report/bangladesh/bangladesh-tornado-apr-1989-undro-information-reports-1-2 in north of Dhaka however most of the victims were from the Daulatpur and Saturia area, hence the reason behind the tornado name.
Rain fell Wednesday in parts of Bangladesh after people across the country prayed for an end to a drought that threatens to destroy almost 50% of the rice crop.

Hours after the prayers by more than 75,000 Muslims, led by President Hussain Mohammed Ershad, light rain fell in the capital of Dhaka and three other districts, the weather bureau said.

But forecasters say there will probably be no respite from the drought for another two weeks, and a hot spell will aggravate the situation in the coming days.

L. A. Times (USA) (27 April 1989)
==================
The Government of Bangladesh estimated that the tornado killed 600 people, injured 12,000 and devastated more than 20 villages. At least 200 people were also reported missing http://www.nytimes.com/1989/04/28/world/tornado-in-bangladesh-kills-600.html.
Troops were sent to search through the rubble for more victims. A Government official said 500 bodies had already been recovered merely two days after the horrific event http://www.nytimes.com/1989/04/28/world/tornado-in-bangladesh-kills-600.html.
In Saturia, nothing was standing as far as the eye could see. The village of 10,000 resembled a bombed area, with houses uprooted and electric poles twisted.
Survivors scrambled for meager supplies of food, water and medicine Monday as hunger and disease engulfed areas of central Bangladesh where at least 1,000 people were killed by a tornado last week.

The society and several other voluntary groups are trying to help people in Hargoz village and other tornado-battered areas in Manikganj district, 40 miles north of Dhaka.

Not a house remains standing in Hargoz. "The village has turned into a mass grave," said local council member Abdul Majid. "Nearly 700 people died in Hargoz village alone. More than 300 others have been reported killed in other villages".
Often the severity of a natural disaster derives from the poverty, poor construction standards or population density of the area it strikes. As evidenced by both the 2010 Haiti earthquake and Hurricane Katrina in 2005, the poor are less healthy, less able to get out of the way of oncoming disasters, more likely to live in shelters that are vulnerable to natural forces and to lack the resources to deal with a disaster's aftermath.
Officially the deadliest tornado in history of the world
In the course of its brief rampage, the storm destroyed more than 20 villages, gusting residents, homes and livestock away. It also pummeled the landscape with rain and hail, threatening what few crops had survived the preceding drought.

When the scattered residents were accounted for, the tornado was found to have caused nearly 1,300 deaths, making it the deadliest tornado in recorded history.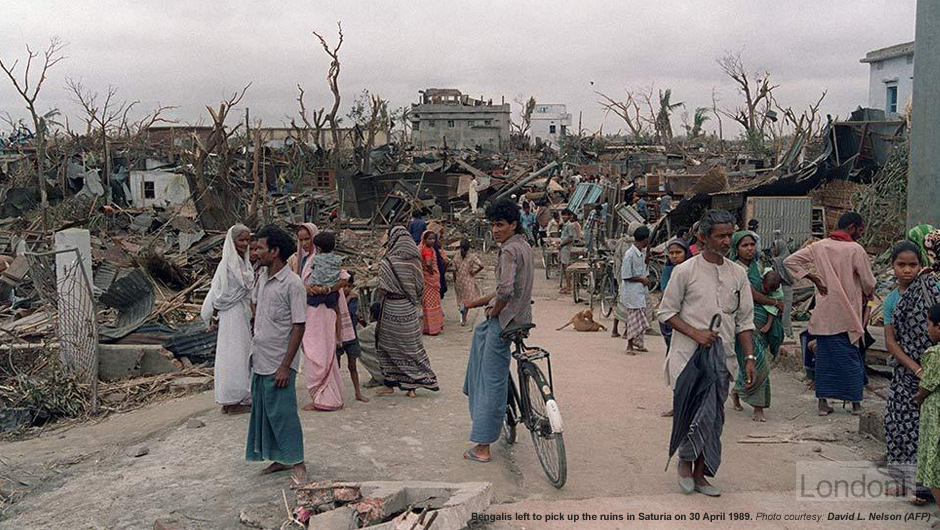 Relief efforts
President Ershad visited disaster areas and ordered relief efforts to start promptly. On Thursday the Bangladesh Army troops began searching through the wrecked villages for survivors http://articles.latimes.com/1989-04-28/news/mn-1938_1_fishing-boats-president-hussain-mohammed-ershad-tornado-hits-bangladesh. However, the magnitude of human disaster combined with disruption to logistics such as roads and telecommunications meant the Government struggled with relief operations.
Voluntary organisations such as Red Crescent Society and national NGOs were also engaged in major relief operation. The rescuers searched the rubble for survivors but at times the smell of dead bodies was overpowering. People lay crushed on top of each other as they were swept away by the fierce winds.
In the aftermath, central Bangladesh fell victim to widespread hunger and disease.
================== http://www.gkbd.org/indexd519.html?option=com_content&view=article&id=194&Itemid=206 Saturia tornado Medical Aid GK medical team found many cut injuries mostly caused by CI sheets. GK treated over thousand cut injured patients. More than 500 people died and it was the greatest tornado happened in the living history of Bangladesh. GK extended medical and food aid amongst 500 tornado affected families in Saturia Upazilla of Manikganj district.