Aftermath II
7th November: "Jatiya Biplob & Sanghati Dibosh" vs "Freedom Fighters Killing Day"
In Bangladesh, under BNP leadership, 7th November was celebrated as the 'Jatiya Biplob and Sanghati Dibosh' (National Revolution and Solidarity Day). This commemorates the 1975 uprising formed by the people and soldiers.
The BNP party and its associate organisation observe the day with elaborate programmes throughout the country. They remind the people of the 'chaotic and disorderly' situation that prevailed in the first week of November 1975 and urge people to unite under the leadership of party chief Khaleda Zia. Early in the day, the party flag are at half-mast at BNP offices countrywide and Khaleda Zia and her party leaders place wreaths at the grave of Ziaur Rahman in Dhaka's Chandrima Uddyan. A large number of BNP leaders and activists and its associate organisations also pay tribute to the former president with colourful banners and festoons (garlands of flowers hung in a curve as a decoration).
On the occasion, Khaleda Zia in a message congratulated countrymen and Bangladeshi expatriates. She termed November 7 as an outstanding day in the national history and said the day was the first step of the country's development.

She called on people to be united to protect national interests.

Different organisations will bring out processions, hold rallies and arrange discussions to mark the day.

The Daily Star (Bangladesh, 2009)
In contrast the JSD, Awami League and some other organisations and political parties do not recognise it neither as a revolutionary nor a solidarity day and denounce it as "Freedom Fighters Killing Day" or "Civil-Military Uprising Day". They accuse the BNP of distorting the 'real' history of 7 November 1975 and urge army personnel, intellectuals and journalists to inform the nation of the 'real fact' on the day.
One thing, however, is certain to those of us who were distant witnesses to those events. Ziaur Rahman was no author of the so-called revolution and national solidarity day, but he seems to have reaped the harvest of those momentous events of 15 August - 7 November. Ziaur Rahman seems to have taken the leadership on 7th November by taking the wind out of the sails of Col. Taher, out maneuvering him. Khaled Musharraf got eliminated in a classic ruthless drama of power struggle.

BNP, in essence, has been celebrating 7th November as the day of the ascendancy to power by Ziaur Rahman by masquerading under the so-called sepoy-people revolution and national solidarity day.

Abdul Hannan, former Press Counsellor, Bangladesh Mission to the UN, New York
Ekattorer Ghatak Dalal Nirmul Committee also interpreted the day with the same spirit at a meeting held at the city's Bangabandhu Avenue.

Bangabandhu Smriti Sangrakkhan Parishad formed a human chain near central jail in the city observing the day as "the Day of Killing of Freedom Fighters".

Y-Platoon, an organisation run by freedom fighters of sector two, placed wreaths at the grave of Major Khaled Mosharraf marking the day as " the Day of Killing Soldiers".
During the rules of Lt. Gen. Ershad and Khaleda Zia 7th November was a national holiday in Bangladesh. However, in November 2007 the Caretaker Government of Fakhruddin Ahmed scrapped this holiday http://en.wikipedia.org/wiki/National_Revolution_and_Solidarity_Day.
30th May remembered
The main features of the day were placing of wreaths at Zia's grave, milad mahfil, Quran khwani, feeding the destitute and discussions. BNP hoisted its party flag at half mast while black flag atop its offices to mark the death anniversary. BNP chairperson Khaleda Zia, widow of the slain president, along with the party's leaders and workers placed floral wreath at the mazar of Zia at the city's Sher-e-Bangla Nagar at about 12:30 pm and offered fateha. http://www.bdinn.com/news/ziaur-rahmans-death-anniversary/
Aftermath
Hussain Muhammad Ershad becomes President
The mysterious killing of Ziaur Rahman plunged country into a serious political vacuum and ultimately paved the way to put the country under the rule of a military regime for nine long years.
Following Ziaur Rahman's assassination, Vice President of Bangladesh Justice Abdus Sattar became Acting President and also the Chairman of the BNP. He was elected in a popular vote in December 1981 but was deposed in 24 March 1982 by a bloodless coup by Army Chief of Staff General Hossain Mohammad Ershad. Ershad declared martial law and, like Ziaur Rahman, formed a new political party called 'Jatiya Dol' (National Party) to civilianise his regime.
Wife Khaleda Zia enters politics
In March 1983 Justice Sattar appointed Zia's widow Begum Khaleda Zia vice-chairman of BNP and on February 1984, she became the chairperson as Justice Sattar retired from politics. Few months later, on 10 August 1984 the party elected elected her the chairperson.
Khaleda Zia spent the next few years campaigning against the autocratic rule of President Ershad, and finally combined with Sheikh Hasina, daughter of late President Sheikh Mujibur Rahman and later her arch enemy in politics, to topple Ershad in 1990. The following year, a decade after her husband's murder, Begum Khaleda Zia became the Prime Minister of Bangladesh - the first female in Bangladesh's turbulent history. She has been leading the BNP till today.
Mystery surrounding death of Bangladesh's first military ruler
Until today nobody has been formally held responsible for Ziaur Rahman's killing, even though a president was assassinated. This was the case when Ziaur Rahman's wife ruled the country for good ten years. The only trial that has taken place after President Zia's killing is for mutiny.
What implications has Zia's murder made in the country's politics? The politics of killing is the result of conspiracy and intrigue. This culture of murder and vindictiveness in politics has been nurtured since 1975. Democracy was put at stake because these murders were never completely brought to book, this breeds a culture of impunity and injustice. We are still bearing the brunt of the murders of two Presidents. We could not build a healthy democratic culture because of this, violence begets violence, and this kind of murder always encourages the opportunist elements that try to change the course of history through unfair means, which in effect gives room to the conspirators.

Julfikar Ali Manik, author of "Zia Hotyakando: Neel Nokshar Bichar" (2007)
Zia Smriti Jadughar (Zia Memorial Museum)
Founded:

1993

Address:

Chittagong, Bangladesh

Opening hours:

10.30 - 16.30 Saturday - Wednesday
15.00 - 20.00 Friday
Closed on Thursday

Entrance fee:

Tk. 2

Website:

www.bangladeshmuseum.gov.bd
In 1993 the Government of Bangladesh - led by BNP - converted the Chittagong Circuit House where President Zia was assassinated on 30 May 1981 to a museum called "Zia Smriti Jadughar" (Zia Memorial Museum). The commemorative museum contains 12 galleries, all of which are dedicated to the memory of the Late President and houses mementos and personal belongings http://www.bangladeshmuseum.gov.bd/index.php?option=com_content&view=article&id=123&Itemid=211. There are more than 700 artifacts found within the Smriti Jadughar http://www.factbd.com/zia-memorial-museum/. Objects found in these exhibitions are portraits of Ziaur Rahman, the actual microphone transmitter used by young Ziaur Rahman to announce Independence of Bangladesh in March 1971, a table and chair and other personal properties, documents and gifts received during his tenure from national and international diplomats and officials. Zia Smriti Jadughar also houses an excellent library and a conference hall equipped with latest technology for use in presentations and meetings.
For a taste of recent Bangladesh history, visitors should drop by this museum which houses the radio transmitter that Zia used to declare the independence of Bangladesh. There are also photographs and background information on the man who was eventually assassinated by his own military men just a few years after he took power.

Mikey Leung & Belinda Meggitt, authors of "Bangladesh" (2009)
As the president was killed in this building, the museum monument his extraordinary life.

Visitors will find that Zia Memorial Museum is a stunning attraction in Chittagong which describes not only the life of this unforgettable leader, but also the colourful history of Bangladesh.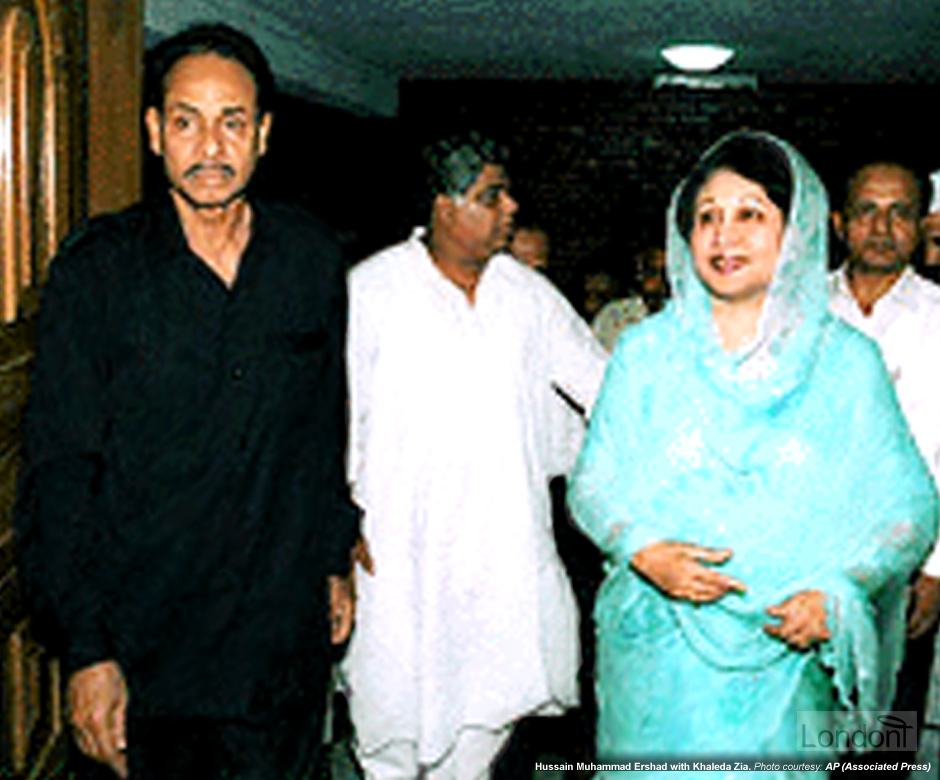 Was Hussain Muhammad Ershad involved in President Zia's killing?
Lack of security pre-planned by COAS Ershad?
Some conspiracy theorists - which includes Major General Syed Muhammad Ibrahim, a Bir Protik who defended the 13 officers accused of President Zia's murder in July 1981 - speculate General Manzoor was used as a scapegoat and Chief of Army Staff Ershad himself was behind the killing of President Zia. These theorists suggest that a host of repatriate Generals and politicians in Dhaka may have set General Manzoor up to kill Zia, leading him to believe that they would support him once the deed was done. By first encouraging Manzoor and later abandoning him after he had carried out the assassination, according to this theory, they were able to get rid of the last two freedom fighter Generals who stood in the way of the repatriates claiming power exclusively for themselves. This theory accounts for the lack of security around President Zia as something designed by the conspirators. The conspirators point to the fact that a coup could not have been organised from Chittagong, without also securing the capital city of Dhaka - which Ershad controlled.
Zia's decision to stay the night in the extremely vulnerable Circuit House (it is located on a hill and has no place for cover) is similarly explained as being arranged by Zia's security men as part of the plot. The death of Manzoor before he could be put on trial and the disappearance of Manzoor's tape-recorded statement are viewed as the logical culmination of a scheme that was carried out with cold-blooded efficiency.
It is also speculated that Chief of Army Staff Ershad gave his support to Acting President Sattar only because of the clear, national revulsion against the assassination of Zia.
However, where President Zia's security was concerned, General Ershad responded to the criticism by pointing out that the responsibility for the protection lied with the police and not him since Ziaur Rahman was a 'civilian president'.
General Zia was president at that time - civilian president, not army. His safety and security was not my responsibility. [It was] The responsibility of the civil government. They did not protect him. They did not give him security.
However, Major General Muhammad Ainuddin, a Bir Protik and one of the co-defendent of Ziaur Rahman's alleged murderers along with Syed Muhammad Ibrahim, responded to Ershad's deflection by saying that his remark was "not fully true".
When the President, the seat of the Government, goes outside Dhaka then it's the duty of the Chief of Army Staff [occupied by Ershad] to oversee the President's safety and security. Therefore, by saying that it was the responsibility of the police [Ershad] cannot avoid his responsibility. It was his responsibility.

President Ziaur Rahman died in Chittagong Circuit House and Chittagong Circuit House falls within the territorial limit of the cantonment. Therefore when the President visits anything falling within the cantonment boundary then the safety and security falls on the local area commander or the General Officer Commanding (GOC). If the GOC is responsible for this then so is the Chief of Army Staff.

Major General Muhammad Ainuddin says Ershad should take responsibility for lack of security
General Mir Shawkat Ali concurred with the views held by General Ibrahim and General Ainuddin.
Ershad's lawmaker openly declares that Ershad killed Zia and it was 'justified'
On 16 October 2010 a lawmaker of Ershad's Jatiya Party, Nasim Osman, claimed that Hussain Muhammad Ershad was behind the killing of Ziaur Rahman.
Nasim is alleged to have made the comment at a function held on Madanganj Model Govt Primary School premises in his suburban Narayanganj constituency where he was the chief guest. A shocked audience also heard Nasim - whose family is known to be strong supporter of Awami League and one of his brothers was a former party lawmaker - openly accuse Ziaur Rahman of being the 'mastermind' behind the the assassination of Sheikh Mujibur Rahman on 15 August 1975 and as such his own assassination in the hands of Ershad was 'justified'.
Ziaur Rahman was killed by (the then army chief) General Ershad and not General Manzoor.

Bangabandhu murder trial was actually done on 30 May 1981 with the killing of Zia as he was the man behind the killing of the Father of the Nation.

...Do you know why I'm in Jatiya Party of Ershad? It's because the work I was to do, was done by him (Ershad as he had killed Ziaur Rahman).
Nasim Osman

()
Nasim's controversial remarks were printed in the Samokal newspaper and received wide coverage. Ershad and his secretaries were unable for comment when news reporters tried to get in touch with them.
Ershad, whose Jatiya Party is now a crucial ally of Awami League, hung up the phone when he was approached for comments by PTI. His press secretary and party secretary general also kept their phones switched off apparently to evade questions from newsmen.
Khaleda Zia never accused Ershad - at least not in public
It has never been proven in any court of law whether Hussain Muhammad Ershad had any part in Ziaur Rahman's assassination. This was also the case even when Zia's widow, Khaleda Zia, was in power in 1991-1996 and again in 2001-2006. Her BNP party have also in the past joined up with Ershad's Jatiya Party to oppose the Awami League.
Ershad even alloted two houses in Dhaka - one in the affluent Gulshan area, another in Dhaka Cantonment - to Khaleda Zia and her two sons. The family was also given 10 lakh taka, 1,500 taka a month in bursary to facilitate studies of the sons until 1986, and one vehicle with fuel and a driver. But the bungalow at 6 Shaheed Mainul Road in Dhaka Cantonment became the centre point of controversy when the Awami League-led government forced them to evict the premise in November 2010.
Ershad allotted the house to [Khaleda] violating law to make his bhabi (sister-in-law) (Khaleda) happy.
However, though she had never made any open or public accusation, Khaleda Zia allegedly in private discussion held Ershad responsible for her husband's killing.
Though mystery will surround the killing of Ziaur Rahman, what is clear is that Ershad benefited from the killing of Ziaur Rahman, in the same way Ziaur Rahman had benefited from assassination of Sheikh Mujibur Rahman. Ershad came to power less than a year after Ziaur Rahman's killing and became the President of Bangladesh. His meteoric rise from a military man to the highest post in Bangladesh civil government was much like Ziaur Rahman post Sheikh Mujib's killing.
Possible reasons behind the killing
Non-commanding position angers General Manzoor
Some claim what acted as a catalyst of the assassination of Zia was the decision of the then Chief of Army Staff Hussain Muhammad Ershad to transfer Major General Manzoor to a non-combatant post in Dhaka as Commandant of the National Defence College. Major General Manzoor was the General Officer Commanding (GOC) of Chittagong 24th Infantry Division, where most of the freedom fighters were placed under him benefiting from the highest posts.
Once the menacing general had been asked to leave, his men simply rejected their (theoretical) allegiance to the Chief of Army Staff and launched a coup. This was all the more ironical because strengthening the 'local chiefs'' power was a result of Zia's will to 'make Dhaka sure for him', by placing most of the senior officers, especially muktijuddha, outside the capital.

Jérémie Codron, Analyst
Major General Manzoor resented a planned transfer to a non-command post in Dhaka. Once the transfer order was sent to him, the coup was launched.
Jealousy
Rivalry between Ziaur Rahman and Abul Manzoor, like most cases of factional conflict in South Asia, had a long past. Even among freedom fighter officers acute rivalries were quite common and publicly known, for example, between Ziaur Rahman and Khaled Musharraf, Zia and Abul Manzoor. Some suspect it was these personal rivalries and jealousies which was a prime motivator for the tragic and alleged killing of one sector commander by another.
Abul Manzoor watched his long-term ambition of being Chief of Army Staff - and potentially, President - fade away first by the mammoth rise of Ziaur Rahman then by the repatriated officer Hussain Muhammad Ershad. This rivalry coupled with the perception of injustice by Abul Manzoor abruptly ended Zia's life.
There has been widespread speculation about the role of Manzoor and his younger officers in the coup attempt. Most of the evidence suggests that Manzoor was concerned that he would no longer be able to resist a transfer to Dhaka, which meant that he, like Mir Shaukat, would be stripped of his command. This would have been terribly humiliating for Manzoor, since he saw himself as deserving of Ershad's position and as a future President. His younger colleagues realised that they might be subjected to forced retirement from the military or some form of discipline if they lost the protection of Manzoor. They all knew that any hopes they might have had for staging a coup would be dissipated once Zia returned to Dhaka.
Cold killing of Colonel Taher increases rebellion
During Ziaur Rahman's ruling the suppression of rivalries and revolts within the army intensified. The BSS and Jashod leaders who had carried Ziaur Rahman to power were systematically arrested whereas the repatriated, less threatening because of their apparent disorganization, became the regime's fresh allies. But his 'treachery' against old comrades like Abu Taher and Abul Manzoor and other notable Muktijuddhas provided ammunition for his critics. For the soldiers who had experienced the Liberation war and 7th November 'revolution', Colonel Taher's arrest, followed by his death sentence, was an act of treason. This triggered a series of unprecedented rebellions.
Even the announcement by 'Biplobi Parishad' after Ziaur Rahman's assassination invoked the ghost of Colonel Taher.
Taher indeed became potentially more threatening, post-mortem, to Zia. The resentment brought forth from the execution resulted in a marked military instability, which inspired chain-reaction mutinies in several regiments. From November 1975 to October 1977, roughly ten serious revolts questioned the military hierarchy. Although none succeeded, all resulted in widespread bloodshed.
Favouritism toward repatriated officers proves distressing for muktijuddhas
In contrast to Sheikh Mujibur Rahman's governance, the muktijuddhas experienced a sharp decline in their involvement in the Bangladesh army and the government roles under Ziaur Rahman. At the time of Zia's death in 1981 it is estimated only 15% of freedom fighters constituted the Bangladesh Army, with the rest made up of repatriated officers (25%) and new recruits (60%).
For these politicised fighters, 'heady' with the heroism of the liberation war, Ziaur Rahman's favouritism towards the repatriated proved alarming. No longer able to shape the destiny of their motherland merely ten years after sacrificing so much, many became bewildered and frustrated. With the loss of influence came the loss of incentives, both financial and social, which were attached to positions these muktijuddhas previously enjoyed under Sheikh Mujib few years earlier before he was killed in such cold-blood. Something had to be done. After all, if the country could survive the brutal killing of their once revered 'jathir jonok' and 'bangabandhu' then who was Ziaur Rahman in comparison, they thought.
These frustrated muktijuddhas were quick to take up guerrilla-style operation against their commanding officers or even head-of-state if necessary.
It seems that Zia's death was not an isolated event, but rather part of a larger conspiracy even though there was no involvement of an external power and the conspiracy was homegrown. It is true that Manzoor was disappointed with his job situation, but this merely served as an "accelerator" for the coup attempt, which was perhaps related to intense discontent among a segment of the armed forces. During the last two years of his rule, Zia had relied heavily on the repatriated and the newly recruited officers and soldiers.

... Zia's policy further alienated him from the freedom fighters both inside and outside the army.

Thus, while Manzoor did have a personal grudge against Zia, the freedom fighters and officers recruited during the Mujib regime had sought to seize power long before 30 May 1981, since all the previous coup attempts against Zia had been led by participants in the liberation war.

Of all the freedom fighters, only General Manzoor had been able to retain an operational command in the army, and this was in Chittagong. Therefore, it may be that he was persuaded by the freedom fighters to stage a coup in Chittagong, after which the freedom fighters posted in different cantonments would mobilise support both within the army and from pro-Mujib civilians.
Few men in history have betrayed the aspirations of their people as did the first leaders of Bangladesh - Sheikh Mujibur Rahman, Khandaker Moshtaque Ahmed and General Zia. When each in turn was called upon to make good, he took the country further along the road to perdition. Once the darling of the independence movement 'in whose magic nae all things are done', Sheikh Mujib as Prime Minister and President became the most hated man in Bangladesh within three short years of its founding. He and his family were killed for it. And the hatred lingers. Ten years after Mujib's death his daughter, Hasina, told me that she could not get the agreement of relatives and neighbours in their home village of Tungipara to erect a suitable monument over Mujib's grave. "People react differently when you are not in power", Hasina said in what could be an epitaph for both Mujib and General Zia. Moshtaque, who succeeded Mujib, has become a by-word for treachery. General ZIa, the next man, was once idolised by the army. But then he showed his true colours and became the target of 20 mutinies and coup attempts in five years. The 21st killed him. As public awareness of the general's real role increases, Zia's memory too has become an embarrassment to his friends.

Anthony Mascarenhas, author of "Bangladesh: A Legacy of Blood" (1986)
Anti-Indian sentiments over Ganges River
Another reason cited for the assassination of President Ziaur Rahman is the bitter dispute over the rights to the Ganges water with neighbouring India.
Bangladesh's long-troubled relations with India, the country that had helped it win independence, was further heightened when the two nations were unable to agree on long-term solutions concerning the lower Ganges River, which meanders through both countries as it flows out into a vast delta of Bay of Bengal in Bangladesh. Various solutions to the water question and territorial claims to islands formed by silt at the mouth of a boundary river were rejected. Matters were not helped much by Ziaur Rahman and his BNP who were commonly perceived to be 'anti-Indian' and 'nationalistic'.
The sovereignty question is particularly volatile: there are hopes of finding oil under nearby waters.

While Zia had pressed India strenuously on the diplomatic front—even sending gunboats to one of the 'disputed islands last month—he was apparently not aggressive enough for a fiercely anti-Indian element with a strong base in Chittagong.
The killers of Ziaur Rahman and his 8 colleagues were apparently linked to these militants.