Opening ceremony in Bangladesh watched by over 1 billion people worldwide
On 18 February 2009, Haroon Lorgat, the Chief Executive of the International Cricket Council, announced that the opening ceremony of the 2011 Cricket World Cup will be held in Bangladesh.
Nearly two years later on 17 February 2011 the £18.6 million ($30 million) ceremony was held in the renovated Bangabandhu National Stadium, Dhaka, two days before the start of the tournament.
The Government of Bangladesh announced a half-day public holiday so people could watch the historic event.
The often chaotic roads in Dhaka witnessed relatively light traffic on Thursday with the government declaring a half-day public holiday so its people could return home in good time to view the opening ceremony on television.
Event kickstarted by Bangla song "O Prithibi"
The Bangladeshi capital Dhaka was transformed into "a wall of noise and colour" as a lavish ceremony officially opened the Cricket World Cup. The ceremony began at 6pm local time when Prime Minister of Bangladesh, Sheikh Hasina, arrived and was welcomed by handing a shapla ful (water-lily), Bangladesh's national flower.
Then the Chayanath choir wearing red and green saris and fatua sang the national anthem of Bangladesh, Amar Shunar Bangla (My Golden Bengal). After the singing of anthem the countdown began which showed a montage of all the scenes of the previous world cup. Popular Bangladeshi pop singers Ibrar Tipu, Mila, Balam and others [Arnob] set the tone for the evening as they arrived in a bedecked car to sing the welcome song, "O Prithibi, Ebar Eshey Banglake Nao Chiney..." (Hey world, come and know Bangladesh) much to the delight of the 21,000 strong crowd, made up of local and foreigners.
Among the dignitaries who were present at the ceremony were India's Prime Minister Manmohan Singh, India's cricket board president Shashank Manohar and his Sri Lankan counterpart DS de Silva.
Rickshaws parade captains and mascot
Stumpy the elephant, the tournament mascot, was escorted into the ground on a pedal-powered rickshaw (tri-cycle), the traditional mode of transport. Then each of the 14 captains were paraded in a succession of ornately decorated rickshaws around the stadium and gathered into the specially erected dais in the center. First captain to be paraded in this unforgettable way was Australian captain Ricky Pointing. He was followed by the other captains, each drawing a loud applause from the excited crowd. However, the biggest cheer was reserved for host captain Shakib Al Hasan as he waved to the crowd. The captains were accompanied by young [Bengali] children who wore the jersey of the team they were with.
Bangladesh hosted the party of its life to welcome the start of the cricket World Cup.

The world's leading team captains were ferried into Bangabandhu National Stadium in a fleet of bicycle rickshaws to kick off the evening event.

Daily Mail (UK)
After all the captains assembled on the dais, Indian pop artist and Bollywood playback singer Sonu Nigam sang 'Spirit of Cricket'. After Sonu's song a video footage was shown on the big screen which showed Sangakkara and Sehwag promoting AIDS awareness. This was followed by speeches of top officials.
Opening speeches
Mustafa Kamal, the chairman of the Bangladesh Cricket Board (BCB) delivered his speech at first in English and then in Bengali. He was followed by ICC Chief and Indian Union Minister of Agriculture Sharad Pawar who surprised everyone by speaking a few lines in Bangla.
Swagato. Bangladesh khoobi sundor desh.

Pradhan Mantrir haath dhore progotir pothe egiye cholechen apnara.

(Welcome. Bangladesh is a beautiful country. The Bangladesh Prime Minister is guiding you towards the road to progress).

ICC president Sharad Pawar's introductory lines amid thunderous applause from a sell-out crowd
Sharad Pawar praised the local organisers for arranging the event on such a grand scale and declared this would be "a World Cup which everyone will remember" as the sub-continent welcomed the event for the first time since 1996.
Today is a historic day when the people of Bangladesh join India and Sri Lanka together to host the ICC Cricket World Cup, and make this tournament the most memorable yet. The ICC Cricket World Cup, our flagship event, provides the stage on which players have the rare opportunity to create legend and to write their own chapter in the history of this great sport.

The greatest cricketers in the world will grace this event and I am sure that their ability, whether with bat or ball, will provide excitement and enjoyment for all cricket lovers.

Sharad Pawar tells crowd he was confident the 2011 installment would be the finest yet
Finally Prime Minister Sheikh Hasina delivered her speech and received the biggest cheer during the opening round of speeches. She then declared the opening of World Cup, first in Bengali then in English, amid thundering cheers from the crowd.
I hope that the games will be memorable and exciting.

PM Sheikh Hasina, speaking four years after a poorly received World Cup in the Caribbean
We feel greatly privileged to co-host the cricket extravaganza in our beautiful country. I congratulate my cricket-loving countrymen for their great enthusiasm and cooperation to make this event a grand success.

Pradan Montri Sheikh Hasina hailed a momentous day for her country
Spectacular, dazzling fireworks take off from the stadium and lit the Dhaka evening skyline.
Unique 'vertical cricket'
After the opening speeches, a colourful and enthusiastic array of entertainment followed with 3,500 performers demonstrated local cultural heritage of Bangladesh, India and Sri Lanka. Electronic kites were also flown above the stadium.
Undoubtedly the highlight of the two-hour spectacle was an aerial cricket match, where high-flying acrobats hit and chased a laser-beamed ball against a vertical backdrop of a pitch (on the side of a building outside the stadium), more than 200 feet above ground. A mock intruder, suspended on an abseiling rope, even ran across the ground to draw hoots of laughter from the sell-out crowd.
A breath-taking aerial cricket match, played horizontally on a building, kept the spectators spellbound.
Official song 'De Ghuma Ke' concludes ceremony
After the unique display, nearly 2,100 school and college students and 350 members of the Armed Forces presented a cultural programme depicting the glorious 1948-1952 Language Movement, 1971 War of Liberation, Sheikh Mujibur Rahman's historic 7 March 1971 speech, Bangla New Year and traditional dance of the indigenous communities.
Canadian rock singer Bryan Adams then took centrestage and performed some of his famous party songs, including "Let's make it a night to remember", "Summer of '69" and "18 till I die", front of jubilant fans.
Rock star Bryan Adams provided the sparks as a dazzling opening ceremony, showcasing a vibrant blend of sub-continental traditions and modernity, on Thursday launched the 10th edition of the cricket World Cup, setting the stage for 43 days of high-voltage cricketing extravaganza.
The colourful evening concluded with Bollywood music producers Shankar-Ehsaan-Loy belting out the tournament's official theme song 'De Ghuma Ke' composed by the trio.
De Ghuma Ke, which literally means 'Swing It Hard', was written by lyricist Manoj Yadav. The song was dubbed in Bengali and Senhalese in recognition of co-host Bangladesh and Sri Lanka. The Bengali version, "Jitbe Ebar Jitbe" of the song has been sung by Raghab Chatterjee and Sinhalese version,"Sinha Udane" by Ranidu Lankage. The song released worldwide on 31 December 2010, few weeks prior to the World Cup.
Transliteration
Jiyo Khiladi Wahe Wahe
Ayede Peyde (De Ghumake)
Aare Paare (De De Ghumake)
Uttiguttam (De Ghumake)
Adchan Khadchan (De De Ghumake)

Jiyo Khiladi Wahe Wahe

Hmm…. Ayede Peyde (De Ghumake)
Aare Paare (De De Ghumake)
Uttiguttam (De Ghumake)
Adchan Khadchan (De De Ghumake)

Juta Hosla Badal Faisla
Badhale Tu Bindas Kafila
Khel Jamale Kasam Uthale
Bajake Chutki Dhool Chatadhe
(De Ghumake, Ghumake, Ghumake, Ghumake, De Ghumake, Ghumake, Jiyo Khiladi Wahe Wahe)

Aasman Mein Maar Ke Dubki
Udadhe Jaa Sooraj Ki Jhapki
Sarr Se Cheer Hawa Ka Parda
Baandhle Patte Jamke Gardaa
Mar Ke Surri Sagar Mein Tu
Chhaang Bator Laga Gal Mein
Phaad Ke Chappar Masti Mauj Ki
Barish Hogi Ghar Ghar Mein
(De Ghumake, Ghumake, Ghumake, Ghumake, De Ghumake, Ghumake, Jiyo Khiladi Wahe Wahe)

Atki Saans Sui Ki Nok Par
Khel Bada Hi Gehera Hai
Maza Bhi Hai Rumancedaar Sa Iska
Ranga Rangi Ye Chehera Hai
Itti Shitti Ho Halla Sab
Hullan Dhoom Dhadaka Hai
Khel Khiladi Tadak Bhadak Sab
Jalta Bhadaka Hai
(De Ghumake, Ghumake, Ghumake, Ghumake, De Ghumake, Ghumake, Jiyo Khiladi Wahe Wahe)

Ayede Peyde (De Ghumake)
Aare Paare (De De Ghumake)
Uttiguttam (De Ghumake)
Adchan Khadchan (De De Ghumake)

Juta Hosla Badal Faisla
Badhale Tu Bindas Kafila
Khel Jamale Kasam Uthale
Bajake Chutki Dhool Chatadhe
(De Ghumake, Ghumake, Ghumake, Ghumake, De Ghumake, Ghumake, Jiyo Khiladi Wahe Wahe)
In English
Twisted and turned (hit it hard)...this shore n that(hit it hard)...

Long live O Sportsman

Twisted and turned (hit it hard)...this shore n that(hit it hard)...

Gather courage...change your decision...
bear that catastrophic storm casually
set the tone of the game...make this promise
snap your fingers and make em bite dust
hit it hard, hit it hard, hit it hard...long love O Sportsman

Dipping in the deep skies
go and hug that blazing sun
tear through the veil of the wind with your fierce head
tie this knot fearlessly...create a whirlpool in the sea
leap forth infinitely into the infinite measures of crazy fun...
rain shall fall on each and every house
hit it hard, hit it hard, hit it hard...Long live O sportsman

The breath stuck in the hole of the needle
The game's very deep
The fun is unbeatable
All faces are colorful
It's a carnival over here...its a fiery lit carnival here
hit it hard, hit it hard, hit it hard...Long live O Sportsman

Twisted and turned (hit it hard)...this shore n that(hit it hard)...

Gather courage...change your decision...
bear that catastrophic storm casually
set the tone of the game...make this promise
snap your fingers and make em bite dust
hit it hard, hit it hard, hit it hard...Long live O Sportsman
We were looking at various ideas to determine what direction we can take because we wanted to make a fun song, a dhamaal song on which people can dance, they can sing and we wanted to use more of a colloquial term, which was an idea that came in late. Initially, we were looking at a regular dance song and by chance we coined this phrase De Ghuma Ke. Everyone got excited and said why not make a song around the phrase.
Worldwide coverage
The exciting and colourful opening ceremony was telecasted around the world by ESPN, the official broadcasters of the ICC events. Various channels throughout the world used the downlink feed of ESPN's production to provide their respective viewers, live broadcast of the ceremony. Bangladesh used the golden opportunity to enjoy their moment in the sporting spotlight and, more importantly, showcase to the rest of the world that they were capable of putting up a great show and handle major international events.
We will be able to improve our image if we can successfully hold the opening ceremony and host the World Cup matches slated for us.
With the grand opening ceremony over, it was nearly time to kickstart the tournament and mark the return of the showpiece event to the sub-continent after a gap of 15 years.
Barely 10 years after being given the Test status, it was a giant leap for Bangladesh as a nation as the minnows, known to pull off stunning wins in big events, hosted perhaps the biggest sporting show so far in their history.
=========================
AHM Mustafa Kamal (aka Lotus Kamal)

(Born 1949) President of Bangladesh Cricket Board and Chairman of the parliamentary standing committee on Ministry of Finance. President of Asian Cricket Council 2011. Ex-chairman of Abahani cricket committee for 17 years. Founder of Lotus-Kamal Group. From Comilla.

Haroon Lorgat

()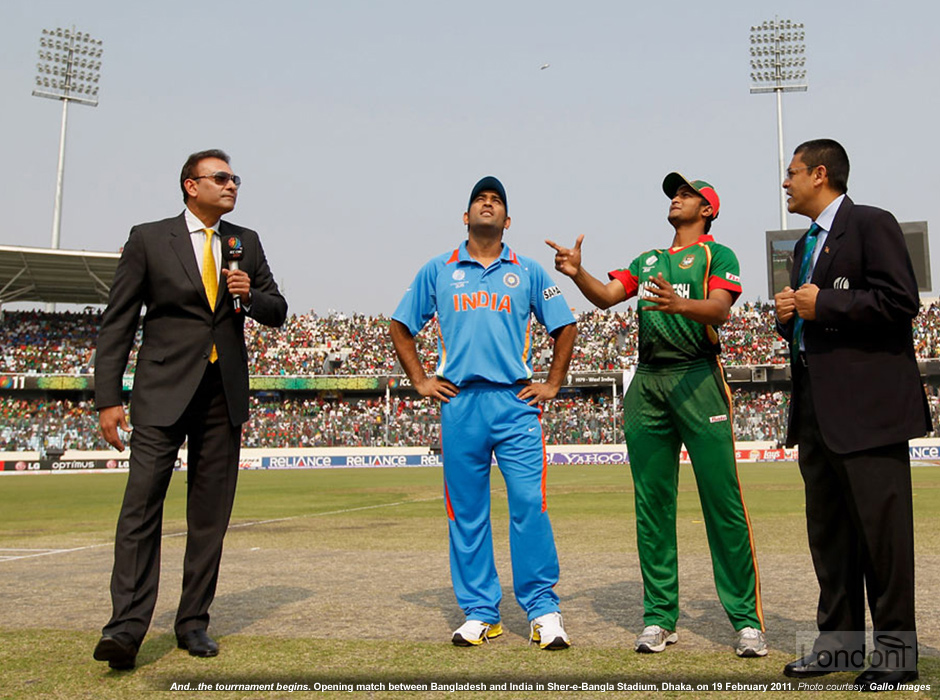 Opening match: Bangladesh vs India
The first match of the 2011 Cricket World Cup took place in the Sher-e-Bangla Stadium, Dhaka on 19 February 2011 between co-host Bangladesh and India. In the previous cricket world cup held in West Indies in 2007, Bangladesh famously beat India by 5 wickets in the group stages, dumped them out of the world cup and progressed to the 'Super 8' stage. This time round India was intent on getting revenge.
Bangladesh's captain Shakib Al Hasan won the toss and opted to bowl first. India, the 1983 winners and the hot favourite to win the competition, started at blistering pace with Virender Sehwag hitting a four from the first ball itself. Sehwag got the World Cup off to an explosive start as he hit a career-best 175 before before playing his first false shot of the innings and chopping a Shakib Al Hasan ball on to his stumps. Sehwag's score was the joint 4th highest score in world cup history and was 4 runs away from breaking South African Gary Kirsten's World Cup record score of 188 not out against United Arab Emirates in 1996. Gary was now watching the game from the Indian dressing room as he part of India's coach setup.
Sehwag was supported by 22-year-old Virat Kohli who notched up a ton - the first Indian to score a hundred on World Cup debut - as India posted a daunting 370-4 at the end of their 50 overs.
Galiant Bangladesh replied with a quick fire 51 runs in the first five overs without losing a wicket. However after Tamim Iqbal (70) and Shakib's run out (55) Bangladesh's run-rate slowed down. Junaid Siddique (37) and Imrul Kayes (34) also tried to keep Bangladesh in the game till the half-way stage, but the 'Tigers', who had too much to do, kept falling behind the asking rate before fading out. In their bold attempt to chase down the target, Bangladesh went down fighting and reached 283-9 - only 87 runs behind India's total. Indian medium-fast bowler Munaf Musa Patel did most of the damage by getting 4-48.
Bangladesh's spirited display ensured they saw out their 50 overs, limiting the damage to their net run rate - a factor that could determine who goes through to the quarter-finals.
The win avenged India's shock defeat at the hand of Bangladesh four years earlier. This match was also the only time that India would play outside their home nation.
The most eagerly awaited sporting occasion in Bangladesh's history finally arrived. The streets had been swept like never before; a request that unnecessary journeys should not be made had been taken on board by most of the locals so that the roads in Dhaka were gobsmackingly empty on the way to the stadium.

Beggars had already been tempted off the streets by being granted $2 per day for a period of three months "to compensate for a loss of earnings".

Fourteen big screens had been erected around the city so that fans, unable to get tickets, could join together for this historic day. A four-day national holiday had been instigated. The pitch was true, the outfield fast and the sun was out, peeking through the smog. Everything was ready for the party, whereupon Virender Sehwag played the party-pooper. India's champion opening batsman, who had promised us before the match that he would bat for longer and show a bit more discretion than usual in this tournament, was true to his word. He hit 175 from 140 balls out of India's total of 370 for four.

The target was always going to be too great even though the home batsmen later produced a spirited display. In their 50 overs on a featherbed pitch Bangladesh mustered 283 for nine, thereby losing by 87 runs.

Defeat, but no disgrace.

An expectant crowd had cheered Shakib al Hasan's team deliriously when they entered the ground. Yet for the next three and a half hours an eerie silence settled on the stadium. There was so little for the locals to cheer.

...Sehwag was imperious; Sachin Tendulkar soon suggested that he was in fine fettle as well. At last, in the 11th over, the crowd had something to cheer. The greatest batsman of his era may not be the greatest runner between the wickets in the history of the game. For the 33rd time in his one-day international career he was run out and, while we could never accuse Sehwag of being an enthusiastic runner, Tendulkar was the culpable partner.

Sehwag inevitably caught the eye, scoring rapidly and running slowly but the relative newcomer Kohli hinted at true calibre as well. He scored almost as swiftly as his senior partner and flicked the ball between the fielders with fluid wrists and easy timing. One notable feature of this run riot was the number of reverse sweeps played by the India batsmen, who are acknowledged masters of spin. There were none.

...For a while Bangladesh's response ignited the crowd. Imrul Kayes, supposedly the blocker, was on strike when Sreesanth's third over yielded 24 runs. The 50 came up in five overs and the roars of approval echoed around Dhaka. Meanwhile, Tamim Iqbal, supposedly the dasher, struggled with his timing. Even though the Bangladesh batsmen reminded us of their quality they could not seriously threaten India's victory. The damage had already been done.

All of the home batsmen made their contributions, but only Sreesanth of the Indian bowlers really suffered. Respectability was retained. It may be that Bangladesh had half an eye on ensuring that their net run-rate was not too severely damaged.

The crowd left disappointed, but not dejected. There are five more games to go for Bangladesh in their own country and if they can win three of them they have a very good chance of qualification for the quarter-finals.

As for India they confirmed their status as favourites in the competition.

The Guardian (UK)
With India putting a mammoth score on the board, Bangladesh's batsmen had a task on their hands, and even a couple of years ago would have been dismissed cheaply, playing too many shots. But this team has come a long way, and after a performance like this it's easy to see why there's such passion for the game in the country.

From the time you step out of the airport, you're constantly reminded that the World Cup is in town, and when the opening ceremony got under way, there were at least as many people partying on the streets outside the Bangabandhu Stadium as there were in the stands.

On Saturday, a fan held a banner that read: "Waka, waka, this time for Dhaka," and the point was well made. If cricket can ever come close to matching the kind of mania that football inspires, it's here in Dhaka. If the 50-over World Cup needed a boost, it couldn't have asked for a better one than it got.

Telegraph (UK)
Sher-e-Bangla Stadium

()

Shakib Al Hasan

(Born 1987) Captain of Bangladesh national c ricket team. Slow left-arm orthodox bowler and middle order batsmen. Took 7 wickets for 37 runs against New Zealand in 2008 - best bowling figures by a Bangladesh player in Tests. Ranked number 1 ODI all-rounder by ICC from January 2009 to April 2011. Currently 3rd best all-rounder in the world. Named The Wisden Cricketer's "Test Player of the Year" in November 2009. First Bangladeshi to play county cricket (with Worcestershire). Represented Kolkata Knight Riders in 2011 IPL. From Magura, Khulna.

Tamim Iqbal

(Born 1989) Bangladesh's vice captain and opening batsmen. Left-handed. Scored two consecutive test centuries against England in March 2010. Named Wisden Cricketer Magazine's Test player of the year 2010 and four Cricketer's of the Year in 2011. Second Bangladeshi (after Shakib) to play county cricket (with Nottinghamshire). Elder brother Nafees Iqbal and sasa Akram Khan are renowned national cricketers too. Born in Chotrogram.

Imrul Kayes

(Born )

Junaid Siddique

()

Virender Sehwag

()

Virat Kohli

() .

Munaf Musa Patel

() .