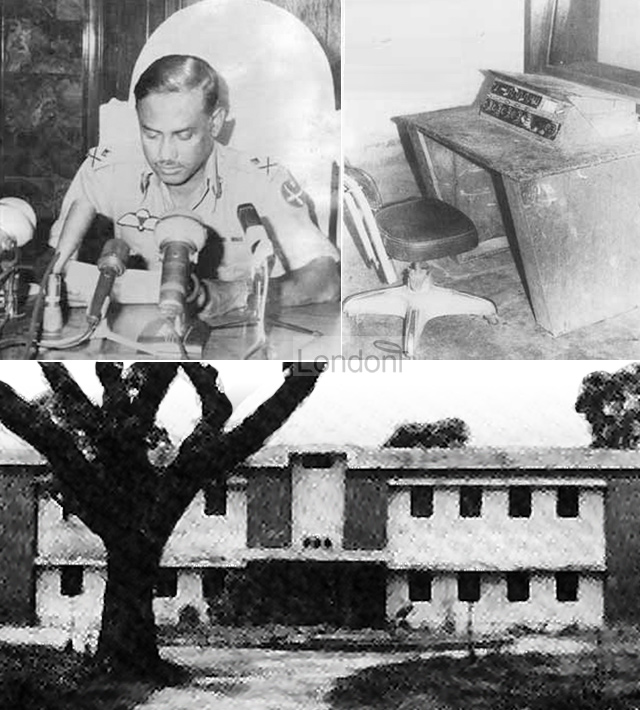 "Ami Major Zia Bolchi"
Following the failure of last-ditch talks, Yahya Khan declared martial law and ordered the army to crack down on Bengali political activities on the night of 25 March 1971 and arrested Sheikh Mujib on the early mornings of 26 March 1971, whilst other political leaders went into hiding. Tajuddin Ahmad, later the first Prime Minister of Bangladesh, reached India through Kushtia on the first week of April and made contact with the Indian political and military authority.
At this crucial moment when the political leadership failed to give any direction, the 8th East Bengal Regiment under the leadership of Major Ziaur Rahman revolted against the Pakistan Army and took up the Bangladesh flag as its mainstay on the night between 26 and 27 March 1971.
It is worth noting that when he [Zia] revolted on the night of 25 March 1971, his family was left in jeopardy, vulnerable to wrath of the murderous Pakistani forces. Major Zia knew it very well that he only had one way out - fight and win the war. A political settlement might have resulted in the pardon of the politicians but a court martial and firing squad was inevitable for him and his men. Simply put, he had taken a much bigger risk. Yet, modest as he was, he never sought any credit for his contribution to the independence. When Sheikh Mujib returned to the independent Bangladesh from Pakistani jail and made him deputy chief of staff of the army, Zia silently went back to his regular duty.
Relatively unknown outside of the army, 35-year-old Ziaur Rahman became an instant national figure when he, on behalf of Sheikh Mujibur Rahman, declared the Independence of Bangladesh on behalf of 75 million Bengalis on the early morning hours of 27 March 1971 from the Kalurghat radio station in Chittagong (also known as Chotrogram). In that declaration Zia also declared himself head of the provisional revolutionary government of Bangladesh, against the Pakistani occupation army. Later again on 27th March he again repeated the declaration.
This is Swadhin Bangla Betar Kendra. I, Major Ziaur Rahman on behalf of Bangabandhu Sheikh Mujibur Rahman, hereby declare that the independent People's Republic of Bangladesh has been established. I have taken command as the temporary Head of the Republic. I call upon all Bangalis to rise against the attack by the West Pakistani Army. We shall fight to the last to free our Motherland. By the grace of Allah, victory is ours.
Controversy surrounds the exact events which led to the Declaration of Independence. Amongst the Sheikh Mujib's Awami League supporters and Ziaur Rahman's BNP supporters in particular there are differences in the narration of the Declaration, especially with regards to the first person to make the declaration and the timing.
Major Ziaur Rahman's name was unfolded to us first on 27 March 1971. People were then passing a highly nerve-racking time. In one side political indecisiveness and the ongoing brutal genocide by Pakistani military junta, it was a high time when people needed an announcement which would contain the guidance. That announcement was carried out by a young Bengali army officer. That officer was Major Ziaur Rahman. A baffled nation obtained its guidance and as a result the glorified armed struggle for Independence commenced.

The New Nation (Bangladesh)
Ziaur Rahman's moment of glory came on the evening of 27 March 1971. At a time of intense darkness in the life of the Bengali nation, the young major, having repudiated the Pakistan army of which he had been a loyal officer since joining it in the 1950s, persuaded the country that there was light at the end of the tunnel. In the name of Bangabandhu Sheikh Mujibur Rahman, he proclaimed to the world that the people of Bangladesh were a free nation, that to dub the majority segment of the population of Pakistan was 'a cruel joke' which ought to 'befool none', that indeed the world's powerful nations should be according recognition to a nation struggling to be born out of calamitous darkness.
Sector Commander and 'Z-Force'
Ziaur Rahman and his troops were in the forefront of the War of Independence. Zia organised an infantry unit, gathering all Bengali soldiers from military and EPR units in Chittagong. Under his command they kept the Chittagong and Noakhali areas under control for a few days and went across the border into India for further preparations.
Ziaur designated Chotrogram-Noakhali area as Sector No. 1 with its headquarter in Sabroom in the Indian state of Tripura. Sabroom was an ideal strategic retreat for him and his troops whenever they were put under pressure by the Pakistan Army.
A few days later, with the formation of 'Bangladesh Forces', Bangladesh's first armed forces, the Chotrogram-Noakhali area was officially restructured and designated 'Sector 1' area covering Chittagong and Chittagong Hill Tracts. Ziaur Rahman was appointed as the Sector Commander. In total, Bangladesh was divided into 11 such sectors and General Muhammad Ataul Ghani Osmani was appointed as the Supreme Commander of the Bangladesh Forces by the newly appointed 'Mujibnagar Shorkar' (also known as 'Probashi Shorkar'), the Provisional Government of Bangladesh headquartered in Kolkata, India.
In April 1971 Ziaur Rahman was appointed the commander of the first conventional brigade of the Bangladesh Forces at Raumari (in Kurigram district), which was named "Z Force", after the first initial of his name. He was also promoted to the rank of Lieutenant Colonel in the same month. His 'Z' force was followed by "K Force" in August and "S Force" in September, named after Major Khaled Musharraf and Major K. M. Shafiullah respectively. His brigade consisted of the jawans of 1st, 3rd and 8th East Bengali regiments, enabling Zia to launch major attacks on Pakistani forces. This further cemented his reputation as a brave warrior and a passionate patriot.
Muhammad Ataul Ghani (MAG) Osmani

()

Khaled Mosharraf

()

K. M. Shafiullah

()
A nine month war followed until independence was fully established on 16 December 1971. Sheikh Mujibur Rahman returned from a Pakistani jail to take over the new government, led by his Awami League party.
Bir Uttam and Deputy Chief of Army Staff
Having earned a reputation for courageous leadership during the course of the war and reading the declaration of independence of Bangladesh in a critical time, Zia was awarded the Bir Uttam, the second highest military honour by the Government of Bangladesh. This gallantry award was bestowed upon him by Sheikh Mujibur Rahman, then the prime minister, in 1972 during the awards inauguration.
Ziaur Rahman played a brilliant role in the War of Liberation both at the level of planning and execution. As the commander of Sector I up to June 1971, later as the head of Z-Force, Ziaur Rahman distinguished himself as a brave warrior and was offered the gallantry award of Bir Uttam.
In February 1972 Ziaur Rahman was promoted to the rank of Colonel and was appointed Brigade Commander in Comilla. Two months later, in April 1972, K. M. Shafiullah was promoted to Chief of Army Staff (COAS) after Muhammad Abdur Rab, the first COAS in Bangladesh's history, had passed away. Ziaur Rahman, who was senior to K. M. Shafiullah in terms of military service, was promoted to Deputy COAS in June 1972. In the middle of 1973, he became a Brigadier, and he was later promoted to the rank of Major General on 10 October 1973.
However, the decision to appoint K. M. Shafiullah as COAS instead of Ziaur Rahman proved to be controversial. Many suspected that Zia was not happy to let his junior become his boss. It'd not be long before his ambition to become COAS would come into fruition.
There is little question that Ziaur Rahman's place in history was assured through that coruscating declaration of Bengali political intent. In the nine months of war that followed, he became an inevitable part of the process of the guerrilla struggle against Pakistan. In free Bangladesh, as Deputy Chief of Army Staff, he was careful to maintain professionalism in the way he performed his duties. His patriotism was never in doubt. Neither was his loyalty to the Father of the Nation, whom he extolled in an article for a Bangla journal. He hardly ever smiled. He was one of those who rarely fraternised with his fellow officers or with others. Discipline was the first word which came to mind when Zia was the object of study.

The Daily Star (Bangladesh)
Zia was appointed Deputy Chief of Staff of the Army, making an officer who was junior to him (same class) his boss. Quietly but determinately Zia bided time.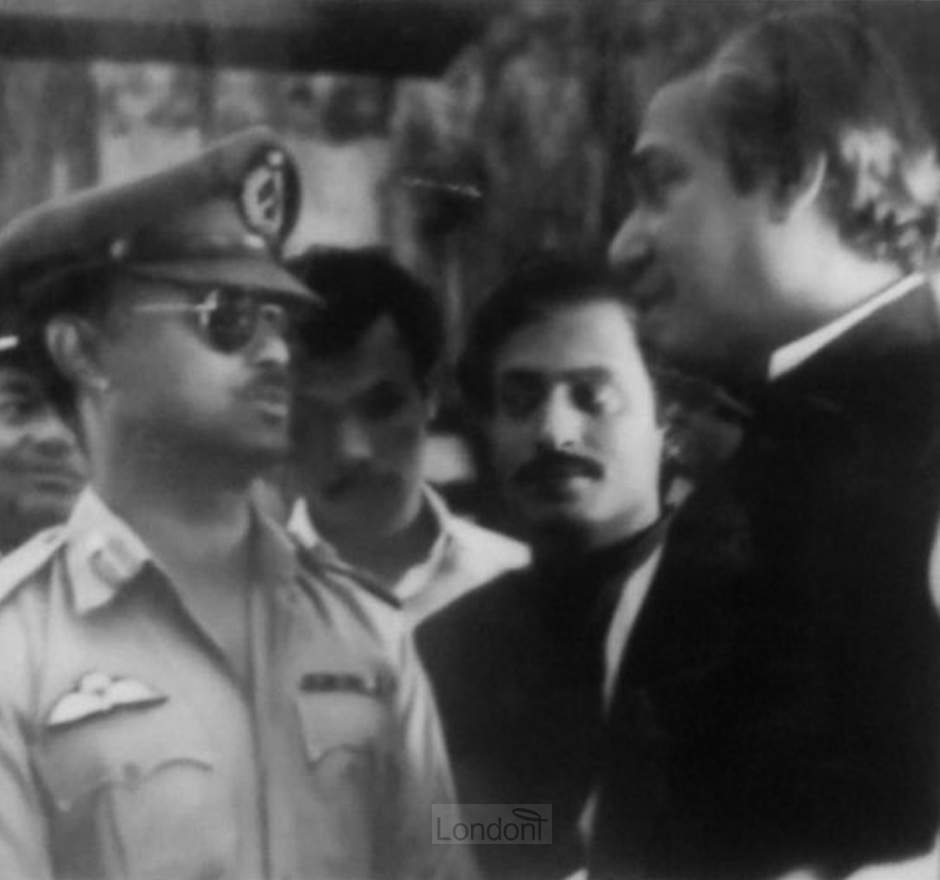 Coup of 1975 turn Zia from soldier to politician
On 15 August 1975 Sheikh Mujibur Rahman and his family were killed by a group of military officers and Khandaker Moshtaque Ahmed, a key member in Sheikh Mujib's cabinet and once a close associate of Sheikh Mujib, was appointed the president. Ten days later, on 25 August 1975, President Khandaker promoted Ziaur Rahman to the position of Chief of the Army Staff after the removal of Major General K. M. Shafiullah. Shafiullah had accepted his removal calmly and urged his troops to remain loyal to Ziaur Rahman, who now became the third army chief in Bangladesh's turbulent history. Zia was also promoted to the rank of Lt. General on the same day.
However, the coup of 15th August caused a period of instability and unrest in Bangladesh and more so across the ranks and files of the army. Within three months two more major coups took place which would alter the destiny of the newly born country. And though he was not directly involved in coups, the focal point of all attention for both coups would be Ziaur Rahman.
The authoritarian drift [of BAKSAL] yielded one serious consequence: the only genuine opposition to civil dictatorship came from the army.
On 3 November 1975 Brigadier Khaled Mosharraf and the Dhaka Brigade under Colonel Shafat Jamil staged a coup d'etat. Unknown to them, few hours earlier the char netas (four ministers) of the Awami League cabinet was murdered in cold blood in Dhaka Central Jail. Subsequently Ziaur Rahman was forced to resign and put under house arrest whilst the young rebel officers who killed Sheikh Mujibur Rahman was allowed to flee the country.
Four days later, on 7 November 1975, a third coup was staged. This "Sipoy-Janata Biplob" (Soldier's and People's Coup) was led by Colonel Abu Taher and a group of socialist military officers and supporters of the left-wing Jatio Samaj Tantrik Dal (National Socialist Party). It resulted in the killing of Brigadier Khaled Mosharraf whilst Colonel Jamil was arrested. Meanwhile, Colonel Taher freed Ziaur Rahman and re-appointed him as army chief.
The Sepoy-Janata Biplob of 7 November, however, took him to the centre of political power. In fact, he had to assume the responsibility of managing the affairs of Bangladesh on the crest of the Sepoy-Janata Biplob.
Khandaker Moshtaque Ahmed

()

Shafat Jamil

()

Abu Taher

()

Jatiyo Samaj Tantrik Dal (aka Jashod)

()
Chief Martial Law Administrator (CMLA)
Following a major meeting at the army headquarters, an interim government was formed with Justice Abu Sadat Mohammad Sayem as Chief Martial Law Administrator (CMLA) and Zia, Air Vice Marshal M. G. Tawab and Rear Admiral M. H. Khan as his deputies. Zia also took on the portfolios of home affairs, finance, industry and information along with becoming the chief of army staff.
Abu Sadat Mohammad Sayem

()

M. G. Tawab

()

M. H. Khan

()
However, discipline in the army had totally collapsed and it was difficult to disarm the soldiers and put them back to the barracks. Fearing that Abu Taher, who had rescued him few months earlier, would attempt to organise another revolt, Zia ordered his arrest. Following a secret trial in a military court, Colonel Taher was executed on 21 July 1976.
Ziaur Rahman became CMLA on 19 November 1976, following Justice Sayem's elevation to the presidency. He used his power as CMLA to issue a series of proclamations which modified the constitution and, subsequently, changed the course of Bangladesh politics. The first of these proclamation was the removal of Sheikh Mujib's one party system, BAKSAL, set up in the Fourth Amendment of January 1975, but he chose not to curtail the powers that amendment had given the President.
After the assassination of Sheikh Mujib in August 1975 political activity once again commenced a year later, but only in a very circumscribed way. National elections were a more contentious issue, and provoked the first public disagreement between the civilian President, Sayem, and his military deputies. The military won the argument, and the martial law government announced in November 1976 that the elections scheduled for February 1977 would be postponed to a later, unspecified, date. Local non-partisan elections were allowed to take place in January 1977, however. Sayem resigned as CMLA because of this decision, although he remained as President, with Zia assuming this the role too.

After Sayem's resignation as CMLA, Zia further consolidated his power, and enhanced his already widespread popularity by his constant travels around the country espousing the politics of hope.
Ziaur Rahman also tried to integrate the armed forces, giving repatriates a status appropriate to their qualifications and seniority. While this angered some veterans of the Mukti Bahini, who had rapidly reached high positions following liberation in 1971, Zia defused potential threats from discontented officers by sending them on diplomatic missions abroad.
Uninvolved in both coups (in November 1975), Zia emerged as the most dependable military leader and one who could perhaps bring stability to an unstable nation. With most potential opposition dissipated, Zia took over the government of Bangladesh.