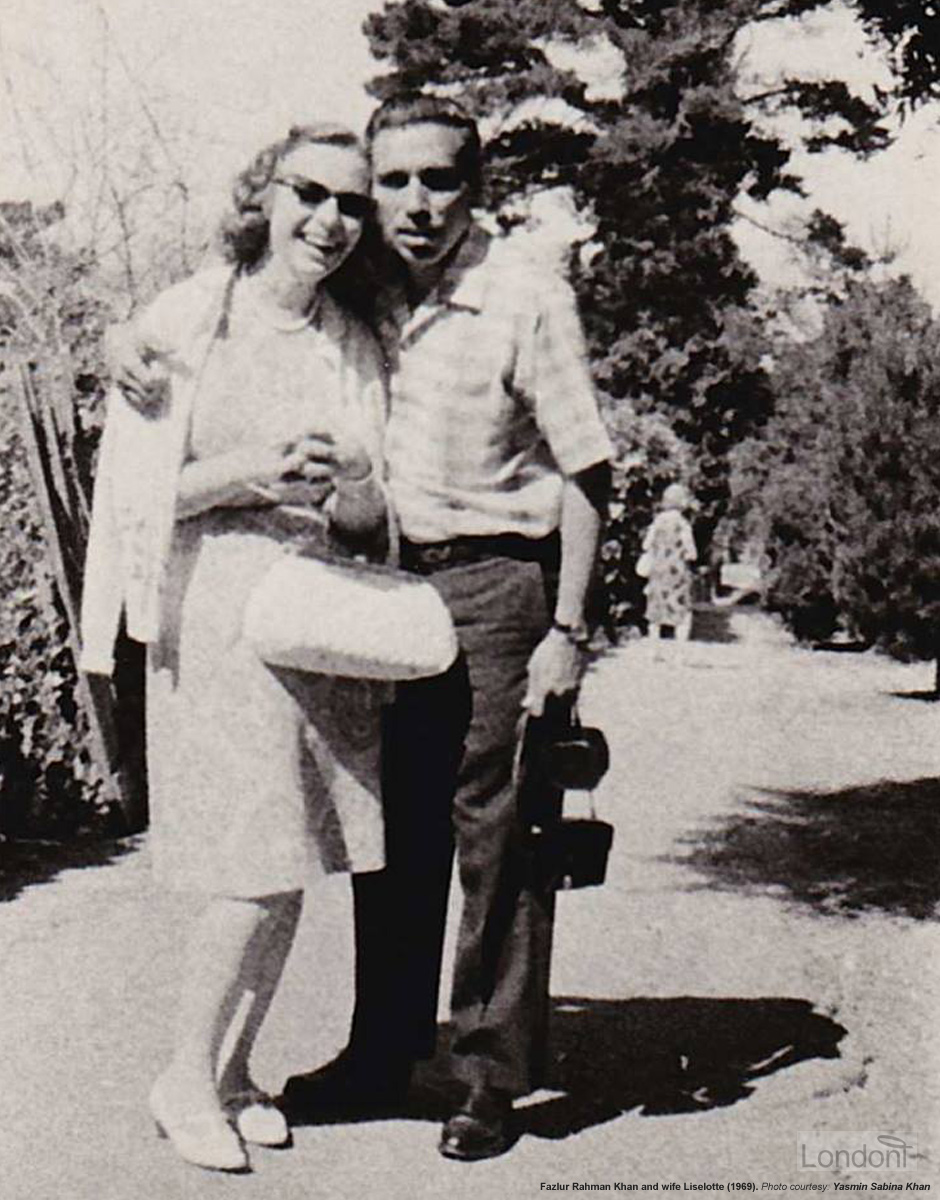 What others have said about him
Apparent from all of Khan's citations are that his main legacy will be that he, more than any other individual, ushered in a renaissance in skyscraper construction during the second half of the 20th century. He epitomised both structural engineering achievement and the need for creative collaborative between architect and engineer. To him, for architectural design to reach its highest levels it had to be grounded in structural realities.

Richard Weingardt, author of "Engineering Legends: Great American Civil Engineers - 32 Profiles of Inspiration and Achievement" (2005)
His loss to the engineering and architectural profession is irreplaceable. His passing leaves an equal void in the well of human concern and kindness to which he contributed in full and overflowing measure. We count ourselves fortunate that we could be among those who reaped the benefit of his professional, personal and humanitarian generosity.

Lynn S. Beedle, Director at Council of Tall Buildings and Urban Habitat
Every so often a person arrives on this planet whose contact with essentiality transcends normative thought. Fazlur Khan was such a person. He was called by the name structural engineer but in actuality his philosophic capabilities combined with his humanity made his title insignificant. By not only focusing upon Man's Rules but by ennobling them with his unique perception of natural laws was he able to add to all of our combined knowledge of the conditions of existence. By remaining the true Bengali poet Rabindranath Tagore described was he able to make believable concepts that, under normal circumstances, are impenetrable.

He was justifyably proud of his profound impact on the several diverse architectural strains present in our brilliant city. He was to have become the president of the Chicago Architectural Club and its second annual journal is dedicated to him. His was a conciliatory spirit whose aim, both through the concepts of reflection as well as of action, was to meld rather than to separate. He was my good and great friend who counseled me professionally while scolding me personally and I will miss his gentle touch both with reality and pre-existence for as long as I live.

Stanley Tigerman of Tigerman, Fugma & McCurry
Beyond his achievement as a community leader, and beyond his splendid professional accomplishments, Fazlur's greatness lay in his unbounded appreciation of each human being. A distinguished Muslim philosopher, who was among the mourners 40 days ago, caught that unique quality in a couplet by Muhammad Iqbal, which he wrote in the condolence book.

"Love your life in such a way that, should death be eternal,
God should be ashamed of that."

Truly, it was a life lived in such a way which we commemorate.

Ralph W. Nicholas, University of Chicago (6 May 1982)
He demanded the best, and he gave the best. Characteristically, before he left on his final trip, Fazlur was correcting a student's thesis - not only for the content, which would have been sufficient, but also for style, even grammar and spelling. Nothing was too trivial for his meticulous care and attention.

Today, and in the years to come, whenever one of his students stops to rethink a project, to clarify an idea, to express it simply, to study the human implications, he pays tribute to this extraordinary teacher.

Myron Goldsmith, Partner at SOM
Dear Fazlur,

...Logic tell us that soon afterwards [after burial] you will join earth and we will not see you - but my heart is unable to accept it. Because, I can hear you talking and arguing with me about life, universe and how insignificant an individual's role is in the total picture - maybe it is true and you are right - but I cannot accept the fact. Individual does make a difference. You made the difference and made this country richer and made us all so proud of you. Yes, you are gone - but your spirit, your ideals, your philosophy of life, and your contribution will live with us forever.

We cannot and will not forget you. Goodbye, Fazlur. Goodbye.

May God be with you.

Chandra K. Jha, founder of India League of America (ILA) (2 April 1982)
He fought the wind and the force of gravity
with elegance of vision
and form.

But, beyond these professional goals, well fulfilled,
his concerns were the gravity of the human condition
and its amelioration.

The winds of war and evil, which he chose to engage
through beauty, tranquility, and love.

The elegance of life which he maintained,
by the elegance of his behaviour toward all of us he touched,
by example of deeds
and by an open heart
to all who sought his advice.

The form of cities which he so much understood,
proud towers, structures and spaces
that celebrate the human intellect, and,
in the tradition of great engineers, builders and architects,
maintain truth and integrity in all the great
many structures he conceived.

Vision which he now leaves to all of us
Lisl, Yasmin, Zillur, Martin,
his family around the globe, his friends,
his partners, students, and colleagues
from east to west.

His is a clear spirit
protected by a life he dedicated
with charity to all,
with compassion to the unenlightened,
guidance to those who seek enlightening,
inspiration to engineers as well as to architects,
such as only a great engineer and humanist
could confer.

We will miss our good doctor,
but we will all live a more significant life
because of the path he marked
with his life.

Bruce J. Graham, Partner at SOM (2 April 1982)
My father was, undoubtedly, exceptionally gifted as an engineer and dedicated to the advancement of his field. But by complementing his technical insight with human awareness and collaboration, he not only made his work more enjoyable for himself and more meaningful for his profession, but also transformed the nature of his accomplishments.

Yasmin Sabina Khan, daughter
Fazlur was a very complex person. His life had many facets. Since his death, however, some aspects of his personality have been highlighted over and over again by his friends, his colleagues and his students when they talked to me, when they wrote to me and when some of them cried with me. First, they always mentioned the type of person he was and how he related to other people, and second his achievements as an engineer.

Fazlur was not only a diplomat but an accomplished peacemaker. He was interested in people and loved to be of help to others. People trusted him and respected him. He had only friends and no enemies. Fazlur was not a natural psychologist. However, in dealing with people he relied largely on his sharp intellect in evaluating situations and acted on the compassion he felt for the people. The humanity which many of you have talked about was very real to him. but it was not something which came easily to him. He had to work on it.

The very fact, however, that he was able to achieve such a mastery in human relationship by conscious effort in learning about people tells us a great deal how one can achieve things which may not come to us easily and intuitively.

I wanted to share with you these reflections some of what I understood about the man and about his strength and weaknesses.

I wanted you to know that with real effort one can achieve what he achieved as a man in his relationship with other fellow man through constant efforts. And on the other hand his achievements as an engineer were based on both continuous learnings and on some insights into nature which are shared by just a few.

I know that there will be many projects that he worked on will be built in the future. And I hope that we can carry forward his goal of making engineers more humane through books and other means of educational programs.

However, the best tribute to him would be to continue his eternal quest for knowledge that was such an integral part of him. In addition, I hope that every one of us will recognise and cherish as he did every spark of creativity within each of us and everyone around us.
Don't miss...