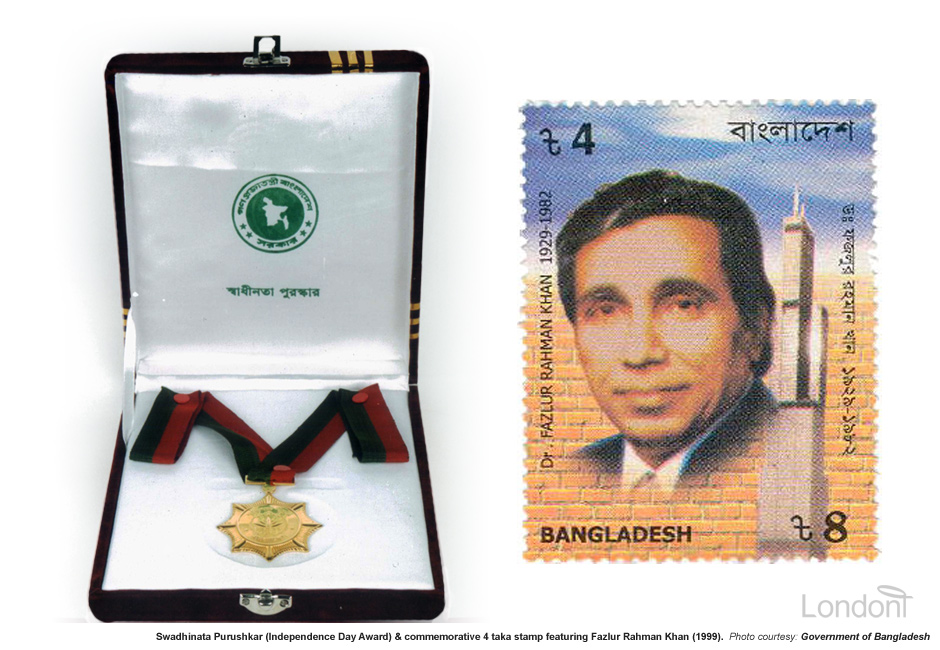 Swadhinata Purushkar and honorary stamp by Government of Bangladesh
In 1999 the Government of Bangladesh posthumously awarded Fazlur Rahman Khan the 'Swadhinata Purushkar' (Independence Day Award), the country's highest state honour, in recognition of his contribution. The people of Bangladesh were particularly grateful for Fazlur Khan's grand efforts during 1971 Swadhinata Juddho in creating public opinion and amassing emergency fund for Bengalis in need.
Fazlur Khan received the prestigious award along another eminent Bengali - architect Mazharul Islam.
Later, a commemorative postal stamp was published in memory of Fazlur Khan. He face appeared in a 4 taka stamp along with a small replica of his most famous design, the Sears (Willis) Tower. Since stamps are widely circulated functional object, the Government of Bangladesh had hoped that this would arouse greater curiosity amongst the public as most Bengalis regrettably are unaware, or know very little, about this child of the Bangladesh soil.
'Most famous Bangladeshi-American of the 20th century'
In May 2005 the Bangladeshi-American Foundation, Inc. (BAFI), a non-political membership-based non-profit organisation, posthumously honoured Fazlur Rahman Khan by conferring him the title of the most famous Bangladeshi-American of the 20th century.
US President Barack Obama praises American-Muslim who "built our tallest building" (i.e. Fazlur Khan)
On 4 June 2009 in an address to the Muslim world at Cairo University, Egypt, US President Barack Obama paid tribute to the American Muslims who have enriched the United States. One of the accomplishments he listed was that an American Muslim "built our tallest building" - a reference to Fazlur Rahman Khan who designed Chicago's Sears (Willis) Tower.
I also know that Islam has always been a part of America's story. The first nation to recognize my country was Morocco. In signing the Treaty of Tripoli in 1796, our second President, John Adams, wrote, "The United States has in itself no character of enmity against the laws, religion or tranquility of Muslims." And since our founding, American Muslims have enriched the United States. They have fought in our wars, they have served in our government, they have stood for civil rights, they have started businesses, they have taught at our universities, they've excelled in our sports arenas, they've won Nobel Prizes, built our tallest building, and lit the Olympic Torch. And when the first Muslim American was recently elected to Congress, he took the oath to defend our Constitution using the same Holy Qur'an that one of our Founding Fathers - Thomas Jefferson - kept in his personal library.

US President Barack Obama praises Muslim contribution to America