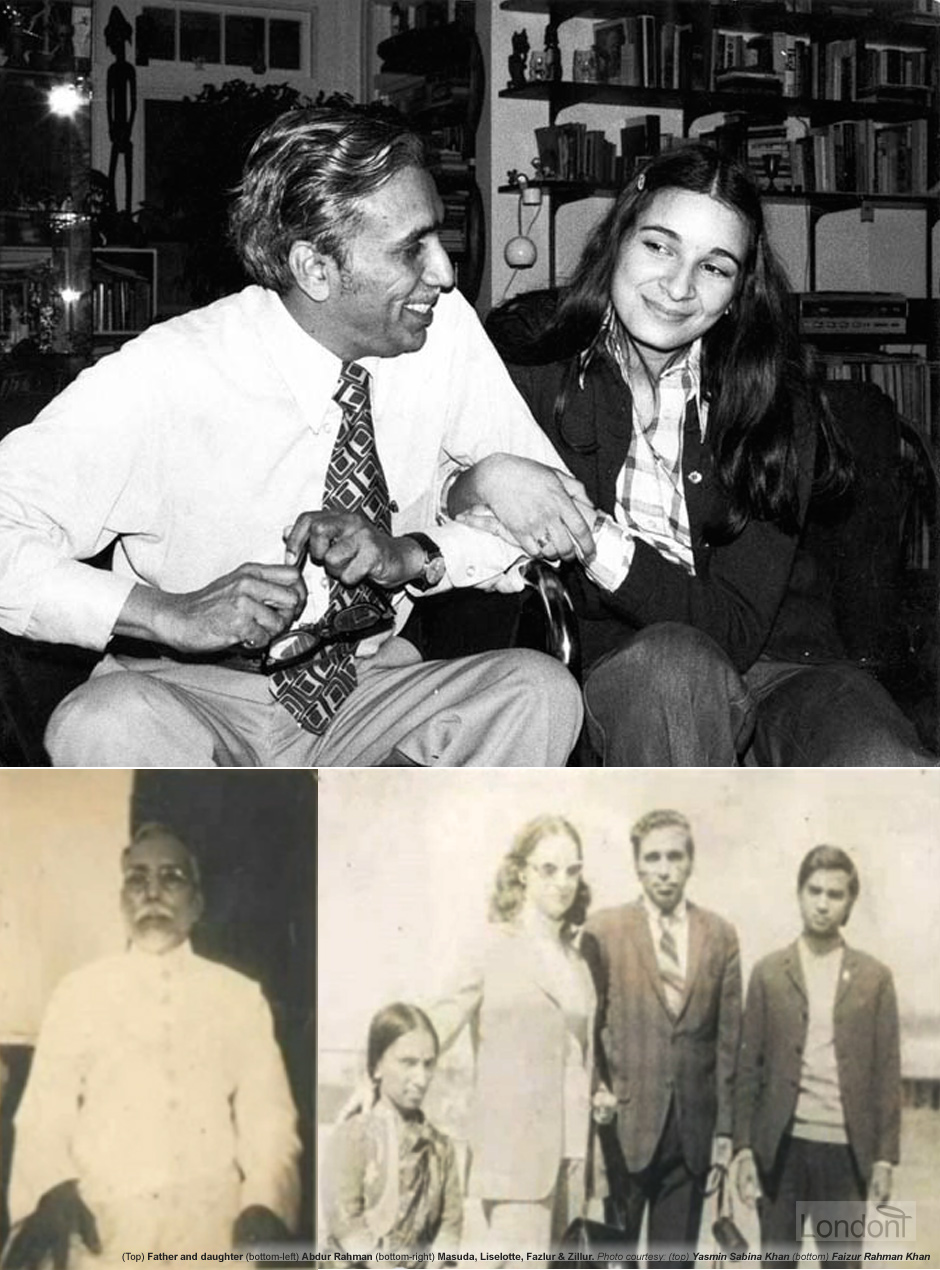 Family's dedication to continue legacy
Yasmin Sabina Khan, Fazlur Rahman Khan's only child, was 22 years old when her dad passed. Like her father, Yasmin Sabina Khan became a structural engineer and has forged a respectable career.
Preface to "Building Blocks: The John Hancock Center" (2000)
In 2000 Yasmin wrote the introduction to Ezra Stoller's book "Building Blocks: The John Hancock Center". The small book (96 pages) contains black-and-white photographs of the John Hancock Center under construction and shortly after its opening. The photographs are taken by the author, Ezra Stoller who is an architectural photographer. Yasmin's introductory text is the only text in the book and briefly tells the story of Fazlur Khan's collaboration with Bruce Graham on this record-setting residential tower.
The book combines opening text by Khan's engineer daughter with the incomparable architectural photographer Ezra Stoller's marvelous black-and-white shots of the building, taken both during construction and shortly after the building's opening. Khan provides a concise and charming summary of the major decisions made by Graham and her father (who would collaborate again on 1974's Sears Tower in the same city), such as the Hancock's tapering shaft - which not only makes the building look taller than its 1,127 feet but which also narrowed rentable square-footage with every rising floor - and the famous X-shaped cross-trusses that kicked off a generation of towers with steel bracings built visibly into their curtain walls rather than hidden behind them.

But of course Stoller's photographs are what capture the improbable romance of this rather industrial-looking building: workmen walking the beams of the uncompleted monolith with all the Windy City quivering vertiginously beneath them; a profusion of stunning sidewalk perspectives; the adjoining spiral ramp, hopelessly evocative of Wright's Guggenheim, that residents drove their cars up to get to the sixth - through eighth-floor garages; the coldly chic "state-of-the-art" bank offices with pen sets, typewriters, and ashtrays perched on every desk; and women in minidresses peering out of the enormous windows of their austerely appointed parlors in the sky. America already lost Jack, Bobby, and Dr. King - and inflation, Watergate, and the protracted toll of Vietnam were still a few years off--but for a brief moment, the Hancock seemed to say, right alongside Neil Armstrong, "America, I want to take you higher". A compact valentine to Big John, the book vividly captures that heady, bittersweet moment with great energy and verve.
Online presence
In addition to the book, Yasmin has tried reaching a global online audience by creating a website http://drfazlurrkhan.com, blog and Facebook page dedicated to her dad.
Fazlur Khan's bhatija (brother's son) Faizur Rahman Khan, son of (Fazlur's elder brother) Imar Rahman Khan, also contributes to the online presence of his talented uncle through his YouTube channel. Faizur, an Engineering graduate just like his uncle, is a prominent businessman in Dhaka,Bangladesh, and has a long career as a Managing Director, especially in the real estate sector.
Other websites dedicated to Fazlur Rahman Khan include the 'Khan Endowed Chair at Lehigh'.
Faizur Rahman Khan

(Born )
"In the Sky" film
In 2009 Mind Venture Management Consultancy based in Bangladesh took the initiative to produce a 110-minute long feature film on Fazlur Rahman Khan titled "In the Sky". The film was directed by Khijir Hayat Khan, famed for creating patriotic films such as 'Astitey Amar Desh' and 'Jaago'. The story follows a young Bengali graduate who considers Fazlur Khan his idol and decides to go to Chicago to follow in his footsteps and study his achievements.
This initiative of Mind Venture is part of a bigger project to inspire talented young individuals. The idea is to highlight the exemplary lives of remarkable individuals, who have offered much to society. Generations can draw inspiration from their examples and achievements.

Ishrat Akhond, Executive producer of the film and CEO of Mind Venture Management Consultancy
The idea for the film came from CEO of the Consultancy Ishrat Akhond, after Khijir had approached her about creating a film on a patriotic theme. Both parties then met Faizur Rahman Khan who lent his support to the project.
Though a book on him was published [referring to Yasmin's Engineering Architecture book] it failed to make an impact on the masses. We strongly believe that a film can do in this regard what no other medium can.

We have gathered here to discuss this film and we're also looking for investors. The proposed budget for the film is around four crore. About 80% of the film will be shot in the US.

Faizur Rahman Khan (2009)
I had the opportunity to know F.R. Khan during the last 16 years of his life. He changed the whole concept of designing high-rises in the '60s. Between 1960 and 1982, he designed several landmarks all over the world.

Though the engineering fraternity is well aware of Khan's achievements, the masses in Bangladesh are not fully familiar with his contributions. A film would be the perfect tool to generate interest in him, especially among the young.

Professor Jamilur Reza Chowdhury, noted engineer and educationist, lends his support for the film
"Engineering Architecture: The Vision of Fazlur R. Khan" (2004) by Yasmin Sabina Khan
To keep her dad's memory alive, Yasmin has written a comprehensive book about him and the impact of his work. The book titled "Engineering Architecture: The Vision of Fazlur R. Khan" was published in 2004, 22 years after Fazlur Rahman Khan had passed away, by W. W. Norton & Company. The Hajj Terminal makes the front cover of the book with a small photo of a young Fazlur Khan, looking lost in thought, appearing at the bottom-left corner of the cover.
The 416-pages long book focuses on his career and the many innovative ideas he came up with during his short but glittering career. It describes his childhood in British India, his early engineering studies, and the "special personal qualities that shaped his life". Working in the same engineering profession as her dad, Yasmin was able to use her experience to craft a book that could be appreciated by engineers, architects, or anyone interested in building design.
'Engineering Architecture: The Vision of Fazlur R. Khan' presents a considerably more detailed story of my father's life and work. In this book I examine my father's innovations within the context of his personal beliefs and the social setting of the time in which he practiced. I have tried to convey his personal character and philosophy along with his manner of working with people, because these were important aspects of his design accomplishments.
It is a story that spans two continents and two generations, the tribute of an American-born daughter to her Bangladeshi father, Fazlur Khan, whose move to Chicago in the 1950s would forever change the field of structural design.
Yasmin spent 7 years researching and writing the book after a friend suggested that she should write a book dedicated to her father. It was her first major writing effort in what had been, until 1997, a career in building design in San Francisco and Boston.
After my father died in 1982, a couple of professors said they would like to write a book about him, but they never did. Then my mom died in 1995. She had been putting his papers together, and I saw how much material was available.

...Although by nature very gentle and philosophical, he was a driven man, I wanted to incorporate these aspects of his personality into the book because people really loved him.

The book is also a good example for students of how exciting and creative a career in engineering can be.
Critical praise
'Engineering Architecture: The Vision of Fazlur R. Khan' has earned considerable praise from architecture and engineering reviewers for its blend of technical detail and personal/historical context for Khan's achievements.
Fazlur R. Khan is one of the most influential structural engineers of the 20th century… his daughter has written an account of his achievements and laced his creative timeline with descriptions of his theories and practices.
Seldom is the life and work of a designer described so abundantly as in this book about Fazlur Khan (1929-1982). Written by his daughter, Yasmin, who has earned her own record as designer, this book is very personable story of a driven technician with a deep love of his profession... [R]eads like a novel.
[A] moving tribute to an important figure--one that would surely make him as proud of his daughter as she clearly is of him.
Yasmin Sabina Khan has written an engaging intellectual biography of her father. . . . This lengthy book is rich with ideas relevant to historians of technology...[A]n excellent variety of illustrations... Khan's carefully researched work contributes substantially to the literature on mid-twentieth century large-scale building.
In her book about her father, Yasmin Khan establishes herself in the company of the most admired science writers, for she presents complex engineering matters in such a straightforward and accessible manner that they are immediately understandable, and delightfully so, to the lay reader. Moreover, she recounts her father's success as one of the world's most revered structural engineers as a highly readable human biography.
A worthy and delightfully written tribute to a remarkable man.
[A] much needed book… The prose reads swiftly, the chapters are well-organized, and, most important, the stories they narrate are compelling.
A great read. Khan's daughter both understands and honors his work, and it would be difficult to find a better book about this master of modern structures.
Here is a book that will make you proud to be a part of the design/construction community… [A]n inspiring biography.
Among several eminent Kahns and Khans in…American construction, none better deserves a full study…[S]upplants the only previous book-length study.

Construction History: Journal of the Construction History Society
Korean translation of "Engineering Architecture..."
Yasmin's book "Engineering Architecture: The Vision of Fazlur R. Khan" has been translated into Korean. It's the first time the book has been translated into a foreign language
I am very happy that my story of my father's life and work has been made available to new readers with this Korean translation. My father would have been pleased as well. He devoted much of his time to sharing the knowledge he had acquired. He traveled widely and, through his presentations and writings, sought to provide designers around the world access to the latest developments in structural engineering.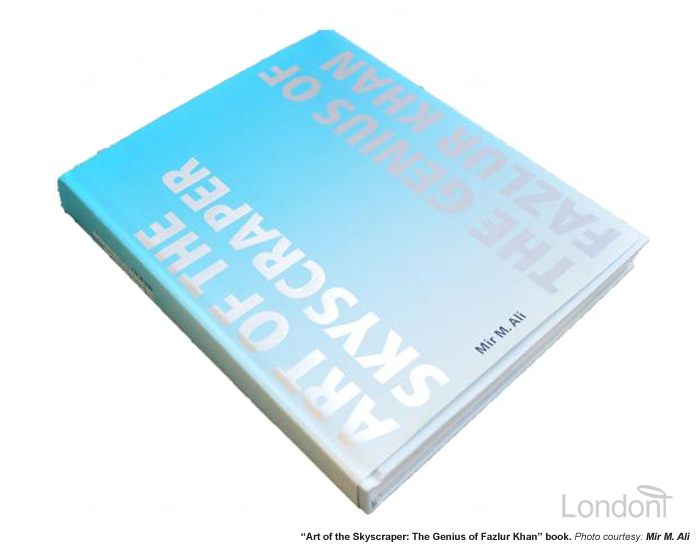 "Art of the Skyscraper: The Genius of Fazlur Khan" (2001) by Mir M. Ali
In 2001 Mir M. Ali, Professor Emeritus and Chairman of Structures Division (1993 - 2003 and 2007 - 2010) at the University of Illinois, wrote "Art of the Skyscraper: The Genius of Fazlur Khan" where he offers a vivid portrait of the engineering giant. Published three years before Yasmin Sabina Khan's "Engineering Architecture: The Vision of Fazlur R. Khan", it was the first book on the life and work of Fazlur Khan.
As a former structural engineer at Skidmore, Owens & Merrill (SOM) Mir Ali knew Fazlur Rahman Khan personally and had worked with him on some of his projects. In the process of writing the book, Mir Ali interviewed a number of Fazlur Khan's colleagues, friends and advisers and included their impressions and anecdotes in the book.
The "Art of the Skyscraper: The Genius of Fazlur Khan" contains 16 chapters spread over 239 pages that include many illustrations and pictures. In the first few chapters of the book, Mir Ali discusses Fazlur Khan's childhood, youth, education, and early years of his professional career. In the latter chapters, he addresses the development of tall buildings in Chicago, and highlights Fazlur Khan's innovations, contributions and leadership role in the design and development of tall buildings, focusing on the period from 1950 to the early 1980s when Fazlur Khan worked mostly at the Chicago offices of SOM.
This, the first published book on the life and work of Fazlur Khan, stands as a powerful testament to this revolutionary mind - and to the technological advances it engendered. More than a source book for research in tall buildings or a biography, though it is both of these, Art of the Skyscraper gives us a tangible link, through photographs and architectural renderings, to the extraordinary sensitivity - to aesthetics, to engineering - that marked everything to which Khan lent his mind and hand.
"Art of the Skyscraper: The Genius of Fazlur Khan" is an important book on the life and accomplishments of one of the greatest structural engineers of the twentieth century whose influence continues today. Professor Ali has presented a tribute to the brilliance of Dr. F R Khan that will keep his memory everlasting. He has done a wonderful job of combining the biography of Dr. Fazlur Rahman Khan with the technical problems and challenges associated with the construction of tall buildings. It is a fascinating story of the genius of Dr. Fazlur Rahman Khan; a must read for all technical and non-technical minds; and an invaluable resource for students, architects, and engineers.

Dr. Ahmed S. Khan, Senior Professor at DeVry University, Addison, Illinois