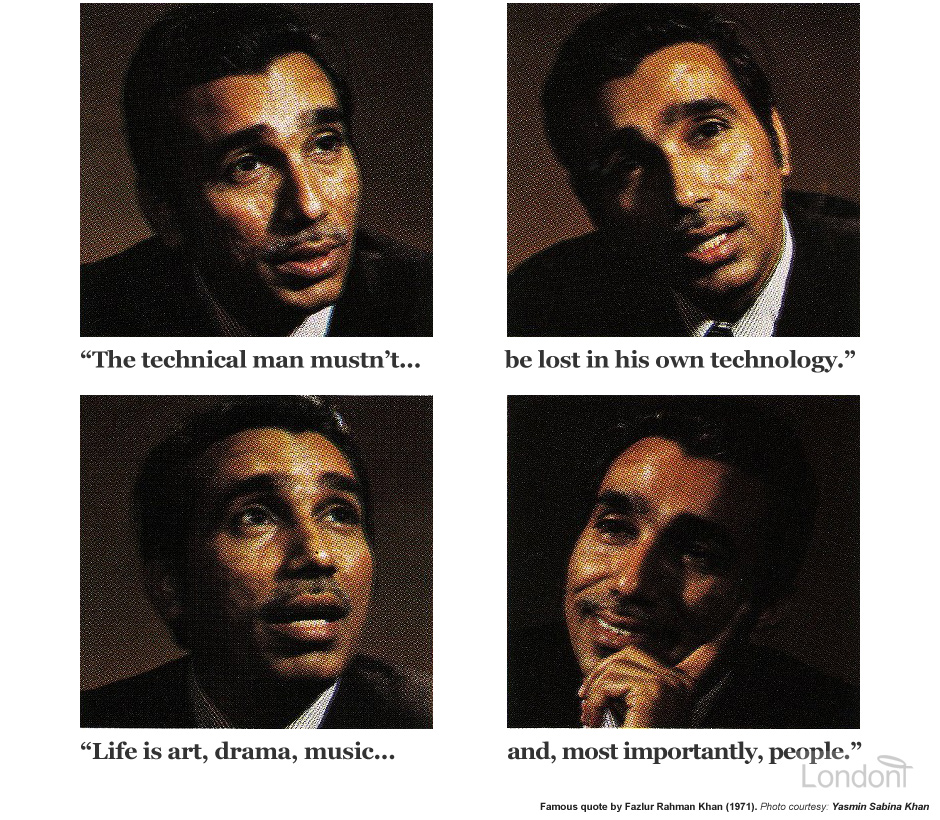 Philosophy
Fazlur Rahman Khan was far more than an innovative structural engineer - he was also a philosopher, a thinker, an educator, a prolific writer and a humanitarian. He loved people and was a deeply introspective and spiritual man.
My brother was not only a creative structural engineer, he was also a philosopher, visionary, educator and humanist. As my guide, he always told me, "Think logically and find the relationships which exist in every system, because it will help you understand nature itself, making living more meaningful and exciting".
Holistic approach to design
Fazlur Khan's designs were technically innovative. However, he catered to the local's demands and was sensitive to their cultural expectations.
Faz excels in engineering because he talks to architects. He can talk to them because he's conscious of aesthetics.

Paul Weidlinger, New York City structural engineer and close friend of Fazlur Rahman Khan
Fazlur Khan paid attention to the minute details of his designs and the general SOM philosophy that a structure shouldn't be covered with a fake facade. The governing factor in his theory is to use the natural beauty of mathematically derived form and the inherent beauty of material to create livable buildings for man.
When thinking design, I put myself in the place of a whole building, feeling every part. In my mind I visualize the stresses and twisting a building undergoes.
A building's natural strength should be expressed.
One building which encapsulates all this is John Hancock Building. On its exterior, six sets of diagonals criss-cross each other along the faces of the building. Inside, these diagonals are visible in offices, apartments and restaurants. One Shell Plaza also uses structural design for aesthetic expression. Its perimeter columns vary in depth, some columns extending further out than others, to create a ripple effect along the exterior. The deeper columns support greater loads, depending on their particular location .
Fazlur Khan also believed in a pure expression of a building's material. He didn't believe in using granite slabs on a steel frame or attaching aluminum sheets to a concrete building. His engineering and mathematical brilliance was matched by his social sensitivity and love of the arts. He had a keen interest in people, art and music and literature.
He (Khan) was a universal man, a man who would look at all aspects - social, architectural, aesthetic, you name it - the entire universe. Khan was also a very good and perceptive listener. He could grasp very quickly what you would tell him. He had that unusual mental ability.

Narbey Khachaturian, Fazlur Rahman Khan's co-adviser for graduate studies
People-first design
Fazlur Khan also made sure that his designs were people-friendly too. He placed people first because people were so close to his heart. This was especially evident during his humanitarian relief efforts in 1971 when he worked tirelessly and passionately to help his people back in Bangladesh to win the Swadhinata Juddho.
He was concerned, foremost, with people and how engineering affected them. He wanted his structures to be part of a culture and society that strove to benefit its people.
For Fazlur Khan, the functionality and aesthetic of a building developed with socio-cultural sensitivities made a building "worthy" of creating.
Invariably, when Khan lectures on high-rise buildings, he first goes through a brief slide-supplemented history of tall buildings, and then explains the details of some of his innovations. Suddenly, shots of crowded, smog-covered Chicago and New York City appear on the screen. Khan then cuts to shots of buildings with tree-filled, people-filled plazas. While this is going on Khan expounds on how designers have to face up to urban problems and let their consciences push them in that direction.

Engineering News-Record (1972)
In such a short span of his life, he achieved more than most people achieve in two or three lifetimes. His achievements transcended beyond the design of monumental buildings. His warmth radiated and touched each and everybody whom he met and wherever he met them. That's the way he was. He looked at people, as individuals and believed in goodness of individuals. People who met him sensed this and became his friends forever. He had no enemies.

Chandra K. Jha, founder of India League of America (ILA)
Spiritual & religious person
Fazlur Rahman Khan was a practising Muslim. He read namaz (prayers) and in 1975 performed hajj (pilgrimage). This was followed shortly by consultations on the Hajj Airport Terminal in Jeddah, Saudi Arabia, and underscores the importance he placed on conducting sensitive religious and cultural investigations in arriving at appropriate and compelling designs.
When asked what Khan did when he became frustrated, college friend and one-time associate at SOM, John Marin, said, "He philosophized".

Richard M. Kielar, assistant editor of Engineering News-Record magazine
And although Fazlur Khan had a long, prolific engineering career, he was not a slave to the technical. The 1971 Muktijuddho experience had made him even more reflective. He believed engineers needed a broader, deeper perspective on life.
The technical man must not be lost in his own technology. He must be able to appreciate life, and life is art, drama, music and, most importantly, people.

The social and visual impact of buildings is really my motivation for searching for new structural systems.

Every man must have a philosophy in this age of tension and aggression. I look at everything in my life on a very philosophical level. I don't look at my work as personal goals, but I look at it as something that I enjoy and something that has social value.

Fazlur Rahman Khan's clear view about the purpose of architecture
Teamwork
Throughout his career, Fazlur Khan was quick to point out that his success was not solely due to his own genius and expertise, but also due to the help and collaboration of his associates, fellow architects and engineers. Such was his humbleness.
It is not always easy to pinpoint the most important reason for my occasional successes in innovations...I have come to realize that three years I spent at the University of Illinois first under the advisorship of Thomas Shedd, but more significantly under the research environment and advisorship of Chester Siess have indeed been the most significant and responsible factors in shaping my attitudes and approach to structural design.

Fazlur Rahman Khan pays tribute to his advisor for his success and innovations (1981)
His great career demonstrated the productive possibilities of collaboration. He was a one-company man and stayed loyal to the same firm from the beginning his career until his tragic passing.
Many architects are brought up to think that they are the only creators and that the engineers are technicians. This must stop. The engineer has to be an architect to the extent that the architect has to be an engineer so that in combination they produce the creative building.
Faz was a superb communicator of ideas in the simplest of terms. He was an energetic counselor and promoter of his philosophy, especially to his colleagues at SOM. To this extent, he has left behind a wonderful legacy of concepts, design principles and ideas at SOM.

Srinivasa Iyengar, Partner at SOM
Faz has an extremely rare understanding of architecture. In every phase of a project, we work on alternatives. He even gets involved in interiors and floor planning.

Bruce Graham, SOM Partner in Chicago
He appreciates an architect's will. He's very fluid.

Robert Cutler, SOM Partner in New York City
In our firm we have a cross-fertilization of ideas between architects and engineers. Faz doesn't feel subordinated; he makes his ideas known.

William Dunlap, SOM Partner in Chicago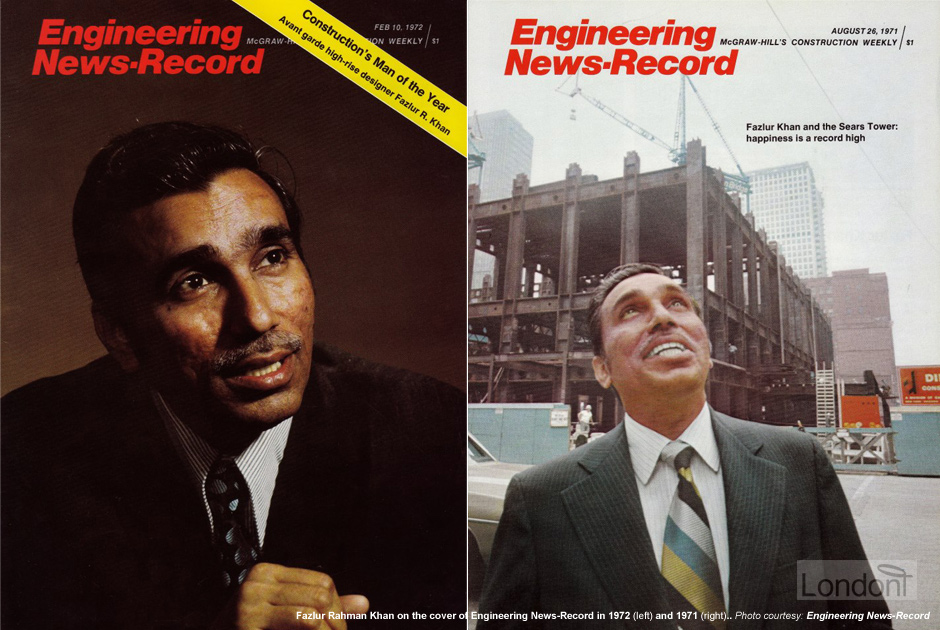 Awards galore
In addition to his work with Skidmore, Owings and Merrill, Fazlur Khan also participated actively in many professional organisations. His contributions to his profession were widely acknowledged during his lifetime. He was honoured with numerous awards from both engineering and architecture organisations.
The American Society of Civil Engineers (ASCE), the American Concrete Institute (ACI), the American Welding Society, and the International Association for Bridge and Structural Engineering (IABSE), to name a few, all listed his name on their rosters. He achieved distinction among their ranks, receiving many awards and honours.
Honours bestowed upon this engineering giant...
During his lifetime:
Chicagoan of the Year in Architecture and Engineering by the Junior Chamber of Commerce (1970)
Wason Medal for most meritorious paper (ACI) (1971)
American Institute of Steel Construction Special Citation Award (1971)
Chicago Civil Engineer of the Year (llinois Section of ASCE) (1972)
Thomas A. Middlebrooks Award (ASCE) (1972)
Elected to the National Academy of Engineering (1973)
J. Lloyd Kimbrough Medal, conferred on only five previous recipients in its 35-year history, (AISC) (1973)
Alfred E. Lindau Award "For Outstanding Contributions in Advancing the Art of Reinforced Concrete Construction in High Buildings" (ACI) (1973)
Oscar Farber Medal from the Institute of Structural Engineers in London (1973)
Vice Chairman (1976 - 1979) and Chairman (1979 - 1982) of the International Council on Tall Buildings and Urban Habitat
Ernest E. Howard Award (ASCE) (1977)
Alumni Honor Award of the University of Illinois
State Service Award (Illinois Council of the American Institute of Architects)
G. Brooks Earnest Award (Cleveland Section of ASCE)
Honorary Doctorates from Northwestern University (1973), Lehigh University (1980), and the Swiss Federal Institute of Technology (ETH) Zurich
Posthumously:
AIA (American Institute of Architects) Gold Medal for Distinguished Achievement (1983)
International Award of Merit in Structural Engineering (IABSE) (1983)
Aga Khan Award for Architecture 'for the Structure of the Hajj Terminal, An Outstanding Contribution to Architecture for Muslims' (1983)
John Parmer Award by the Structural Engineers Association of Illinois (1987)
Entered into the Illinois Engineering Hall of Fame by the Illinois Engineering Council (2006)
Rarely has any engineer played as key a role in the shaping of architects' ideas and the shaping of buildings themselves. Fazlur Khan's work and research had made him one of the most influential structural engineers of the century. Besides his innovations... he demonstrated a human awareness and commitment to structural and architectural design collaboration that has particular importance for architects today.

American Institute of Architects on selecting Fazlur Rahman Khan for an Institute Honor (1983)
My main problem in researching the story was that I kept hearing the same things about Khan over and over again, that he's a genius, that he's open-minded, that he's concerned with everything and everyone. No one offered any faults or shortcomings. The only fault I could find with him is that he doesn't exercise, claims he doesn't have the time.

Richard M. Kielar, Assistant Editor of Engineering News-Record
Engineering News-Record's Man of the Year
On 10 February 1972 Engineering News-Record (ENR) awarded 42-year-old Fazlur Rahman Khan with Construction's Man of the Year for his 'buildings of composite design, on which he is cutting tonnage and dollars by encasing light, steel perimeter columns in concrete to achieve a modification of the tube design'. His photo appeared as the front cover of the magazine under the caption 'Avant garde high-rise designer Fazlur R. Khan'.
It was not the first time that "SOM structural superstar Fazlur Khan" had appeared in the prestigious magazine. In 1966, 1969, and 1971 he was cited among the Men Who Served the Best Interests of the Construction Industry and on 26 August 1971 once again made the cover of ENR under the caption 'Fazlur Khan and the Sears Tower: happiness is a record high'. Finally in 1999, 17 years after he passed away, Engineering News-Record listed Fazlur Khan as one of the world's top 20 structural engineers of the last 125 years.
In singling out Khan as Man of the Year ENR's editors were impressed, of course, by his innovation upon innovation in the field of structural engineering of high-rise buildings. But beyond the height records and the weight savings and cost savings of his design, beyond the technical genius of the man, a sensitive student of the urban environment stands forth.

Khan is an engineer with full awareness of the demand of today's cities upon architecture, plus the capability for meeting architecture's demands upon engineering. As an equal now among several architect partners, he plays a key design-team role in decisions at the earliest stages of design. And well he might, for he has learned as a structural engineer to think like an architect: "The social and visual impact of buildings is really my motivation for searching for new structural systems", he says.

As an adjunct professor of architecture at Illinois Institute of Technology for the past 11 years, Khan has thrilled to the exchange of ideas he has built between students and practice. As a contributor to professional literature and worker on professional committees, he has built a reputation that has become worldwide in relatively few years.

Fazlur Khan is a leader among the world's designers of great buildings. In this new era of the skyscraper, in this time of concern for human safety, comfort and convenience in high-rise homes and offices, he is a philosophical leader of thought. He is construction's Man of the Year.

Engineering News-Record on why they chose Fazlur Rahman Khan as their Construction's Man of the Year (1972)