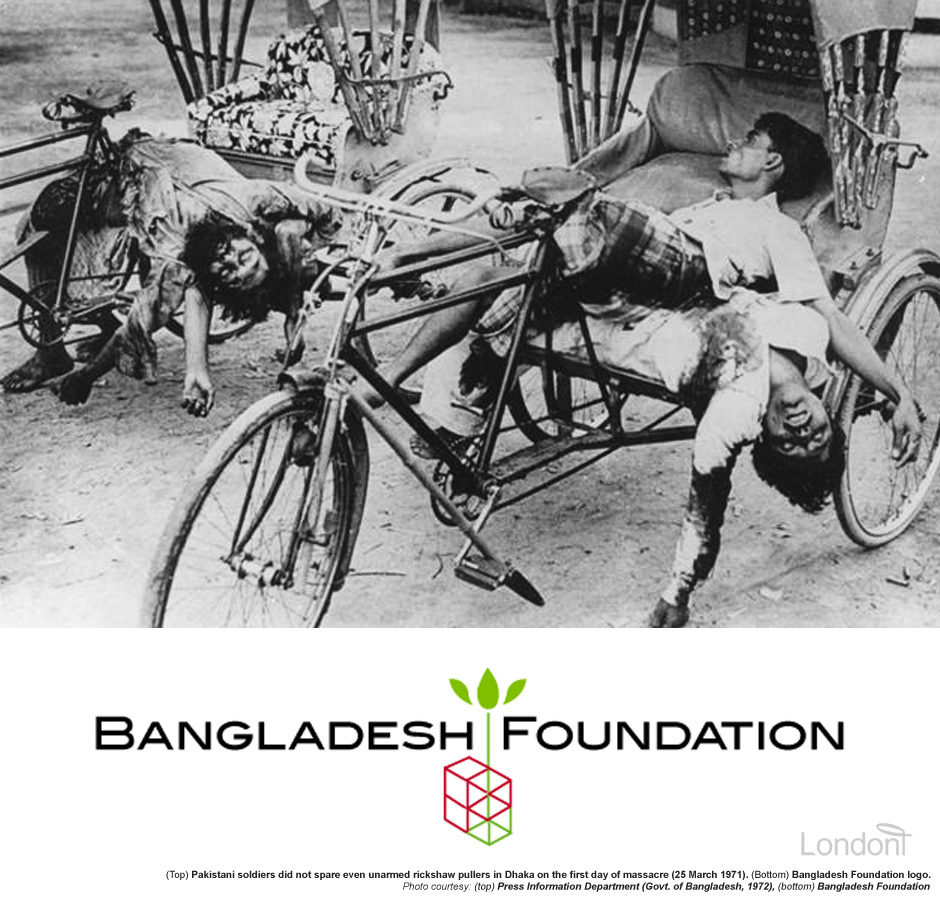 A key organiser of the Bangladesh movement in USA during 1971 Muktijuddho
Fazlur Rahman Khan never forgot his roots. He was a proud American citizen but still loved his marti bhumi (motherland) deeply. His love for the subcontinent was put to severe test in 1971 when the western wing of Pakistan led a nine months campaign of genocide and repression against its fellow countrymen in the eastern wing. The civil war, which started with the massacre of innocent Dhaka students and professors on 25 March 1971, led to the creation of new independent country the following day - Bangladesh. During the war - known in Bengali as 'Muktijuddho' (Liberation War) or 'Swadhinata Juddho' (Independence War) - Western countries, including the US, refused to interfere in the "internal politics" of Pakistan. However, US continued to supply arms to its ally Pakistan which were used to massacre ordinary civilians and muktijuddhas (freedom fighters) in Bangladesh. This tragedy, which culminated in 10 million Bengali refugees and the killing of an estimated 1-3 million innocent civilians, sent shockwaves to all probashis (non-residential Bengalis) around the world. It was time to act. Else Bangladesh was doomed.
I like to consider myself a citizen of the world. If we don't have a sense of compassion on a world basis and on a man-to-man basis, we're never going to get out of the wars we're in.

...I feel very tragic about Bangladesh. The killing and the suffering there has affected me deeply.
He was very soft hearted. He wept when he saw a movie made on the military atrocities in Bangladesh.

...From the head of the department to the janitor, everybody was his friend. Even a garage attendant expressed his shock at his death.

Mohammad Sirajullah, a friend
Thousands of miles away from their native country, Bengalis in North America were shattered by the news from their homeland and struggled for a sense of direction. Out of this turmoil, Fazlur Rahman Khan emerged as a calm, level-headed leader around whom people of all walks of life and all political persuasions could rally. Fazlur Khan founded and became president of two national organisations, with its base in Chicago, to help the people in his homeland - Bangladesh Emergency Welfare Appeal and Bangladesh Defense League. The Bangladesh Emergency Welfare Appeal was dedicated to raising funds to help supply food and medical care to the 10 million Bengali refugees who had fled from the Pakistani army. The Bangladesh Defense League was a political organisation that helped inform Americans, including influential legislators, about events in that country and the involvement of the US administration in supporting the Pakistani military. Both organisations were led by Fazlur Khan throughout 1971, until Bangladesh became an independent country free from the rule of the Pakistani army.
Members of the organisations were active in bringing awareness of the genocide that was taking place in Bangladesh to the US public. The group, which met on weekends in Fazlur Khan's home, raised money for aid and for lobbying government officials. They also circulated brochures to influence the public and Washington officials. Many of the Bengalis involved (including Fazlur Khan) had family and friends in Bangladesh who were in obvious danger. Fazlur Khan's group did everything it could to make it safer for them.
Fazlur Khan himself organised a lobby in Washington for months to convince the US authority to stop shipment of arms to the Pakistani junta. He also convinced Bengali diplomats in US to leave the Pakistani embassy and switch allegiance and support the independence movement. Some of his colleagues at SOM, such as Stanley Tigerman, had actively supported him and the Bengali organisations throughout those testing days.
Some of his colleagues and even SOM clients helped support these organizations.

I remember large meetings at our apartment in Hyde Park on Saturdays, and the wonderful food people brought for these gatherings.
During the months when the newly created Bangladesh was under attack, people came to Fazlur Khan, as to a trusted elder brother, seeking help in understanding that tragedy. He and Lisel gave selflessly of their energy and compassion, often to 50 or 60 people at a time, crowded into their apartment - East Bengalis, West Bengalis, Muslims, and Hindus from other parts of India and Pakistan, as well as many concerned Americans.
What many Bangladeshis don't know is that F.R. Khan was the first Bengali to go to the US Senate to generate awareness on what was happening in East Pakistan during the Liberation War.

Faizur Rahman Khan, nephew (bhatija) of Fazlur Khan
In the midst of one of the busiest periods of his professional life. Dr. Khan spent many hours organising groups of Bengalis and their American supporters to perform specific tasks designed to make the terrible events in Bangladesh known in the US.

When he was at home, his living room was the main center of Bengali life and political activity. When he was traveling on professional business, he invariably took the time to talk to Bengalis and their supporters throughout North America and abroad about steps that would help secure the end of the armed repression of his country. He helped individually and personally, innumerable of his countrymen, including many struggling students, who were stranded overseas during this period of uncertainty in their country.

Fazlur presided simultaneously over the purely humanitarian Bangladesh Emergency Welfare Appeal and the staunchly political Bangladesh Defense League. Probably no one knew the masterful understatement of this leadership in the world of engineering and design would have doubted his capacity to handle the enormous responsibility thrust upon him by the Bangladesh crisis. But no one knows the labyrinthine intrigues of Bengali politics would have thought such leadership humanly possible.

Ralph W. Nicholas, Dean of the College, University of Chicago
'Bangladesh Foundation'
Once the war ended on 16 December 1971, Fazlur Khan continued to aid his motherland by immediately replacing the two emergency-period organisations with one that might contribute to the betterment of life of the ordinary people in the new nation. The 'Bangladesh Foundation' was formed. Its primary focus was to empower the war-torn, poverty stricken people at the grass roots with skill-building, literacy and health care training, particularly benefiting the most disadvantaged segment of the population - women. Fazlur Khan oversaw the efforts of Bangladesh Foundation in assisting in the reconstruction of the country and remained President of the foundation until his untimely death in 1982
He [Fazlur Rahman Khan] gave unstintingly of himself and his personal means to help create in Bangladesh a society that offered a decent livelihood to everyone, even its abandoned women, and poor farmers and fishermen.

Ralph W. Nicholas, Dean of the College, University of Chicago
Bangladesh Foundation selected Muhammad Yunus as its first Representative in Bangladesh. Utilising resources provided by Bangladesh Foundation, Muhammad Yunus later created the micro-credit institution 'Grameen Bank' (Village Bank) which has been replicated in more than 140 developing countries and which won him the Nobel Peace Prize in 2006. Four years later, in 2010, the then US President Barack Obama bestowed Muhammad Yunus with the Presidential Medal of Freedom, the highest civilian award in US.
Muhammad Yunus

(Born )
Even today, over 40 years since its formation, Bangladesh Foundation continues to help the needy in Bangladesh. It has became a permanent legacy of the contribution Fazlur Rahman Khan made to the winning of Bangladesh independence.
In 1980 Fazlur Khan also became the founder president of the Bangladesh Association of Chicagoland with the intention of bringing together the Bangladeshi community in Chicago and surrounding areas. The association is still active today.
Although Dr. Khan reached the zenith of his profession, yet he never forgot his roots. He led the Bangladeshis in America during the Liberation War and arranged meetings with Senators and Congressmen to apprise them of our War of Independence.

Justice Abu Sayeed Chowdhury who headed the 'Bangladesh Mission' in Europe and America
ILA (India League of America) Foundation
In 1964 the Federation of India Student Associations of the United States of America (FISA) was founded in Madison, Wisconsin by 11 Indian Associates, and held the first Indian student conference. On 19 February 1971 FISA was incorporated in the State of Illinois and two years later, on February 1973, was renamed to 'India League of America' (ILA). The organisation's charter was revised and expanded to cater for not only the Indian students but also the welfare of newly arrived immigrants from the Indian subcontinent settling in United States.
Chandra K. Jha, a member of the Steering Committee of the Council on Tall Buildings & Urban Habitat for many years, was appointed as President of ILA. Membership was open to individuals as well as associations of a regional or religious character. Over the years ILA sponsored many free or low-cost immigration clinics at which attorneys gave all-day workshops. These workshops provided important legal information for people wanting to change their visa status from student to permanent resident or wanting to sponsor relatives from India. During this time ILA was transformed into ILA Foundation and carried out many activities to promote better understanding between the Asian community and the American communities at large.
Chandra K. Jha

()
ILA Foundation is a not-for-profit community organization with members throughout the Chicago area. It is a charitable and educational organization with a secular outlook, whose general mission is to provide a common vehicle for the expression of cultural, educational, social and economic affairs of the people of Indic origin in North America. Its primary purpose is to foster friendship and understanding between people whose origins are in the South Asian subcontinent (India, Pakistan, and Bangladesh) and other groups of people in North America.
From 1974 to 1980, ILA initiated annual award banquets recognising outstanding contributions made by the Asian community. Amongst the winners were conductor Zubin Mehta, sitarist Ali Akbar Khan, and structural engineer Fazlur Rahman Khan, who was later selected as a member of the Board of Directors along with Chandra K. Jha.
Fazlur was an unfailing if unobtrusive partner during Chandra Jha's leadership of the India League of America (ILA). The Muslim from eastern Bengal and the Brahman from northern Bihar stood together as two brothers in work dedicated to meeting the needs of the nascent community of immigrants from the entire Indic region. And, in later years, they continued to serve together on the Board of Directors of the ILA Foundation.

Ralph W. Nicholas, University of Chicago
He [Fazlur Rahman Khan] understood the complementarity of east and west. Western based education could, if carefully designed, benefit and enable eastern man. Eastern civilisations and education could do the same for the west.

William L. Porter, Professor of Architecture and Planning and Director of the Aga Khan Program for Islamic Architecture at the Massachusetts Institute of Technology
He was proud of his heritage - a Bengali, a Muslim and Indic-American, but he never felt restricted and knew no geographical or racial boundaries.

With pride of his heritage, he struggled with me to bring abut a feeling of the Indic community not only as a Bangladeshi or Pakistani or Indian, but as a community with common heritage.

He was proud of his adopted country - America - and made America richer. He wanted each of us to work hard to bring about a sense of common heritage which had given him the strength so our children, and their children's children, here, may have their own heritage and feel secure and proud, thereby making America strong and proud of this new community.

He believed in individuals and believed in the richness of our heritage and he showed us how to make a difference. He made America richer and made us all proud.

Yes, he is gone forever - but his spirit, his ideals, his philosophy of life and his contribution will live with us forever.

We have to say goodbye to Fazlur - Goodbye - but we cannot and should not forget him.

May God be with him.

Chandra K. Jha (2 April 1982)