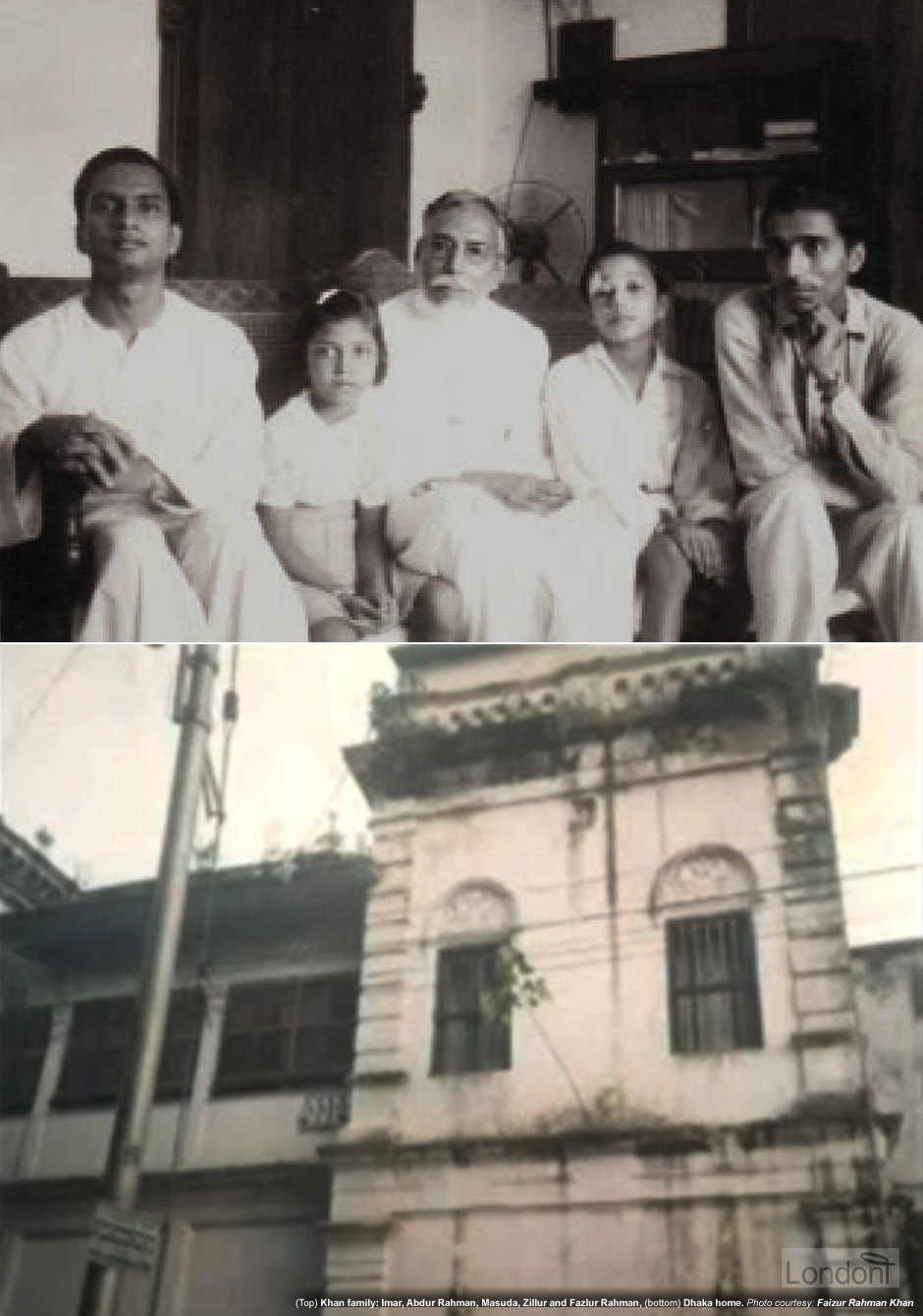 Early life of Khan Bahadur's son
Fazlur Rahman Khan (referred hereafter as Fazlur Khan) was born on 3 April 1929 in Agamasi Lane, Bangshal area of Dhaka, Bengal, in what was then British India. He is the second son of Abdur Rahman and Khadija Khatun. His elder brother is Imar Rahman Khan, younger brother Zillur Rahman Khan (later an eminent professor), and sister Masuda Khan. His paternal ancestral home is the village of of Bandarikandi in Shibchar upazila of Madaripur district (Dhaka Division). His father Abdur Rahman (1890-1964) was a well-respected high school mathematics teacher and the author of several seminal textbooks on the subject. He eventually became the Assistant Director of Public Instruction in the region of Bengal, one of the highest position in the country's educational system. After retirement, Abdur Rahman served as the principal of Jagannath College from 1948-1956, and experienced the Bhasha Andolon (Language Movement) that was then gripping the eastern wing of Pakistan.
Zillur Rahman Khan

(Born ) Professor Emeritus of the University of Wisconsin, Chairman of RC 37 of International Political Science Association, President of Bangladesh Foundation and Adjunct Professor at Rollins College in USA. Received numerous awards including Willard Smith Distinguished Teaching Award at the departmental level, Rosebush Professorship Award at the university level, and recognised twice by American Political Science Association for Excellence in Teaching and Research. Recognizing his contributions to Political Science focusing mainly on South Asia, the Foreign Affairs Committee of US Congress invited him to testify in a Congressional Hearing (100th Congress) on Democratization of Bangladesh and Afghanistan in 1988. Published 10 books, 20 book chapters and over 50 scholarly articles in regional and international journals, including: "Leadership in the Least Developed Nation: Bangladesh (Syracuse University, 1983)", "Martial Law to Martial Law: Leadership Crisis in Bangladesh (UPL, 1984)", "The Third World Charismat: Sheikh Mujib and the Struggle for Freedom (UPL, 1996)" and "SAARC and the Superpowers (UPL, 1991)". In 2010 Dr. Khan has edited a volume of selected papers presented at a conference on Bangladesh at Harvard University, USA, published by UPL.
Abdur Rahman was granted the title of Khan Bahadur by the government for his contributions to public education, and his wife, though not formally educated herself, shared her husband's commitment to education.
When young Fazlur refused to begin formal schooling, it was his mother who convinced him to attend.

Hyung-chan Kim, editor of "Distinguished Asian Americans: A Biographical Dictionary" (1999)
It may be hard for most of you to believe that as a child Fazlur, I was told, was very hard to manage and often displayed his temper and stubbornness. In fact whenever Fazlur went to spend vacation with some of his relatives, his father would always send along a letter with exact instructions on how to deal with him.

As Fazlur grew up, however, he realised that he disliked many of his personal traits and with his father's encouragement he started to make himself into the person he considered his ideal. So, as a young man when his peers read novels and stories of adventure, Fazlur read the works of many of the great philosophers and psychologists. That was when he started to develop his life's philosophy and his knowledge of psychological process. Thus Fazlur really had to work hard to acquire his knowledge of man. In fact, quite often, when he discussed some incidents, he would write it down to make sure he would not forget the next time how people reacted to such a situation. He would talk to people, he would read about people, he would read novels, in order to get a large reservoir of knowledge of human personalities that would provide him insight in dealing with other people in future situations because he felt his intuitive knowledge of people was very limited.

Wife Liselotte on Fazlur Rahman Khan's efforts to become a well-rounded person
Through his father the young Khan discovered the pleasure of learning during his teen years.
My father was very close to his own father and as a young man learned an important lesson from him: to teach through personal example. Talking about my grandfather he said, "When I saw my father doing that kind of thing [in this case, showing compassion and concern for others] I always admired it. It was a better kind of teaching... To learn through admiration, rather than being taught that you should do this or you should do that..."

In turn, my father sought to reflect his values in the way he lived and in the manner he worked with people. This aspect of his character greatly influenced his professional life and, I believe, makes his career and his achievements all the more meaningful and inspiring.

Yasmin Sabina Khan on her father Fazlur Rahman's close relationship with his dad
My father had compassion for all, always lending a helping hand to whoever needed help. He always encouraged me to help others without expecting anything in return.
Inspired by father and older cousin to study engineering
When Fazlur Khan and his father were discussing whether he should study physics or engineering, his two choices, his father suggested that engineering would be better because it demanded discipline During that period the engineering challenges in India and East Pakistan looked more promising than the challenges in physics, and this influenced his decision.
In addition to his father, Fazlur Khan's early decision to become an engineer was influenced by an older cousin who preceded him into college to study engineering.
I liked physics because of its mystical and abstract aspects, but I was good in mathematics and always tinkering with something mechanical.
Memories such as these strengthen my belief that my father's character and values shaped his career. He must have felt the same way. Near the end of his life he had a chance to look back on his life and career for an oral history project. A recording was made over two days as he talked about his childhood, his university experience, and his years at SOM. He credited my grandfather, in particular, with encouraging him as a boy. My grandfather has a reputation in the family for his patience and gentleness, along with the guidance he provided for others. He valued education highly - himself teaching mathematics, writing math textbooks, and serving as an administrator for public education - and he knew how to inspire students. He must have recognized that my father, though not an eager student as a young child, was quite bright. In any case, he assumed responsibility for guiding his education.

My father fondly remembered the time they spent together over the years. It seems that the schoolwork they spent the most time with was math. My grandfather would make up additional problems for my father to solve, or suggest nuances to a particular problem. Approaching homework exercises in this way, rather than just solving given problems, imbued them with greater interest. "I always had a feeling", my father recalled, that "I was somehow enjoying it beyond the curriculum requirement". Learning was a pleasurable experience; it also prepared him for critical thinking later on.

At the same time, my grandfather talked with him about life. "I was always philosophically inclined", he remembered, "because my father used to sit down and talk to me". They talked about helping people, about generosity, compassion, and humility, and about learning. "After all, learning for what, that eventually we should be able to help people". These discussions, together with my grandfather's example, must have contributed to the calm demeanor my father brought to his work.
A brilliant engineering student
Fazlur Khan received his matriculation from Armanitola Government High School, in Dhaka. He studied Civil Engineering in Bengal Engineering College, University of Calcutta, Howrah and also received his formal bachelor's degree from Ahsanullah Engineering College, University of Dhaka, (now Bangladesh University of Engineering and Technology or BUET) in 1951, finishing first in his class.
An urbane figure in appearance and style, Khan stands 5 ft 7 in. He walks sprightly and quickly, immediately getting to what's at hand, whether it be paperwork or a meeting, all with overwhelming casualness.

Although he studied English in school as a child in Calcutta, he has a slight accent. Frequently using his hands like a conductor, sometimes with a slide rule in hand, to supplement his precise vocabulary that is devoid of vulgarity, but is spiced with vernacular and some slang, he is given to a moderate tempo. Smiling frequently, Khan runs the gamut of topics, from politics to Shakespeare and Solzhenitsyn to the tragedy of Bangladesh.

Richard M. Kielar, assistant editor of Engineering News-Record magazine
A Fulbright Scholarship, combined with winning a Pakistani government scholarship, enabled him to travel to the United States in 1952 where he pursued advanced studies at the University of Illinois at Urbana-Champaign. In three years Fazlur Khan earned two Master's degrees - one in structural engineering and the other in theoretical and applied mechanics - and a PhD in structural engineering.
The Fulbright program placed him at the University of Illinois at Urbana-Champaign, a stimulating environment that suited him perfectly. The professors, themselves highly respected in their fields, were at once demanding and supportive. His coursework instilled the value of critical thinking and "broadening ones approach to new problems", and, equally influential to his career, demonstrated the beauty of concepts that are, in his words, "elegantly simple".
One of the personal strengths that influenced his career, I believe, was the confidence and self-assurance he acquired during the first thirty years of his life. By this I have in mind both his personal grounding and his educational training. As a youth he developed a perspective on life that would serve him well, and in his twenties he strengthened this personal footing by traveling and meeting people of different cultures and different backgrounds, listening to music, reading widely, from existentialism to writings about beauty, and learning about art (during a visit together to New York one summer, I was amazed by his familiarity with the paintings we saw at the Guggenheim). He built on his academic training in a similar manner.

After earning his bachelor's degree, he returned to the Engineering College in Dhaka to teach structures and applied mechanics. He found that he could communicate with the students in a way that sparked their interest—he, in turn, was rewarded by the "bright sparks in students' eyes" when they grasped a new concept. Clearly he understood his subject, and yet he decided to pursue graduate studies. Two scholarships brought him to the United States for three years' study at the University of Illinois at Urbana-Champaign. Making the most of his time there, he took enough classes to earn two master's degrees, along with a PhD. Then, when he joined SOM in Chicago, he dedicated himself to an "intensive scrutiny", in the words of another engineer, into structural behavior.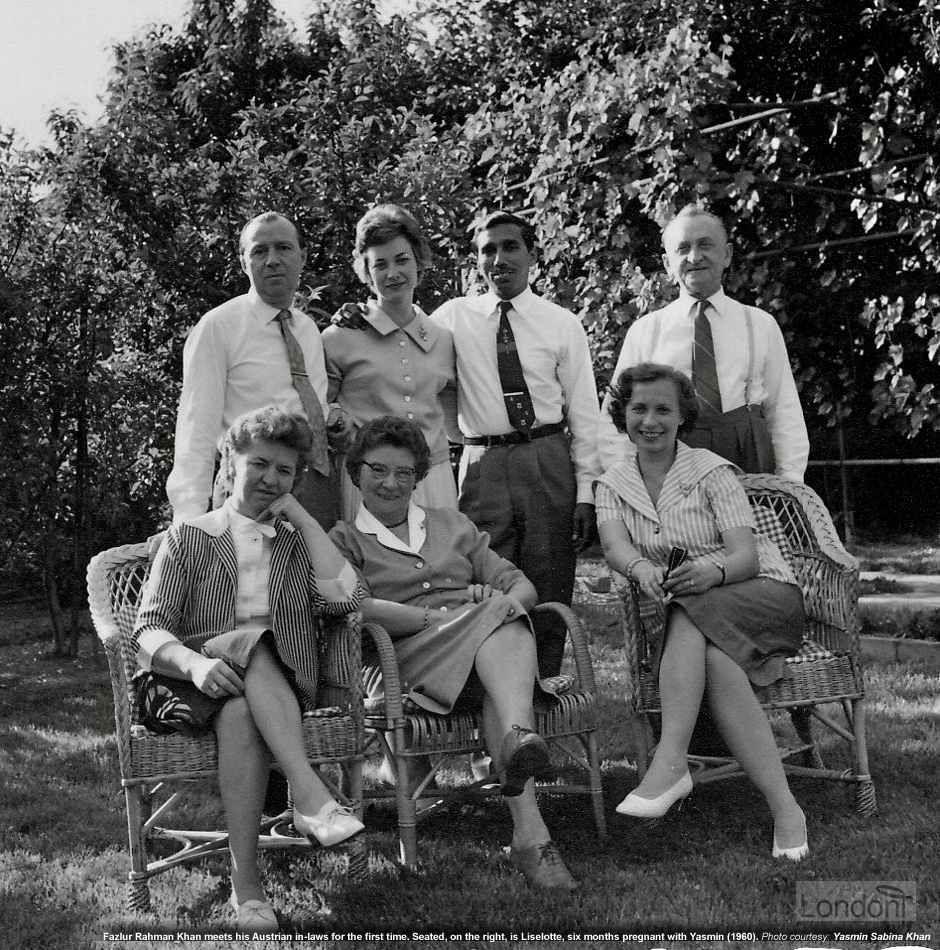 Family life
Beginning professional career with architectural powerhouse firm SOM
Fazlur Rahman Khan began his professional career in 1955 with the world renowned architectural firm Skidmore, Owings, and Merrill (SOM) headquartered in Chicago. After working as a structural engineer for two years, Fazlur Khan returned to his home country and did consulting work and later took a position as technical advisor to the Chief Engineer's Office at the Karachi Development Authority, based in the western wing of Pakistan.
Khan got his job at SOM by chance. After receiving his doctorate, at which time he was considering offers from top engineering firms across the country, he met a friend on the street who worked at SOM. The friend told Khan of the exciting projects in the SOM office. Khan went directly to SOM, had an interview, got an offer and immediately accepted at a salary considerably less than any other offer.

He accepted the SOM offer because the firm gave him responsibility immediately. "My first project was complete charge of seven prestressed bridges at the U.S. Air Force Academy in Colorado Springs, Colorado. Those other firms told me I'd start on some beam analysis. I didn't feel I would get any experience before I had to return to East Pakistan in a year and a half, a stipulation of the scholarships".

Richard M. Kielar, assistant editor of Engineering News-Record magazine
Austrian Liselotte travels all the way to Pakistan to marry him
During his stay in America, Fazlur Khan met and fell in love with artist Liselotte Anne Olga Turba, an Austrian emigrant from Vienna, who had a degree in Biology. They married in August 1959 after Liselotte traveled all the way to Pakistan from US. By now Fazlur Rahman Khan was restricted mainly to administrative tasks within his engineering role. And though the job had great status, Fazlur Khan felt the position kept him away from the design work that he was craving. So he wrote to SOM and received a positive response. The young couple then returned to Chicago in June 1960 where they had their daughter, and only child, Yasmin Sabina Khan that same year. Yasmin later followed in the footsteps of her father and became a structural engineer.
On their way to America they stopped at Austria where Fazlur Khan met his in-laws for the first time.
They had not seen each other in two years. But they had written letters regularly, and their relationship had developed during this time of separation and correspondence.

So they spent the first year of their marriage in Karachi before returning together to Chicago, where my father's job at Skidmore, Owings & Merrill waited for him. On the way back to the U.S. they stopped in Vienna - and my father met his Austrian in-laws for the first time. It was a happy visit for everyone.
In Chicago, the family lived in a high-rise apartment building where Fazlur Khan enjoyed freedom by mowing a lawn or painting. They had a beautiful and strong marriage for almost 23 years, until Fazlur Khan passed away on 27 March 1982.
Liselotte Khan (nee Anne Olga Turba)

(26 Feb 1930 - 8 Feb 1995)

Yasmin Sabina Khan

(Born 1960)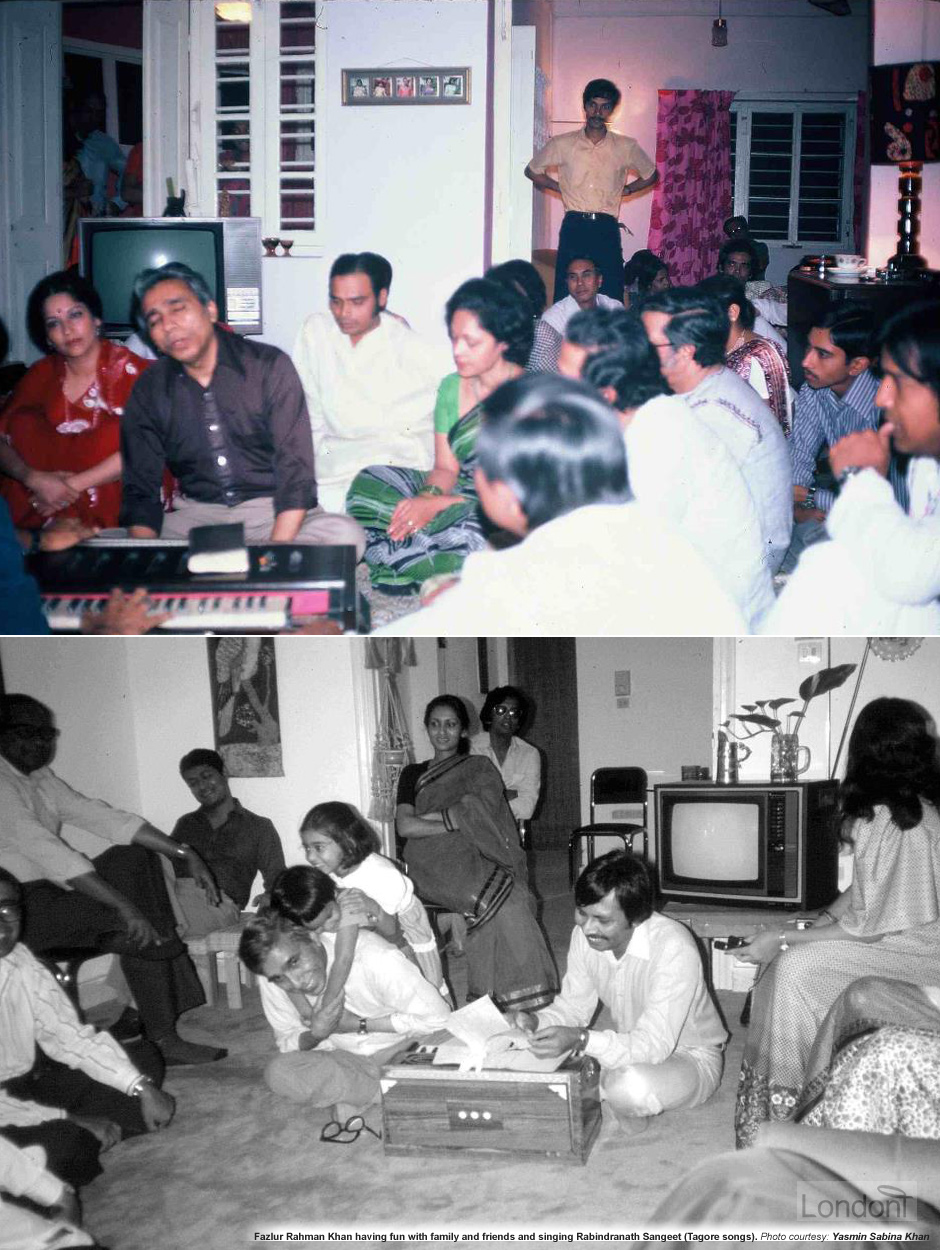 A passion for Rabindranath Sangeet
For enjoyment, Fazlur Khan loved Rabindranath Sangeet (Tagore songs) and would often sing these poetic songs in Bengali in private setting with close family and friends.
Rabindranath Tagore (or Thakur)

()
One of his favourite songs was 'Tomar Holo Shuru' (For you it is the beginning). The first lines of this song - "For you it is the beginning, For me this is the end, You and me together, Thus flows the current" - are written on his and wife Liselotte's gravestone.
"Tomar Holo Shuru, Amar Holo Shara" by Rabindranath Tagore
You begin when mine is done; You and me unitedly fulfill the flow. You have lights, friends at home; Dark nights wait for me, lots of stars; You have land to rest on, depth of water for me; You have time to relax, movement is for me. Your hands give protection, mine consume; Fear is in your mind, mine fearless.
My father loved to sing Tagore songs (sangeet). I believe he heard many of these songs by Rabindranath Tagore on the radio when he was young. I remember him sitting at our dining table in the evenings with this book of songs.
He didn't just love Rabindranath Sangeet, but he used to sing it very well too. When we met both of us brothers would sing and his wife, an Austrian, would say "You two will damage my head". Later on, we'd see her trying her best to hum the tune.

He [Fazlur] was asked constantly by close friends to sing a song. And he'd have no reservation and instantly start singing.