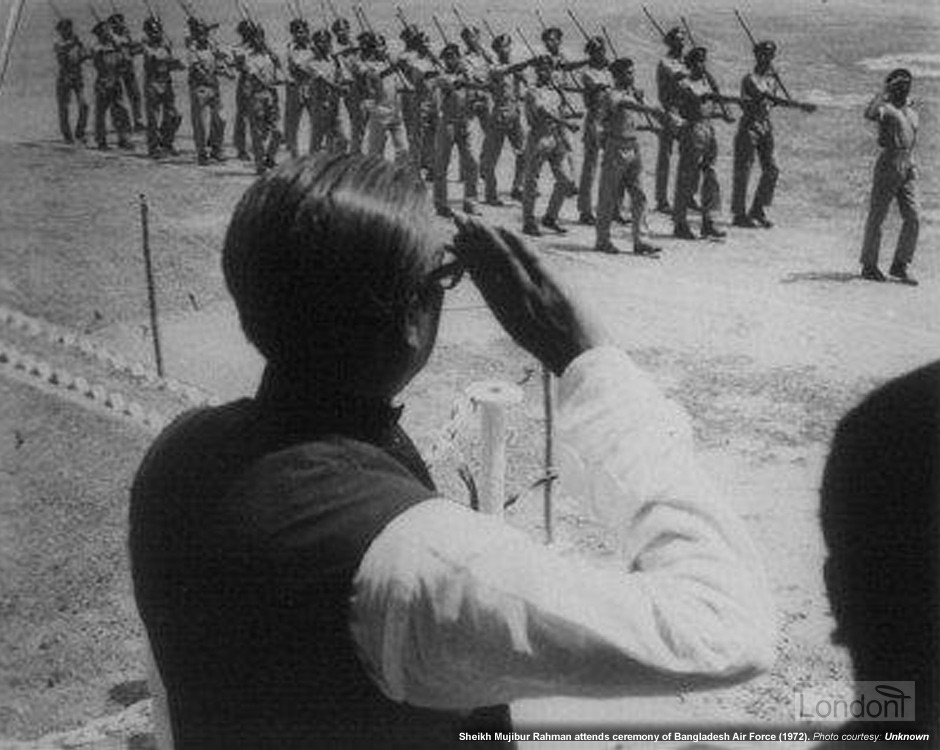 Assassination
Taking advantage of his precarious situation, in the pre-dawn hours of 15 August 1975 Sheikh Mujibur Rahman and his family were murdered by a handful of adventurous, resentful, and ambitious military officers. On that day, his wife Begum Fazilatunnessa, three sons Sheikh Kamal, Lt. Sheikh Jamal and Sheikh Russel, two daughters-in-law Sultana kamal and Rosy kamal, brother Sheikh Naser, brother-in-law and agriculture minister Abdur Rab Serniabat and his daugher baby Serniabat, son Arif Serniabat, grand son Sukanto Abdullah and nephew Shahid Serniabat, and Sheikh Mujib's nephew and youth leader Sheikh Fazlul Huq Moni and his pregnant wife Arzoo Moni, Sheikh Mujib's security officer Brig. Jamil and a 14-year-old boy Rintoo were killed.
Sheikh Mujib's dead body was buried the following day in his hometown of Tungipara, Gopalganj, by the killers.
In all the killers slaughtered 16 members and relatives of Sheikh Mujib's family. His daughters Sheikh Hasina and Sheikh Rehana escaped the assassination as they were abroad in Germany during the massacre. Sheikh Hasina remained in exile abroad in UK and India and returned to Bangladesh as President of Bangladesh Awami League on 17 May 1981 – nearly six years after her family killing – after she was invited back to the country by Ziaur Rahman, then the President of Bangladesh.
After the murder spree martial law was imposed in the country and Khandaker Mushtaq Ahmed, previously a senior member in Sheikh Mujib's government, was declared as the president. Thus began the politics of killing, coups and conspiracy.
On 3 November 1975 the four Awami League leaders who founded the first government of Bangladesh, Mujibnagar, and arrested after Sheikh Mujib's assassination, were openly killed in Dhaka Kendrio Karaghar (Central Jail).
The killers of Sheikh Mujib, his family and associates were protected from prosecution by Khandaker Mushtaq Ahmed through the notorious Indemnity Act which was later, controversially, legalised by Ziaur Rahman, founder of BNP. It would be a further 34 years until all the killers could be identified and bought to justice when Sheikh Hasina came to power.
Killers identified and some of them were hanged
Twelve ex-army officers were found guilty of 15th August killing – five were hanged on 28 January 2010, one had already passed away, and six more are awaiting capture.
The differences of opinion over Sheikh Mujib are reflected in the different stances of the country's two main political parties towards the trial.

The Awami League of Sheikh Hasina has been united in bringing the perpetrators of the crime to court, but elements within the opposition Bangladesh Nationalist Party are opposed to the case.

They say other political murders in Bangladesh have been ignored by the authorities.

More than 20 years after his death, Bangladesh is still polarised over the role of Sheikh Mujib in the country's history.