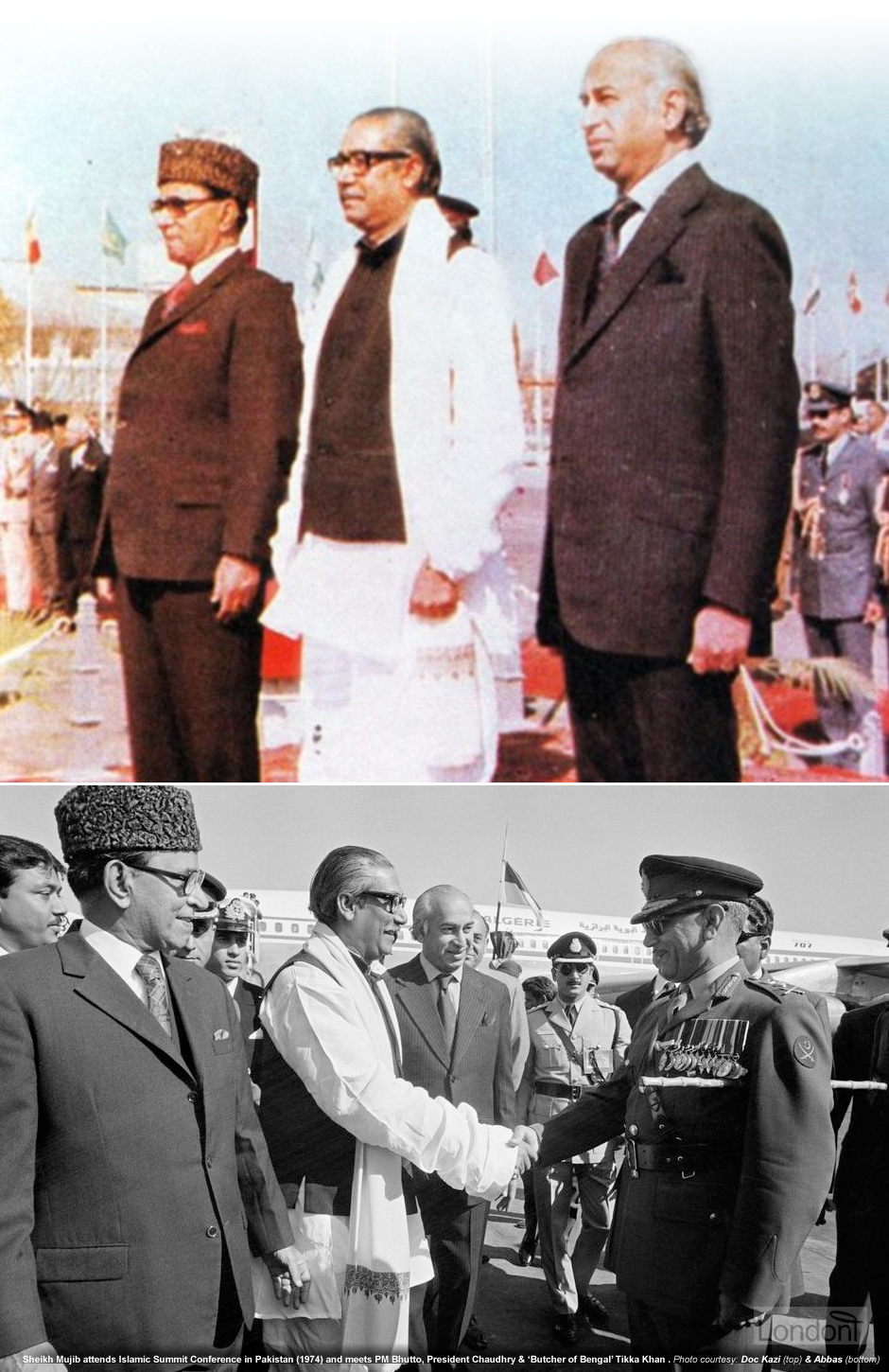 Embracing the 'enemy'
Having laid the foundation for economic progress and prosperity, Sheikh Mujib's government turned their attention to gaining international recognition for the new fragile nation.
Membership of NAM to strengthen international relationship
The Non-Aligned Movement (NAM) was founded in 1961 in Belgrade by developing countries wishing to distance themselves from the influence of the two superpowers during the Cold War - the US and Soviet power blocs.
Growing from 25 member countries in 1961 to 118 countries in 2012 - thus representing two-thirds of the global population - it's primary aim is to protect the right of nations to "independent judgement" and to counter imperialism. The movement is also committed to restructuring the world economic order.
Bangladesh became a member of NAM on 6 September 1973, and Prime Minister Sheikh Mujibur Rahman participated in the summit held at Algiers, capital of Algeria, during this period, in a bid to widen and broaden Bangladesh's relationship with other developing countries.
His attendance was a big exposure for Bangladesh, and many non-aligned leaders were impressed by his personality.
OIC membership brings Sheikh Mujib face-to-face with Bhutto once again
Prime Minister Sheikh Mujib attended the Organisation of Islamic Cooperation (OIC) summit conference held in Lahore, Pakistan, on 22-24 February 1974. On reaching Lahore, Sheikh Mujib was received by the Pakistani Prime Minister Bhutto and General Tikka Khan whose hands were drenched with the blood of the Bengalis during the Liberation War. Later the two Prime Ministers appeared hands in hand on the balcony of the Shalimar Gardens with other dignitaries, including the late Libyan leader Muammar Gadaffi and Palestine leader Yasser Arafat. It was done with a view to improving relations with the Muslim countries and easing the tension with Pakistan who had officially recognised the new independent nation of Bangladesh on 22 February 1974 - approximately three years after the 1971 atrocities.
Bhutto in Bangladesh
On 27 Jun 1974 Prime Minister Bhutto paid an official visit to Bangladesh, which was the first time that a Pakistani leader came to Dhaka after the civil war imposed upon the Bengalis. Although a banquet and a civic reception were organised in honour of Bhutto, he met hostile slogans "Butcher Bhutto, go home". He caused offence to the people of Bangladesh when he attempted to justify the remark "Thank God, Pakistan has been saved", which he had made on 26 March 1971, after the military crackdown in East Pakistan.
At the banquet, Mujib bluntly reminded Bhutto "history could be interpreted but not rewritten". During his talks with Bhutto, Mujib raised two important issues for settlement between two countries, the division of assets held by the united Pakistan before 1971 and the admission of more non-Bengalis in Pakistan. However, the talks between them did not produce any appreciable result.
Sheikh Mujib speaks in Bangla in the United Nations' General Assembly (1974)
Sheikh Mujib attended the 29th session of the General Assembly of the United Nations, held in their headquarter in New York, USA, after Bangladesh was accorded membership on 18 September 1974. In his maiden speech on 24 September 1974, Sheikh Mujib addressed the Assembly in Bengali – even though he knew English fluently. Years later, his daughter Sheikh Hasina Wajed replicated her dad by delivering her speech too in Bangla at the 66th session of the UN General Assembly held on 24 October 2011.
Sheikh Mujibur Rahman's larger than life presence at the NAM conference in Algiers gave a huge boost to the morale of this tiny nation of 70 million people. The speech he made in Bangla at the United Nations in 1974 and the international publicity that followed made Bangladesh the voice of the Third world.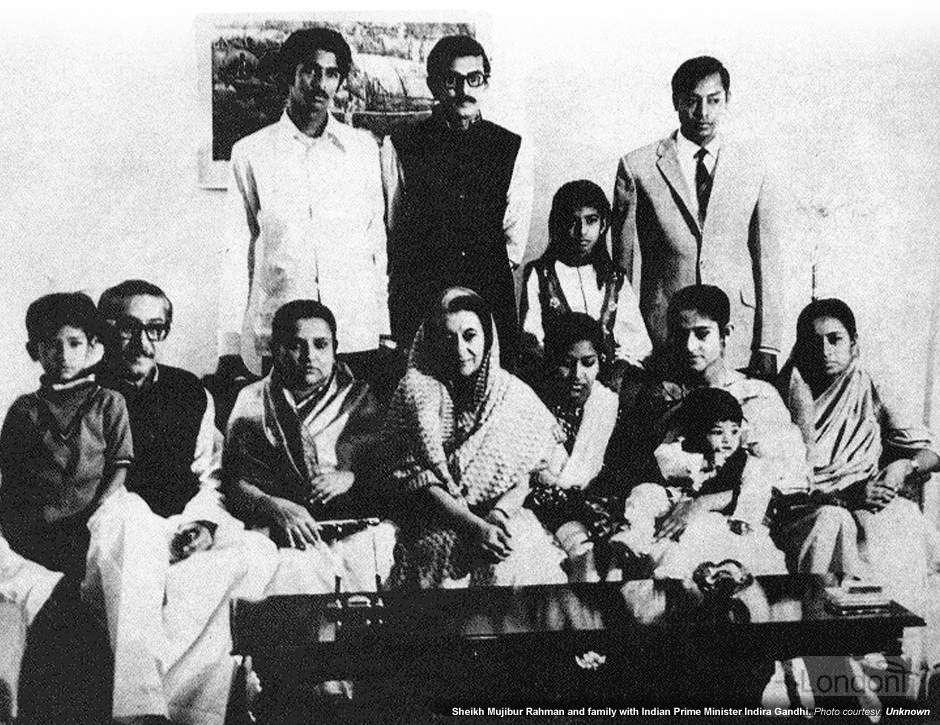 The Sheikh family - six degrees of separation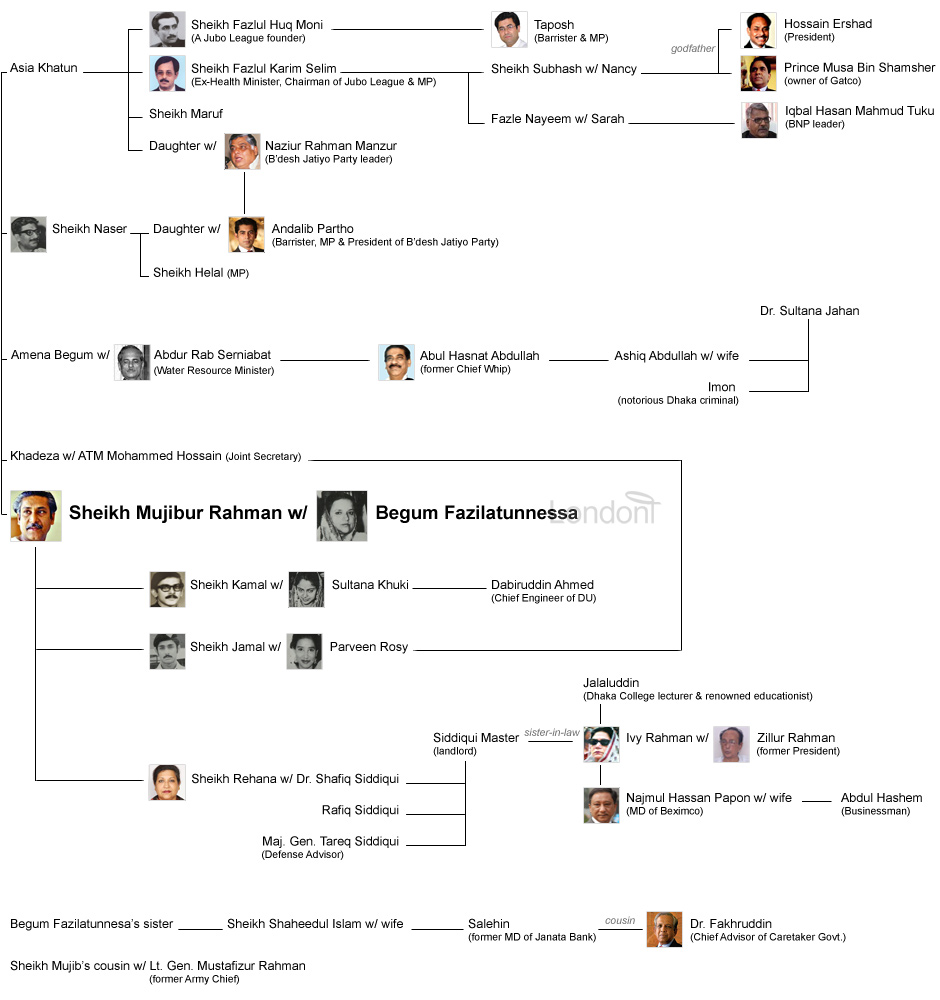 Sheikh Hasina and Khaleda Zia are related! (Well almost)
Khaleda Zia's eldest son Tareq Rahman is married to Dr. Zubeida, daughter of former Naval Chief M. A. Khan. M. A. Khan is related to Sheikh Hasina's family and so, in a far-fetched way, Sheikh Hasina and Khaleda Zia are related.
Mujib's homecoming marked the most triumphant moment of his career as a politician who had worked steadfastly and whole-heartedly for his people. But the next few years saw him sliding in popularity and having a torrid time coping with the innumerable problems facing a poor nation that had been denuded for over two decades by the West Pakistanis and that had hemorrhaged steadily for nine months. The prescriptions that he got from his advisers in the Planning Commission, inclement weather conditions that led to a terrible famine in 1974, rising global oil prices, growing lawlessness, his unwillingness or disinclination to be firm with party men and women and relatives who were clamoring for benefits and sinecures, underground movements that appeared to be gathering momentum and threatening the state, all appeared to conspire to show Mujib as unable to cope with the responsibility of steering a nation from political independence to peace, stability, and prosperity.

The stage was set, in other words, for triumph to turn into tragedy.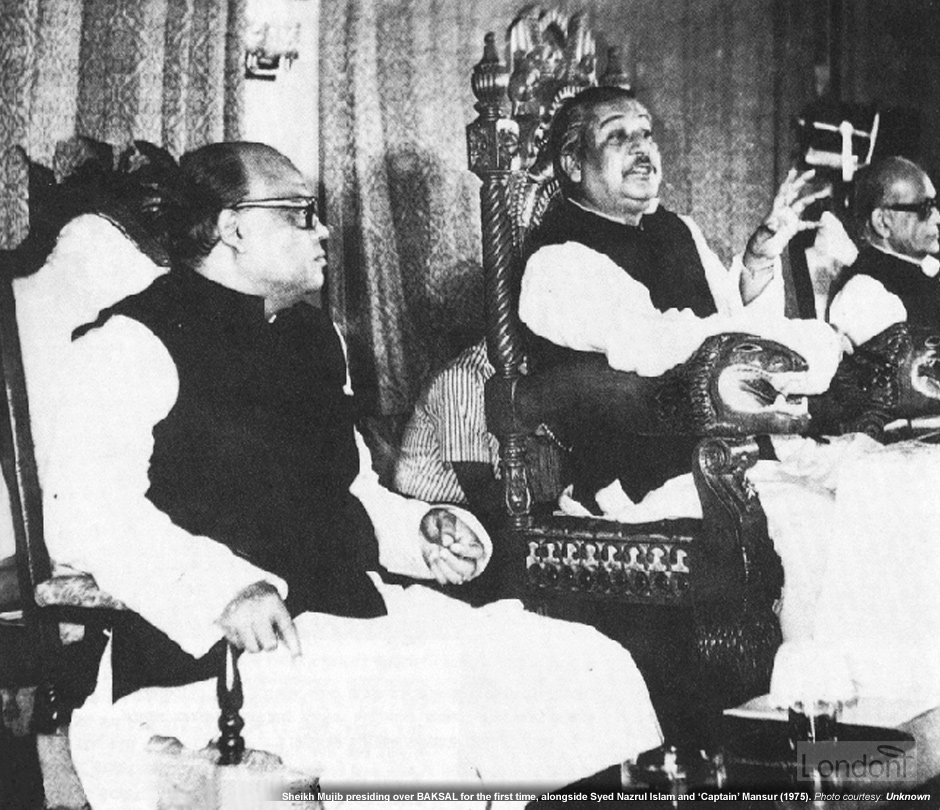 Downfall
Sheikh Mujibur Rahman's final years switched from the epic to the tragic mode.
The problems he had to contend with no doubt were too many - the country had bled for almost a year and lost many of its most loyal and capable people during the 1971 war. It infrastructure had been smashed; there were too many unaccounted arms circulating, a far left movement was unsettling law and order; on the far right the defeated razakars and al-badrs were surfacing in new guises aided by the intelligence agency of a discredited army and undisclosed amounts of money. The treasury was all but empty; almost everything was having to be imported; a global energy crunch and skyrocketing petroleum prices were crippling the economy. The final straw was a major famine - one of the worst in Bengal's recorded history - which was taking its tolls by the thousands.
Jatiyo Rakkhi Bahini (JRB)
Until the emergence of Bangladesh, political violence, in large measure, had been directed to the greater cause of establishing justice, equality, and freedom. But since independence political violence has followed a different trajectory in Bangladesh. Immediately after independence violence was perpetrated to realise the narrow and parochial interests of a ruling party that was intolerant to any opposition to the regime. Often opposition to the regime was viewed as unpatriotic. Some of the opposition political parties also resorted to violent means. A number of clandestine radical groups, claiming to be leftist, emerged.

Law enforcement agencies, particularly the newly founded Jatiya Rakkhi Bahini (JRB), were given a free rein. Thus the nation experienced a high incidence of political violence between 1972 and 1975. In April 1973, the then Home Minister informed the parliament that 2,035 secret killings of a political nature had taken place over the previous 16 months. Sheikh Mujibur Rahman, then Prime Minister, in a televised speech on 16 December 1974 revealed that four members of the parliament and 3,000 supporters of the ruling Awami League (AL) were killed in three years. Opposition parties alleged that 60,000 activists were killed. While it is impossible to evaluate the charges and counter-charges, they provide revealing testimony of growing political violence.

Ali Riaz, Author of "Political Islam and governance in Bangladesh" (2011)
On 28 December 1974 Sheikh Mujib declared a state of emergency, and a month later, on 25 January 1975, he declared himself the President of Bangladesh by the Fourth Amendment to the Constitution of Bangladesh. He was replaced by Muhammad Mansur Ali (known popularly as Captain Mansur) as Prime Minister. Syed Nazrul Islam became the Vice-President.
The BAKSAL controversy
With declining support, even from the army, he set about trying to restore order by disbanding political parties and replacing it by a new national political party - the Bangladesh Awami Krishak Sramik Awami League (Bangladesh Peasants and Workers Awami League), or BAKSAL for short. Declared as the 'Second Revolution', by January 1975, the system had been transformed into an authoritarian one-party state. This 'revolution' was in truth political death for Bangladesh, where free expression of political views was cherished like lifeblood, as it transformed the country into an unknown totalitarian state. The highly valued parliamentary system of government for which the Bengalis fought against the West Pakistanis during the Pakistani period was reverted back to presidential system and instead of multi-party system, only one political party was allowed to function.
One may recall that Mujib in his radio broadcast on 28 October 1970 said "The Awami League...came into existence to defy the attempt of the ruling party to form a one-party system. We thus began the struggle to establish democracy in Pakistan".
A number of opposition leaders joined the BAKSAL including Ataur Rahman Khan. Although Maulana Bhashani on 8 March 1975 supported the 'second revolution' of Mujib, he did not join the new party. General Osmani resigned from the Awami League protesting against the introduction of the one party system in the country. However, both the Soviet Union and India gave their open support in favour of the BAKSAL.
Sheikh Mujib set up his own force of loyal paramilitaries, known as the Rakkhi Bahini or Jatiya Raksi Bahini (National Security Force), to restore law and order and recover illegal arms. But the system failed and Rakkhi Bahini was accused of intimidating the population and torturing political opponents. This brought considerable unpopularity for his government where corruption and black marketing became rampant.
This was an attempt to build a new populist alliance between the Awami League and small peasants and workers, in the face of failing support from the "intermediate classes", bureaucrats, military and political groups who occupy the space between capital and labour, upon which he and the Awami League had previously depended. But it was only a matter of time before opposition to Mujib was translated into decisive action.
Sheikh Mujib curtailed the freedom of the press and suppressed civil liberties and jailed thousands of dissenters which his critics said typified his authoritarian tendencies. Supporters of Sheikh Mujib argue that BAKSAL was necessary to make Bangladesh a self-reliant nation by reducing its dependency on foreign aid, eliminate corruption, boost production in mills, factories and fields, control population and establish a national unity.
However, the radical changes were uncharacteristic of Sheikh Mujib rendering himself completely vulnerable to public scrutiny.
The man who had staked his life repeatedly for democracy now attempted to create a one party state, proscribe newspapers, and stifle dissent. A radical leader died mysteriously while in police custody. Members of Mujib's extended family suddenly began to assume more and more power. People who had shown total devotion to him and Bangladesh like Tajuddin Ahmed was dropped and sycophants were promoted to important positions. The air in Dhaka was rife with rumors of conspiracies and coups but Mujib chose to ignore them, convinced that the people he loved and had been ready to die for would never harbor conspirators against him.