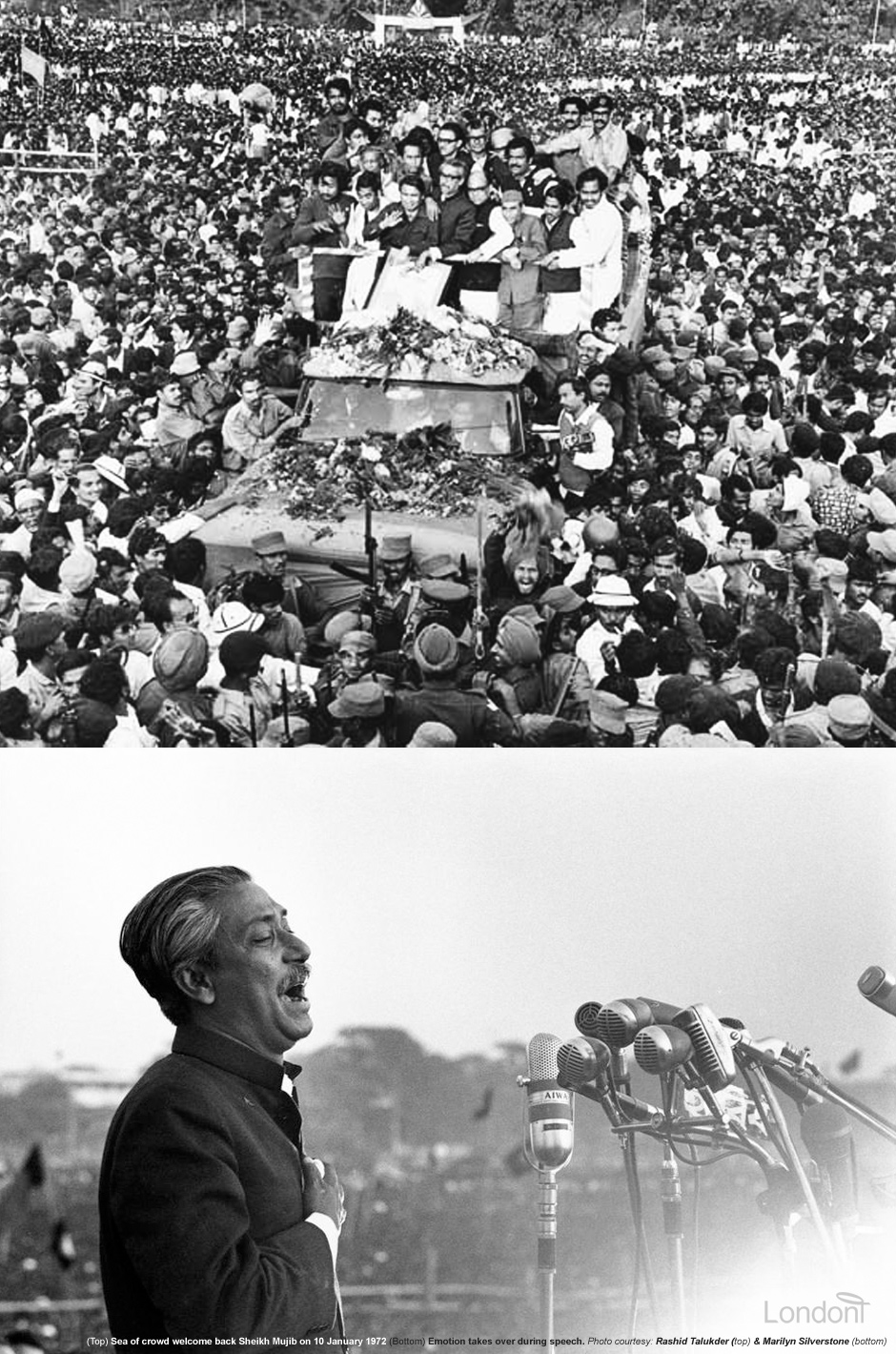 Return of Bangabandhu
Following unconditional Bangladeshi victory in the Swadhinata Juddho (Liberation War) where the Pakistani army and its razakar supporters were disgraced, and Bhutto calling the cards, and in the face of international pressure created by probashi (non-residential) Bengalis, Sheikh Mujib was released from prison in Pakistan on 8 January 1972.
With hopes for a united Pakistan all but ended by the civil war, keeping Mujib alive would leave open one last option — negotiating the divorce of East and West in peace rather than war.
He was seen off at Rawalpindi by Zulfikar Ali Bhutto, by now Pakistan's president. A special jet flew him to London on the same day where he spoke to journalists at Hotel Claridge's of the city's Mayfair area.
He appealed to the affluent countries of the world for helping hands for the newborn nation of Bangladesh.
Sheikh Mujib met with the British prime minister and Conservative Party leader Edward Heath and also attended a London hospital for his health checkup. On 10 January 1972, he boarded a British Royal Air Force (RAF) jet, set for Tejgaon Airport, Dhaka via New Delhi. Amid his stopover in New Delhi, Sheikh Mujib attended a celebration programme hosted by Indian president Varahagiri Venkata Giri and prime minister Indira Gandhi. While addressing a New Delhi crowd, Sheikh Mujib expressed his gratitude to the Indians on behalf of the Bangladeshis calling them the "best friends of my people".
Meanwhile, all weekend long the people of Bangladesh thronged into Dhaka, preparing to welcome their beloved "Bangabandhu" (friend of Bengal). By Monday noon 10 January 1972, hundreds of thousands of jubilant Bengalis lined the streets of the capital, waving flags and shouting over and over, "Sheikh Mujib! Sheikh Mujib!". Promptly at 1.30 pm, a blue and silver British Royal Air Force Comet dropped out of a brilliant sunny sky and ground to an abrupt halt on the shortened war-damaged runway of Tejgaon Airport http://www.time.com/time/magazine/article/0,9171,905654,00.html. Sheikh Mujibur Rahman was home at last.
As the Comet's door opened, the first gun of a 21-gun salute cracked through the air http://www.time.com/time/magazine/article/0,9171,905654,00.html. Then Sheikh Mujibur Rahman stepped out to a tumultuous welcome. A sea of crowd roared with "Joi Bangla, Joi Bangabandhu" (Long live Bangla, long live Bangabandhu).
The history of the Indian subcontinent for the past half-century has been dominated by leaders who were as controversial as they were charismatic: Mahatma Gandhi, Mohammed AH Jinnah, Jawaharlal Nehru. Another name now seems likely to join that list: Sheik Mujibur ("Mujib") Rahman, the President of Bangladesh. To his critics, Mujib is a vituperative, untrustworthy rabble-rouser. To most of the people of his new nation, he is a patriot-hero whose imprisonment by West Pakistan has only enhanced his appeal. "He was a great man before," says one Bangladesh official, "but those bastards have made him even greater."

TIME magazine on 17 January 1972
From the airport he drove straight to the Racecourse Ground where he made a tearful address before the country.
Re-building a broken nation
On 12 January 1972 the new government of Bangladesh was formed and Sheikh Mujib stepped down from his role as president and was elected as Bangladesh's Prime Minister, replacing Tajuddin Ahmad who was appointed as Finance Minister. Two months later, on 17 March 1972, the allied Indian Army left Dhaka and the country was finally freed of suffering from a stigma of the presence of a foreign army on its soil.
This new nation had—no police, no army, no naval force, no air force, no civil aviation and apparently no infrastructure of a competent civil government. There was broken, damaged train system, There was no transport department, no central bank, no money, no nothing. It was a country having 75 millions mouths to feed, with no source of wealth. Country started from a big zero. Entire nation was broke with war damages everywhere. 10 millions refugees back from Indian camp and needed immediate rehabilitation, hundreds of roads and bridges broken.

Bangabandhu got very little financial help from international community since Western world including USA and entire Middle Eastern oil-rich nations were unfriendly with newly independent Bangladesh. Only monetary help the country got was from World Bank and some Eastern European communist nations. That financial help was a small drop against the need of huge financial necessity to build war-torn impoverished nation of Bangladesh.
A busy first year
1972 was a very active year for Sheikh Mujib. On 1 March 1972 he went to the Soviet Union on an official visit, and later, on 30 July 1972, to London, UK, to undergo a gall bladder operation. From London he went to Geneva. It was also the year that the World Peace Council (a Soviet affiliated peace organization) found in Sheikh Mujib "a new star in the anti-imperialist struggle". The organization's general secretary, Ramesh Chandra, came to Dhaka to personally decorate the Bangladesh leader with the Peace Council's prestigious Joliot Curie award on 10 October 1972. The authorities at Dhaka University also rescinded his expulsion, 24 years later, and accorded him the University's life membership.
My first ever meeting with Bangabandhu left two indelible impressions in my life. First, his legendary memory of remembering people's names, and second, his tact in dealing with his colleagues.

... I found myself all alone in the PM's office while the PM took the call. The call Bangabandhu took was from the Education Minister - Prof. Yusuf Ali - as I could make out from the conversation. The topic was request from Prof. Yusuf Ali for approval of funds for a dinner that the Minister wanted to have in honour of Indian PM during his upcoming visit to Delhi. Since I was only hearing what Bangabandhu said, I can only repeat his words. The first words that Bangabandhu uttered were "Yusuf, my friend, why are you asking money for a dinner?" Obiviously there was some response from the other side that I could not hear, but I heard what Bangabandhu said again. "Yusuf, we are a poor country; you do no have dinners for the Indian PM. You are not required to. I am returning your note with regret". The PM hung up and went back to the file in front of him, which was obviously the one sent by the Education Minister with the request for funds. As he drew the file toward him, the PM started to articulate the words he was penning down. The words are still reverberating in my mind. He spoke loudly as he wrote, "This request is denied. There is no need to display wealth where there is none. The Education Minister does not need to have a dinner party for the Indian Prime Minister. Madame Indira Gandhi is well aware of our country's conditions. A courtesy call on her will be good enough". Bangabandhu put his pen down, and asked for the file that I was carrying. He signed the note, gave it back to me. I walked out with my fifteen minutes of face time with the father of the country.
Laying the foundation for the future
On 4 November 1972, Sheikh Mujib announced that the first general election in Bangladesh would be held on 7 March 1973 – which would result in a landslide victory for Awami League, securing 293 out of the 300 Jatiya Sangsad seats. And on the first anniversary of liberation, 15 December 1972, the Constitution of the People's Republic of Bangladesh was framed. Within the Constitution, which came into effect the following day, the principles of nationalism, socialism, democracy and secularism – refererred later to as 'Mujibad' (Mujibism, after Sheikh Mujib) – were adopted as the state policy. Also at its first meeting, the cabinet selected Rabindranath Tagore's song "Amar Shunar Bangla" (My Golden Bengal) as the national anthem of Bangladesh.
However, all this did not take him away from the simple fact – Bangladesh was a broken nation. Sheikh Mujib found a country ravaged by war, economic chaos and with the threat of starvation hanging over millions. Soon after the independence too many arms in too many hands posed a serious threat for maintaining law and order in the new state. On 17 January 1972 Sheikh Mujib gave a general call to surrender arms within a 10-day limit. As a result, the troops of Abdul Kader 'Tiger' Siddiqui – referred to as 'Kaderia Bahini' during the muktijuddho – surrendered their 14,000 arms on 24 January 1972 at a ceremony in Bindusbasini Boys High School in Tangail town presided over by Sheikh Mujib.
Restoring law and order, rehabilating the mukhtijodhas, restoring the ruptured communication system, saving lives of the people hostile to the War of Liberation from the public wrath, and, most importantly, feeding the hungry millions and many other problems bedeviled his administration.
A cyclone that killed as many as 500,000 people. A civil war that claimed perhaps 200,000 more. An exodus that already totals 5,000,000 and is still growing. A cholera epidemic that has barely begun, yet has already taken some 5,000 lives. It is an almost biblical catalogue of woe, rivalling if not surpassing the plagues visited upon the Egyptians of Mosaic days. And yet it is virtually certain that the list will grow even longer for the bedeviled people of East Pakistan.

TIME (1971)
His popularity lasted during his early time in power despite the difficult circumstances facing the country, and despite allegations of inefficiency and corruption within his administration.
The reorganization of the administrative system
Framing of the first Constitution of Bangladesh
Rehabilitation of one crore people
Restoration and development of communication system
Expansion of education, supply of free books to students upto Class V (Five) and at low price to students upto Class VIII (Eight)
Effective ban on anti-Islamic and anti-social activities like gambling, horse races, drinking of liquor
Establishment of Islamic Foundation, reorganization of Madrasa Board
Establishment of 11,000 primary schools
Nationalization of 40,000 primary schools
Establishment of women's rehabilitation centre for the welfare of distressed women
Establishment of Freedom Fighters Welfare Trust and annual state award to freedom fighters on 15 December (i.e. Bijoy Dibosh)
Waiving tax upto 25 bighas of land
Distribution of agricultural inputs among farmers free of cost or at nominal price
Nationalization of banks and insurance companies abandoned by the Pakistanis and 580 industrial units
Employment of thousands of workers and employees
Construction of Ghorasal fertilizer factory, primary work of Ashuganj complex and establishment of other new industrial units and reopening of the closed industries