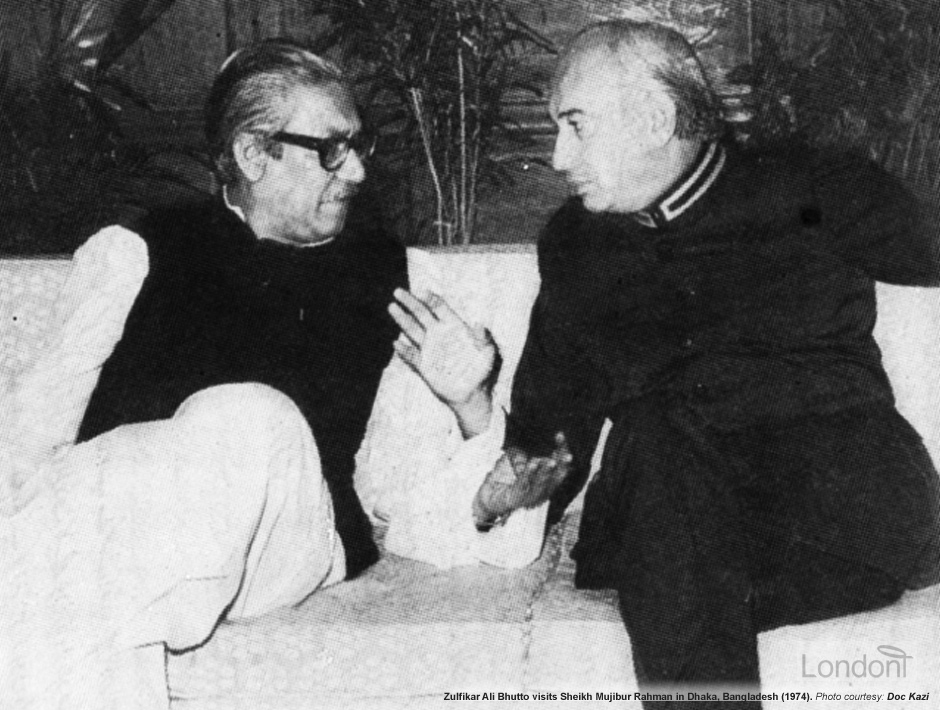 Denied premiership after winning last general election of east-west Pakistan
Although he was repeatedly imprisoned by the Pakistani authorities, Sheikh Mujib's high profile stance against Islamabad made him immensely popular in his native Bengal.
The extent of that popularity was graphically seen in the general election 1970, when his Awami League party won such huge support in the east that it was a position to form a government for the whole of Pakistan.
He kept highlighting his party's demand for complete autonomy in East Pakistan until the message went home: in the elections held on 7 December 1970, the Awami League won 167 of the 169 National Assembly seats in the province and gained 305 out of 310 seats in the Provincial Assembly . Sheikh Mujib's main rival, Zulfiqar Ali Bhutto, came second even though he dominated the voting in West Pakistan. Overall, it was a landslide victory for Sheikh Mujib and Awami League and as such he should've been rightly appointed the next prime minister of Pakistan.
But Mujib, committed to negotiations through democratic channels, was mistaken in his assumption that the Pakistani generals and Zulfiquer Bhutto, the clear winner in West Pakistan, were going to hand over power to his party merely because it had a clear majority when it was bent on getting the maximum autonomy conceivable for East Pakistanis.
However, Zulfiqar Ali Bhutto was bitter in defeat and suggested that both he and Sheikh Mujib share the premiership for the two wings of Pakistan respectively. He colluded with General Yahya Khan, the military dictator who replaced Ayub Khan as president, and postponed the 3 March 1971 opening of the National Assembly were Sheikh Mujib and Awami League were to be handed their power. The result of the postponement triggered a spontaneous and angry civil disobedience movement in East Pakistan which, in effect, negated the Pakistani state, making Sheikh Mujib the de facto ruler of East Pakistan.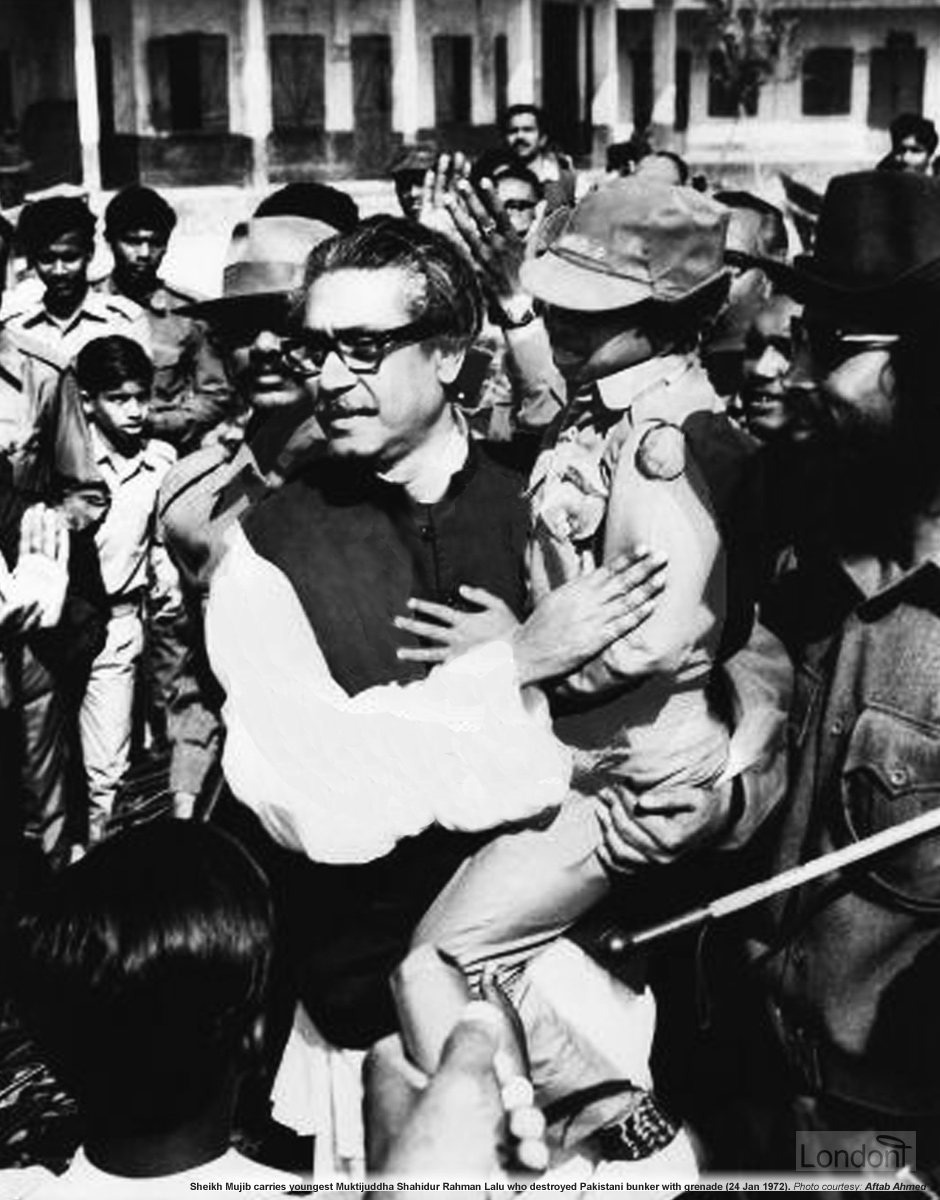 Voice of thunder during Muktijuddho
The Awami League launched a seven-day non-cooperation movement, a nationwide strike (hartal), beginning on 2 March 1971 in Dhaka and then spreading to the rest of the country the following day on 3 March, the day originally proposed for the opening session of the new National Assembly.
There were ineffectual orders from Yahya Khan on the one hand, while the nation, on the other hand, received directives from Bangabandhu's Road 32 residence. The entire nation carried out Bangabandhu's instructions. Ever organization, including government offices, banks, insurance companies, schools, colleges, mills and factories obeyed Bangabandhu's directives. The response of the people of Bangladesh to Bangabandhu's call was unparalleled in history. It was Bangabandhu who conducted the administration of an independent Bangladesh from March 7 to March 25.

Jubo League website
Whilst the East Pakistanis were observing the hartal, politicians in West Pakistan viewed such a development with trepidation and began large and intensive migration of troops and weapons into the eastern wing in order to "control" the situation.
7 March 1971 - the day of THAT speech
On 7 March 1971 Sheikh Mujibur Rahman addressed a mammoth public rally attended by almost two million people at the Ramna Racecourse ground (later renamed Suhrawardy Udyan), Dhaka, where he gave his historic "Ebarer shongram amader muktir shongram - ebarer shongram amader shadhinotar shongram" (The struggle now is the struggle for our emancipation! The struggle now is the struggle for our independence) speech. He advised the people to prepare themselves for a guerilla war against the enemy.
March 7th, 1971. We were assigned to work as volunteers at the event. The route from Bangabandhu's residence to the Race Course had to be secured. It was rumoured that the army would assassinate him, while on his way to the Race Course.

We were positioned on the corner of Mirpur Road and Science Laboratory Road, right in front of the Science Laboratory Building. For his safety, Bangabandhu's actual route was kept a secret.

We could see a flood of people heading for the Race Course from every direction. We were impatiently waiting for Bangabandhu to pass by. At that moment, someone informed us that Bangabandhu had already reached Race Course through a different road. On receiving this news, we rushed towards the venue. Race Course had become a boundless field of faces. In my lifetime, there would be no other event in the world that would bring so many people together, just to hear one man speak.

It was so crowded that we had no chance to make it near the stage. We found standing room in the far end of the gathering, under a loud speaker. Slogans could be heard from all around like the sounds of a storm.

On the stage, student and youth leaders spoke before Bangabandhu. As Bangabandhu came to the podium to speak, hundreds of thousands of voices ripped through the sky as they chanted slogans. "Joy Bangla! Heroic Bengali, take up arms - Liberate Bangladesh! My leader, your leader, Sheikh Mujib, Sheikh Mujib!" and other such slogans were cast into the air like bellowing waves of sound.

When the chanting resided, Bangabandhu took off his thick black-framed spectacles and put them down on the podium. He raised his right hand in the air. Pointing to the sky with his index finger, he addressed the audience, "My brothers". As he uttered these first words, a pin-drop silence fell over the crowd.
Sheikh Mujibur Rahman was wearing his signature black 'Mujib' waistcoat with high collar over his white cotton Panjabi. He climbed up to the raised bamboo podium - behind him stood the Awami League leaders, including Tajuddin Ahmad and Syed Nazrul Islam.
Sheikh Mujib took off his black-rimmed glasses and put them down on the wooden podium.
Standing tall and determined, towering over the surging crowd, Sheikh Mujibur Rahman embodied that iconic centrality of Bangladeshi politics. That unique voice that comes along in a nation's lifetime. That unique compassion that embraced Bangladeshis from the very destitute to the highest intelligentsia.
With a raised right hand, his index finger pointed up, Sheikh Mujib started to speak...
The time was about 3:00 pm.
Bhai'ara amar...

Sheikh Mujib urges the nation to break the shackles of subjugation
In the annals of human history few speeches have moved so many to do so much as Bangabandhu Sheikh Mujibur Rahman's speech "Ebarer songram muktir songram, ebarer songram shadhinotar songram"

...Mujib's speech ranks with those of King, Kennedy, Gandhi, and great leaders of men; this speech moved 70 million people to action and served as the master plan that created a free Bangladesh out of the ashes of President Yahya Khan's East Pakistan.
On 16 March 1971 President Yayha Khan arrived in Dhaka to "resolve" the issue. He was followed by Zulfiqar Ali Bhutto on 21 March 1971 and thus a three-way intensive Mujib-Yahya-Bhutto talks commenced. However, the negotiations broke down on 25 March 1971 and President Yahya and Zulfiqar Ali Bhutto left Dhaka in secrecy.
As if to show that he was worthy of the part, Mujib gave what is undoubtedly his finest speech to his people on 7 March, stopping just short of independence, but claiming self-rule in almost all matters. Yahya Khan's response, once again was to scheme with Bhutto, and make a show of negotiations, bent as they were on keeping West Pakistan dominant in deciding the future of Pakistan. And so Mujib and his party kept negotiating with Yahya and Bhutto in good faith, even as the Pakistani army prepared themselves for a crackdown that would decisively and brutally neutralize Mujib and his party and ensure perpetuation of their hegemonic rule.
Arrested hours before Independence
On the night of 25 March 1971 the Pakistani army cracked down on innocent unarmed Bengalis in Dhaka in a military operation codenamed 'Operation Searchlight'. Moments after the crackdown Sheikh Mujib transmitted the declaration of Bangladesh on 26 March 1971 which was eventually read out to the whole nation by Major Ziaur Rahman the following day via Kalurghat Radio Station near Chotrogram (also known as Chittagong) – though there are many versions to this account of events.
26th March is thus celebrated as 'Swadhinata Dibosh' (Day of Independence).
In the early morning of 26 March 1971 - around 1.30 am - a Pakistan Army Special Services Group (SSG) team, reportedly dispatched by Gen. Mitha Khan and led by Major Zahir Alam Khan, raided Sheikh Mujib's Dhanmondi residence in Dhaka.
If I leave my house (Pakistani) raiders are going to massacre the people of Dhaka. I don't want my people to be killed on my account.

Sheikh Mujib reportedly told his followers who wanted him to flee ,
Sheikh Mujib was arrested on charges of treason for challenging the authority of the government of Pakistan and 'plotting to split the country' and was immediately flown to West Pakistan before the dawn of 26 March 1971.
The big bird in cage

The army radio message to the Dhaka Cantonment command and control centre which Gen. Tikka Khan had been occupying ,
Sheikh Mujib was arrested and taken to Pakistan after midnight via Tejgaon international airport on a PAF C-130 flight right under the noses of ATC Officer Squadron Leader Khaja, Senior Operations Officer Wing Commander Khademul Bashar and Director of Airport and Flight Security Squadron Leader M. Hamidullah Khan. All were on duty that night due to the state of emergency. Many other Awami League politicians avoided arrest by fleeing to India and other countries.
Did Sheikh Mujib collaborate with the Pakistani junta?
There are those who allege that Sheikh Mujibur Rahman had foreknowledge of his arrest and possible military crackdown on the 24th March 1971 - two days before the genocide. It is for this reason, they claim, that Sheikh Mujib had ordered his political associates and party leaders to leave Dhaka on 24 March 1971 even though Tajuddin Ahmad, Dr. Kamal Hossain and others were in talks with President Yahya's representatives in the Bangabhaban (President's House) to finalise a draft proclamation. They further allege that Sheikh Mujib and the Awami League became "paralysed and collapsed like a house of cards" under the intense pressure from the Bengali student demanding independence and the brute force of the Pakistani military. They conclude that the safe haven of a military arrest - during which Sheikh Mujib was taken to Jatiyo Sangshad Bhaban (National Assembly) and detained in the same room where he had been kept during the Agartala Conspiracy Case, and where he met with General Tikka 'Butcher of Bengal' Khan - would "relieve him of the responsibility of leading an armed struggle" as such it was mutually beneficial for him to cooperate with the Pakistani junta.
In fact, it was clear from what happened immediately afterwards that the object was not to arrest or kill the political leaders, including leaders of the Awami League, but was an all-out, indiscriminate, armed attack on the people to terrorize them, as well as the political activists. If they had wanted to arrest Awami League leaders before, they could easily have done so. It appears from the free movements of the Awami League leaders, on the 24 and 25 March, that they did not take any particular precautions whatsoever against possible arrests.

Badruddin Umar, author of "The Emergence of Bangladesh" (2004)
Others are less conspiratorial.
They claim that whilst the army was fanning out over the city of Dhaka to strike in the early eveing of 25 March 1971, Sheikh Mujib was in fact occupied with the process of issuing directives to get the jute exports moving again after the administrative paralysis of early March. The calmness that Sheikh Mujib projected when he learnt about the army crackdown on Awami League leaders, including himself, stems from his assumption that the situation was the exact replica of 1969.
On 22 February 1969 Sheikh Mujib and his members were freed after being detained in the Agartola Conspiracy Case. During subsequent weeks the situation was exactly the same as this time in March 1971 - peasant revolts in East Pakistan countryside, student curfews and demonstrations in Dhaka, negotiation by political powerhouses which included Sheikh Mujib, Zulfikar Ali Bhutto and Maulana Bhashani (just like 1971), Sheikh Mujib addressing huge public gatherings, and the country's regular bureaucracy coming to a halt in its activities. So there was nothing new, Awami League thought. In 1969 this sequence of events led to the resignation of then military ruler Ayub Khan, in 1971 the Awami League had waited for the same outcome on present military ruler Yahya Khan - as such there were no contingency plans at all in case Yahya Khan decided to crush Bangladesh by force.
The denouement (outcome) came on exactly the same day in both years, 25 March. In 1969 it was the imposition (burdensome demand) of martial law and temporary cessation (halt) of political activity, but soon afterward the Sheikh was able to resume his campaign for political autonomy. When the same pattern of events reappeared in 1971, he may well have thought that at worse there would be another period of martial law after which things would be back at the starting point. He was wrong. Instead of martial law came the slaughter of hundred of thousands.

Harry W. Blair, Analyst
Selected as President in absentia
Whilst held as a prisoner of war in the hands of Pakistan, Sheikh Mujib was named as President-in-absentia of the provisional government called 'Mujibnagar' (Abode of Mujib – i.e. named in his honour) Government which was formed on 10 April 1971 by the people's representatives to head the Swadhinata Juddho (Bangladesh Liberation War). He was also made the Supreme Commander of the Armed Forces.
In the meantime, in a bid to implement the West Pakistani military objective "The greens of East Pakistan have to be painted red", large number of military personnel inundated Dhaka, Chittagong, Sylhet, Jessore and other cities and towns around Bangladesh to "silence the kafirs". After a nine-month blood-soaked campaign of nationwide massacre where a reported 3 million Bengalis were killed – Inna lillahi wa inna illahi rajjiun (From Allah we come and to Him is our return) – Bangladesh was finally freed on 16 December 1971, known as Bijoy Dibosh (Victory Day).
Sheikh Mujib and his party leaders had ignored signs of the gathering storm and thus an unsuspecting, unprepared people were brutalized, the movement for autonomy stunned, and Mujib himself captured.
While the Pakistani army went on the rampage, Sheikh Mujib himself was kept under heavy guard in a jail near Faisalabad (then Lyallpur). Pakistani general Rahimuddin Khan was appointed to preside over Mujib's military court case in Faisalabad, the proceedings of which have never been made public. He underwent a trial at the end of which he was found guilty of trying to break up Pakistan and was awarded the sentence of death by hanging.
Though everything about the trial is shrouded in secrecy, it was learned last week that the proceedings are being held in a new, one-story red-brick jail in the textile city of Lyallpur, 150 miles south of Rawalpindi. Islamabad sources claim that the strict secrecy is necessary to prevent Bengali rebels from trying to rescue Mujib. More likely it is because Yahya is unwilling to give Mujib a public platform. When the sheik was tried in 1968, also on charges of treason stemming from his demands for East Pakistan's autonomy, the trial was aborted amid widespread antigovernment protests. But not before Mujib's British lawyer managed to make the government "look utterly silly", as one diplomat recalled.

A man of vitality and vehemence, Mujib became the political Gandhi of the Bengalis, symbolizing their hopes and voicing their grievances. Not even Pakistan's founder, Mohammed Ali Jinnah, drew the million-strong throngs that Mujib has twice attracted in Dacca. Nor, for that matter, has any subcontinent politician since Gandhi's day spent so much time behind bars for his political beliefs—a little over ten years.
Though Sheikh Mujib's courage and bluntness got him into trouble frequently in the past, at least his family was spared. This was not the case now. His younger brother, a businessman named Sheikh Abu Nasser was forced to flee to New Delhi with only tattered clothes on his back and his old parents – his father was 95 and mother 80 – were driven from their home by Pakistani troops and their house was burned and their servants shot dead.
Nasser did not know whether his wife and six children were dead or alive. He had hoped, he said, that Senator Edward Kennedy, who last week visited India's refugee camps on a fact-finding mission as chairman of the Senate Subcommittee on Refugees, might be able to learn their whereabouts. But the Pakistani government refused Kennedy permission to visit either East or West Pakistan. Kennedy, who trudged through mud and drenching rains, was greeted by refugees carrying hand-painted placards, Though Mujib is accused of advocating secession for East Pakistan, the fact is that he did not want a total split-up of Pakistan and never declared independence until it was done in his name after the bloodbath began. To keep his young militants in line, he spoke of "emancipation" and "freedom." "But there is no question of secession," Mujib often said. "We only want our due share. Besides, East Pakistanis are in a majority, and it is ridiculous to think that the majority would secede from the minority."