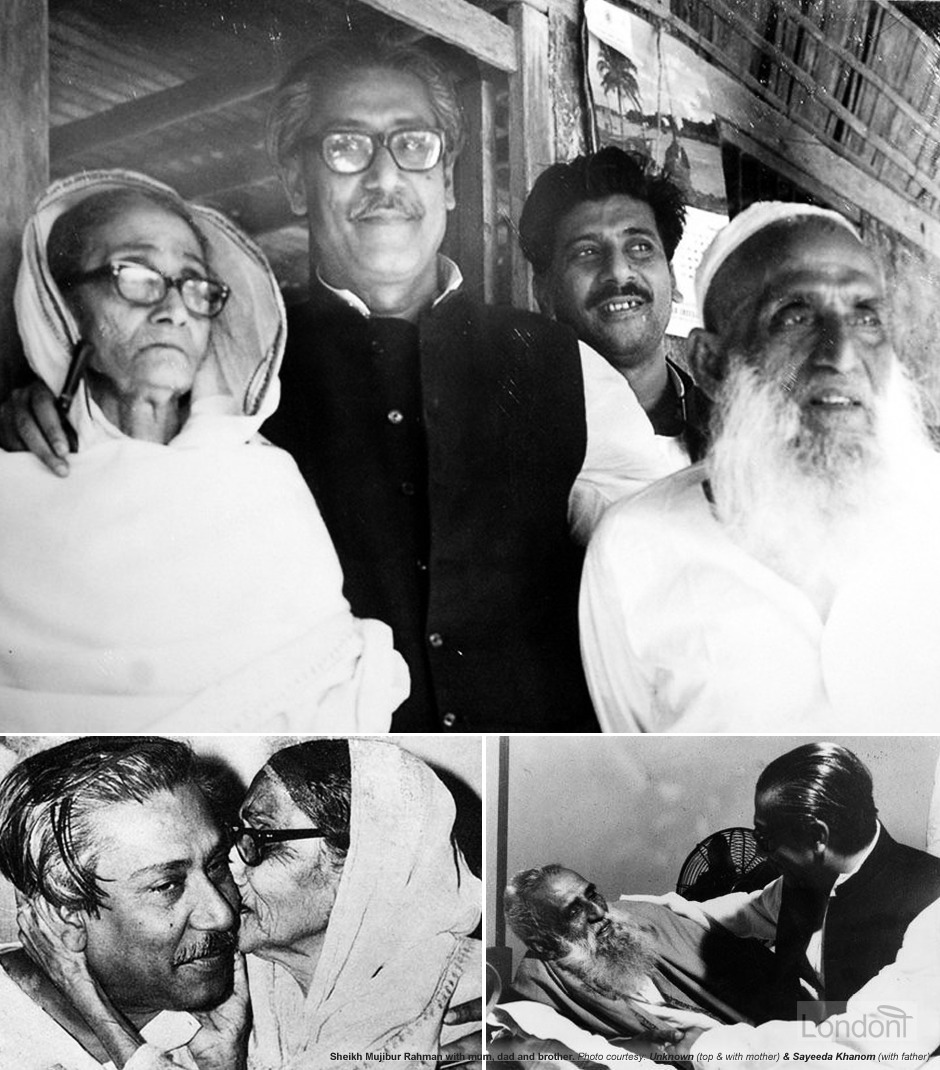 Early life of "khoka"
Sheikh Mujibur Rahman was born in the village of Tungipara, Gopalganj district, at a time when travelling from Faridpur to Gopalganj, a mere 40 miles distance, would take over a day. He was the third child of Sheikh Lutfar Rahman and Sayera Khatun. His mum and dad were paternal cousin - his nana (maternal grandfather), Sheikh Abdul Majid, was the elder brother of his dada (paternal grandfather), Sheikh Abdul Hamid. His grandfathers also had a young brother named Sheikh Abdul Rashid, known fondly by the ruling English as 'Khan Saheb', which is what the locals called him.
His nana had no sons and only had four daughters, thus he married off his youngest daughter Sayera Khatun to his bhatiza (brother's son) Sheikh Lutfar Rahman and gave her all the property. However, Lutfar Rahman was forced to leave education to provide food for the wider family. In those days Muslims had a tough time finding jobs. Ultimately, he managed to get a position in the Dewani court (Gopalganj civil court) where he eventually became a sherestedar (an officer responsible for record-keeping). The house that Sheikh Mujib grew up in was built by his father himself.
Sheikh Mujib had one brother, Sheikh Naser, and four sisters and his parents used to call him "khoka" (little boy) out of affection.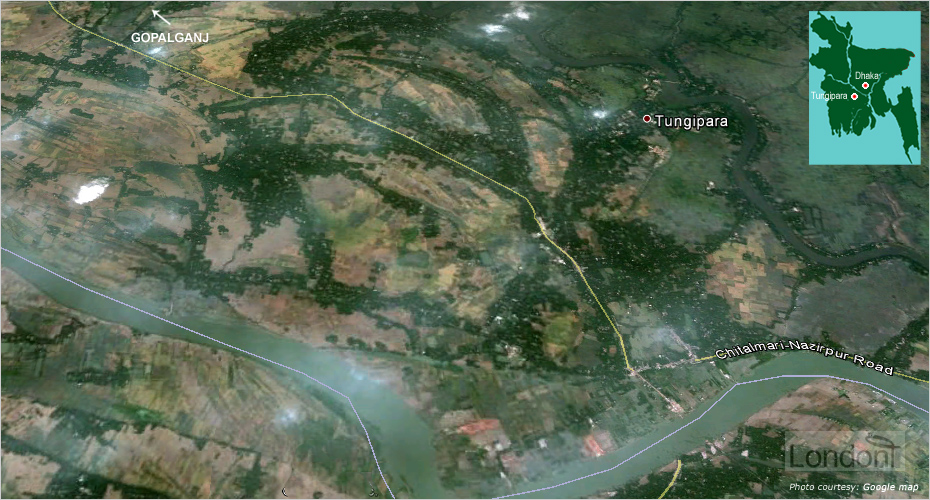 When he was seven years old Sheikh Mujib began his schooling at Gimadanga Primary School, and two years later was entered into 'Class Three' at Gopalganj Public School. However, he survived a severe infection at an early age that had left him with a weakened heart. In 1931, he entered Class Four at Madaripur Islamia High School, but the teenager had to be withdrawn from school in 1934, aged 14, to undergo eye surgery on one of his eye or risk becoming blind. He was admitted to Calcutta Medical College Hospital for the emergency eye operation.
I was scheduled for surgery at 9 am. I was so scared that I tried to run away but did not succeed. I was taken to the operating theatre for surgery on one eye. Within 10 days there was another surgery on the other eye. I eventually recovered but had to wear glasses from them on. That is why I have had glasses since 1936. I also had to discontinue studies for a while.
Socially-driven and sport-mad teenager
After the eye operation Sheikh Mujibur Rahman returned to Madaripur but had nothing much to do for some time. No studies and no sports. His only diversion was going to meetings in the evenings. This was the time of the Swadeshi Movement which had spread to every part of Madaripur and Gopalganj.
Madaripur's Purna Das was then terrorising the British and the Sheikh became inspired by this.
Boys who were still in their teens flocked to join it. When some of the party people saw me attending their meetings regularly they became interested in me. I began to harbour negative ideas about the British in my mind. The English, I felt, had no right to stay in our country. We had to achieve independence. I too became an admirer of Mr [Subhas Chandra] Bose and started to travel back and forth between Gopalganj and Madaripur to attend meetings. I also began to mix with the people in the Swadeshi Movement. That the then SDO [Sub-Divisonal Officer] of Gopalganj had cautioned my paternal grandfather, Khan Saheb, is a story I came to know later.
Sheikh Mujib finally returned to school but only after four years, owing to the severity of the surgery and slow recovery. He didn't go back to his old school as his friends had moved far ahead of him in their studies. So his father admitted him to Gopalganj Mission School and hired him a private tutor, Kazi Abdul Hamid, and set aside a room in the family house for the tutor.
Kazi Abdul Hamid was a great philanthropist. He established the Muslim Welfare Association, a society to help poor students in Gopalganj. He enlisted help of his students, including a young Sheikh Mujib, to collect alms from all over the Muslim part of the town for this cause. They would go door-to-door every Friday after Jummah and collect the donated rice and sell it and with the money help students buy books and meet examination and other expenses. Kazi Abdul Hamid also searched all over the town to find houses where these boys could stay, and would pay for their lodging by tutoring the children in the families. The Sheikh also did a lot of work for him. Unfortunately, Kazi Abdul Hamid suddenly died of tuberculosis so Sheikh Mujib took over and looked after it for a long time, aided by another Muslim tutor.
I was older than most boys in my class because of the four years I had lost due to my illness. I was a very obstinate [stubborn] boy. I had my own gang of boys. I would mercilessly punish anyone who offended me. I would fight a lot. If any member of my band was ever insulted we would pounce on the offender. At times my father would become fed up with my aggressive manner. Since we lived in a small town where all my deeds would eventually be reported to him, I was quite scared of my father. I was also scared of Mr Abdul Hakim Mia, another gentleman of the town, who was also my father's close friends as well as his colleague. He would either report our activities to my father or scold us himself. Even if we managed to escape my father's attention we failed to escape Hakim Mia's hawk eyes. We used to live on one side of the town and he on the other... His eldest son, Khondokar Mahbubuddin Ahmed, aka Feroz, was my friend. We were very close to each other. Feroz is now an advocate at the high court. We were such great friends that we felt miserable if we failed to meet each other every day.
Sheikh Mujib played sports a lot. He especially enjoyed playing football, volleyball and hockey. Although he wasn't very good at these, he used to play for the school team.
In school I was crazy about sports. However, my father tried to discourage me from playing since my heart wasn't strong. My father himself was a good sportsman. He was secretary of the Officers' Club. I was captain of the Mission School. When my team played father's club people were quite excited. Our school team was quite strong. We used to admit the best players of the region and exempt them from paying tuition fees.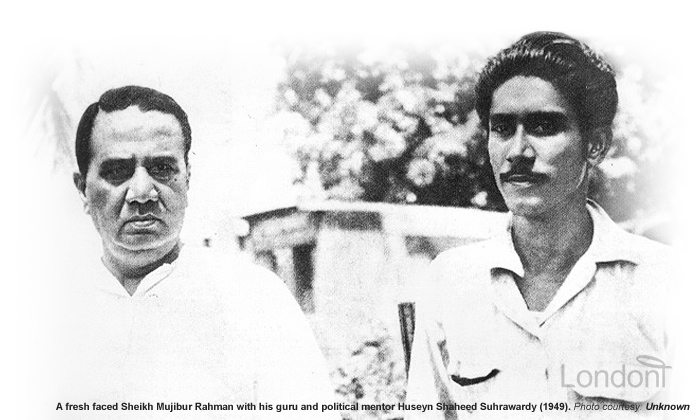 Inspired by Suhrawardy in politics
Sheikh Mujib became politically active in 1939 while he was a student at Gopalganj missionary school. He was barely 20-years-old when he first encountered Sher-e-Bangla A. K. Fazlul Huq, the Chief Minister of Bengal, and more importantly Huseyn Shaheed Suhrawardy, the Minister of Commerce, later chief minister of Bangla, co-founder of Awami League and finally prime minister of Pakistan, when they visited his hometown Gopalganj for a public meeting. Sheikh Mujib led a group of students to demand that the cracked roof of the school be repaired in preparation of their arrival.
A. K. Fazlul Huq (aka Sher-e-Bangla)

()

Huseyn 'Shaheed' Suhrawardy

()
The local Hindu boys were getting ready to disrupt the public meeting Fazlul Huq and Suhrawardy were supposed to address. Suhrawardy's eyes were attracted by the energetic member of the Muslim boys' volunteer brigade who was taking the lead in opposing them. The great politician then took down his name, Sheikh Mujibur Rahman, and address so that he could thank him personally later with a note sent from Kolkata. In the process, a connection was forged that would draw the youthful Mujib to the heart of the movement for Pakistan led by Suhrawardy in the waning days of the raj.
A year later, in 1940, Sheikh Mujib joined the Nikhil Bharat Muslim Chhatra Federation (All India Muslim Students Federation) and was elected to a one-year term.
Having passed his Entrance (currently SSC or Secondary School Certificate) Examination from Gopalganj Missionary School in 1942, he enrolled as an intermediate student (Twelfth Grade) at the Islamia College (now Maulana Azad College), Kolkata, a well-respected college affiliated to the University of Calcutta, to study Humanities. He lodged in the Baker Hostel and became active in student politics.
The day I passed my matriculation examination [aged 22] and went to Calcutta's Islamia College was the day my father collected his pension money and returned home.
Sheikh Mujib joined the (Bengal) Muslim League in 1943 and became immediately drawn to Suhrawardy's brand of politics and grew close to the Suhrawardy-Hashim faction led by him. During this period, Sheikh Mujib worked actively for the League's cause of a separate Muslim state of Pakistan and in 1944 participated in the conference of the All Bengal Muslim Students League held in Kushtia where he was elected secretary of the Faridpur District Association, a Kolkata-based organization of the residents of Faridpur. Two years later, he was elected General Secretary of Islamia College Students Union, and happened to be one of the Muslim politicians working under Huseyn Suhrawardy during the communal violence that broke out in Kolkata in 1946, just before the partition of India.
Suhrawardy became a political mentor and guru for Sheikh Mujib. This bond grew in part due to the paternal instinct of Huseyn Suhrawardy who had no sons of his own (only daughters) and therefore he groomed and guided Sheikh Mujib. They would go onto have a long and close relationship which ended in 1963 when Sheikh Mujib received Suhrawardy's dead body at Dhaka airport and was one of its pall bearer to the grave.
One tends not to remember that in the years leading to the partition of India, Mujib gave himself totally to the cause of Pakistan just as he gave himself entirely to Bangladesh after India had been bifurcated.
His political life began as a humble worker while he was still a student. He was fortunate to come in early contact with such towering personalities as Huseyn Shaheed Suhrawardy and A. K. Fazlul Huq, both charismatic Chief Ministers of undivided Bengal. Adolescent Mujib witnessed the ravages of the Second World War and the stark realities of the great famine of 1943 in which about five million people lost their lives.

This was also the time when he saw the legendary revolutionary Netaji Subhas Chandra Bose challenging the British raj. Also about this time he came to know the works of Bernard Shaw, Karl Marx, Rabindranath Tagore and rebel poet Kazi Nazrul Islam. Soon after the partition of India in 1947 it was felt that the creation of Pakistan with its two wings separated by a physical distance of about 1,200 miles was a geographical monstrosity. The economic, political, cultural and linguistic characters of the two wings were also different. Keeping the two wings together under the forced bonds of a single state structure in the name of religious nationalism would merely result in a rigid political control and economic exploitation of the eastern wing by the all-powerful western wing which controlled the country's capital and its economic and military might.

The Daily Star (Bangladesh)