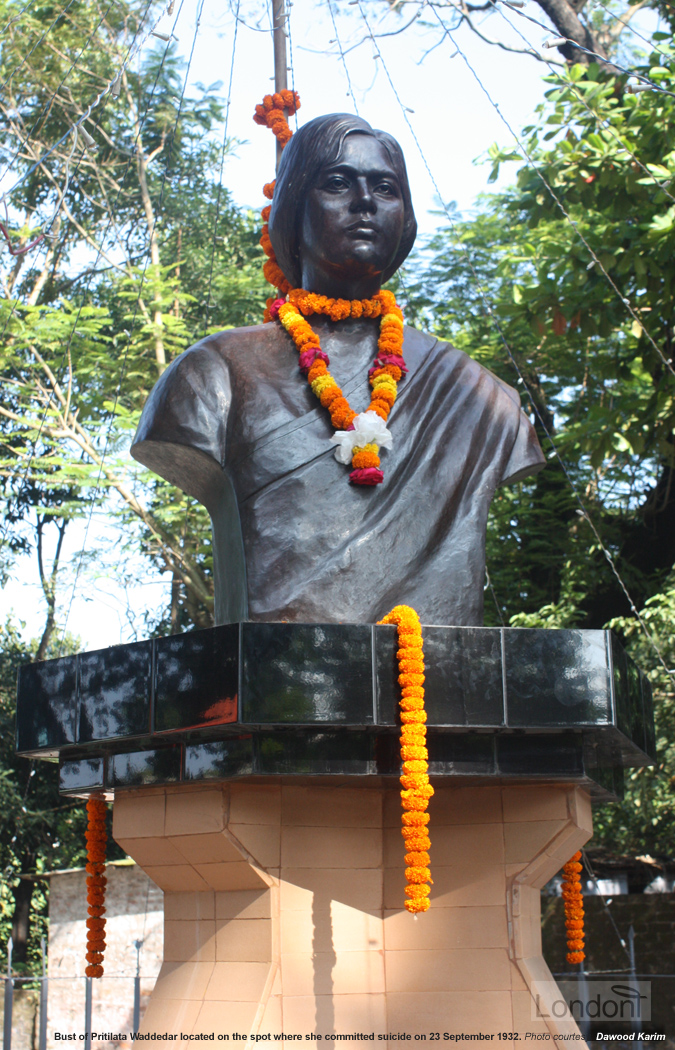 Bronze statue of Pritilata Waddedar & Surya Sen adjacent to the former European Club
On 2 October 2012 - on the occassion of 80th Death Anniversary of Pritilata - a bronze sculpture of Pritilata Waddedar [and Surya Sen?] was installed in front of Pahartali Railway School, adjacent to then European Club, as a tribute to her martyrdom in 1932.
The artwork was produced by internationally famed sculptor Gautam Pal of West Bengal, India, based upon a photography of Pritilata. The statue uses a traditional sculpture technique and is cast in bronze.
Gautam has created several outstanding bronzes of Mahatma Gandhi, Mother Teresa, Rabindranath Tagore and other leading personalities. Several of these statues have been installed outside India including in the United Kingdom, Italy, Russian Federation and China.
Pritilata's sculpture was unveiled around 4 pm by Chittagong City Corporation Mayor, Md Manjur Alam, who played a key role in bringing the statue from Kolkata.
The unveiling was accompanied by a cultural programme where artistes such as Rakta Karabi, Udichi, Proma, Bodhan and Charon took part.
After the creation of Bangladesh in 1971, the European club had been used as part of the office of the Divisional Engineer-1 and 2 of Bangladesh Railway. This continued till the early 1990s. Therefore it was difficult to pinpoint the exact spot where the original club had existed and where Pritilata had sacrificed her life.
Nevertheless, this didn't stop passionate and patriotic local youth to commemorate her achievement. They sought the support of the then divisional engineer of Railway and erected a memorial stone at the place at the end of the 1990s. However, in time the memorial stone became neglected much to the disappointment of the locals. Also foreign visitors to the historical site were left frustrated by the memorial plaque written solely in Bengali which had very little historical information of the movement and Pritilata's sacrifice.
Many social and cultural organisations in Bangladesh publicly spoke against the lack of government initiative to preserve the legacy of Pritilata. These organisations included Samajtantrik Mohila Forum (SMF), Samajtantrik Chhatra Front, Charon Cultural Centre and Shishu Kishore Mela. They launched a series of programmes demanding erection of a sculptor of Pritilata Waddedar at the spot and greater effort by the government to spread knowledge of her achievement to the younger generation.
We had a long campaign and movement to install the statue. Eminent personalities of the city also expressed solidarity with the movement.

A memorandum with around 15,000 signatures by both ordinary people and eminent personalities was handed over to CCC Mayor on April 24, 2011 after a yearlong campaign.

CCC Councilor Jannatul Ferdous, who is also vice-president of SMF,
Amongst the dignitaries was Binod Bihari Chowdhury who was the convener of the Committee to Observe 80th Death Anniversary of Pritilata. Binod praised the effort of the young people of the city and the Mayor which made the installation possible.
I would like the history of courageous struggles of women like Pritilata to be disseminated to all corners of the country through such initiatives.
Mayor Alam also expressed his joy at the installation of the bronze bust sculpture which had been a long standing demand of the people. He said it was a matter of pride for him that it had been installed in his tenure. The city Mayor also urged railway authority to name the road as "Biplobi Sharak" (Revolutionary Road).
If we do not safeguard the legacy of great characters like Pritilata, the next generation will forget our golden roots.
'Pritilata Hall' in University of Chittagong and Jahangirnagar University
University of Chittagong
University of Chittagong (also known as Chittagong University, or just CU, and in Bangla 'Chittagong Bishobiddaloi'), the third largest university in Bangladesh with more than 17,000 full-time students, has named one of it's female dormitory in honour of Pritilata Waddedar. The 'Pritilata Hall' is one of the four female halls of residence within the university and accommodates around 531 students. In total there are 10 halls of residence (6 for male, 3 for female, and 1 for both) housing over 3,500 students. One of its male hall of residence is named after Surya Sen, 'Masterda Surjasen Hall'.
The administration of the hall is headed by a 'Provost' who is assisted by a number of 'House Tutors'.
For male students:
Alaol Hall (with a capacity of 259) =
A. F. Rahman Hall (257) =
Shahjalal Hall (475) = named after mystic Shah Jalal
Suhrawardy Hall (375) = named after Huseyn Suhrwardy
Shah Amanat Hall (632) =
Shamsunnahar Hall (two wings) (676) =
Shaheed Abdur Rab Hall (509) =
For female students:
Masterda Surjasen Hall (204) = named after Surya Sen
Pritilata Hall (531)
Deshnetri Begum Khaleda Zia Hall (500) = named after Khaleda Zia, wife of Ziaur Rahman and first female Prime Minister of Bangladesh
Jahangirnagar University
Another prestigious university is the Jahangirnagar University (JU, known as 'Jahangirnagar Bishobiddaloi' - or just JB - in Bangla), located in Savar, 30 km north-west of the capital Dhaka. It is the only one fully residential university in Bangladesh.
The university was established in 1970 by the then Government of Pakistan prior to the creation of Bangladesh. The Master Plan for Jahangirnagar University, along with its students' hostel, Readers Quarters, and Fourth Class Employees, was produced by prominent architect Muzharul Islam, known as the Father of Architecture in Bangladesh.
The university has over a dozen halls of residence and one of its female dormitory is called 'Pritilata Hall' in honour of Pritilata Waddedar. Like all halls of residence within JU, the Pritilata Hall has its own administration system headed by a provost and is equipped with facilities like playground, rooms for indoor games, the dining hall etc.
For male students:
Al Beruni Hall = the oldest dormitory of the campus, named after Abū Rayḥān al-Bīrūnī,it also has a extension building
Mir Mosharraf Hossain Hall = named after Mir Mosharraf Hossain
Shaheed Salam-Barkat Hall = named after two language martyrs of the Bengali Language Movement
A. F. M Kamaluddin Hall = named after one of the ex-Vice Chancellors of Jahangirnagar University Dr. Prof. A.F.M Kamaluddin, a geographer, who died prematurely
Moulana Bhashani Hall = named after Maulana Abdul Hamid Khan Bhashani
Bangabandhu Sheikh Mujibur Rahman Hall = named after Sheikh Mujibur Rahman
Shaheed Rafiq-Jabbar Hall = named after two language martyrs of Bengali Language Movement
For female students:
Nawab Faizunnesa Hall = named after the female educator Nawab Faizunnesa Choudhurani (1834-1903)
Fajilatunnesa Hall = named after the first Bengali female graduate in mathematics from University of Calcutta
Jahanara Imam Hall = named after Jahanara Imam
Pritilata Hall = named after Pritilata Waddedar
Begum Khaleda Zia Hall = named after Khaleda Zia, wife of Ziaur Rahman and first female Prime Minister of Bangladesh
Sheikh Hasina Hall = named after Sheikh Hasina
University degree for her and Bina Das received 80 years after death
Around November 2011 the Chittagong Parishad, an organisation of which most of the Bengali revolutionaries were members in those days and exists even to this day, alerted Calcutta University that degrees of Bina Das and Pritilata Waddedar were yet to be conferred after the British government withheld it in the 1930s. The then chancellor of the university, Governor M. K. Narayanan, asked the university to check their records dating back to 1932. The records proved that despite passing out with flying colours, Bina and Pritilata's degrees were withheld by the British authorities as a punishment for their daring act in Calcutta and Chittagong respectively.
Thus in 2012 - more than 80 years later - Bina Das and Pritilata Waddedar were awarded posthumous degrees.
We were instructed by the chancellor to prepare certificates for the two freedom fighters so that these could be posthumously given to them. The chancellor will receive the degrees on their behalf as a mark of our respect and duty to the nation.
No member from their respective families were present to accept the degrees on their behalf. Instead, the certificates were received by the state government and preserved in the university.
"Khelein Hum Jee Jaan Sey" (2010) and "Chittagong" (2012) film
In popular media two full-length feature Hindi film has been made in India based on the Chittagong Armoury Case: "Khelein Hum Jee Jaan Sey" (2010) and "Chittagong" (2012).
"Khelein Hum Jee Jaan Sey" by Oscar-nominated director
"Khelein Hum Jee Jaan Se" (We Play with Life and Heart) starred Abhishek Bachchan - son of Bollywood legend Amitabh Bachchan - Deepika Padukone and Vishakha Singh who played the character of Surya Sen, Kalpana Datta, and Pritilata Waddedar respectively.
This action-adventure was directed by Ashutosh Gowariker, who is famed for directing epic, historic and patriotic movies such as Lagaan (2001), Swades (2004), and Jodhaa Akbar (2008). Lagaan was Oscar nominated in 2002 for the Academy Award for Best Foreign Language Film.
The film was based on the 1999 book 'Do And Die: The Chittagong Uprising 1930–34' by Indian author Manini Chatterjee, who was the daughter-in-law of Kalpana Datta. The book was awarded the Rabindra Purashkar Award in 2000.
Khelein Hum Jee Jaan Sey was shot mostly in Goa along with portions in Mumbai. It was released on 3 December 2010. Though the film received high praise from film critics, it was a disaster in box office. This was not a big surprise as the lead actor Abhishek Bachchan had a poor past office track record. Nevertheless, the film is considered an asset to Bollywood due to its content and subject matter. It was nominated in the 'Best Story' category in the 2011 Zee Cine Awards while Vishakha Singh received a Best Newcomer nomination from Stardust Awards (2011) for her portrayal of Pritilata Waddedar.
KHJJS [Khelein Hum Jee Jaan Sey] is a small obscure story, lost in the annals of history to the far more flamboyant martyrdom's this country has witnessed. But it has a big heart. It does not manipulate and lull you with fancy cinematography. The character's are matter of fact almost to the point of being one dimensional. No cutesy asides of childhood. You are never exposed to their personal lives, barring brief episodes of the boys taking money for the cause from their parents. Even our hero Surjya Sen does not have obscene amounts of reel wasted on close up's or flatteringly lit shots. There is nothing poetic about him. In fact at one point he almost is unlikeable. How does a man sacrifice children and women to a cause and continue hiding and plotting and saving himself. I wanted to see him do the brave thing, walk out ans surrender so the lives of the young conspirators would be saved. Nothing of the sort happens. Surjya lives the cause 'Kranti'. He lives to fight another day and that is why he in essence lives. He is hard this Masterda, even the adoring gazes from the beauteous Kalpana do not deter him. Relegated to the background for a large portion of the movie, it is not a quintessential hero's role. I am proud of Abhishek for taking it on. The director is a man who has an important story to tell and he does not waste time in getting down to it. The dialogues literal, no romantic speeches on 'desh bhakti'. In short for an audience that is pampered with plush locations, nuanced dialogues and breathtaking cinematography this film comes across as rather stark. I am a weeper, it takes very little to make me cry. I sat through the entire movie dry eyed, barring the climax. But I watched, I understood and most importantly I thought.

...My daughter turns 13 in two days and she would not have known a day of struggle, and I pride myself as a parent that she doesn't need to, that her needs are met. This luxury is hers because many mothers lost their sons to the struggle for independence, with equal amount of pride. How many of us have forgotten and forgotten so easily. How callously we have moved on and let our nation fall into such disrepair and disrepute it angers me, it embarrasses me, it shames me. If a movie makes you think, makes you question then to me it is movie well worth watching.

I walked into KHJJS an anxious sister, I walked out an Indian.

Allow this movie to convert you the way it did me.

Shweta Bachchan, daughter of Amitabh Bachchan and sister of Abhishek Bachchan
"Chittagong" wins a prestigious National Film Award (India)
Two years after Khelein Hum Jee Jaan Sey another Hindi film was released based on the uprising: 'Chittagong'. It was only the first film of producer, director and main writer Bedabrata Pain. This time Vega Tamotia played the role of Waddedar while acclaimed actors Manoj Bajpayee and Nawazuddin Siddiqui played Surya Sen and Nirmal Sen respectively.
The film follows the journey of a 14-year-old boy called Jhunku who joins the freedom movement and fights against all the odds to win a victory of his own.
Chittagong was released on 12 October 2012 and won huge critical praise. Bedabrata Pain was awarded with India's 60th National Film Award for the Best Debut Film of a Director.