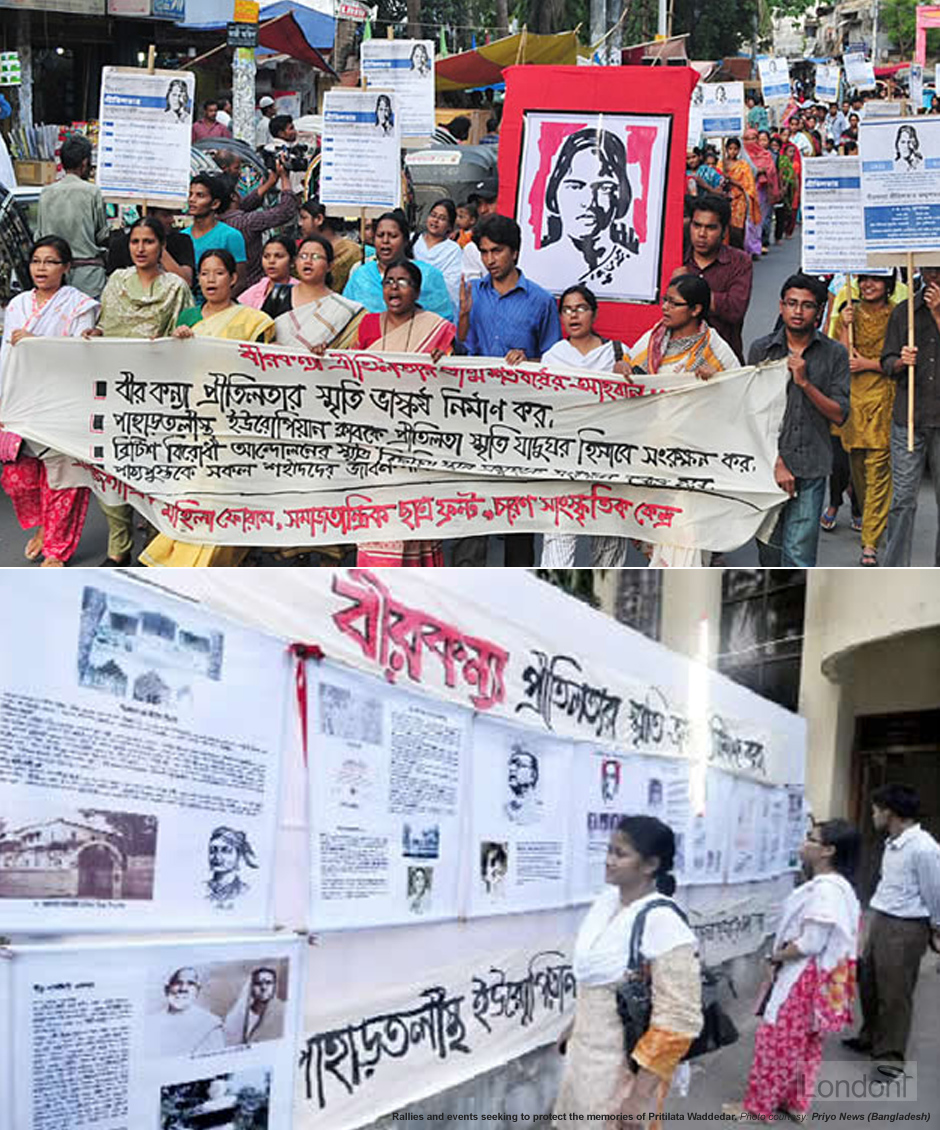 Fading memory
Sadly in Bangladesh, like many countries around the world, the promotion and celebration of historical event and historical figures for much part depends on the political party who is in power.
Those that fall outside the circle of interest get very little press coverage. This has been the case for Pritilata Waddedar, a Hindu.
Nevertheless, there are growing demand from prominent Bengali people and organisations - regardless of their faith - to preserve a truthful account of Bangladesh's rich and long history. Many such people and organisations, such as Prof. Jamal Nazrul Islam, Jannatul Ferdous Popy, Apu Das Gupta, Charon Sangskritik Kendra, Samajtantrik Chhatra Front and Samajtantrik Mahila Forum, have made active effort to preserve and promote the gallant contribution of Pritilata. This included organising rally at Shaheed Minar premises marking the 79th death anniversary of Pritilata. Speakers at the rally urged the Bangladesh Government to preserve Pahartali European Club as a memorial museum on Pritilata Waddedar since the club is "the testimony of the anti-British struggle". They also urged the government to include the biography of Pritilata and other revolutionaries in school textbooks so the younger Bengali generation can know of their great contribution, be proud of their achievement, and learn the history of the nation's struggles.
They feel it's compulsory for the younger generation to know of brave Bengali female such as Pritilata who "became a symbol of female power, an ideal of the need for gender equality and the ability of women to be an important part of all movements alongside men".
Women are being neglected in our history as our society is patriarchal.
Other efforts to increase awareness of Pritilata has come from socio-cultural organisations such as Shishu Kishor Mela which organised a photo exhibition, cultural programme and a discussion at Pritilata's old schools of Dr Khastagir Government Girls High School, where she studied, and Aparnacharan Balika Uccha Biddaloy, where she was the headmistress, during her death anniversary.
Elsewhere, Bangladesh Samajtantrik Dal (BSD) marks her birthday by organising programmes of placing wreathes at the Pritilata monument at Pahartali, discussion, rendition of patriotic songs, recitation of poems, and reading letters of Pritilata at various premises of Chittagong city.
"Bir Kannya Pritilata Trust", a trust founded to promote the life and achievement of Pritilata Waddedar, also holds regular function and events and invite prominent guests from Bangladesh and India throughout the year to mark special occassion. During the 79th death anniversary Pritilata Trust observed the day at Dhalghat in Patia upazila where Assistant High Commissioner of India Shomnath Ghose was present as the chief guest.
'Pritilata Bhavan' & 'Pritilata Shaheed Dibosh' honours by Bethune College, Kolkata
On 26 August 2010 the Chief Minister of West Bengal, India, inaugurated a year long Celebration of the Birth Centenary of Pritilata Waddedar at Bethune College, Kolkata, where the former freedom fighter was an alumni.
A new building had been named "Pritilata Bhavan" (House of Pritilata) as part of the inauguration.
On the same day an international seminar and exhibition on "Pritilata Wadder, Bethune College and Revolutionary Movement in colonial Bengal" was initiated by the Department of History, Bethune College in collaboration with Directorate of State Archives, Higher Education Department, Government of West Bengal.
The next day an inter-college essay and extempore speech competition was held.
On the occassion of the 78th death anniversary of Pritilata, in 24 September 2010, the day was observed as "Pritilata Shaheed Dibosh" (Pritilata Martyr Day) and a seminar on "Woman in revolution" was organised. This was followed by a student seminar on 5 May 2011.
'Bir Kannya Pritiltata Trust'
A trust named 'Bir Kannya Pritilata Trust' (Brave lady Pritilata Trust) has been founded in her memory. The trust considers her to be "a beacon of light for women".
Every year the trust celebrates Pritilata's birthday in different places of Bangladesh and India.
'Pritilata Waddedar Sarak'
The last end of Sahid Abdus Sabur Road to Mukunda Ram Hat of Boalkhali upazila in Chittagong has been named as 'Pritilata Waddedar Sarak' (Pritilata Waddedar Road).