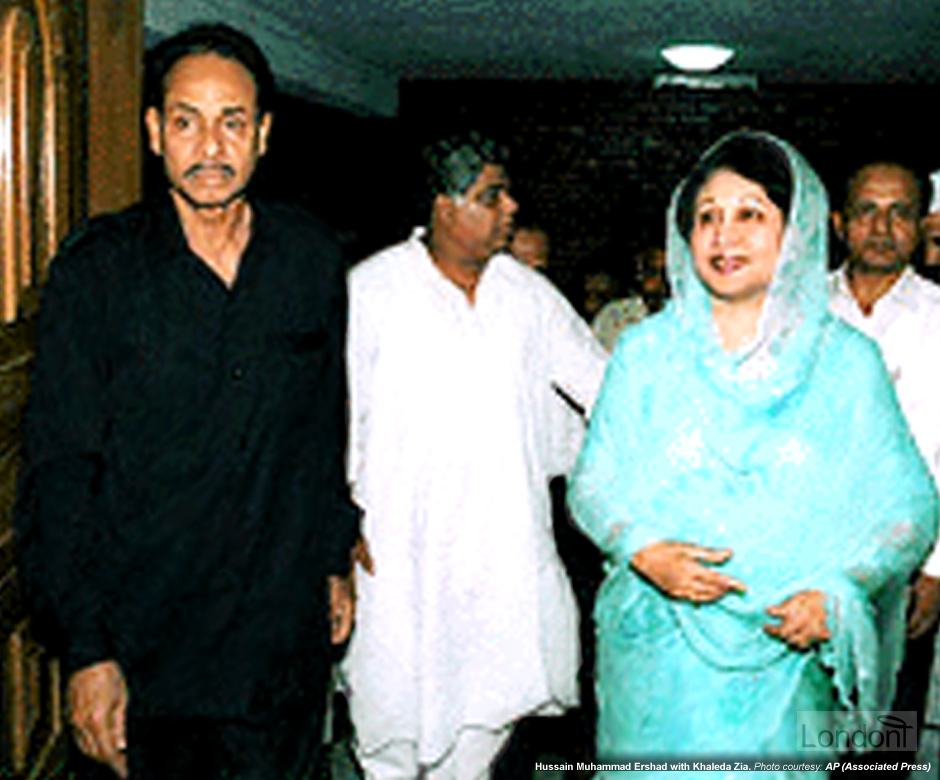 Was Hussain Muhammad Ershad involved in President Zia's killing?
Lack of security pre-planned by COAS Ershad?
Some conspiracy theorists - which includes Major General Syed Muhammad Ibrahim, a Bir Protik who defended the 13 officers accused of President Zia's murder in July 1981 - speculate General Manzoor was used as a scapegoat and Chief of Army Staff Ershad himself was behind the killing of President Zia. These theorists suggest that a host of repatriate Generals and politicians in Dhaka may have set General Manzoor up to kill Zia, leading him to believe that they would support him once the deed was done. By first encouraging Manzoor and later abandoning him after he had carried out the assassination, according to this theory, they were able to get rid of the last two freedom fighter Generals who stood in the way of the repatriates claiming power exclusively for themselves. This theory accounts for the lack of security around President Zia as something designed by the conspirators. The conspirators point to the fact that a coup could not have been organised from Chittagong, without also securing the capital city of Dhaka - which Ershad controlled.
Zia's decision to stay the night in the extremely vulnerable Circuit House (it is located on a hill and has no place for cover) is similarly explained as being arranged by Zia's security men as part of the plot. The death of Manzoor before he could be put on trial and the disappearance of Manzoor's tape-recorded statement are viewed as the logical culmination of a scheme that was carried out with cold-blooded efficiency.
It is also speculated that Chief of Army Staff Ershad gave his support to Acting President Sattar only because of the clear, national revulsion against the assassination of Zia.
However, where President Zia's security was concerned, General Ershad responded to the criticism by pointing out that the responsibility for the protection lied with the police and not him since Ziaur Rahman was a 'civilian president'.
General Zia was president at that time - civilian president, not army. His safety and security was not my responsibility. [It was] The responsibility of the civil government. They did not protect him. They did not give him security.
However, Major General Muhammad Ainuddin, a Bir Protik and one of the co-defendent of Ziaur Rahman's alleged murderers along with Syed Muhammad Ibrahim, responded to Ershad's deflection by saying that his remark was "not fully true".
When the President, the seat of the Government, goes outside Dhaka then it's the duty of the Chief of Army Staff [occupied by Ershad] to oversee the President's safety and security. Therefore, by saying that it was the responsibility of the police [Ershad] cannot avoid his responsibility. It was his responsibility.

President Ziaur Rahman died in Chittagong Circuit House and Chittagong Circuit House falls within the territorial limit of the cantonment. Therefore when the President visits anything falling within the cantonment boundary then the safety and security falls on the local area commander or the General Officer Commanding (GOC). If the GOC is responsible for this then so is the Chief of Army Staff.

Major General Muhammad Ainuddin says Ershad should take responsibility for lack of security
General Mir Shawkat Ali concurred with the views held by General Ibrahim and General Ainuddin.
Ershad's lawmaker openly declares that Ershad killed Zia and it was 'justified'
On 16 October 2010 a lawmaker of Ershad's Jatiya Party, Nasim Osman, claimed that Hussain Muhammad Ershad was behind the killing of Ziaur Rahman.
Nasim is alleged to have made the comment at a function held on Madanganj Model Govt Primary School premises in his suburban Narayanganj constituency where he was the chief guest. A shocked audience also heard Nasim - whose family is known to be strong supporter of Awami League and one of his brothers was a former party lawmaker - openly accuse Ziaur Rahman of being the 'mastermind' behind the the assassination of Sheikh Mujibur Rahman on 15 August 1975 and as such his own assassination in the hands of Ershad was 'justified'.
Ziaur Rahman was killed by (the then army chief) General Ershad and not General Manzoor.

Bangabandhu murder trial was actually done on 30 May 1981 with the killing of Zia as he was the man behind the killing of the Father of the Nation.

...Do you know why I'm in Jatiya Party of Ershad? It's because the work I was to do, was done by him (Ershad as he had killed Ziaur Rahman).
Nasim Osman

()
Nasim's controversial remarks were printed in the Samokal newspaper and received wide coverage. Ershad and his secretaries were unable for comment when news reporters tried to get in touch with them.
Ershad, whose Jatiya Party is now a crucial ally of Awami League, hung up the phone when he was approached for comments by PTI. His press secretary and party secretary general also kept their phones switched off apparently to evade questions from newsmen.
Khaleda Zia never accused Ershad - at least not in public
It has never been proven in any court of law whether Hussain Muhammad Ershad had any part in Ziaur Rahman's assassination. This was also the case even when Zia's widow, Khaleda Zia, was in power in 1991-1996 and again in 2001-2006. Her BNP party have also in the past joined up with Ershad's Jatiya Party to oppose the Awami League.
Ershad even alloted two houses in Dhaka - one in the affluent Gulshan area, another in Dhaka Cantonment - to Khaleda Zia and her two sons. The family was also given 10 lakh taka, 1,500 taka a month in bursary to facilitate studies of the sons until 1986, and one vehicle with fuel and a driver. But the bungalow at 6 Shaheed Mainul Road in Dhaka Cantonment became the centre point of controversy when the Awami League-led government forced them to evict the premise in November 2010.
Ershad allotted the house to [Khaleda] violating law to make his bhabi (sister-in-law) (Khaleda) happy.
However, though she had never made any open or public accusation, Khaleda Zia allegedly in private discussion held Ershad responsible for her husband's killing.
Though mystery will surround the killing of Ziaur Rahman, what is clear is that Ershad benefited from the killing of Ziaur Rahman, in the same way Ziaur Rahman had benefited from assassination of Sheikh Mujibur Rahman. Ershad came to power less than a year after Ziaur Rahman's killing and became the President of Bangladesh. His meteoric rise from a military man to the highest post in Bangladesh civil government was much like Ziaur Rahman post Sheikh Mujib's killing.