30 May 1981 - killed in the same city from where he gave Declaration of Independence
On 29 May 1981 President Ziaur Rahman arrived in Chittagong at 10.10 am by a special Bangladesh Biman flight and held meetings with BNP leaders throughout the day, and addressed a group of civic leaders.
'Lightly' guarded
Ziaur Rahman had taken only 15 personal bodyguards with him to Chittagong. Neither these people nor a few dozen policemen guarding the Circuit House were armed with anything more sophisticated than common pistols or rifles.
Given the number of threats that the intelligence services had become aware of, and the bad relations between him and Major General Manzoor, it was puzzling as to how Zia had managed to get himself stuck in Chittagong without sufficient security to protect him from army officers who had been increasingly hostile over the previous year.
Most of Zia's security and intelligence officers had been cautioning him for months to be more careful, but Zia, who had been trained in intelligence by the Pakistan Army, seemed to prefer less and less security as his regime wore on. Foreign correspondents, diplomats and government officials were seldom if ever check when they entered Zia's home, office, airport lounge or aircraft; the President travelled to the most remote villages by helicopter, with only one other helicopter as escort and with only two or three bodyguards accompanying him.

Many saw the relaxation as part of a dramatic attempt on Zia's part to become a truly civilian politician.
...Supremely confident of himself and his ability to overcome crises, Zia never paid any attention [to intelligence agency warnings]. He had, after all, survived numerous attempts , starting from the early days of the war of independence when... he barely escaped a Pakistani plan to eliminate him. He could not let a group of hot-headed officers disrupt his plans to build a 'new Bangladesh'.

Syed Mahmud Ali, author of "The Demise of Zia" ()
Killed in pyjamas as bullets rained in on face and chest
The Circuit House was stormed by three coordinated strike teams of army officers, following a plan worked out and authorised by Major General Abul Manzoor. Major Manzoor may have been planning a coup for some time, but it's more likely that he and a group of young officers had put this assassination effort together within the space of a few days. In total, 20 officers - which included Brigadiers, Colonels, Majors, Captains and one Lieutenant - came to kill Zia. Major Manzoor was not among them.
They arrived in the midst of a torrential downpour that had started shortly after midnight in two vehicles, without supporting soldiers. Zia's security offered little resistance. Forty or fifty (40 or 50) armed police on the grounds of the Circuit House had taken shelter from the rain by the time the military officers arrived. A few reacted quickly to the shelling and offered immediate resistance to the attackers. The others were reportedly unsure whether the army jeep coming up the driveway contained soldiers who were trying to help or kill the President.
Fifteen of the attackers shelled the Circuit House from a distance with two rockets that hit below Zia's room, engulfing that portion of the building in smoke while the other five machine-gunned their way up to the second floor in search of the President. Only two of Zia's bodyguards were reported to have resisted the attacking officers and two of the attackers were injured. In the initial assault, seven of the people in Circuit House - including 3 of Zia's bodyguards, 2 aides, an electrician and a telephone operator - were killed. On the grounds of Circuit House, one policeman was killed and 8 other policemen injured.
As the attackers ran through the Circuit House shouting, "where is the President?" Zia emerged from his room in his pyjamas to personally confront the killers. He was shot down instantly by Lieutenant Colonel Motiur Rahman with a salvo from an automatic weapon.
Motiur Rahman

()
Zia exposed himself to his attackers by leaving his room to personally confront them. Had he remained in his suite or locked himself in his bathroom, he might have given his bodyguards and the police the additional increment of time that would have been necessary to repel the attack. Some security people have speculated that Zia may have come out of his room to lead the attack because he had mistakenly thought that his attackers were still out on the driveway rather than on the stairs leading up to his suite. Most people close to Zia explain his actions as being his natural instincts, which were to charge headlong into a fight rather than run or hide from it.
An autopsy indicated that at least 21 and perhaps as many as 27 bullets entered Zia's body, primarily in his face and chest. Several other people in Zia's party were unharmed; no attempt was made to search out and kill anyone but Ziaur Rahman. The entire operation lasted less than 20 minutes.
The Zia era ended, as it had started, in blood.

There had been several thwarted threats, and at least one actual attempt, on Zia's life in the months leading up to the assassination. The intelligence agencies were particularly wary of danger to Zia in Chittagong because of the bad blood between him and Manzoor. Why he was so lightly guarded is not clear. The usual conspiracy theories are in evidence, especially those putting General Ershad at the center of the conspiracy. Zia's widow is said to have suspected such a conspiracy; on the other hand, Zia's personality may be an equally reliable explanation.
Bir Uttam Ziaur Rahman, who fought on the ground-level for nine months non-stop to make Bangladesh independent, was only 45-years-old when he was murdered. He left behind wife Khaleda Zia (who would later become the first lady Prime Minister of Bangladesh), and two young sons, Tarique and Arafat Rahman.
Tarique Rahman

()

Arafat Rahman

()
Lack of support for General Abul Manzoor
Unlike 1975, when most Awami League Ministers crossed over and supported the young majors who killed Sheikh Mujibur Rahman, Hussain Muhammad Ershad and every other officer outside Chittagong responded to news of Ziaur Rahman's death by swearing allegiance to the constitutional government in Dhaka. Vice-President Abdus Sattar was dragged out of his bed at Combined Military Hospital in Dhaka at 6 am and taken straight to the President's palace where he was sworn in as Acting President. Ershad and several Cabinet Ministers were present at the swearing-in ceremony. Prime Minister Shah Azizur Rahman was in Kushtia but returned to Dhaka within a half-hour after receiving news of the assassination. The Cabinet assembled at 9 am 30 May 1981, initiating the post-Zia phase of Bangladesh politics barely five hours after he was dead.
Shah Azizur Rahman

()
Ershad remained loyal to the Zia's government and ordered the army to suppress the coup. Army units loyal to the Dhaka government were sent to Chittagong to storm the rebellious military garrison and restore order. In the meantime General Manzoor had ordered all road, air and rail links between Chittagong and the rest of the country to cut off as a way of forcing the government in Dhaka to capitulate before him.
It did not occur to him that minus the port city, the country could survive.
It was not until its noon broadcast on 30 May 1981 that Dhaka Radio blamed General Manzoor for the killing.
Manzoor must have expected support from military and civilian leaders in Dhaka, as happened in 1975 when Sheikh Mujib was killed. But Zia was far more popular than Sheikh Mujib at the time of his assassination, and Manzoor foolishly - madly - tried to stage a coup from a peripheral area like Chittagong without any semblance of a base in the capital city of Dhaka.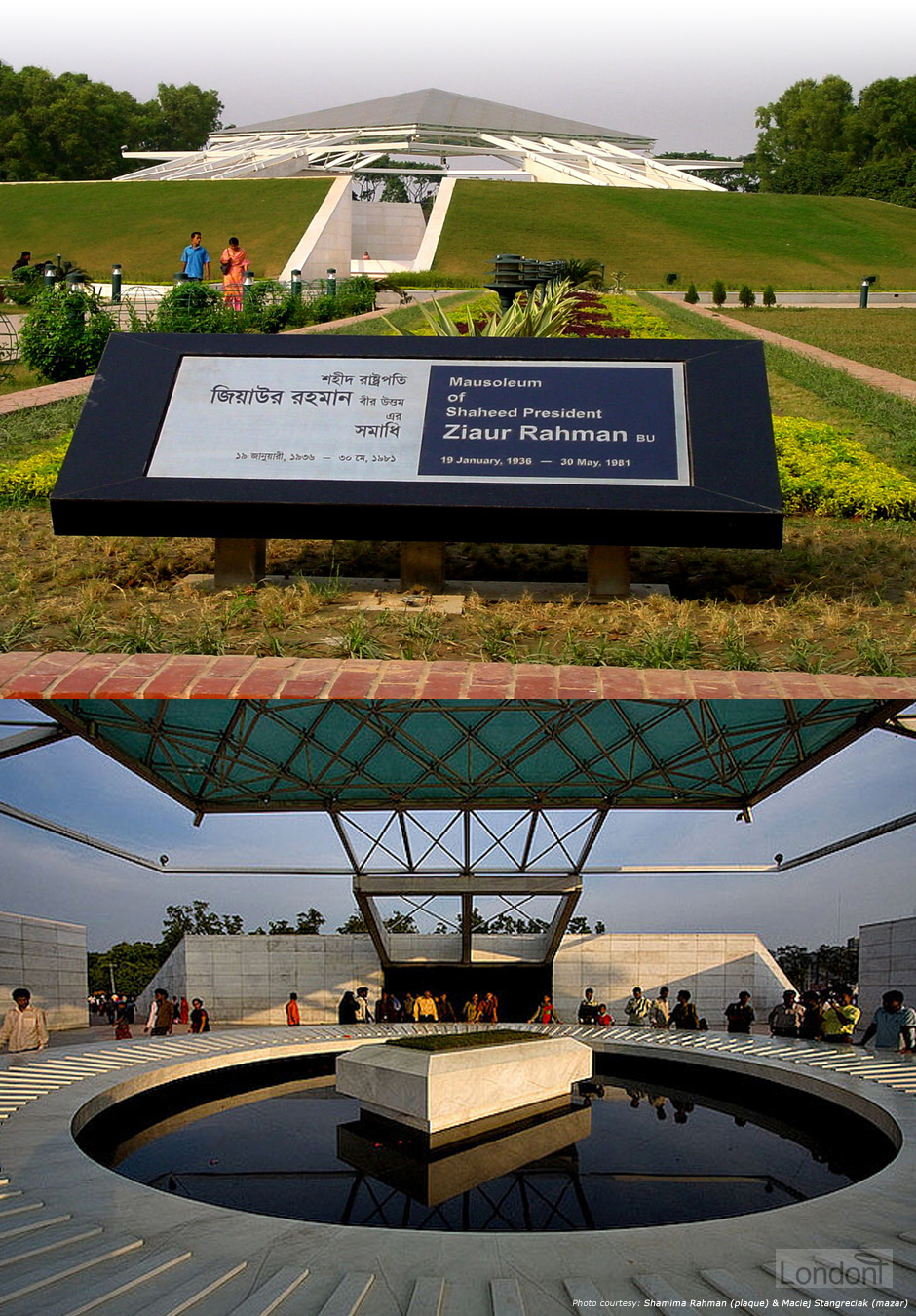 Buried twice (first in Chittagong then in Dhaka next to Jatiyo Sangshad Bhaban)
First grave in Rangunia, Chittagong
Ziaur Rahman's dead body and those of his slain aides were taken away in a van for burial at 9.30 am. They were taken to a remote hill near the Engineering College in Rangunia upazila, 22 miles (37 km) north-east of Chittagong Circuit House, and buried in haste.
Later, government troops discovered the burial site and dug out Ziaur Rahman's body from the shallow grave in the presence of BNP standing committee member Salauddin Quader Chowdhury. The body was then examined at Chittagong Comined Military Hospital and flown to the capital Dhaka for a state funeral
Salauddin Quader Chowdhury

()
Once, reflecting on his service for Pakistan in the 1965 war with India over Kashmir, (Ziaur Rahman) he observed: "There is no scientific explanation for a man to die or live. In front of me many people died, but I got a bonus of life". He used that bonus well, but last week it ran out.

TIME Magazine (1981)
State funeral attended by a million Bengalis, including opposition parties
Ziaur Rahman's body was returned to Dhaka and on 1 June 1981, two days after his assassination. His simple wooden coffin was taken to Chandrima Uddyan, next to the newly built Jatiyo Sangshad Bhaban (National Parliament) in the locality of Sher-e-Banglanagar, for burial amongst heavy military security.
All offices were closed and flags were flown at half-mast. The Jatiyo Potaka on the unfinished Jatiyo Sangshad Bhaban had been flying at half-mast since 30 May 1981, the day President Zia was killed.
Throughout the morning a never-ending line of mourners paid their respects at the coffin. Visitors signed condolences book left for Ziaur Rahman. As noon approached, the coffin was taken through the streets for burial The state funeral was attended by a million Bengalis who jostled and shoved to catch a glimpse of the cortege and to pay their final respect to another fallen war hero.
Prime Minister Shah Azizur Rahman lead the janaza prayers which was attended by all the top officials and notaries in the country, including Colonel M. A. G. Osmani and members of the Awami League party.
The death has caused immense sadness. All offices were shut and it seemed as though the entire population of the Dhaka area had come to pray and give tribute. En route, there was a pause for a Muslim ceremony. Then the procession made its way towards the grave site, hastily prepared near the new unfinished Parliament building which President Ziaur Rahman had hoped to inaugurate.
In accordance with Islamic practice in many cultures, a 40-day mourning was proclaimed in the country. The official period of state mourning ended on 8 July 1971 with more prayers in a a ceremony attended by Prime Minister Shah Azizur Rahman and other leaders.
President Ziaur Rahman however was still personally popular among the masses for his honesty. The national press as well as the foreign press eulogised his honesty and sincerity, how he worked 18 hours a day to turn Bangladesh from an "international basket case" to a basketful of hopes, his experiments with village-based development, and his bold strides in restoring democracy and in upholding the country's independence and sovereignty. It was expected, therefore, that it would perhaps take some time for Zia's state to collapse. But the violent assassination of Zia in an abortive coup on 30 May 1981 brought an abrupt end to his rule and led the nation into a state of uncertainty.
Chinese Prime Minister visits Bangladesh for the first time since independence and mourns death
On 7 June 1981 Chinese Prime Minister Zhao Ziyang paid a one-day goodwill visit to Bangladesh It was the first time a Chinese Premier had been to Bangladesh since the country became independent in 1971. The Prime Minister was originally scheduled to make an official three-days visit but it was changed to a goodwill tour and cut back to one day because the country was in mourning.
Premier Zhao was greeted at the airport by the acting Bangladesh President Abdus Sattar. In an arrival statement, the Chinese leader paid tribute to President Ziaur. He described him as a noted statesman who worked hard to promote friendly relations with China. The two countries share views on a number of international issues. Both oppose Vietnam's presence in Kampuchea and the Soviet military intervention in Afghanistan.

Both leaders visited the tomb of the assassinated president. They were escorted by the President's guards to the grave in Dhaka's Manik Miah Avenue. Wreaths were laid on the grave. Premier Zhao stood in silence as a mark of respect.

Diplomats said Premier Zhao's visit had given Bangladesh's leaders a considerable psychological boost at a difficult time. The local newspaper said the visit demonstrated that China would stand by Bangladesh in any crisis.
Zhao Ziyang

()