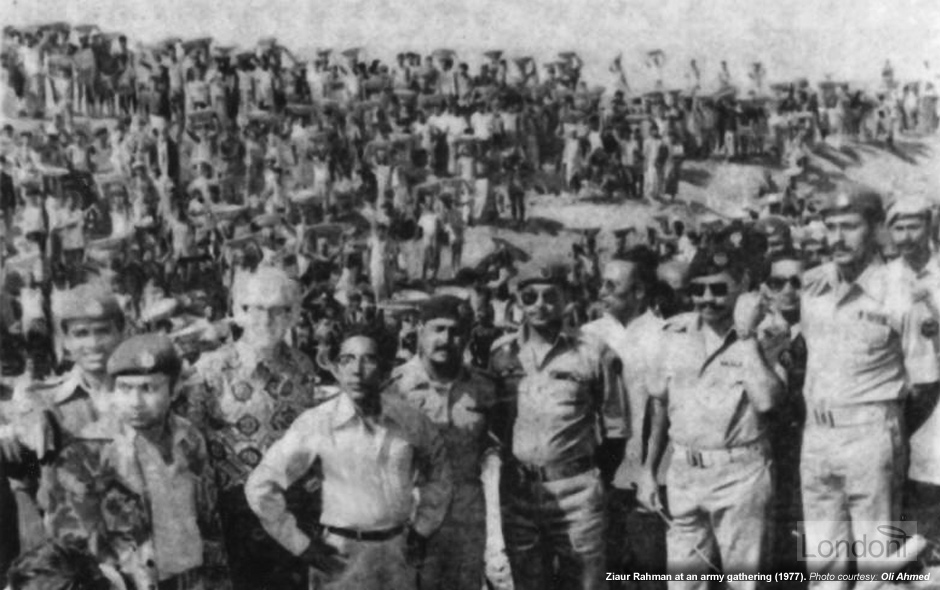 Mass execution of soldiers
Special tribunals dealt harshly with the large groups of professional bandits, smugglers and guerrilla bands operating across the country. The 22nd Bengal Regiment, which revolted in Bogra, was abolished from Bangladesh army.
In its 1977 Annual Report, Amnesty International estimated that there were from 10,000 to 15,000 political prisoners in Bangladesh, most held without trial. Within the jails, the organisation reported that treatment of prisoners "borders on conditions that are inhuman". General Zia reintroduced a practice which had been done away with since the 1857 Sepoy Mutiny: the systematic execution of rebel officers. During Zia's five-and-half years in power, more than 1,000 military personnel are reported to have been executed. The most high profile was the hanging of Colonel Abu Taher. According to one report, General Mir Shawkat Ali is believed to have confirmed that 1,130 military personnel were killed during 1977-1978 period alone.
Assassination of Ziaur Rahman dramatised the many ironies of his life and political career. By his own admission, 406 military officers were executed at his orders during his regime (lasting five-and-half years), and yet he could not eliminate all opposition and was finally himself killed by a group of officers who were known to be opposed to him, but whom he failed to discipline. He was entirely ruthless against his opponent; but the circumstances of his assassination suggest a relaxation of the security apparatus and an almost naive belief in his powers of persuasion.

Marcus Franda, (August 1981)
Amnesty International expresses "grave concern" over killing
In December 1977, the Secretary General of Amnesty International, Martin Ennals, made a special journey to Dhaka to discuss the executions with senior government officials in Bangladesh. Ennals met General Zia and received assurances from Zia that "executions of those accused of having been involved in the September and October attempted coups had ceased".
But, after Ennals' returned to London, Amnesty reported that the killing were still going on.
In spite of these assurances [by General Zia], Amnesty International has strong reasons to believe that executions of military men were still continuing. In a cable of 19 January 1978 the Secretary General expressed profound concern at reports alleging that hundreds of military men had been executed since 2 October 1977 and that executions were continuing.

Amnesty International allege government killing still continuing
Martin Ennals

()
On 27 February 1978 Amnesty International released a detailed study of conditions in Bangladesh expressing 'grave concern' over the recent wave of executions. It claimed that "at least 130 and perhaps several hundred" military men had been executed.
After 2 October 1977, at least 130, and perhaps several hundred, military men have been executed following trial by martial law tribunals for alleged involvement in abortive military uprisings which occurred in September/October 1977.
However, a report in The Sunday Times of London on 5 March 1978 put the number much higher. It alleged that 600 servicemen (mostly from air force) were executed and more than 800 servicemen were convicted by military tribunals - "in some cases little more than kangaroo courts" - after the Bogra-Dhaka Mutiny of 1977.
On 25 March 1978 the Economic & Political Weekly of Mumbai reported that the figures could be as high as 700, though it did state that no accurate figure could be confirmed.
One description circulating in Dhaka in typewritten form alleges that executions were carried out on telephonic orders from Army Headquarters. No documents are being kept for fear of future accountability. In one instance at Dhaka Central Jail detained soldiers were said to have been awakened late in the night and told to pack up.

They were told orders had come through for their release. A general atmosphere of jubilation spread through the cell block, as jawans gathered up their belongings and were led to the front jail gate. There, it is reported, they confronted an army officer and a special paramilitary force. Death sentences were suddenly read out, and amidst near hysterical cries that their lives be spared, jawans were taken off and hanged 17 or 18 at a time.

The authority remained cool and composed amidst the cries and wailings of the soldiers being hanged. There are other stories circulating in Dhaka of soldiers in firing squads being arrested for refusing to shoot when ordered. No newspapers dare print any of this, and therefore, an authoritative confirmation within the country's press is impossible to find.

Economics & Political Weekly of Mumbai (25 March 1978)
Amnesty report further noted that the government since assuming power had declared a series of partial amnesties under which 6,500 detainees had been released. These are mainly prisoners who have been imprisoned during the Sheikh Mujib regime. Amnesty estimates that as of April 1977 there were between 10,000 - 15,000 political prisoners in Bangladesh. However, the Bengali daily Ittefaq reported on 19 February 1977 that there were more than four times as many prisoners "awaiting trial" in Bangladesh as "convicts". It reported that of 36,685 inmates of the 56 jails in Bangladesh (prison capacity is designed to hold a maximum of 14,000 prisoners) only 6,842 are convicts, the rest - 29,843 - are being held "awaiting trial".
Many observers of the Bangladesh situation considered Amnesty's figures highly conservative.
In 2006, I attended a dinner in Dhaka with the late Major-General Moinul Chowdhury. Two prominent journalists and a retired military colleague of General Moin were also present. I knew Moin when he was the military attach in London during the mid-1970s. Occasionally, we use to dine together. He told me it was his job to keep on an eye on me. I told him the feeling was mutual. But, mostly he asked me for suggestions of books to read on politics and history. I became a lending library of sorts.

The conversation that evening in 2006 turned to the events of 1977. Moin had returned from London at Zia's request and had become Adjutant General in the army. It was not a wise choice.

He told us that evening that he had been involved in authorising over 200 executions but he did not know the actual number of soldiers who were executed. He estimated the total to have been in the hundreds. Moin did acknowledge that evening that none of the men were given a fair trial. The soldiers had a right to legal counsel. They were denied this. The soldiers also had a right to appeal against death sentences. This they were also denied. He appeared to regret his role in these events.

A few days after the dinner, I rang Moin up and went to see him at his residence in Dhaka. We spoke in much greater detail. I left having no doubt that he regretted his actions as Adjutant General during the mayhem of 1977 and 1978. He elaborated on what he had told us at dinner.

Here was the army's former Adjutant General, explaining that virtually every soldier who was hanged or killed by firing squad had been denied his rights under the military code of justice. He had no control over these extra-judicial killings. General Zia was in command. Moin said Zia did as he pleased.

I believe if a Truth and Justice Commission had been established General Moin might have been willing to appear before it, and give evidence about this dark chapter in Bangladesh's history. In my opinion, he would have frankly admitted his role and expressed his regret.

Lawrence Lifschultz, former South Asia Correspondent of the Far Eastern Economic Review (Hong Kong)
Ziauddin M. Choudhury comes up with anecdotes about Zia that only reinforce the public feeling of the military ruler being a harsh, unemotional individual. On a trip to the south-east of the country, Zia expressed a desire to meet the Pir of Kutubdia. He expected the pir to come calling on him on his arrival on the island. It did not work that way, for the pir made it clear he expected the president to call on him. After all, spiritual authority held greater sway than temporal power. Zia obliged. After addressing a public rally, he walked down to the pir's home, shook hands with him, spent some minutes there and then left. But where Zia saw little that was wrong in the Pir of Kutubdia's stance toward him, he was mightily upset when the Pir of Chunati let be known that the president, who had stepped into his home, would have to wait until his meditations (dhikr) were over. You do not keep a president waiting, even if you are a man of God. It was for Choudhury to realise what machinations the pir was up to. He was keen to demonstrate to his devotees that even the head of state had to wait for him. Choudhury then sternly told the pir's family that unless the pir turned up to receive the president (he had invited Zia to lunch!), the latter would leave in five minutes. The firmness worked. As the writer notes, "The Pir appeared in less than five minutes, and sat beside the President".
Reporting the killing
There are few writers in Bangladesh who have addressed this chapter of Bangladesh's history. Journalist Ataus Samad was one the first person to write on the mass executions.
According to journalist Lawrence Lifschultz, the most detailed reporting is believed to have been carried out by Zayadul Ahsan (also known as Pintu) who originally published it as a series of investigative reports for the daily 'Bhorer Kagoj' newspaper in October 1997 - twenty years after the original incidents.
Ataus Samad

()

Zayadul Ahsan (Pintu)

()
Zayadul Ahsan travelled across the country and collected lists of military personnel who were executed at various jails. He met and interviewed many senior military officers who were in command during this period but none knew the actual total of those executed. As expected, in many instances there seemed to be a deliberate and obvious effort to hide the truth. Elsewhere there emerged obvious inconsistencies between those directly involved and lists that were subsequently produced.

For example, an executioner at Comilla Jail claimed to Ahsan that he had hanged 93 soldiers at Comilla, but the jail claimed it had no record. According to Ahsan, an ISPR handout dated 26 October 1977 states that 55 soldiers were hanged in connection with "the Bogra mutiny" but the Bogra Jail had only 16 names listed of soldiers who were executed. Ahsan was told the rest were executed in Rajshahi Central Jail but in Rajshahi they claimed there were no documents. According to Ahsan, in 1977 over 2,000 soldiers were "tried" between 7-26 October. Many of the trials supposedly began on 7 October 1977 and executions began on 9 October 1977. Within two days these men were supposed to defend themselves. Yet, Ahsan reports, as Moin had told us, that General Zia issued new regulations on 7 October 1977 that denied the accused a right to a lawyer to prepare his defence or to lodge an appeal against a sentence of death. This violated the due process provision of the military's judicial code.

Essentially, no properly constituted tribunals actually functioned during this period that might be regarded as having a valid legal basis under military regulations. The closest Ahsan could get to what might be considered a baseline estimate of all the military personnel who were executed during the 1977-78 period came from General Mir Shawkat Ali, who commanded Dhaka's 9th Division. Shawkat told Ahsan that 1,130 military personnel had been executed. What is the real number? No one knows. Ahsan believes that hundreds of soldiers were executed by firing squads with no records being kept. Some or none may have been included in Shawkat's figure.

If the Abu Taher case was declared by the Bangladesh Supreme Court to have been "a hoax, a sham and a fiction", then what was this?

The truth is that it ends with the facts. Ziaur Rahman by his own actions succeeded in disparaging his own legacy more than anyone else ever could. He bears on his own shoulders responsibility for these actions. All the evidence indicates that Zia directed one of the most egregious and brutal violations of human rights in modern South Asian history.

When the Supreme Court asked in open session about my views on Ziaur Rahman, I replied that I regarded him as a "complicated" man. I still hold to that opinion. There is much more to be understood about his role in Bangladesh's history. However, I don't believe much of what is still to be understood will fit only into the gilded volumes of his hagiographers.
In 2011 Zayadul Ahsan expanded his research in his book "The Enigma of A Coup: The Noose Over The Soldiers".
Zayadul Ahsan's work is much more than a record keeping of one of the more shameful episodes in the nation's history. It is, in very large measure, a call for those who perpetrated the atrocities on the hundreds of innocent men in the armed forces in light of the 2 October 1977 tragedy to be brought to account. Most of the men who presided over the sham trials of these men, sending them to quick death and putting a few others through inexplicable prison terms, are still alive. Some retired as senior officers in the military, especially in the air force. Others, non-commissioned officers who cheerfully served on the tribunals, went on to serve in the forces till their retirement. In the overweening interest of democratic accountability, all these elements responsible for the horrific executions in the dark need to be traced in order to be brought to justice.

Ahsan's work is an eye-opener. It is a warning against men who, in the manner of Ziaur Rahman, think nothing of shooting people down in order to entrench themselves in political illegitimacy.