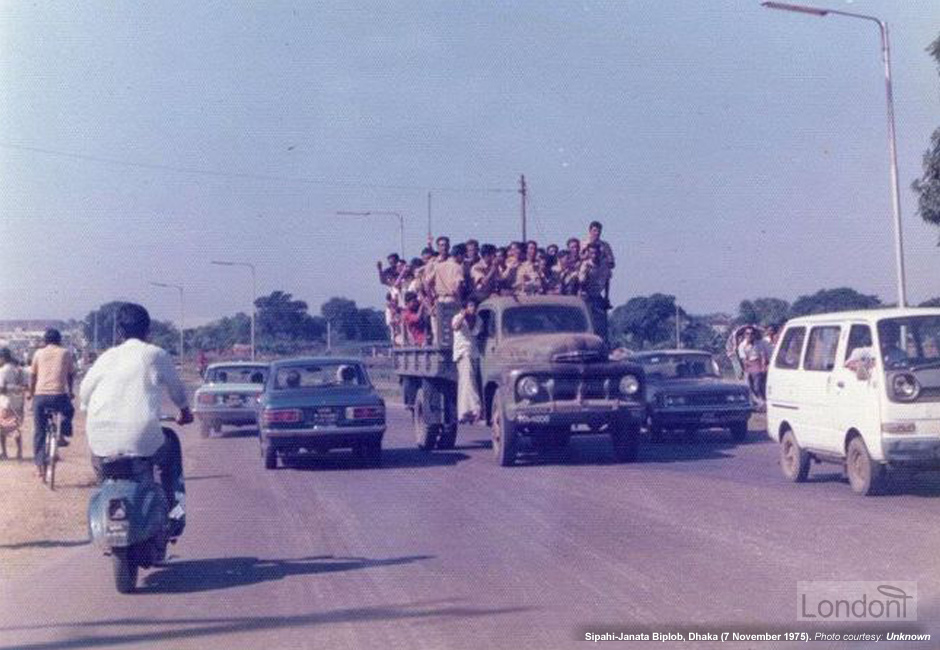 'Sipahi-Janata Biplob' leads to governance of Major Ziaur Rahman
The coup d'etat of August 1975 was to be a precursor to other, newer means of removing governments in Bangladesh.
Khondaker Mustaq Ahmed assumed the presidency and the participating army officers became the de facto leaders of the country. They were later toppled by yet another coup led by Major General Khaled Mosharraf on 3 November 1975. Mosharraf himself was killed in a counter coup four days later on 7 November which installed Major General Ziaur Rahman in power.
Killing of Char Netas (Four Leaders), which includes Tajuddin Ahmad
"Jatiyo Shok Dibosh" (aka Bangabandhu Hoitta Dibosh)
Every year the death of Sheikh Mujib and the four prominent leaders are commemorated nationally and internationally, usually by Awami League supporters. 15th August is commemorated as 'Jatiyo Shok Dibosh' (National Mourning Day), sometime also referred to as 'Bangabandhu Hoitta Dibosh' (Bangabandhu Killing Day), and 3rd November as 'Jail Hoitta Dibosh' (Jail Killing Day).
Remembrance ceremony
When the Awami League are in power, Jatiyo Shok Dibosh is commemorated by flying the national flag half-mast atop all government, semi-government, autonomous organisation, Bangladesh's embassy and educational institution offices on the day.
The president and prime minister will place wreaths at the portrait of Sheikh Mujib at Bangabandhu Memorial Museum - Sheikh Mujib's home at Road 32, Dhanmondi, Dhaka, which had been converted to a museum after his assassination - first thing in the morning, usually around 6:30am. Sheikh Hasina usually places the wreath twice, first as Prime Minister and second as chief of Awami League. Then its the turn of the chiefs of the three services of Bangladesh (i.e. army, air, and navy). A smartly turned out contingent of the armed forces will then give a guard of honour to the portrait and a special prayer will be offered.
After placing wreath, Sheikh Hasina along with her sister Sheikh Rehana entered the historical house to revisit the memories of their beloved father. The Prime Minister later placed sheave of roses on the staircase where the Father of Nation was brutally killed on the black day in August.

She also spent sometime inside a room of the house, reciting verses from the Holy Qur'an and seeking eternal peace of the departed souls of Bangabandhu and others killed on the fateful day in 1975.
The whole event is viewed with respect by the Speaker of Jatiyo Sangshad Bhaban (National Assembly), cabinet members, parliament members and leaders and workers of Awami League. A great number of gathering public also flog to the area from every part of the country to remember their great leader.
The Road No 32 and its adjoining areas turned into a human sea by as early as 7 in the morning with people coming individually and in groups to pay their heartfelt tribute to the architect of the country's independence by placing wreath at his portrait there.
When Sheikh Hasina is Prime Minister Sheikh she places wreaths and offer fateha - first chapter in the noble Qur'an, known as "Surah Al-Fateha" (Opening Chapter) - at 7:30am at the Banani graveyard of all family members of Sheikh Mujib who were killed on that tragic night.
This procedure of wreaths, fateha, and guard of honour is also replicated at the mausoleum of Sheikh Mujib at Tungipara. A milad mahfil (remembrance gathering) is usually held at Tungipara after Zuhr prayers. In addition, a munajat (special prayer) are offered in all mosques, temples, churches and other religious institutions in the country seeking eternal peace for the departed souls. Munajat is also offered seeking divine blessing for peace and prosperity of the country and welfare of the people.
Bangladesh Betar (radio) and Bangladesh Television (BTV), the state-owned national tv station, also broadcast special programmes in observance of the day while daily newspapers will bring out special supplements. Also, Sachitra Bangladesh, a publication of the Ministry of Information, will publish special edition and posters and distribute these. Special documentaries on "Chiranjib Bangabandhu" and "Amader Bangabandhu" (Our Bangabandhu) are also screened.
International participation
Around the world, Bangladesh high commission and embassies organise discussion and dua mahfil which are attended by officials and expatriate Bangladeshis. Other activities include screening of special documentaries and hosting the National Flag at half-mast.
Supporters of Awami League also hold their own elaborate programme to honour the late president.