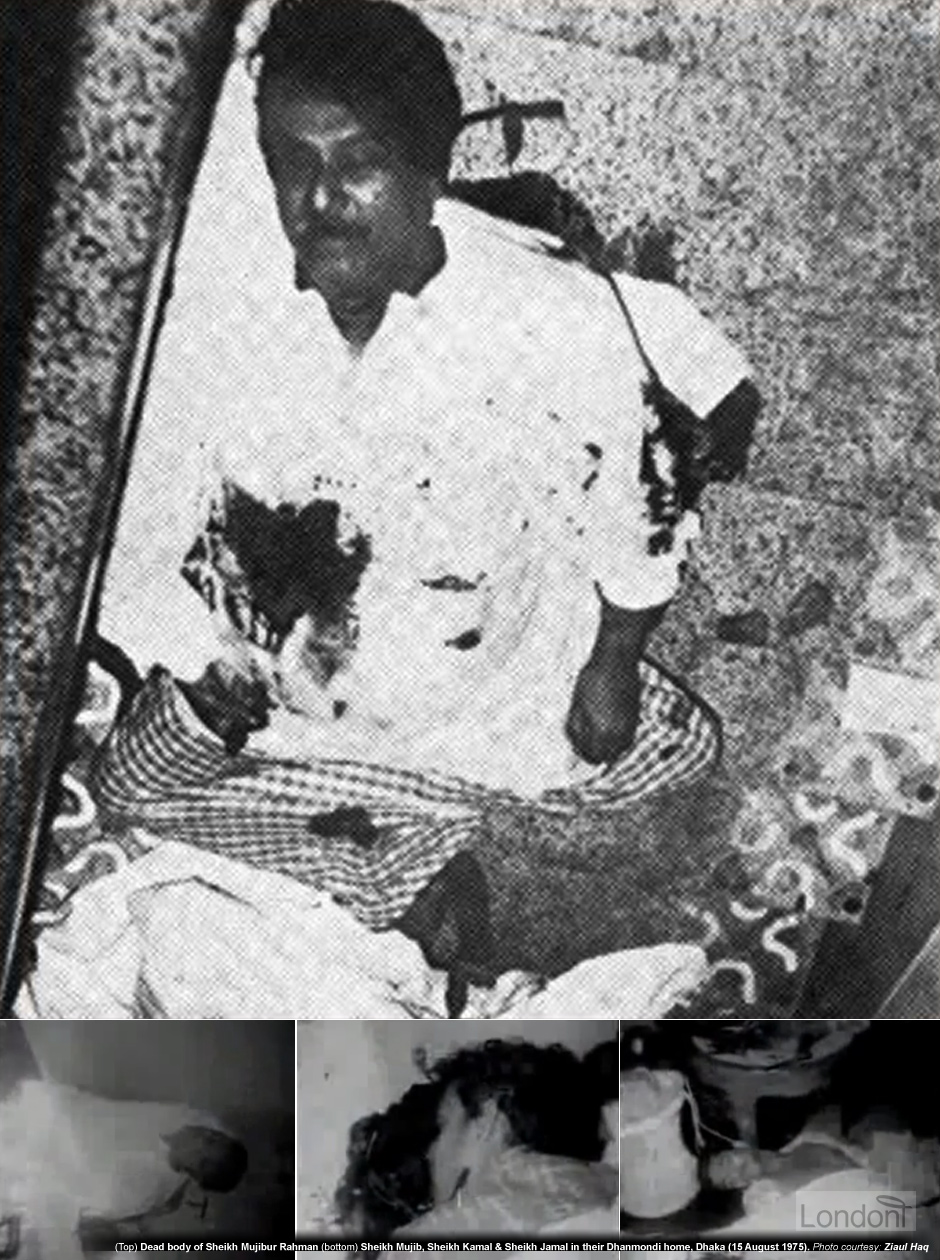 15 August 1975: Sheikh Mujibur Rahman and family killed in cold blood
Elder son Kamal first family member to die
House help Abdur Rahman Roma was sleeping on the veranda in front of Sheikh Mujib's bedroom. Suddenly the door opened and Begum Fajilutunessa emerged.
Criminals have attacked Serniabat's residence.

Begum Fajilutunessa Mujib informs Roma
Roma sprang up from his sleep. He ran down in panic and went outside the front gate and saw some army men advancing towards the house with weapons raised and firing bullets in the air. Frightened, Roma ran into the house and to the second floor to wake up Sheikh Mujib's elder son Sheikh Kamal. He somehow managed to blurt out that the army had attacked the house.
Kamal quickly put on his trousers and a shirt and ran to the ground floor. Roma took Kamal's wife Sultana Kamal to the first floor where the rest of the family was sleeping. Roma also woke up Sheikh Jamal who put on a shirt and trousers and went to his mother's room. His wife followed him there.
Both Kamal and Jamal momentarily held off the attackers with sten guns.
Meanwhile, Mohitul stood on the veranda and roared at Kamal "Army and police members, please come with me". He was trying to locate the watchmen but they were all 'neutralised'. Just then the killers appeared - three to four army men in khaki and black fatigues. Automatic weapons held at waist level in front of them. They stopped right in front of Kamal. Mohitul and Nurul Islam, a police officer, stood dumbfounded behind Kamal. Mohitul recognised Major Bazlul Huda in khaki uniform. He had met him before. Without a warning, Major Huda shot Kamal first in the leg. Kamal jumped to Mohitul's side by the reception room.
Tell them I am Sheikh Mujib's son Sheikh Kamal.

Sheikh Kamal's seeking assistance from Mohitul
Don't shoot him, He is Sheikh Kamal. Sheikh Mujib's son.

Mohitul pleads with Major Bazlul Huda & co
The killers could not care less. There was a burst of gunfire again and bullets tore through Kamal again. He was killed at the foot of the stairs. But before this Kamal had injured two more of the attackers.
Kamal was only the first small game for the killers. They were looking for the giant.

Inam Ahmed & Julfikar Ali Manik, journalists
Sheikh Mujibur Rahman sprayed with bullets on staircase
Soldiers were by then swarming all over Sheikh Mujib's house. Majors Mohiuddin, Huda and Nur ran from room to room looking for Sheikh Mujib.
They found a room closed on all sides - it was (Sheikh Mujib's youngest daughter) Rehana's bedroom. They forced a door open, sending a cupboard full of things crashing to the floor. "Let me see what they want", Sheikh Mujib thought and came out of the room as he had done on the night of 25 March 1971 when he was arrested by the West Pakistani military. He had faced the Pakistani soldiers. These were his own men.
Major Mohiuddin was going up to the first floor and had just reached the landing at the turn of the stairs when he saw Sheikh Mujib standing not 20 feet above him. Sheikh Mujib was wearing a white panjabi and grey checked lungi and carrying a pipe in his hand.
Although Major Mohiuddin had set out to kill him, the strong and powerful presence of Sheikh Mujib had temporarily demoralised him when they came face-to-face.
"Sir, apne ashun" (Sir, please come) Mohiuddin stammered.

"What do you want?" Mujib asked him scornfully in Bengali. "Have you come to kill me? Forget it! The Pakistan army couldn't do it. Who are you that you think you can?"

Mujib was obviously playing for time. He had made some telephone calls. Help must surely be on the way. Meanwhile he was putting on a bold face.

"Mujib had quite a personality and Mohiuddin was completely dominated by him. I don't know what would have happened if Nur had not arrived at that moment", recalls Farook.
Mohiuddin kept repeating "Sir, apne ashun". Sheikh Mujib kept talking back rudely. By now Major Huda and Major Nur Chowdhury had stepped on the landing of the staircase.
It is you. What do you want?

Sheikh Mujib asked Major Bazlul Huda, whom he recognised
Nobody answered.
Sensing that Sheikh Mujib was stalling, suddenly Major Nur brushed Mohiuddin aside and, according to Major Farook, screaming something unintelligble, Nur fired a burst from his sten gun. Sheikh Mujib's whole body twisted backwards and then collapsed on the stairs. He was dead by the time his body stopped tumbling down the narrow stairs. Blood flowed first around the landing and then down the stairs. He was still holding his trademark tobacco pipe in one hand and a matchbox in the other.
Sheikh Mujib didn't have a chance. The bullets tore a huge hole in his right side. His body twisted backwards with the impact. Then it slipped, face down, towards the bottom of the stairs. The pipe was still gripped tightly in the right hand.
The time was 5.40 am. Sheikh Mujibur Rahman's tempestous love affair with the Bengalis had come to an end. Before his burial the following day in his birthplace, Tungipara, the imam noticed at least ten bullets still lodged inside Sheikh Mujib's body.
Major Nur, Mohiuddin, Huda and others went down and out of the gate through the south side of the house safe in the knowledge that 'mission was accomplished'.
Sheikh Mujibur Rahman was 55 when he was killed. He had been in and out of Pakistani jails, and was widely regarded - and initially revered - as Bangladesh's founding father, 'Jathir Jonok/Pitha' (Father of Nation). His house in Dhanmondi, where he now lied dead, was the same house from where he had led his people to independence.
Sheikh Mujib had to suffer further ignominy after he was killed. According to Farook, one of the attackers had never seen Mujib at close quarters. So to get a good look at his face, the man slipped a boot under Mujib's body and rudely flipped it over. It was thus that the shattered remains of Bangabandhu, the friend of the Bengalis, was snapped four hours later by a photographer specially brought for the purpose form the Government's Information Department.
Sheikh Mujib's assistant personal secretary, Mohitul Islam and Deputy Superintendent of police Nurul Islam had witnessed the event. They were also injured by bullets. It would be Mohitul Islam who's First Information Report (FIR) of 1996 that would eventually led to the capture of the alleged killers and their subsequent death penalty in 2010.
Havildar Abdul Quddus (also spelt Kuddus) and house-keeper Roma also witnessed the murder of Sheikh Mujib. Abdul Quddus was bought into the house by the killers and Roma followed Mohiuddin when he bought Sheikh Mujib out from his room.
According to Abdul Quddus it wasn't only Major Nur Chowdhury who shot Sheikh Mujib but Major Bazlul Huda also participated. Both men pulled the triggers and bullets from their sten guns rained down on Sheikh Mujib.
Bazlul Huda shot Sheikh Kamal. Then Mohiuddin with others went upstairs. Bazlul Huda and Noor also went to the first floor. Lancer AKM Mohiuddin brought Bangabandhu downstairs. Then Noor told Mohiuddin something in English. Mohiuddin then stepped aside.

Bangabandhu told Huda and Noor: "What do you want?" Bazlul Huda and Noor the shot him from sten guns. Bangabandhu then fell over the stairs taking the bullets.

Abdul Quddus, guard at Sheikh Mujib's house
After the murder Roma was ordered to get lost. Trembling and feeling weak in his knees, Roma slipped into the bathroom of Begum Fajilutunessa Mujib's room.
Begum Fajilutunessa, son Jamal, both daughter-in-laws, and brother Naser murdered
Begum Fajilutunessa tried to follow her husband when the shooting flared. She stopped as she saw her dead husband lying in a pool of blood on the stairs. She broke into tears.
I won't go further. Kill me here.

Begum Fajilutunessa Mujib's defiance on witnessing her husband's dead body
The assassins took Begum Fajilutunessa in front of her bedroom room and killed her by another burst of automatic fire. Then the massacre continued.
Begum Fajilutunesa Mujib

(1930 - 1975) Wife and cousin of Sheikh Mujibur Rahman. Born in Tungipara, Gopalganj, like her husband.
People of the country lovingly called their leader Sheikh Mujib as 'Bangabandhu' and for this all the credit goes to Begum Fazilatunnessa Mujib.

Dr Abul Barakat, President of Bangladesh Economic Association (BEA), said Begum Fazilatunnessa Mujib always protested against anything contrary to the interest of Bangladesh
Begum Mujib was always a source of inspiration and courage to Bangabandhu throughout his chequered political career. She was inseparable from Bangabandhu in life and death.

Omar Faruque Chowdhury, President of Jubo League
Soldiers started shooting at Sheikh Mujib's house from all directions. Bullets were whizzing in through the windows on the first floor, where all the bedrooms were.
It was a repetition of 26 March 1971, when Pakistani troops had encircled the house.

A.L. Khatib, Journalist
Officers and troops went from door to door, shooting the bolts away and spraying the rooms with sten gun fire. Sheikh Jamal, the 21-year-old Sandhurst-trained army lieutenant, had gathered the rest of the family in the main bedroom for protection. Now it was his turn to die.
Jamal was blasted at close range by one of the officers. Nine years later the marks of his blood, bone and muscle tissue - and the bullets - could be clearly seen on a large section of the wall against which he was thrown.
The two young daughters-in-law (Sultana Kamal was 24 years old whilst Rosy was only 19) were huddled on the bed with their arms round Russell. They were roughly dragged apart and mercilessly shot at close quarters. They died instantly.
Sheikh Abu Naser, Sheikh Mujib's younger and only brother, who had made a vast fortune after independence, was killed in an adjoining bathroom where he had been hiding.
In another version of account, it is believed the killers took Naser, Russell and Roma to the ground floor and made them stand in a line beside Mohitul where Naser pleaded for leniency.
Sheikh Naser pleaded: "I am not into politics, I do business for a living."

Mohitul heard an army officer telling Naser, "We won't hurt you. Take your seat in that room".
The officer then took Naser into the bathroom attached to Mohitul's office and opened fire. Mohitul could hear Sheikh Naser begging for water. One of the army men winked at another, "Go and give him some water". Then the other army person went inside the bathroom and shot Naser again.
10-year-old son Russell shot dead
Young Russell was cowering in a corner and hiding behind the furniture before the killers spotted him.
Sheikh Russell

(1964 - 1975) Youngest son of Sheikh Mujib. Student at Dhaka University Laboratory High School. Only 10 years old at the time of murder.
According to one account, the killers went up and came down with a bewildered and devastated Russell. He first held Roma close and then Mohitul.
"Bhaiya (brother), will they kill me too?" the child asked.

"No Bhaiya, they won't kill you," Mohitul said

Mohitul reassures Russell not knowing the horror that was to follow
An army man in khaki uniform wrenched Russell away from Mohitul. The child wanted to go back to his mother.
"Take me to my mother," he [Russell] whimpered.

"We will take you to your mother," one of the homicidal maniacs said.
A police officer pleaded for Russell's life.
He is only a child.
The officer was killed straightaway.
The army man with a mischievous smile held Russell by his hand and took him to the first floor. Russell was wailing. One arm of Russell had been shot off nevertheless the poor child still begged to be spared.
Don't kill me, don't kill me.
The answer was a bullet. Russell lay dead by his mother's side.
12 August 1975. Kamal and I were waiting outside the room of Professor Nazmul Karim, head of sociology for our MA final viva voce. Khuki could not show up for her viva. The bullets of the murderers stilled her sprightly movement on August 15. I wrote a letter informing of Khuki's death to Khaleda Apa, Khuki's elder sister who lives in Syracuse, USA. A letter I only wish I had not to write.

As the curfew was lifted and as I recovered from the state of shock, I visited Khuki's parents who lived in Baksi Bazar. I could not fathom the bereavement of a father of a young daughter then. Khuki's father, Mr. Dabiruddin Ahmed who was Dhaka University's engineer asked me to request Professor Karim to release Khuki's MA final results which I did. Both Khuki and Sheikh Kamal graduated, but they were not around to celebrate. We, their friends, survived only to mourn.