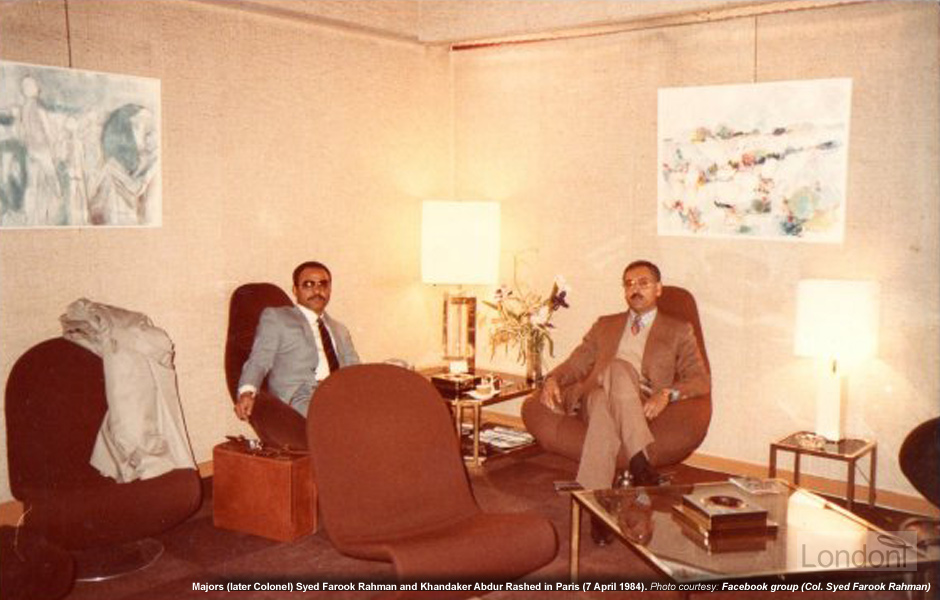 Profile of the two masterminds or 'Killer Majors' Syed Farook Rahman & Khandaker Abdur Rashid
Among the angry young men in the Bangladesh army were two young Majors who took immense pride in their professional competence and who now found their careers on the rocks because of Sheikh Mujib's studied neglect of the armed forces. One was Farook Rahman, Second-in-Command of the 1st Bengal Lancers, the country's only tank regiment which till the middle of 1974 had only three obsolete tanks in its armoury. The other was Khandaker Abdur Rashid, the Commanding Officer of the 2nd Field Artillery, also based in Dhaka.
Farook (also spelled Faruque or Farooq) and Rashid, both born within a month of each other in 1946, were good friends and brothers-in-law since they had married the daughters of S. H. Khan who belonged to Chittagong's leading industrial family. Farook was married to Farida, and Farida's elder sister Zubeida, nicknamed 'Tinku', was married to Major Rashid. The girls' sasa A. K. Khan (the older brother of S. H. Khan) was a former Industries Minister in the Pakistan government.
Syed Farook (or Faruque) Rahman

(9 Aug 1946 - 28 Jan 2010) Army officer. Chief organiser of the assassination of Sheikh Mujibur Rahman and others on 15 August 1975.

Khandaker Abdur Rashid

( - ) Army officer.
Farook and Abdur Rashid were ideally placed in Dhaka to carry out the coup.

Abdur Rashid commanded the 2nd Field Artillery conveniently based in the capital and Farook led the Bengal Lancers, Bangladesh's only tank regiment. Between them they had more fire power than anything Shiekh Mujib could hope to muster.

Anthony Mascarenhas, Journalist
Farook's background
Farook - full name Dowan Esheratullah Syed Farook Rahman - comes from an upper class Bengali family and claimed that on commissioning he was the first second-generation Bengali officer in the Pakistan army. His father's family are known as the 'Pirs' (religious leaders) of Rajshahi, claiming direct descent from Arab Syeds who had settled on a modest estate in Nauga. His mother belongs to a land-owning zaminder family of the Jamalpur/Islampur area of Mymensingh who claim descent from Turkish soldiers of fortune under the Mughal emperors. Between them Farook was closely related to Dr. A. R. Mallick (former Vice Chancellor of Chittagong University who replaced Tajuddin Ahmad as Finance Minister), Syed Nazrul Islam (Acting President during Mujibnagar Government), Syed Ataur Rahman Khan (former Chief Minister of East Pakistan and Prime Minister of Bangladesh) and Major General Khaled Musharraf who was briefly Chief of Staff of the Bangladesh army in November 1975 before being killed in the Sepoy Mutiny. In fact, Brigadier Khaled Musharraf was Farook's mamu (maternal uncle).
Farook's father, Major Syed Ataur Rahman, was an Army doctor and Farook's education reflects the pattern of his postings. He cross-crossed the sub-continent six times in 13 years starting off in the Fatima Jinnah girls school, Comilla (Farook jokes about his 'one and only time in a convent'). He went to Abbottabed (Burnhall), Dhaka (St. Joseph's), Quetta (St. Francis' Grammar School), Rawalpindi (Station Raod school where Field Marshall Ayub Khan's daughter Naseem was also a student), Dhaka (Adamjee College), ending up in a college in Kohat for a crash course in maths.
Farook was the eldest of three children - he had two sisters - and it was not intended that he should go into the army. His love of flying got him a solo licence at the age of 17 and he had unsuccessfully tried to join the Pakistan Air Force. So his family got him admitted to Bristol University, UK, for course in aeronautical engineering and he would have gone to UK in 1966 but for the intervention of hostilities with India in the spring of 1965 over the Rann of Kutch.
Caught up in the prevailing patriotic fervour Farook, on his way to college, stopped off at the Inter-services Selection Board office in Kohat and volunteered for a commission. A week later when the call came there was initial disapproval from his mother who didn't want to lose her only son to the army. But Farook, with his father's consent, finally made it to the Pakistan Military Academy at Risalpur where he quickly distinguished himself by becoming battalion sergeant major. When he graduated 4th of 300 officer cadets, he was given his choice of service. Farook chose the armoured corps. "I didn't want to do foot-slogging in the army" he said politely turning down suggestions by Major Ziaur Rahman and Khaled Musharraf, then instructors in the PMA, that he should join the Bengal Regiment. Instead, Farook was appointed to the 13th Lancers.

Later Farook transferred to the 31st Cavalry, then based at Sialkot, and in 1970 at the age of 24, he found himself a captain, acting squadron commander of 'Charlie Squadron' and "in the command chain of the armoured corps". This significant career opening was made possible by his success in the tactical armour course which he topped with B+.

Anthony Mascarenhas, author of "Bangladesh: A Legacy of Blood" (1986)
In addition to flying, Farook had other loves - reading volumes of military history and tactics, driving fast cars, and music.
Whilst based as a squadron commander in Abu Dhabi and billeted in the British Officers mess in June 1971 he came across a bundle of British newspapers exposing the Pakistan Army's atrocities in Bangladesh. Amongst these was Anthony Mascarenhas' "Genocide" article writeen in the Sunday Times.
What actually convinced me about your writing was your technique and reporting. The way you wrote about those Pakistani officers straightaway struck me that this man is not a fraud. Only a chap who has been in close touch with the Pakistan Army knows exactly how they behave, I know. And I also know that no one can simulate it. That's why I was solidly convinced that this chap knew exactly what he was writing and I couldn't be wrong. This forced me to decide to go.

I was not interested in politics because I was rising very fast professionally with the little service that I had. I was only interested in seeing how fast I could go. I was only interested professionally in being a general officer. Then suddenly this thing came to me and disrupted my whole damn career.
A letter from his uncle, Nurul Quader, a Bengali civilian officer in the Mujibnagar government, confirmed his worst nightmares. Bangladesh was at war with Pakistan.
Farook is an ardent nationalist. He is single-minded, with decisiveness grounded on careful planning. After carefully weighing the situation, Farook decided he could no longer serve in the Pakistan army.

On 12 November 1971, he packed a bag and drove to Dubai airport where he abandoned his car. Then he caught the first flight to Beirut and London for the long journey to Bangladesh.
Unlike other Bengali military officers who made their daring escape to India through the frontier, Farook reportedly travelled first to Tripoli before making his way to the Mujibnagar government. That tells you something.
Farook and Rashid first met in the Pakistan Military Academy at Risalpur. Farook belonged to a senior batch, however it was common for the Bengali officer cadets to 'stick together'. The political tension that was engulfing the two wings of Pakistan were being felt within the military. The Bengali officers, who were heavily outnumbered by Punjabis and Pathans, sat together in the cafeteria "to chit-chat" as Rashid tells it. Rashid was very talkative, Farook a good listener.
Rashid's background
Like Farook, Khandaker Abdur Rashid considered it his patriotic duty to join the Pakistan military academy as Indo-Pak war broke out in 1965. Rashid came from the tiny village of Chaypharia on the road between Comilla and Daudkhandi where his father was a primary school teacher of modest means. Unlike Farook, Rashid was not connected to 'the great or the learned' and is not related to Khandaker Moshtaque Ahmed as is popularly believed.
Rashid is the first to deny Bangladesh gossip the he is a nephew of Khandaker Mushtaque Ahmed. There only connection is 'an accident of geography' according to Rashid. They come from the same sub-district.

Khandaker Abdur Rashid and Khandaker Moshtaque Ahmed are not related
Rashid was studying soil science, geography and geology at Dhaka University when the war broke out in 1965, and he thought it was a patriotic duty to seek a commission in the Pakistan Army. He was selected and after a run-of-the-mill showing in the PMA, graduated 92nd in his class. Rashid requested posting to the Bengal Regiment but instead was given his second choice and commissioned in the 2nd Field Artillery then based in Bannu in the North-West Frontier Province.
When the Pakistan army crackdown came in March 1971 Rashid's unit was stationed in Hajira on the Pakistan side of the ceasefire line in Kashmir. It was a trying period for the young Bengali officer. The radio reports he was picking up from different parts of the world gave horrifying stories of the trauma in East Pakistan. Rashid decided to defect from the Pakistan army.
I thought that once the movement had started, whatever the cause may be, and right or wrong, it had to be seen through to the end. If we failed to liberated our country then we would have been tremendously subjugated by the Pakistanis. They would never have treated us like human beings again. We therefore had no choice. It became a duty of every Bengali to fight for his country's liberation so that we could live independently with honour and respect.
Like millions of other Bengali women at the time, Rashid's wife Tinku rallied bravely behind her husband.
The country comes first - other things are not important. We must go.
To break out of their isolation in Hajira, Rashid applied for a 10-day furlough on the excuse that his parents were ill and he had to see them. After an agony of waiting his request was granted and on 2 October 1971 he took Tinku and their baby daughter to Dhaka. Rashid sent his wife and child to her parents in Chittagong and tried to cross the border into India at Agartala. He was nearly caught in the cross-fire on two occasions but fortunately for him he slipped through on his third attempt on 29 October 1971.
He re-entered Bangladesh through Sylhet at the beginning of December with a Mukti Bahini howitzer battery attached to Ziaur Rahman's 'Z' Force. After independence this battery was raised to a regiment, the 2nd Field Artillery, and Major Khandaker Abdur Rashid became its Commanding Officer.
Thus both Farook and Rashid joined the Muktijuddho during the final phase and were witness to the birth of Bangladesh. They were very passionate and proud of their new country and would regularly sit together and ponder about its future.
A single wall separated their bungalows in Dhaka cantonment and in the evenings the sisters and their husbands would often get together, as they put it, "to pass the time". It was these family ties that allowed them to confide in each other about their disenchantment with the way things were going in Bangladesh. The two Majors were otherwise poles apart in terms of personality and came from very different backgrounds.

...Farook and Rashid, like the other Bengali officers and men involved in the liberation movement - the Bangladesh army itself - had high hopes for Bangladesh after its creation. They were proud of their country, extremely nationalist and the fact that they were willing to take a back seat in the first years of independence clearly shows that they had no political ambitions. Sheikh Mujibur Rahman, however, did not see it that way. His bitter experiences in Pakistani jails made him suspicious and hostile to all things military. In his anxiety not to re-create the 'monster' he had known in Pakistan he ended up doing that very thing - and it destroyed him.