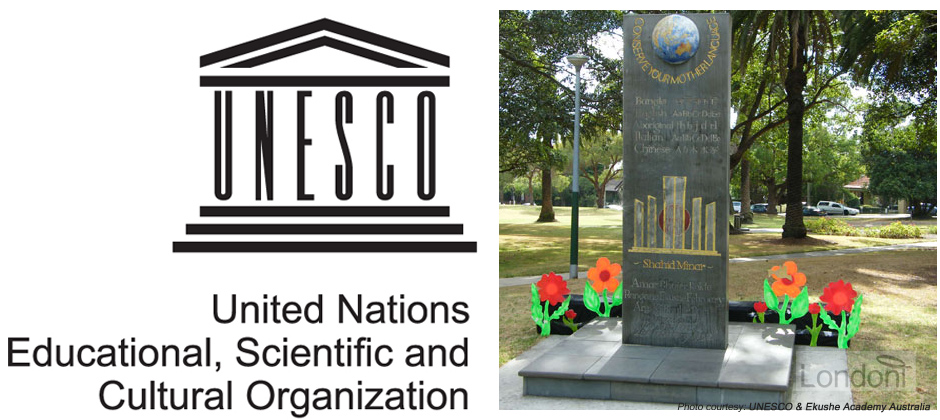 Ekushey February - UNESCO's official International Mother Language Day
On 17 November 1999, at the 30th session of the General Conference in Paris, UNESCO (United Nations Educational, Scientific and Cultural Organization) - the United Nation's specialised agency which tries to promote peace and security through international collaboration – declared 21st February as "International Mother Language Day" for the whole world to celebrate the importance of language.
This honour was bestowed by the international community on the historical language movement of Bangladesh and paid tribute to its inspiring universal message.
On 16 May 2007 the United Nations General Assembly in its resolution A/RES/61/266 called upon Member States "to promote the preservation and protection of all languages used by peoples of the world". By the same resolution, the General Assembly proclaimed 2008 as the International Year of Languages, to promote unity in diversity and international understanding, through multilingualism and multiculturalism.
24. Welcomes the decision taken by the General Conference of the United Nations Educational, Scientific and Cultural Organization on 17 November 1999 that 21 February should be proclaimed International Mother Language Day, and calls upon Member States and the Secretariat to promote the preservation and protection of all languages used by peoples of the world.
25. Proclaims 2008 International Year of Languages, pursuant to the resolution adopted by the General Conference of the United Nations Educational, Scientific and Cultural Organization at its thirty-third session on 20 October 2005, invites the United Nations Educational, Scientific and Cultural Organization to serve as the lead agency for the Year, and in this context:
(a) Invites Member States, the United Nations system and all other relevant stakeholders to develop, support and intensify activities aimed at fostering respect for and the promotion and protection of all languages, in particular endangered languages, linguistic diversity and multilingualism;
(b) Invites the Director-General of the United Nations Educational, Scientific and Cultural Organization to report to the General Assembly at its sixtythird session on the impact of the activities carried out during the Year
Rafiqul Islam & co's labour of love
The International Mother Language Day initiative was started by Rafiqul Islam, a mukti juddha and ex-pat living in Canada who's younger brother, Saiful Islam, was killed during Shadinota Juddho (Bangladesh Liberation War) of 1971.
On 9 January 1998, Rafiqul Islam wrote to UN Secretary General Kofi Annan requesting the UN to take steps to save all languages of the world from the possiblity of extinction and for the declaration of an International Mother Language Day (IMLD) to honour all world languages. He proposed 21st February – in memory of the Ekushey martyrs of 1952 – as the day for international commemoration.
Everyone loses if one language is lost because then a nation and culture lose their memory, and so does the complex tapestry from which the world is woven and which makes the world an exciting place.

Vigdis Finnbogadottir, UNESCO's Goodwill Ambassador for Languages, and former President of Iceland
However, his request was declined on the basis that the proposal needs to come from an UN member state rather than an individual or organisation.
Not one to give up, Rafiqul Islam formed "Mother Language Lovers of the World" along with fellow Bengali Abdus Salam in Vancouver, Canada. Initially, the organisation contained ten members representing seven different languages.
Rafiqul Islam & Abdus Salam (representing Bangla)
Albert Vinzon & Carmen Cristobal (Philippino)
Jason Monir & Susan Hodgins (English)
Dr. Kelvin Chao (Cantonese)
Renate Mertens (German)
Karuna Joshi (Hindi)
Nazneen Islam (Kachi)
Rafiqul Islam is the president and others are the members of 'Mother Language Lovers of the World' in Canada.
Rafiqul Islam

(Born 1951) Architect behind adoption of Ekushey February as Internationa Mother Language Day by United Nations on 1999. President of Vancouver-based (Canada) NGO "Mother Language Lovers of the World" which campaigned relentlessly to achieve this. Member of Society for Bangladesh Climate Justice. Earned Master of Commerce Degree from Dhaka University. Younger brother killed in 1971 Muktijuddho. Treated for leukaemia in 2011. Born in Rajbari, Comilla.

Abdus Salam

()
Abdus Salam then re-wrote Rafiqul Islam's original letter on behalf of these ten members and sent it to David Fowler, the Canadian Ambassador to the UN, requesting him to submit it to the UN. David Fowler sent that letter to the Canadian Foreign Ministry for approval – which came after one year.
Appreciating their hard work but recognising that this was bearing no fruit, the Chief Information Officer of the UN, Hasan Ferdous – a fellow Bengali himself – advised Rafiqul Islam that it'd be more productive to approach UNESCO with respect to this matter.
They did as advised, and in Anna Maria Majlof, who works for UNESCO's Bureau of Strategic Planning, they found a highly supportive ally. With her informal advice, Rafiqul Islam and Abdus Salam contacted the National Commission for UNESCO of Canada, Bangladesh, India, Hungary, and Finland. Hungary was the first to reply on 16 April 1999 giving their full support to the proposal.
Hasan Ferdous

()

Anna Maria Majlof

()
However, there was a hitch.
The proposal needs to be sent to UN as a proposition from the country itself and not as support to another organisation or individual.
It was then in late-August 1999 that Rafiqul Islam and his organisation approached the Education Minister of Bangladesh, A. S. H. K. Sadek, who sent the request to the then prime minister Sheikh Hasina. Sheikh Hasina was very keen on the proposal but requested she gets approval from all her ministries before submitting it to the UN. However, time was short.
The deadline for submitting any UNESCO proposal was 10 September 1999 (if it was to be acted upon in 1999) – that is, only few days away. Matters were made worse as A. S. H. K. Sadek was out of the country during this period. As panic set in, Rafiqul Islam contacted Professor Kafiluddin Ahmed, UNESCO National Commissioner of Bangladesh Secretary, who conveyed his message directly to A. S. H. K. Sadek. Once A. S. H. K. Sadek returned to Bangladesh he raised the issue directly in the Jatiya Sangshad (Parliament) in the presence of Prime Minister Sheikh Hasina who gave her instant approval. Now all efforts were made to submit the proposal before deadline – which they did, on 9 September 1999, a day before the deadline.
The Prime Minister was instrumental in ordering a 'short-circuit' of the procedures so that the proposal reached Paris in time.

The then Secretary of the Education Ministry Mr Quazi Rakibuddin, the then education Minister Mr. Sadeq, UNESCO National Commissioner of Bangladesh Secretary Professor Kafiluddin, and Mr. Moshiur Rahman (one of the Directors in the PM's Office) played active role in managing the matter in Dhaka. Mr. Tony Huq who is a Senior Advisor to the Director General of UNESCO and Ambassador Syed Moazzem Ali and Mr. Ikhtear Chowdhury of Bangladesh Embassy in Paris also played a very active role in expediting the process. The entire embassy in Paris was enthusiastic.
Having now received the proposal from a member country rather than an individual or organisation, from 10 September 1999 to 12 November 1999, UNESCO made all efforts to convince its member states to sign the proposal. The Bangladeshi proposal in the form of a draft resolution was published on 26 October 1999. Twenty-eight countries gave their backing – including Pakistan.
These countries were : Banin, Bhahama, Balaroush, Comoros, Chili, Dominic Republic, Egypt, Gambia, Honduras, Italy, Iran, Micronesia, Oman, The Philippines, Papua Newgini, Pakistan, Paraguay, Russian Federation, Sir Lanka, Saudi Arabia, Surinam, Slovakia, Vanuatu, Indonesia, India, Ivoricost , Lithuania, and Malaysia.
This larger proposal was then submitted by UNESCO's technical committee, Commission Two, to United Nation's General Assembly on 12 November 1999.
30 C/DR.35 (submitted by Bangladesh and Saudi Arabia; supported by Oman, Benin, Sri Lanka, Egypt, the Russian Federation, Bahamas, Dominican Republic, Belarus, the Philippines, Côte d'Ivoire, India, Honduras, Gambia, the Federated States of Micronesia, Vanuatu, Indonesia, Papua New Guinea, Comoros, Pakistan, Islamic Republic of Iran, Lithuania, Italy and the Syrian Arab Republic) relating to paragraph 05204, the Commission recommends that the General Conference proclaim "International Mother Language Day" to be observed on 21 February.
Five days later, on 17 November 1999, UN declared 21st February – Ekushey February – as "International Mother Language Day". The UNESCO resolution further recognized the supreme sacrifice made by our Language Martyrs on 21 February 1952.
On the first anniversary of International Mother Language Day held by UNESCO in Paris on 21 February 2000, Rafiqul Islam and his wife was invited as honourable guest.
Making of history is never free. Lots of pain, time, money, energy, sleep, health, family life, social life, hobby have to be sacrificed for it. The invisible contribution of the wife/sons of Rafiq (Buli Islam, Jyoti Islam and Joyonto Islam) and Salam (Deena, Sami, Sadi) cannot be overemphasized.
As a matter of great co-incidence, two out of the ten have same names as the famous Salam and Rafiq of 21 February 1952 fame. These ten have honoured the people who speak 6528 Mother Languages across at least 188 countries spread over all continents.
Ekushey February IMLD memorial - in Australia!
On 19 February 2006 an International Mother Language Day monument, 'Monument of Remembrance', was erected at Ashfield Park in Sydney, Australia, by the Ekushe Academy Australia, a Bangladeshi organisation.
The monument consists of a slab of slate mounted vertically on a raised platform. There are stylized images of the Shaheed Minar and the globe on the face of the stone. There are also the words "we will remember the martyrs of 21st February" in English and Bengali and words in five alphabets to represent mother languages on five continents where people live. It was officially unveiled by H.E. Ashraf UdDoula, High Commissioner for Bangladesh.
We hope that the spirit of the International Mother Language Day will help develop in us a deep respect for not only our mother tongue, but for those of others as well; help the expression of all kinds of majority and minority languages and put an end to the dictates of one language over the other.
Bengalis celebrating Ekushey February around the world...
Ekushey reminds Bengalis that regardless of their religious differences, Muslims, Hindus, Buddhists, and Christians suffered West Pakistani violence and oppression. Ekushey, with all its invented traditions, is the source of a political myth that fed Bengali secularism and independence, and the result is the common slogan "Our identity is in Ekushey".