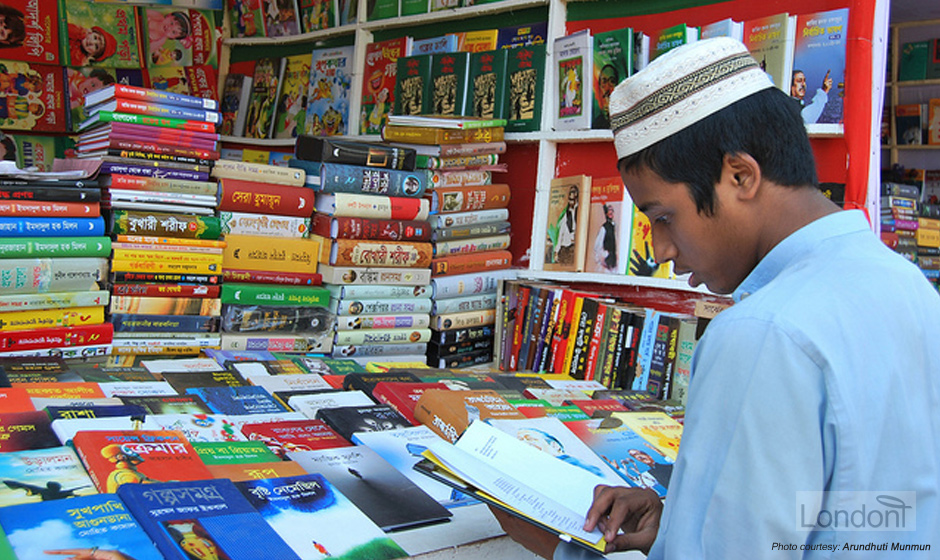 'Omor Ekushey Grontho Mela' (aka Ekushey Boi Mela)
Founded:

1978 by Bangla Academy

Location:

Bangla Academy, Kazi Nazrul Islam Avenue, Ramna, Dhaka-1000, Bangladesh

Event date:

1 - 28 February every year

Opening hours:

15:00 - 21:00 daily (11:00 - 21:00 on holidays and 8:00 - 10:00 on Ekushey February)

Entrance fee:

Free

Website:

www.banglaacademy.org.bd
The 'Omor Ekushey Grontho Mela' (Book Fair of the Immortal 21st), popularly known as 'Ekushey Boi Mela' (Book Fair of the 21st) is the national book fair of Bangladesh. It's the largest book fair in the country and takes place over whole month of February every year. The month-long fair is also an attraction as a meeting place for readers, publishers, booksellers, media personnel, authors, cultural activists and celebrities.
In Bangladesh a number of fairs or 'melas' take place at different times of the year. These include, among others, Banijya Mela (Trade Fair) Baishakhi Mela, Poush Mela, Gazoner Mela, Dhaka Boi Mela - another national book fair initiated by the government in 1990s and taking place in January every year - Kutir shilpa Mela, Pitha Mela etc. However, Ekushey Boi Mela has a special reverance due to its historical significance.
Small stall of Muktodhara Publishing grows into grand Ekushey Boi Mela
During its early days the Bangla Academy used to hold a seven-day event on its grounds to commemorate shohid dibosh. In 1972, Chittaranjan Saha, owner of Muktodhara publishing house, started a little sell in front of Bangla Academy and decided to display 33 of his books - including 'Roktatto Bangla' (Bengali Blood), a collection of articles based on the Liberation War, written by various distinguished authors. Very soon, Muktodhara had hit it off with quite a number of readers. For the rest of the week, there was a huge demand for these books, something that was quite unexpected by the Muktodhara team.
Chittaranjan Saha

()
Later, other book publishers joined there unofficially, attracting a lot of people. Gradually it became official and the most popular book fair of Bangladesh. Bangla Academy took over organization of the fair in 1978. In the 1980s, a list of criterion or 'nitimala' was also formed to maintain a standard of the publishing houses and also the kind of books that they published, so as to participate in the fair. A committee was formed to make sure that the nitimala was followed and Chittaranjan Saha became one of the members of this committee.
It was around the time of Liberation of Bangladesh and everyone wanted to do something for Bangla. Theoretically, we also wanted to be a part of the war.

Chittaranjan Saha decided to fight along, not with weapons, but with knowledge and books thereby instilling the love of reading amongst the Bangalis. That is how the idea of establishing a publishing house came about.

We found a spot on the grass and displayed our books on a small jute-mat for the visitors. We did the same in 1973. In 1974, we built a proper stall for ourselves besides the mango tree in the Bangla Academy grounds, where the security is placed this year. Artist Pranesh Mandal had even designed a gate. In 1975, a few more bookstalls joined Muktodhara, making the seven-day event an unofficial book fair. We had with us Khan Brothers, Ahmed Publications, Boi Ghor from Chittagong and a few more. That was when we decided to have the 'unit-system' for each stall. Back then, 8 feet by 8 feet was the normal size for one unit. The publishers would take up one or two units for their books. But today, the unit size has come down to a mere 8 feet by 6 feet which is not enough for us to accommodate all our books, even if we take up two units.

Advocate Jahar Lal Saha, Chittaranjan Saha's brother-in-law who had been with Muktodhara right from the beginning and also the current owner of the publishing house
In 1984 the book fair was named 'Omor Ekushey Grontho Mela'.
Structure
Only the Bangladeshi booksellers who have published at least 25 or more books in a single year can participate in the fair. Between 300 and 400 publishing houses, book sellers and such other organisation, including Bangla Academy and Nazrul Institute, take part. In 2011, the venue was divided into 556 units (spaces for stalls) to accommodate 376 publishers. Usually these publishers will spend most of the year in preparation to publish a huge number of books during this month.
The venue of the book festival - limited to Bangla Academy's boundary - and outside is decorated with banners, festoons and placards in conformity with the spirit of Omor Ekushey. The entire fair venue is free from smoking and polythene.
The Bangladesh Ministry of Culture is in control of the fair while the Bangla Academy does the ground work. Given the importance, usually the Prime Minister (or the Chief Adviser in case of Caretaker Government) inaugurates the fair on the first day of February, with the media making live broadcast of the inaugural ceremony. Special guest(s) usually accompany the Prime Minister in the inaugural ceremony. During 2011 the guest of honour was Nobel Prize winner Amartya Sen. In 2009 it was the minister for Cultural Affairs AK Azad and Professor Kabir Chowdhury.
Every year the fair has a dedicated special theme. The theme for 2011 was Robindronath Thakur (also spelt Rabindranath Tagore) - marking 150th birth anniversary of the poet. Bangla Academy held discussion and seminars such as 'Mukti Snagram, Sangskriti and Rabindranath' and 'Rabindranath O Bangladesher Sangskritik Andalan' throughout the whole month as tribute.
Table: Ekushey Boi Mela themes since 2000

| Year - Theme | Guest of honour |
| --- | --- |
| 2000 - | |
| 2001 - | |
| 2002 - | |
| 2003 - | |
| 2004 - | |
| 2005 - | |
| 2006 - | |
| 2007 - | |
| 2008 - Bengali Literature and Culture - Achievement of three decades | |
| 2009 - Potentiality of Bangladesh | Minister for Cultural Affairs AK Azad and Professor Kabir Chowdhury |
| 2010 - | |
| 2011 - Rabindranath Tagore | Nobel laureate Amartya Sen |
| 2012 - 60 years of Language Movement | |
"Munier Chowdhury" and "Chittaranjan Saha" memorial awards are also given to the publishing house bringing out the highest number of quality books and the publisher of the best book in the fair respectively.
Security is ensured via closed circuit cameras and security arches, while police, RAB and intelligence agencies provide additional protection.
'Lekhok Kunjo' attracts Bangladesh's elite authors
The event attracts the creme-de-la-creme of Bangladesh literary world. There is a 'Lekhok Kunjo', a dedicated place for writers, and 'Nazrul Manch', a corner dedicated to poet Kazi Nazrul Islam. A media center is also set up to accommodate the journalists, with Wi-Fi available for laptops. In 2011, nine corners of the mela was dedicated in the name of noted literati, language movement martyrs, poets and intellectuals while a corner was dedicated for children.
Attracted by discounted price (30% books published by Bangla Academy, 25% for all other publishers), readers rush there.
In 2008 the sale proceeds from books sold shot up to a record Tk. 200 million.
Although Ekushey Boi Mela started merely as a book fair, it has evolved into a national cultural festival reflecting the cultural spirit of the modern Bengali nation. In addition to book sales, Bangla Academy organizes literary and cultural events everyday. Thousands of people gather everyday not only to purchase books but to spend time in the company of books and their authors with a patriotic zeal.