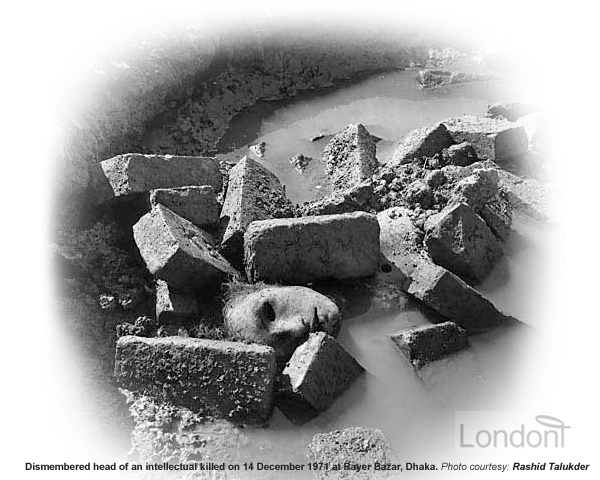 Massacre of Bengali intellectuals
On the brink of defeat, on Tuesday 14 December 1971, two days before Bangladesh independence, the Pakistani Army, allegedly, and its local razakar collaborators systematically killed a large number of Bengali doctors, teachers, journalist, engineers, and other intellectuals, as part of their violent programme to curb Bengali culture and identity. Amongst the murdered were Bengali Hindu minorities who constituted the majority of urban educated intellectuals at that time.
They were not killed in one fell swoop. The army and its local henchmen had engaged in methodical killing of several in the initial stages of the liberation war from 25 March 1971 and committed "cerebrogenocide" on the Bengali nation up until the very end.
The intellectuals, because of their higher enlightenment, are regarded as guides of a nation's ethos. Furthermore, they are seen as the custodians of a nation's history and culture. That is why, when they become a part of history by having their lives cut short violently for being ethical guides and custodians of culture and history, that is tantamount to carving out a piece of a nation's soul.
The goal of the killers was not complicated - by destroying the intelligentsia they believed they could more effectively control dissent against their rule. They rounded off their victim, who had the courage to stand against them, not escape, and remain firm and proud in their new country. The assassins had their victim hands tied behind their backs and eyes blindfolded with cloth. One by one they were pounced upon in a cold, systematic and ruthless way and taken away in an earth-smeared micro-bus. They were taken to torture cells around the city - in Mirpur, Mohamedpur, Rajarburgh, Nakwalpara, and other locations. Most, if not all, were executed and dumped into mass graves, notably at Rayer Bazar and Mirpur, or at nearby rivers for their body to be washed away, unknown, into the sea.
Many of their bodies were found 3 or 4 days later at the Rayer Bazar brick-kiln. Some bodies were never found or identified.
Young men, especially students, who were seen as possible rebels were also targeted. The extent of casualties in East Pakistan is not known - though the number of intellectuals killed are estimated to be around 1,000.
Some of the buddihijibi killed during Mukhtijuddho:
Ordered in typical Bengali fashion - elders first.
Dhirendranath Datta

(1886 – 1971) Lawyer, social worker and politician. First to formally demand Bangla as a state language in Pakistan Constituent Assembly in Karachi on 25 August 1948 during Basha Andolan. Obtained Bachelor of Law degree from Calcutta Ripon College (1970). Inspired by 'Deshbandhu' Chitta Ranjan Das to participate in Gandhi's Non-Cooperation Movement (1920) and Quit India Movement (1942). Took active part in relief works during 1943 famine. Minister of Health and Social Welfare of East Pakistan under Ataur Rahman Khan cabinet (1956 – 1958). Dad Jagabandhu Datta was a serestadar in the Munsif Court. Mother died when he was 9. Born in Ramrail, Brahmanbaria District, Comilla Division. Arrested from home on 29 March 1971, three days after Operation Searchlight, and taken with his son, Dilip Kumar Datta, to Moynamoti Cantonment and tortured to death – he was 85 years old. Given honorary title of "Shaheed" (martyr) as a sign of respect. Road in front of his Comilla house has been named after him.

Ranadaprasad (RP) Saha

(1896 – 1971) Entrepreneur, philanthropist and patron of learning – especially for socio-economic emancipation of women. Lost mother Kumudini Saha aged 7 to tetanus. Family very poor so could not get an education. Fled to Kolkata aged 16. Early career with Bengal Ambulance Corps and Bengal Regiment during First World War (1914 – 1918), involving travel to Iraq and Pakistan (Karachi). Joined Indian Railway department post war, but lost it in 1932. Maintained 275 gruel houses to feed the hungry for 8 months during 1943 Bengal famine. Established 750-bed 'Kumudini Hospital' – named after his mother – on 27 July 1944 in his native village Mirzapur, and opened by Governor of Bengal, (Baron) Richard Gardiner Casey. Founded multiple educational institution including Bharateshwari Homes (1942, named after grandmother), Kumudini College in Tangail (1943, named after mother), Debendra College in Manikganj (1944, named after father Debendranath, built on 24 acres of land), Mirzapur Pilot Boys' School, Mirzapur Pilot Girls' School, and Mirzapur Degree College. Maternity Wing of the Dhaka Combined Military Hospital established with his financial support. Donated his entire property to Kumudini Welfare Trust (1947) to fulfill his vision of 'Education-Service-Unity-and-Peace'. Given honorary title of "Rai Bahadur" by British Government in recognition of his charitable contribution. Born in mama's house at Kachhur (Savar), Tangail district. Abducted from his Narayanganj home and killed along with son Bhabani Prasad Saha (Rabi) on 7 May 1971 by Pakistani occupation army.

Dr. Govinda Chandra Dev

(1907 - 1971) Philosopher and educationist. Passed entrance examination in first division from Beani Bazar High English School and I.A from Ripon College, Calcutta. Achieved first class first position in both BA (Hons) from Sanskrit College, Kolkata (1927) and MA in Philosophy from Calcutta University (1931). Received Ph.D degree from the same university for thesis on 'Reason, intuition and reality'. Worked initially as teacher in Calcutta and Dinajpur. Joined Dhaka University as a professor of philosophy (1953) and later promoted as chairman of the department of philosophy (1970). Taught in a college in Pennsylvania, USA as a visiting professor. On return to Dhaka he founded the 'Philosophy Bhaban' in 1971. Published over 100 articles and 9 books including Idealism and Progress (1952), Idealism: A New Defence and A New Application (1958), Amar Jibon Darshan (1960), Aspiration of the Common Man (1963), The Philosophy of Vivekananda and the Future of Man (1963), Tattvavidyasar (1966), and Buddha: the Humanist (1969). Two other books - Parables of the East (1984) and My American Experience (1993) - were published posthumously. Inspired by Socrates, he was a secular and humanistic philosopher. Awarded honorary title of 'Darshan Sagar' by the East Pakistan Saraswat Samaj in 1967 for his contribution to philosophy. The same year, 'The Govinda Dev Foundation for World Brotherhood' was established in USA for propagating his humanistic philosophy. "Dev Centre for Philosophical Studies" was established in the Department of Philosophy of DU (1980) which publishes a Bengali journal called 'Darshan O Progati' and an English journal entitled 'Philosophy and Progress'. Awarded Ekushey Padak posthumously (1986). Donated all his property and money to DU to further the cause of human welfare. Born in village of Beani Bazar, Sylhet. Murdered by gunshot to head and chest by Pakistani forces on the night of 25 March 1971 in his campus quarter near Jagannath Hall. His adopted daughter Rokeya Sultana was beaten up and her husband Mohammad Ali was also killed. Dr. Dev died a bachelor. Buried in the mass grave at Jagannath Hall, DU.

Santosh Chandra Bhattacharyya

(1915 - 1971) Scholar in Sanskrit literature and ancient history of Bengal and India. Achieved first position in both Matriculation ('Mettik', 1932) from Poguj School, Dhaka, and I.A. (1934) from Dhaka Inter-Medical College. Graduated in History (1937) with highest second class honour from Dhaka University - nobody achieved a first class that year. But achieved first class in MA in History the following year (1938). Started academic career as a lecturer in Jagannath College in 1939 and worked there until 1949, when he joined the History Department of Dhaka University as a Senior Lecturer (now known as Assistant Professor). There was a premium on the number of Professors and Readers (now called Associate Professors) then in every department, and for some reason or the other (e.g. not having a Ph.D.), Senior Lecturer Bhattacharjee did not advance beyond the position. An upper-caste Hindu, born in a Brahmin family. Father Kritish Chandra Bhattacharyya was a lawyer. Sasa (paternal uncle) Sonchidando Bhattacharyya and Sukumar Bhattacharyya were prominent teachers in Calcutta Presidency College and Shantiniketan Vishobharti University respectively. Born in village of Jantrail, Nawabganj upazila in Dhaka district. Abducted blindfolded by Al-Badr Bahini from home in the morning (around 9am) of 14 December 1971. He was doing the puja (prayers) when they entered his home in 31 Isa Khan Road, near DU. When he requested that he have his breakfast, they answered "Don't worry Sir, we've prepared a nice breakfast for you". Found dead 20 days later on 4 January 1972 in Mirpur Shahid Minar among other martyred intellectuals. Left behind wife Binapani and young son Prodip and daughter Shopna.

Dr. Habibur Rahman

(1921 - 1971) Professor of Mathematics at Rajshahi University (RU). Around mid April 1971, a huge Pakistani Army force entered Rajshahi and turned university halls, e.g. Shaheed Shamsuzzoha Hall, into concentration camp and repression centre. Students, intellectuals and able-bodied males were tortured and buried at the mass graveyard behind Zoha Hall. Professor Rahman protested and maintained communication with freedom fighters. Refused to leave campus with family even though life was in danger. Born in village of Baliyadar, Chatkill district, Noakhali. Picked up from home by Pakistani army led by Brigadier Aslam and Colonel Taj on 15 April 1971 and taken to RU's guesthouse, Zuberi Bhaban, and never returned. Largest men's hall in RU, "Shahid Habibur Rahman Hall", named after him. A "Bidargho" (worship for wisdom) monument, adorned with his bust and two steel images of a freedom fighter with a gun on his shoulder and an intellectual with a pen installed on a hexagonal basement, was inaugurated on 26 March 2012 - Shadinota Dibosh - in his honour.

Nizamuddin Ahmed

(1921 - Unknown) Journalist. Passed B.A (Hons) and M.A in Economics from Dhaka University in 1959. Joined Pakistan Press International, became editor (1969) and promoted to rank of general manager. Ardent supporter of Bangladesh Liberation War - sent news items on Pakistani forces atrocities to various foreign news media. Took New York Times' journalist McBrown to a guerrilla camp to collect authentic news and provided BBC with authentic news under strict censorship. As a result, taken to General Rao Forman Ali's office on two occasions. Born in Munshiganj. Taken by Al-Badr Bahini from home on 12 December 1971. His body was never found.

Munier Chowdhury

(1925 - Unknown) Educationist, playwright and literary critic. Considered founding father of modern Bengali drama. Came from big family of 14 kids (8 brothers and 6 sisters). His dad, Khan Bahadur Abdul Halim Chowdhury, was a district magistrate. Munier matriculated from Dhaka Collegiate School (1941) and completed ISc from renowned Aligarh Muslim University, India. Enrolled at Dhaka University and completed Honours (1946) and MA (1947) in English. Completed a second MA degree in Bangla (1954) and obtained an MA in Linguistics from world famous Harvard University (1958), USA. Taught initially at B. L. College in Khulna (1947-1950) and Jagannath College (1950), Dhaka. Later joined Dhaka University (1950-1971), teaching in both English (part-time) and Bangla (1955 onward) departments. Elected Secretary of the 'Pragati Lekhak O Shilpi Sangha' (Progressive Writers and Artists' Association) in 1948. Jailed in Dhaka Central Jail for two years (1952-54) for protesting during Basha Andolan. Sat for MA examination in Bangla whilst in jail and received first in first class. In detention, he wrote his celebrated one-act play 'Kabar' (The Grave, 1953), based on the language movement. Imprisoned also on two other occasions. Literary works include plays Raktakta Prantar (1959), Chithi (1966), compilation Kabar (1966), Dandakaranya (1966), and Palashi Barrack o Annanya (1969), and books Mir Manash (1965), Tulanamulak Samalochana (1969), and Bangla Gadyariti (1970). Devised a Bangla keyboard for typewriters (1965), known as 'Munier Optima'. Became Reader (1962), Professor (1970) and the Dean of the faculty of arts (1971). Awarded the Bangla Academy Prize (1962) and the Daud Prize (1965) for his plays. In 1989, Theatre introduced the Munier Chowdhury Award in his honour. Denounced the title 'Sitar- I- Imtiaz' awarded to him by the Pakistan government (1966) during the non-cooperation movement (1971). Born in Manikganj, Dhaka. Ancestral home in Noakhali. Kidnapped at noon by Al-Badr Bahini from family home in Darul Afia, Dhanmondi, Dhaka, two days (14 December 1971) before Bijoy Dibosh. His body was never found. Left behind wife, Lily Chowdhury, and three sons Ahmed Munier, Ashfaq Munier and Asif Munier. Youngest son a founder member of 'Projonmo Ekattor' (Generation '71), a human rights group in Bangladesh, which initiated the building of the Rayer Bazar Smriti Shoudho (Rayer Bazar Memorial) in Dhaka. Elder brother Kabir Chowdhury was a National Poet of Bangladesh.

Dr. Mufazzal Haider Chaudhury

(1926 - 1971) Reputed educationist and essayist. Eldest of 4 brothers & sisters. Lost father Bazlur Rahim Chaudhuri when very young and brought up by mama (maternal uncle) after sasas (paternal uncles) forced family out. Provided private tuition as student to pay for his and 3 siblings educational expenses. Brilliant academic student securing 4th place in Calcutta University entrance exam (1942), 1st in Higher Secondary examination from Dhaka College (1944), and first class first in both BA (Hons) in Bangla Language and Literature from Calcutta University (1946) - the first Muslim student ever to achieve this, that too with record marks and a gold medal - and MA from Bishwabharati University in Shantiniketan/Dhaka University?????? (1953). Nicknamed 'Babbi' by his children and 'Mukhojjol' (loosely translated as 'the one who makes us proud') by friends, including Rabindranath Tagore's son Rathindranath. Began career as a scriptwriter of Dhaka Radio (1948), then joined Jagannath College, Dhaka. Also a part-time faculty at Notre Dame College, Dhaka. Joined Department of Bangla of Dhaka University in 1955. Went to England with wife in 1957 to study for PhD in phonetics from London University's School of Oriental and African Studies, but left uncomplete after couple of years after falling out with his supervisor. Promoted to Reader in Bengali on return. Several academic books to his credit, including Rabi Parikrama (1963), on the life and work of Rabindranath Tagore. Many of his writings focus on Bangla Language and literature: Some Supra-Segmental Phonological Features of Bengali (1959), Bangla Banan O Lipi Sangskar (1962), Colloquial Bengali (1963), Ranin Akhar (1963), Bhasa o Sanskriti, and Sahityer Naba Rupayan (1969). He also wrote poems, stories and plays. In 1971 he was honoured with the Bangla Academy Prize. He was awarded 'Sahitya Bharati' by the Viswa Bharati University, Santiniketan. Born in the village of Khalishpur in Noakhali district. Abducted by Al-Badr forces on 14 December 1971 and killed. Wife Dolly Chaudhury recognised one of the three alleged Al-Badr member Chowdhury Mueen-Uddin - then a journalist with Purbodesh newspaper in Dhaka and a friend of her brother-in-law, who later became Vice-Chairman of East London Mosque and London Muslim Centre in UK - after Dr. Mufazzal pulled down his face cover.

Shahidullah Kaiser (born Abu Nayeem Mohammad Shahidullah)

(1927 – 1971) Journalist and novelist. Member of the provincial Communist Party of East Pakistan. Played an important role in 1952 Language Movement. Imprisoned for three-and-half-years in 1952, four years in 1958, and also for some time in 1955. Obtained BSc (Hons) in Economics from Presidency College (1946) but unable to complete final examination in MA in Economics in Calcutta University. Started career in journalism (1949) with the weekly Ittefaq in Dhaka. Appointed associate editor of the Sangbad (1958), and continued to work there until death. Literary credit include Sangshaptak (The Indomitable Soldiers, 1965), Krsnachura Megh (Krishnachura Clouds), Timir Balay (The Circle of Darkness), Digante Phuler Agun (The Flaming Horizon), Samudra O Trsna (Sea and Thirst), Chandrabhaner Kanya (Chandrabhan's Daughter), the unfinished novel, Kabe Pohabe Bibhabari (When Will It Dawn?) and the highly acclaimed Sareng Bau (The Captain's Wife, 1962) which deals with the human fight for existence. This was later turned into a film. Other non-fictitious work include Rajbandir Rojnamacha (The Diary of a Political Prisoner, 1962) which details his life in prison, and Peshwar Theke Tashkhand (From Peshwar to Tashkent, 1966), a political travelogue. Received Adamjee Literary Award (1962) and Bangla Academy Award (1962). Second wife Panna Kaiser also a novelist who served as a member of parliament for Awami League government between 1996-2001. Daughter Shomi Kaiser is a TV actress. Born in village of Mazupur, Feni district. Picked up by occupation forces on the night of 14 December 1971, two days before the independence of Bangladesh, and never returned. 36-year-old younger brother Zahir Raihan, prominent film maker who made 'Stop Genocide' documentary during Muktijuddho, also disappeared whilst searching for him.

Dr. AFM Alim Chowdhury

(1928 - 1971) Ophthalmologist (eye specialist). Passed Matriculation from Kishoreganj High School (1945), Intermediate from Calcutta Islamia College (1947), MBBS degree from Dhaka Medical College (1955), and D.O. (Doctor of Osteopathic Medicine - a professional doctoral degree for physicians) degree from London (1961). Worked at St James Hospital, London, as a registrar from 1961 to 1963 then returned to East Pakistan and joined Kumudini Hospital in Mirzapur as a chief ophthalmologist. Joined Dhaka Medical College as an Associate Professor in 1968. Active in leftist politics from his student life. Participated in 1952 Bengali Language Movement and taken into custody in 1954 for his political activities. Worked as an associate professor at the Department of Ophthalmology in Sir Salimullah Medical College (1971). Formed the East Pakistan Medical Association (currently Bangladesh Medical Association) and elected general secretary. Served as Secretary General of the Ophthalmological Society of East Pakistan and Secretary General of the Ophthalmological Society of Pakistan. Passionate about photography and creative writing. Edited two monthly magazines - 'Kapchara' and 'Jatrik' - during student life and worked as sub editor for two newspapers, 'Dainik Ittefaq' and 'Dainik Millat'. Help find the London-based Bangla Academy. In his honour the Ophthalmological Society of Bangladesh awards the 'Alim Memorial Gold Medal' - the highest accolade in the field of ophthalmology - to a famous Eye specialist of the country every three yearly. Born in village of Khoyerpur, Kishoreganj. Performed his 'duty' by providing Bengali guerillas with medical care during 1971. Abducted from home at Purana Paltan by Al-Badr Bahini on 15 December 1971. Moulana Abdul Mannan, who was given shelter in family home for 6 months, is alleged to have collaborated with them. Mannan went on to become a cabinet minister and member of the Bangladesh Parliament before his death in 2006. Dead body of Dr. Alim Chowdhury found at Rayerbazar mass grave three days later along with other intellectuals. Blindfolded, hands tied-up beside Dr. Fazle Rabbi and his eyes gouged from his head. Buried in Azimpur graveyard, Dhaka. Left behind wife Shyamoli Nasrin Chowdhury (a national award winning educationist and former principal of Udayan School) and two daughters Nuzhat Chowdhury Shampa and xxxx, both of whom are physicians. Like her father, Nuzhat became an eye surgeon.

Anwar Pasha

(1928 - 1971) Prominent litterateur. Attained MA in Bangla from Calcutta University (1953). Joined Pabna Edward College (1958) and then, in 1966, the Department of Bangla, Dhaka University. Books written include Nadi Nihshesita Hale (1963), Nirupay Harini (1970), Rabindra Chhotagalpa Samiksa (Vol. I 1963, Vol. II 1973), Sahityashilpi Abul Fazal (1968), Samudra Sankhalata Ujjayini (1974), and novels such as Neer Sondhani (Home Seeker, 1968), Nishuti Rater Gantha (Dead of Night Epics, 1968), and Rifle Roti Aorat (Rifles, Bread and Women, 1973, A legendary work ) which was based on the nine-month liberation war. Also edited four ancient and medieval Bangla poems in collaboration with Professor muhammad abdul hai. Born in Dabkai village in Murshidabad, West Bengal. Picked up from his university flat, taken to Mirpur and brutally killed along with other intellectuals. His dead body was recovered and buried in the compound of the Dhaka University mosque. Posthumously honoured with the Bangla Academy Award (1972) for his literary achievements.

M. Abul Khair

(1929 - 1971) Associate Professor of History at Dhaka University. Obtained MA in History from Dhaka University (1951) and MSc (1959) and PhD (1962) in International History from the University of California, Berkeley (USA). A part of his PhD thesis published by Asiatic Society of Pakistan (now Bangladesh) in 1968 under "United States Foreign Policy in the Indo-Pak Subcontinent, 1939-1947". Published several research articles in reputable journals. Early teaching career at Fazlul Huq College, Chakhar in Barisal and Jagannath College, Dhaka. Lecturer in DU from 1955 till death. Passionate supporter of Bangladesh movement and always vocal about national issues, especially welfare of people. Born in village of Gosantara-Brahmandanga, PS Kawkhali, under the district of Pirojpur. Arrested initially on August 1971 by Pakistani occupation army and taken to a building at the Sangsad Bhaban area for interrogation. Released after 20 days. Picked up again from his home by armed men in the morning of 14 December 1971. Dead body recovered 21 days later from Mirpur slaughter site. He was only 42. Buried beside Dhaka University Mosque.

Selina Parvin

(1931 - 1971) Poet and journalist. Primary education in Feni. Father Abidur Rahman was a teacher whose house was seized after World War II so family forced to settle in a village. Wrote poems & stories aged 12. Married aged 14 against her consent. Divorced after 10 years. Came to Dhaka (1958) and got job as matron of Rokeya Hall in the University of Dhaka. Quit after two years after dispute with authority. Re-married a politician. Became an avid reader of Bengali literature. She took a job at weekly 'Lalana.' Then started her own literary magazine 'Shilalipi'. Provided shelter, food and medicine for freedom fighters and help wounded during 1971 Shadinota Juddho. Born in Noakhali. Abducted at noon, eyes covered with towel, from family home at Siddheshwari by Al-Badr Bahini on 13 December 1971 and killed the following day. Dead body discovered four days later in the Rayerbazar Boddhobhumy. She was 40 years old. Left behind 8-year-old son Shumon Zahid. Siddheshwari road has been renamed 'Martyr Journalist Selina Parveen Road' in her honour.

Dr. Mohammad Fazle Rabbi

(1932 - 1971) Cardiologist of international acclaim. Joint professor of Cardiology and Internal Medicine at Dhaka Medical College and Hospital (DMCH). Achieved highest mark in MBBS (from Dhaka Medical College, 1955) in whole of Pakistan for which he received a gold medal. Earned an MRCP (post-graduate degree) in cardiology and another one in internal medicine in record time by 1962 and worked in Hammersmith Hospital, London. Upon graduation, worked at Middlesex Hospital with Sir Francis Avery Jones, an eminent British gastroenterologist. Joined DMCH as associate professor of medicine in 1963. His research-based articles published in British Medical Journal and Lancet. A humanitarian who believed in 'Ganamukhi Chikitsha' and provided free medical care to thousands of poor patients. Provided medical care, surgery, money, shelter and transportation cost to refugee camps to families of those who were killed, as well as for survivors of torture and rape during 1971 Bangladesh Liberation War. Believed in progressive and secular society and mixed with everyone. 'Dr Fazle Rabbi Smriti Porishad' promotes his contribution and 'Dr Fazle Rabbi Foundation' formed in 1995. Born in Pabna. Taken from home by Pakistani forces and collaborators on 15 December 1971 to Mohammedpur /Lalmatia Physical Training Institute and then to Rayer Bazar brickfield along with other intellectuals where they were killed. He was killed at 4pm. His dead body was identified three days later on 18 December 1971. He was only 39 years old.

(Sheikh Mohammed Abdur or S. M. A.) Rashidul Hasan

(1932 - 1971) Educationalist, Essayist and Poet. Early education at the historic Vabhta Azizia Madrasah in Murshidabad, India. Completed his secondary education ("High Madrasah") from the same Madrasah (1947). Elder brother Toyob Ali was first secretary to British High Commissioner in Dhaka, so Rashidul moved to Dhaka to continue his education under his guardianship. Passed I.A. (Intermediate in Arts) from Dhaka Islamia Intermediate College (1949). Obtained BA (1957) and MA (1958) in English Literature from DU. Taught at various colleges including Narsingdi (1954-55), Pabna Edward College (1956-59) and Krishna Chandra College of Bhirbhum, West Bengal (1959-67). Joined Dhaka University's English Department as a lecturer in 1967 and was promoted to senior lecturer in 1970. A liberal democrat and a life long fighter against fundamentalism and communalism. Wrote many critcal essays on literature, in both English and Bangla, for many newspapers and magazines. DU's Department of English, which is as old as the University itself and opened on 1 July 1921, has two seminar library - the Literature library named after Rashidul Hasan and another martyred teacher, Dr. Jyotirmoy Guhathakurta, and the Language library named after Dr. Abi Md. Nizamul Huq. Born in village of Borshija, Bhirbhum district of West Bengal. A close friend of Anwar Pasha - both men picked up together by Al-Badr Bahini from the same flat within the DU campus on 14 December 1971. Dead body found in Mirpur slaughtering ground. Left behind wife Begum Roquaiya Rashid, son Mahmud Hasan, and two daughters Suraiya Amina Smreeti and Roquaiya Hasina Neely.

Altaf Mahmud (aka ANM Altaf Ali)

(1933 – 1971) Lyricist, musician, singer, and cultural activist. Composed music for 'Amar Bhaier Rakte Rangano Ekushe February, Ami ki bhulite pari?', sang to commemorate Basha Andolan. Educated at Barisal Zila School (1948) and B M College. Learnt painting at Calcutta Arts School, Kolkata. Renowned early on for singing gana sangit (people's songs). Moved to Dhaka in 1950 and joined 'Dhumketu Shilpi Sangha' cultural organisation. Invited to the Vienna Peace Conference in 1956, but passport confiscated by Pakistan Government whilst in Karachi to get visa. Settled in Karachi up to 1963 and took lessons in classical music from Ustad Abdul Kader Khan. Returned to Dhaka in 1965 and worked as music director for as many as 19 films including Tanha, Kaise Kahu and Kar Bau. Composed and sang various shadinotar gaan, broadcasted via Swadhin Bangla Betar Kendra during 1971 Muktijuddho, including "Satyer Jai", "Bholo Bir" and "Ami Manusher Bhai Spartacus". Provided food and money to freedom fighters. Turned his residence into a base camp of the members of crack platoon, where they took rest and hide their arms and ammunition. Awarded Ekushey Padak (1977) posthumously. Born in village of Patarchar, Barisal district. Arrested from home on 30 August 1971 and killed. The 'Shaheed Altaf Mahmud Padak' is awarded annually by Shaheed Altaf Mahmud Foundation to artiste for outstanding contribution to the musical arena.

Ghyasuddin Ahmed

(1935 - 1972) History teacher in Dhaka University (DU). Passed MA in History from DU (1957). History lecturer initially in Jagannath College then DU (1958). Went to UK with Commonwealth Scholarship in 1964 and obtained Honours degree in World History from London School of Economics (LSE) in 1967. Nicknamed 'Bachchuda' by family. Born in Narsingdi. Accused of helping freedom fighters and taken to Dhaka Cantonment for questioning. Released after few days. Picked up again on 14 December 1971 from Mohsin Hall by Al Badr killing squad - 20 days later, on 4 January 1972, his clothes and mutilated body were identified in Rayer Bazar slaughter site. Buried beside the Dhaka University central mosque. He was 36 years old.

Dr. MAM Faizul Mahi

(1939 - 1971) Educationalist. Achieved I.A. (1957), BA (1959) from Feni College, B.Ed. degree (1962) from Dhaka Teachers Training College, and M.A. (1965) and Doctor of Education (1968) from Northern Colorado State University, USA. Headmaster of Feni G.A. Academy School from 1962-1965. Lecturer in the Arts Faculty of Dhaka University's Institute of Education and Research (1968) and promoted to Assistant Professor in the same year. Charming personality who loved literature, music, and sports. Authored many articles published in newspapers and magazines. Financially helped many Freedom Fighters and families who were made destitute by the Pakistani military during Mukitjuddho. Born in Feni. Abducted by Al-Badr Bahini on 14 August 1971 from his university apartment and brutally killed along with many other intellectuals in the slaughtering ground of Mirpur. He was only 32 years old.

Syed Nazmul Haque

(1941 - Unknown) Intellectual. Passed B.A. (Hons) and M.A. in Political Science from Dhaka University in 1963 and 1964 respectively. Actively participated in anti-martial law movement in 1962. Arested for disrupting the convocation programme on DU campus in 1964 where the then governor of East Pakistan Abdul Monem Khan was present. Became chief reporter of Pakistan Press International and Dhaka correspondent of Columbia Broadcasting Service. Prepared a full report on the proceedings of Agartala Conspiracy Case. Sent news items on the atrocities carried out by the Pakistani forces during the liberation war. Born in Khulna. On 11 December 1971, he was picked up from his Purana Paltan house by members of Al-Badr. His dead body was never found.

ANM Golam Mustafa

(1941 - )

Khandaker Abu Taleb

(- 1971) Journalist, litterateur and lawyer. Secretary general of East Pakistan Journalists' Union. Worked with an advocate firm named BNR. With tension brewing in Mirpur area ahead of the war, the family left the area on 24 March 1971 and moved in with his aunt in Shantinagar in the capital. 'Shaheed Abu Taleb High School' was established in Mirpur, and a separate gallery was set up at the National Museum in his honour. Name mentioned in the nameplate of Jatiya Press Club and Dhaka Bar Association, built to commemmorate martyrs killed.

Saidul Hasan

() Physician.

Shaheed Mohammad Salimullah

() Philanthropist. Killed in front of his house

Nurul Absar Mohammad Jahangir

(13 May 1931 - 30 Mar 1971) Head of 40 field ambulance unit of Comilla cantonment in 1971. Eldest son of Doctor Abdul Qader and Jahanara Begum resident of Pangsha, Rajbari. Passed Matriculation exam from 'King George high school', Pangsha (1944) and obtained 1st division. Passed ISc examination (1946) and obtained 1st division. Attended (1947) and graduated (1953) from Dhaka Medical College and joined Armed Forces Medical Corps. Obtained his post graduation degree in clinical pathology from Walter Reed Army Medical institute at Washington DC, USA (1963). Promoted to Lieutenant Colonel (1970) and posted as Commandant 40 Field Ambulance in Comilla Cantonment, Comilla. As final year student of Dhaka Medical College he participated vehemently in the 1952 Bhasha Andolon. Disappeared on 30 March 1971. After the liberation War on March 1972, he was exhumed from a mass grave at Comilla and was buried in front of Comilla CMH with military honours.
All these people were successful and leading professionals in their own fields, the sort of people who would have led the society in post liberation Bangladesh.