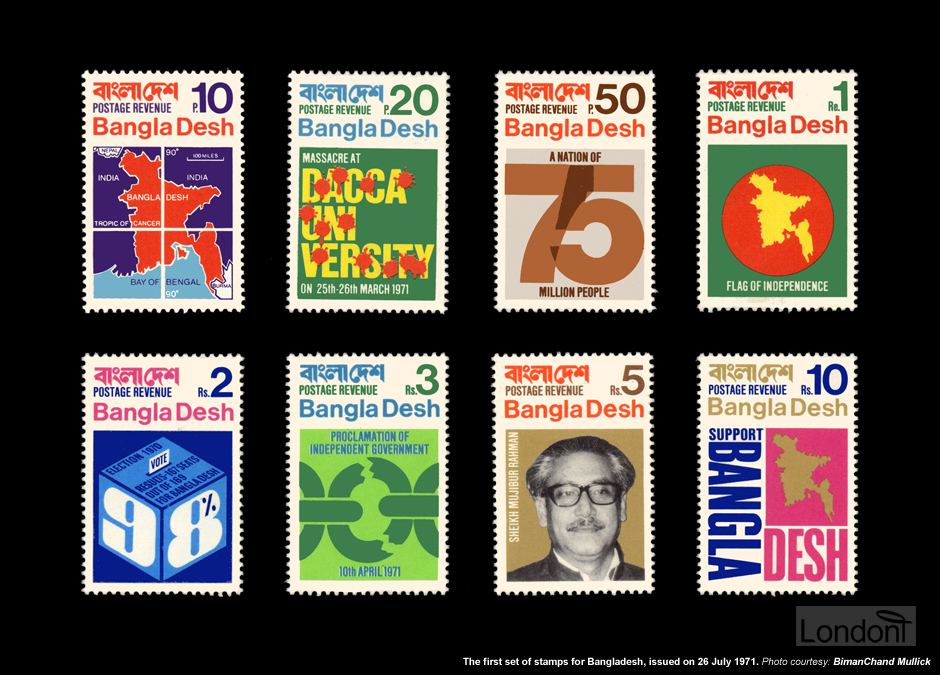 First postage stamps of Bangladesh
Using stamps to create global awareness
During the war, the Mujibnagar Shorkar established field post offices, took control over existing post offices in the liberated areas, and put the postal department under the Ministry of Transport and Communication. From April until July 1971 they used stamps stolen by a philatelic officer of Dhaka GPO. The officer escaped with the old commemorative stamps that were in stock of Dhaka Treasury, and handed them over to the Bangladesh Authority for overprinting.
In May 1971 a decision was taken to issue Bangladesh's own stamps following a visit of British MP John Stonehouse to Mujibnagar Government. Stonehouse came on behalf of 'War on Want', a charity which openly campaigned for the liberation of Bangladesh. In his book "Death of an Idealist" written fours years after the Bangladesh Liberation War, John Stonehouse wrote that it was him who came up the idea for the creation of Bangladesh stamps and that Prime Minister Tajuddin Ahmad and his colleagues gave their consent. According to General Secretary of Philatelist Association of Bangladesh (PAB), A. T. M. Anowarul Haque Quadir, a committee comprising of Prime Minister Tajuddin Ahmad and prominent painters Qamrul Hasan and Nitin Kundu amongst others felt that the stamps would be a great way of spread awareness globally of the events in Bangladesh and thus gave their blessing. However, Biman Mullick, who designed the stamps, had confessed to never hearing about any 'committee'. Nevertheless, the innovative concept had excited John Stonehouse who took on the responsibility of producing the stamps after the gaining Mujibnagar Shorkar's blessing.
It became clear that the situation would get far worse and the war of liberation could take years to fight. I decided to step up the campaign in Britain and to try to establish such a powerful lobby for Bangla Desh that even Governments would have to listen. I suggested to Tajuddin and Mansoor Ali the Minister of Finance who was also present that Bangla Desh should issue postage stamps which could be used for mail from the liberated areas and which would also be excellent propaganda to establish the fact of the existence of Bangla Desh. They consulted colleagues and told me the next day that the idea had been approved by the Government. They asked me to organise the printing and publishing of the stamps and gave me an official authority stamped by the Government of Mujibnagar, which was the name of the mythical and ever-moving capital of the exile administration.

When I returned to London I contacted Biman Mullick the Indian artist, who is a Bengali from West Bengal, and asked him to design a series of six stamps. Mullick had designed the Gandhi stamp for the GPO when I was Postmaster General and I knew he had the talent.

Extract from "Death of an Idealist" (1975) by John Stonehouse (pages 107-108)
Young Indian-Bengali graphic designer works for free and creates 8 historic stamps in 3 weeks
When he returned to UK, John Stonehouse met with Justice Abu Sayeed Chowdhury of the Bangladesh Mission in UK and introduced him to Biman Mullick, a 37-year-old Indian Bengali graphic designer and illustrator born in Howrah near Kolkata but residing in UK. Biman was an award-winning stamp designer who had received international recognition two years earlier after he designed a stamp to commemorate Mahatma Gandhi's birth centenary. In 1969 the General Post Office of United Kingdom released the stamp - making it the first British stamp to commemorate an overseas leader and the first to be designed by an overseas artist.
Biman (Chand) Mullick

(Born 17 Dec 1933) eminent illustrator, lecturer and author. Born in Howrah, West Bengal, India. Mother Shroddha Devi and father Ajit Kumar Mullick, who was a writer, freedom fighter and close associate of Mahatma Gandhi. Attended Dharani Dhar Mullick High English School founded by father Ajit Kumar in memory of his grand father Dharani Dhar (school later renamed to "Madhya Howrah Shikshaloy"). Attended Central Calcutta College (previously called Islamia College and attended by Sheikh Mujibur Rahman, and later renamed to Maulana Azad College) then Scottish Church College, both part of Calcutta University. Edited college magazines and received highest honour in fine art section in two major university festivals. Started composing poetry from early age and was encouraged to provide drawings along with poetry. Joined army briefly but sought discharge as he was not keen. A resident of London, UK, since 1960. Completed Graphics Design degree (1964) from St. Martin's School of Art, London, UK, whilst a general porter at a teahouse. On completion of degree, travelled to Geneva, Switzerland, to work as Graphics Designer, but returned to London and worked in various advertising companies. Travelled back to India to marry Aparajita in 1966. Designed 'Gandhi Centenary Year 1969' postage stamp for the British Post Office (1969), the first stamp to commemorate an overseas leader and the first designed by an overseas artist. Designed first (8) stamps of Bangladesh in July 1971 for free of charge and raised money towards Muktijuddho Fund through sales of the stamp. Freelance designer and regular visiting lecturer in different educational institutions including the Middlesex University (UK) and Kingston University (UK). Also gave occasional lectures on Indian Art at Manchester University and the Nehru Centre (High Commission of India) London. Author of books including "Vidyasagar (West Bengal Government, 1956), "Hanuman Saves the Prince"(Harper Collins: London and Glasgow, 1991), and "Durer Kakoli"(Dhaka, 2011). Worked in many multi-script typography (e.g. Bengali, Punjabi, Urdu) and multi-lingual (e.g. French, German, Somali, Turkish) projects. Became a fellow or Royal Society of Arts in the late 1960s but later renounced it due to high annual fee. Also became member of Chartered Society of Designer but renounced this also due to financial reasons. However, has remained a fellow of International Society of Typographic Designers. As an artist contributed to projects by BBC, Oxford University Press, Cambridge University Press and many more. Book 'Myths and Legends of India' (1970) by Paul Hamlyn contains over 100 full-colour drawings by him. Several national and international art galleries and museums have collected his work including the Victoria and Albert Museum, the National Postal Museum (London, UK), National Postal Museum (New Delhi, India), the Lahti International Poster Museum (Finland). Work reviewed in international journals including "IDEA" 232 International Advertising Art. Japan 1992, Novum (Gebrauchsgraphic) Germany, Design Magazine 1972, Journal of Design Council, London, Designer (Journal of the Chartered Society of Designers), Typographic 7 (Journal of the International Society of Typographic Designers), Design Journal 46, Korea March 1992. Work exhibited in many prominent national and international exhibitions. Participated in TV and radio programmes. Interviewed and featured in many TV documentaries including BBC, CNN, ITV, Central TV, Zee TV, and Duradarshan. In 1988 honoured by World Health Organization (WHO), along with US President Jimmy Carter and Cuban President Fidel Castro, for helping to create a pollution-free world. In 2006, jogged 26.2 miles (42.2 km) long London marathon at the age of 72. Received 'Friends of Liberation War Honour' from Government of Bangladesh on 27 March 2012. An avid music lover and active contributor to Ragamala Graphics (painting music). Passion for collecting Bengali dictionaries, listening to Indian and European classical music – die-hard Rabindra Sangeet fan, has collected around 2,000 songs – architecture, jogging and travelling (has travelled 5 continents). Does not have "firm belief in so-called organised religion, but sit on the fence and myself an agnostic". Has a website, YouTube channel, and Facebook page.
In the late 1950s in Calcutta I worked at Pearl Chemical Industries, a pharmaceutical firm founded by my uncle Shashanka Shekher Mullick. My particular responsibility was to look after its publicity design and advertising. The job gave me a first hand experience of how the advertising world works. I was attracted by its glamorous aspect and wanted to have a career in advertising. I applied and got an admission on a course in advertising in a college in Dagenham, Essex, UK. My letter of admission was useful in obtaining a passport to travel abroad. At that time as a commonwealth citizen I did not need a visa to enter UK.

In 1960 I jumped on a boat at Cochin in South India with £5 in my pocket and headed for London. After three weeks on the sea I arrived in London. I came to my senses; I did not take the admission in advertising but joined St. Martin's School of Art for a four-year full-time course in Graphic Design. At the same time I also took a full-time job as a general porter at Lyons Corner House a well-known restaurant in London. Both of them I continued till 1964. At the end of the course 27 students appeared for the final examination, 3 passed and with my surprise I became the 1st and got the National Diploma in Design. I was surprised because I never did well in examinations. As a part of the course one had to undertake a research project. Most students were sensible and practical, chose a simple topic, took out some relevant books from the library and Produced a thesis. Being an impractical person I took an over ambitious project on Palaeolithic art, not only read whatever I could put my hands on, but also went to visit Altamira in Spain and Lascaux in France to see the original cave paintings. I am glad that I did. Now the caves are closed to the public. Anyway, my thesis on the Graphic Potentiality of Palaeolithic Art was highly praised.

During this time as a freelancer I also took part in broadcasting in the Bengali section of BBC world service and continued contributing Bengali prose and poems to Bengali literary magazines published from Calcutta (now known as Kolkata) in West Bengal, India.

In 1964, after finishing my course at St Martin's I gave-up my job as a porter and hitchhiked to Geneva and got my first job as a Graphic Designer. In Geneva I was told by my colleagues, "We don't use Universe we use Helvetica". To me it was a new experience. I came across the Swiss attitude to typography, which left a great impression on me.

...In 1969 I was invited to participate in a competition among a selected group of 7 designers to submit ideas for a postage stamp to celebrate Gandhi Centenary Year. I believe in doing my best but never liked the idea of competition. My design idea was accepted. The stamp became the first British postage stamp to honour a foreign dignitary and the first British postage stamp designed by an 'overseas' artist.

The stamp received several awards, one of them for being the best Gandhi stamp issued by any country. It was chosen from 75 stamps issued by 35 countries. The London Times regarded the stamp as "one of the 20 best British stamp of all-times", The Hindu, a well-known Indian newspaper called it, "a philatelic marvel". A London stamp dealer told me, it was "rubbish". The stamp dealer did not know that I was the designer. Gandhiji maintained an extremely simple life style. I tried to achieve stark simplicity in this stamp design.

...On 29 April 1971, unexpectedly, I received a phone call from John Stonehouse who introduced himself as the former Postmaster general of Great Britain also a "representative" of Bangla Desh. He was authorised by Mr Tajuddin Ahmad and his cabinet to supervise Postage stamp project that is why he called himself, "a representative of Bangladesh". I also referred him as a "representative of Bangla Desh". I think it would be better to explain. Otherwise confusion regarding this "Representative" will remain.

Biman Mullick on his early career, designing the Gandhi Centenary Stamp, and how he met John Stonehouse [information received via email]
Biman had seen the daily coverage on TV of the "inhumane atrocities" that was being carried out on the Bangladesh public. So when the opportunity came to contribute and aid the suffering people he agreed instantly.
John Stonehouse said to me "Do you know the situation in Bangladesh?"

I replied "Yes I do".

"OK, they want to create stamps on behalf of Bangladesh - will you design them?"

I instantly replied "Yes!" without any hesitation. Then John Stonehouse told me to meet him tomorrow, but I told him I couldn't attend tomorrow as I was teaching college students but could meet him the day after.

We meet that day and spoke for a while. I asked him what should I design on the stamps, he said "You decide what to design. We don't have much time". It was a huge honour to be able to introduce Bangladesh to the rest of the world via stamp.

John Stonehouse asked me how many stamps would take to tell the story, I replied "8".

Biman Mullick on the historic first meeting with John Stonehouse which led to the creation of Bangladesh's first stamps
Biman worked tirelessly to complete the design as soon as possible. Amazingly, in addition to teaching five days a week, travelling 500 miles and completing other freelance work, Biman completed the design for 8 stamps for the Bangladesh government within just three weeks. Bold and vivid, the designs powerfully captured the bloody revolution that was only few weeks old.
A representative of Bangla Desh [as 'Bangladesh' was spelt back then] rang me up and told me I had only 3 weeks to design. I said I would do what I could but I did not promise him anything. But I managed to get them done by working late at night sometimes.
Biman Mullick: "Donald Chesworth delivered design copy to Mujibnagar Government for approval, and I never met a Dr. Enamul Haque"
It is commonly cited that John Stonehouse had met Dr. Enamul Haque, then President of Bangladesh Peoples' Cultural Society, via Justice Abu Sayeed Chowdhury and Stonehouse introduced him to Biman Mullick. It is also alleged that by mid-June Dr. Enamul Haque sent these to the Mujibnagar Shorkar for approval. Three weeks later, on 8 July 1971, the Principle aide to PM Tajuddin Ahmad, 'Rahmat Ali' - a pen name used by Barrister Amirul Islam to protect his real identity - gave consent on behalf of Bangladesh's government.
With regard to the Philatelic [or stamps], the designs have been approved. If you have other designs in hand please go ahead and send them for approval. There is no harm in having more.

'Rahmat Ali' (aka Barrister Amirul Islam) gives approval to Biman Mullick's design on behalf of Bangladesh Government
Enamul Haque

()
However, this is false according to Biman Mullick. He never met Dr. Enamul Haque nor did Dr. Haque or Biman Mullick himself deliver the design to Mujibnagar Shorkar for approval. That honour fell to Donald Chesworth.
Biman had designed the rough sketches of the eight stamps and was asked by John Stonehouse to travel to Kolkata and show the stamps to Mujibnagar Shorkar himself. Biman accepted the request. However, Stonehouse later phoned him and told him that Donald Chesworth - then a representative of Oxfam who was personally known to Stonehouse - was already going to Kolkata and there was "no need" for Biman to waste money on travelling and to give the sketches to Chesworth instead. Biman duly agreed and it was left to Chesworth to show the initial designs to the Mujibnagar Government. Tajuddin Ahmad and the others approved of the design and Biman was given the permission to continue with the final design.
It was an emergency situation. [Under normal condition] If you were to ask me to design something I'd say OK and design something for you. But I'd also give you an alternative design (should you not like the original). But this was an emergency situation and there was no time for alternative design. Each stamp was designed one after another.
Final design tells the "story of Bangladesh" to the rest of the world
Three weeks after he was assigned with the mammoth task, Biman Mullick had completed the design for the 8 stamps. Each stamp captured an event and told the story which led to the creation of Bangladesh. Question such as why the people were fighting, on whose behalf they were fighting, what they were fighting for, all these were aptly answered via the 8 stamps.
Map of Bangladesh (10p, p stands for paisa, a hundredth of a rupee) = Symbolises that the people want a country. However, the first thing outsiders would need to know is where this country is located, hence this stamps shows the map of Bangladesh indicating exact 90 degree latitude and longitude – tropic of cancer on the globe.
Massacre at Dacca University (20p) = The event that led to the uprising (i.e. Operation Searchlight) is symbolised here. As a teacher, Biman Mullick could relate to this the most as he could emphasis the heartache he'd felt had his own student been massacred just like the Dhaka University students.
75 million People (50p) = People make a country. There were 75 million people in Bangladesh and the unity amongst the people was shown here by merging the '7' and the '5'.
Flag of Independence (Rs 1) = Every country needs a flag. The flag of an independent nation is shown here. The flag contains the then design for the Jatiyo Potaka with the map, which was later removed to simplify the design.
Breaking the Chains (Rs 2) = The idea of breaking away from Pakistan and braking the "chain of slavery" is emphasised here.
1970 Polls and the Results (Rs 3) = The election result chosen through a democratic process is emphasised here.
Sheikh Mujibur Rahman (Rs 5) = The man who had inspired the uprising, the leader behind the movement who the people listened to the most was presented here. Biman Mullick used a black-and-white photo of Sheikh Mujib which was supplied to him. It is the only stamp which has a photograph. The rest art all 100% artwork.
Support Bangladesh (Rs 10) = This stamps ask people to support the Bangladesh cause. Bangladesh had nothing then. It needed people's financial and active support that's why a simple, straightforward "Support Bangla Desh" was written on the stamp along with the map of Bangladesh. Hence, it was the most expensive stamp.
I did not think that I was a foreigner who was helping Bangladesh out - instead I felt that I was human just helping another human out.
Arguably, the event that had personally affected Biman Mullick the most was the massacre of Dhaka University students and teachers during 'Operation Searchlight'.
I heard of the killings of Dhaka University students and it shook me up a lot as I emphasised with them wondering if such terrible things ever happened to my students. This also encouraged me to design the stamps.

Biman Mullick on how the DU massacre during 'Operation Searchlight' had affected him
To vent his anger at the horror committed by the Pakistani army, Biman Mullick wrote the poem "Daktikitey Rokto" (Blood on the Stamps) - a reference to the 20 paisa stamp where the text 'Dacca University' was splatted with red blood - where he labelled the Pakistani army a "bully".
"Daktikitey Rokto" by Biman Mullick
Publication, and auction in House of Commons
After all formalities were completed, on 26 July 1971 Ambassador Hossain Ali, the head of Bangladesh Mission in Kolkata, announced the news at a press conference held in the Bangladesh Mission. On the same day, over 5,000 miles away, a press conference was also held in the House of Commons of the British Parliament followed by an inaugural ceremony in the Hercourt Room of the House of Commons. The ceremony was attended by John Stonehouse, Peter Shore MP and other distinguished guests, who formally expressed their solidarity with the struggle for independence of Bangladesh.
Three days later, on 29 July 1971, the first stamps of Bangladesh was officially issued.
Neither the Mujinagar Government nor its steering committee sanctioned any funds for designing the stamps or printing them. John Stonehouse passed on this responsibility to 'E.E Oatway', a reputed stamp dealer, and a Philatelic investor. He contacted the Format International Security Printers, and finalised the printing of the stamps. Oatway opened the 'Bangladesh Philatelic Agency' at his address in Chobham, Woking (in Surrey, England) and distributed and sold the stamps via the agency. He took the sale proceeds of the stamps, and was responsible for submitting accounts to the Mujibnagar government. Meanwhile, John Stonehouse himself took the responsibility of popularising the stamps in Europe. However, this would only remain as propaganda labels since the stamps didn't have any actual postal value at that time.
The designs he [Biman Mullick] produced were excellent, depicting aspects of the Bangla Desh struggle, a map of the country and a photo of Mujibur Rahman. I arranged for FORMAT, the Security Printers, to produce a number of sets sufficient for propaganda sales, for distribution to the various missions and to cover the expenses. FORMAT did an efficient job and the stamps were well received when Mr Justice Abu Sayeed Choudhury launched them at a ceremony in the Harcourt Room at the House of Commons. When the stamps went round the world to philatelists, to Governments and to newspapers, they made a tremendous impact. Pakistan complained to the International Postal Union that the stamps were illegal but we were able to demonstrate that envelopes bearing the stamps were posted inside Bangla Desh. Many letters came to me by the International mail, through India, addressed to the House of Commons, and I had the Common Post Office date-stamp them with the official Seal. There was no disputing that evidence.

Extract from "Death of an Idealist" (1975) by John Stonehouse (page 108)
The dimension of all these stamps were 39 x 25.5 mm and the Perforation was 14.5 x 14.5. All eight denominations were of 100 stamps per sheet [arranged in 10 columns and 10 rows]. The stamps were printed in photolithographic process showing the name of the printer, and in the lower right hand corner the plate position was mentioned (Usually 1A). The paper used was white chalk coated security paper, without any watermark. The gum used in the back was the standard gum then used in printing all stamps of Commonwealth Countries.

One fact about these stamps is that all the values were denominated in Rupees, which was changed in to Taka, after independence, and all the stamps had dual usage, (Postage and Revenue) although no Revenue usage of the aforementioned stamps have been documented so far. Before the issue, a first day cover (FDC) was designed [by Biman Mullick], of which the proof was approved by Moudud Ahmed, then P.M.G of the Mujibnagar Postal Administration. The FDC being of deep green colour was locally printed at the Sahrawati press in Calcutta [According to Biman Mullick this design is a "crude and a blatant example of plagiarism, a criminal offence"]. The original FDC had a gummed flap, but since the demand was high, it had to be re-printed several times, and on the later FDC's, the flap was without gum. A separate FDC prepared for the liberation forces, is known from a copy preserved in the Liberation War Museum. The cover prepared for the London issue was bright orange-vermilion, and was printed in England. Surely [naturally] it was printed by E.E Oatway, under the banner of Bangladesh Philatelic Agency.
The stamps will be accepted in all parts of the world except of course Pakistan. They are very dramatic. More vivid than any I dealt with when I was Postmaster-General. They should bring in very good revenue to Bangla Desh and be of great interest to stamp collectors.

John Stonehouse, former Labour Postmaster-General after his trip back from Bangladesh (27 July 1971)
Issued simultaneously in Kolkata, London
On the morning of 29 July 1971, these eight stamps were simultaneously released from the Mujibnagar headquarter (in 8 Theater Road, Kolkata), Bangladesh Mission in Kolkata (on 9 Circus Avenue, Park Circus) and Bangladesh Philatelic Agency in UK (in Chobham, Woking, Surrey). Some stamps and First Day Cover's (FDC's) were also made available from the office of Bangladesh Steering Committee in London (on 11 Goring Street, Aldgate).
In Calcutta mission the mint set was sold for Rs 21.80 each set, and FDC for Rs 22. Those wanting FDC's were asked to affix the stamps on covers and deposit against receipt for collecting the covers the next day. In England £1.09 per mint set plus handling charges was taken. A huge crowd and interested philatelists gathered in the Bangladesh Mission to collect these covers. The total sale was over Rs 100,000 in the first two days in Calcutta. In England more than $ 23,000 dollars worth of stamps were sold on the opening day. A new set depicting the genocide of the Pakistani Army, was planned to be issued by October/November, but it was never materialised. For the rest of the five months before the Independence was achieved, these eight stamps truly worked as ambassadors forming a worldwide public opinion for the cause of Bangladesh.
Up until the publication of the Bangladesh stamps it was common for the word 'Bangla Desh' to be rubber-stamped on top of Pakistan stamps in either English or Bangla. However, suddenly we started noticing these new Bangladesh stamps. We were very proud and I showed it to my foreign friends. They were super excited and used to take the stamps off my letters and collect them.

Murtaja Baseer, famous Bengali painter and son of eminent literature Dr. Muhammad Shahidullah, who fleed to France during the turbulent days
Thanks to the ceremony and the role of the international press, the tiny eight pieces of coloured papers shook almost the whole world and contributed significantly to create public opinion in support of the War of Liberation of Bangladesh.
Unfortunately, till date there has been no official record of the number of stamps that were issued, how much were raised and how much of that money was actually given to the Muktijuddho fund. Even Biman Mullick himself is in the dark regarding these matters.
I would really like to know how much money was raised and if that money was handed over to the Bangladesh fund. When the Gandhi stamp was printed, 14 million was printed. This was openly declared. I want some authority to find this out [regarding the Bangladesh stamps]. I want to know exactly how many stamps were printed - as I still don't know these things.

Biman Mullick curious to find the truth regarding the fate of the stamps
Showcased in "Stop Genocide, Recognise Bangladesh" mass rally at Trafalgar Square, London, on 1 August 1971
Few days after the stamps were officially published Biman Mullick attended the groundbreaking "Stop Genocide, Recognise Bangladesh" public rally held at Trafalgar Square in London, UK, on 1 August 1971. He sat on the stage along with his wife and other notables, including Justice Abu Sayeed Chowdhury. During his speech, John Stonehouse introduced Biman Mullick to the crowd and encouraged him to deliver a speech in Bangla. Biman Mullick stood next to John Stonehouse and held the a big poster of his 8 stamps above his head, sending the crowd into wild jubilation.
Stamps were released officially, thereafter there was a rally in Trafalgar Square. There were countless number of people there. Different newspapers estimate different figures as to the number of people that were there. Some say 20,000, others 40,000 and others 1 million. I don't know what the actual number was. All I know is that when I looked out from the top of the stage, it was an endless sight of the crowd. As far as the eye could see there was only human heads. John Stonehouse said to me "Speak to the people in Bangla and show them your stamps." So I showcased the rough design copy of my stamps by holding it above my head.

Biman Mullick on showcasing his design to the public in the historic "Stop Genocide, Recognise Bangladesh" rally
First stamps in independent Bangladesh
On 19 December 1971, three days after Bangladesh officially gained independence, John Stonehouse came to Dhaka in a special Army helicopter along with some senior officials of Bangladesh government. He brought with him a few hundred copies of the first eight-value stamps. He also brought with him three more stamps: 10p, Rs 5, and Rs 10 which had the words 'Bangladesh Liberated' overprinted in both Bangla and English in very small types. All the 11 stamps were put on sale at Dhaka GPO the very next day.
It was not until 30 April 1973 that a first regular set of postage stamps (14 in total were issued and circulated all over Bangladesh. These new stamps were denominated with taka (Tk) instead of rupees (Rs).
Major problems faced by the new government of Bangladesh in printing new postage stamps included the absence of own security printing press and proper technology, and shortage of appropriate material. Getting postage stamps printed from abroad was costly and time consuming. The quantity required was also huge. At the same time, there was a large stock of Pakistani stamps scattered all over the country in various treasuries and post offices. Due to lack of easy, prompt and proper transport and for security reason, the recall of these postage stamps from the post offices and overprinting those with a new name were not practical. But in the prevailing political environment and psychological reasons, it was undesirable to continue use of these stamps without making any change.

During the thirty years of postal history, from July 1971 to December 2001, Bangladesh issued as many as 784 different postage stamps. Until the commissioning of the security printing press of Bangladesh in December 1989, the Bangladesh Post Office had to get all its postage stamps printed from abroad (India, England, Australia, Spain, Austria and USSR). Designers and artists of both home and abroad have designed stamps of Bangladesh.
The original 8 stamps presented on a tray wrapped in golden cloth, is now preserved in the Muktijuddho Jadughar (Liberation War Museum) in Dhaka.
Designed first currency notes of Bangladesh but overlooked
Biman Mullick had designed the first currency notes for Bangladesh after he was requested by John Stonehouse. On 24 December 1971, eight days after Bangladesh officially gained victory, The Statesman Calcutta newspaper published an article under the heading "Dacca plans new currency at par with rupee". A proud, young Biman in striped shirt and tie is photographed holding the design of the Tk. 1 and Tk. 10 which contain drawing of the Royal Bengal Tiger and Sheikh Mujibur Rahman respectively.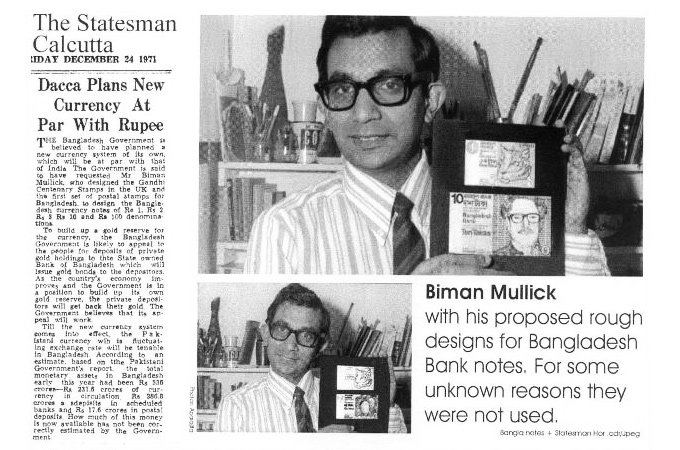 Source: Biman Mullick
Sadly, Biman never received an answer for his proposal. John Stonehouse also no longer kept in touch with him, nor did Biman himself make any extra effort get in touch with him.
Finally in 2012, 41 years after his historic contribution, the Government of Bangladesh recognised his contribution and conferred him a state award.
'Bangladesh Friends of Liberation War' honour for Biman Mullick in 2012
On 27 March 2012 – the day after Bangladesh's 41st anniversary – the Government of Bangladesh honoured 131 foreign individuals and institutions with the 'Bangladesh Friends of Liberation War' title. Amongst the recipient was Biman Mullick.
Biman Mullick travelled to Dhaka to receive the prestigious state award. However, as his daughter had pointed out, he had already won the ultimate award in 1971.
My 3 days in Dhaka were just like a dream. I was deeply moved by meeting friends from the philatelic circle, friends from the fields of art and literature. I met so many like-minded people. I was completely overwhelmed. I never knew that there was so much love and affection waiting for me at Dhaka. I felt deeply moved by the generosity shown towards me.

When I first received the invitation from Dr. Dipu Moni the Foreign Minister I felt humbled, when I came to know the similar honour has been given to Mrs Indira Gandhi and I will be sharing the same honour with Mother Teresa.

I felt honoured. My family, especially my wife Aparajita and daughter Sandra equally shared my joy. My daughter commented, "To have the opportunity to design the first set of postage stamps for a country is a great honour. This invitation to receive an award for the stamps is an extra".

The 3 days in Dhaka were packed with programmes. It was too many good things in a very short period of time. I enjoyed participating in all programmes.

It was a moving experience to visit Liberation War Museum at Sengun Bagicha where we had opportunity to lay a wreath to those gave their lives for the country. Visiting "Shikha Chirontoni" at Suhrawardi Uddyan was an equally moving experience. It was an honour and a privilege to show my respect to the real heroes.

On Monday the 26 March 2012 we were taken to Martyrs' Memorial, Savar where we observed a Wreath Laying Ceremony at sunrise. Between these museum visits and attending ceremonies we had several lunches, dinners and receptions to attend where we had opportunity of tasting renowned "Dhakai" cuisine.

On Tuesday the 27 March 2012, naturally, the highlight of the day was to attend the award distribution ceremony, which took place in the morning at Bangabandhu International Conference Centre. I became emotional just by listening to the citations of different awardees and their selfless contribution towards the liberation of Bangladesh. I was highly impressed by observing the evidence of progress made by Bangladesh just in the short period of 40 years. But the greatest impression on my heart was left by the young generation of Bangladesh. I met some highly intelligent energetic youth. Meeting them.

I am very optimistic about the future of Bangladesh.

My thanks to all including members of Bangladesh High Commission staff, who silently worked behind the scenes and made my and other awardees stay in Dhaka a truly memorable experience.

Biman Mullick's letter to High Commission of Bangladesh recalling the three days he spent in Dhaka (from 25-28 March 2012) to receive his 'Friends of Bangladesh Liberation War Honour' [information received via email]
Biman Mullick responded to the high praise in a way that is befitting of his humble nature.
"To develop the stamp for a nation is the biggest reward" - this is true. However, what is even more rewarding is to have the opportunity to create the stamps.
Few weeks after receiving the state honour, on 3 May 2012 he received "Friends of Bangladesh 1971" award from the Bangladesh citizens in UK.
Biman Mullick tells journalist Abdul Matin his pride in receiving the state recognition [information received via email]
29th July is 'Daktikit Dibosh'
In Bangladesh 29th July is celebrated as 'Daktikit Dibosh' (Stamps Day) in recognition of the publication of the first postage stamps of Bangladesh created by Biman Mullick on 29 July 1971.
The first set of postage stamps for Bangladesh was issued on 29 July 1971, which not only created worldwide attention but also left an indelible mark on the history of philately.

One day unexpectedly I received a letter from Satyajit Ray. I admired him from a distance. I was inspired by his work but never had the opportunity to know him or to meet him. In his letter, with reference to Bangladesh stamps he complemented me and invited me to see him on my next visit to Kolkata. I was deeply moved and felt truly honoured. It took me a few years to pay him a visit.

I went to see him on 6 January 1976. Aparajita, our 4-year-old daughter Sandra, one of my elder brothers Rabindranath and my nephew Fagun accompanied me.

In our meeting we did not discuss films. I talked about his interest in typography and type design with special reference to 'Ray Roman'. But he talked about the British issue of the Gandhi Centenary Stamp of 1969 and the first set of stamps for Bangladesh. Suddenly, form his vast collection of books he brought a copy of "Myths and Legends of India" published in 1970 which contained around 150 colour drawings by me. I was totally surprised. I felt honoured and humbled by knowing that he was aware of my work. During our meeting Fagun took some photographs.

Biman Mullick recalls his first meeting with the legendary film director Satyajit Ray
Notable efforts by journalist Abdul Matin to record true historical account
In 1998 notable Bengali journalist and chronicler of Bangladesh's modern history Abdul Matin interviewed Biman Mullick and wrote an article based on the true accounts of the creation of the first stamps. Abdul Matin also made substantial other contribution in promoting this truth.
Abdul Matin

(13 Apr 1924 - 12 Feb 2013) Award winning journalist, writer and political activist. Born in Noakhali. In 1971, actively participated in various movements and contributed to newspapers in UK to build support for Swadhinata Juddho. As a journalist he served United Press of India, Daily Azad, Daily Sangbad, United Press of Pakistan and Pakistan Observer, among others. Wrote many books on Bangabandhu, the Liberation War and other topics, including "Geneva-e Bangbandhu", "Shwadhinota Shongram-e Probashi Bangali", "Probashir Drishti-te Bangladesh", "Shamsuddin Abul Kalam O Tar Patraboli", "Bangabandhu Sheikh Mujib: Koyekti Prashongik Bishoy", "Jibonsmriti: Ekti Bishesh Odhyaye", "Bangabandhu Sheikh Mujib: Muktijuddher Por", "Di-Jaati Totyer Bishbrikkho", "Europe-er Deshe Deshe", "Voltaire: Ekti Ananya Jibon Kahini and Kaste (short stories)". Received Swadhinata Purushkar (Independence Day Award) in 2009. Died due to old-age complications in a London hospital. Left behind wife and a daughter.
When Abdul Matin sadly passed away on 12 February 2013 at the tender age of 88, Biman Mullick wrote an article recalling their encounter and praising Abdul Matin for his vast contribution in chronicling Bangladesh's history. Other fellow journalists also praised Abdul Matin for his dedication.

He [Abdul Matin] was constantly bubbling over with ideas and often called me in Dhaka from his home in south-west London, a city where he had been settled since 1960. He loved conversation; and if it was about politics, his enthusiasm was palpable and without end. On the phone he would often speak to me of some old newspaper article he had fished out from his collection and of a photocopy of which he was mailing me. And when his new books were published in Dhaka, he wrote to his publisher and to Sanchita, my friend and one who has held Matin Bhai in deep reverence, to have a copy delivered to me. On the phone, as he neared the end of the conversation, he would let me know that he did not have much of life remaining in him and therefore wanted to pass on to me his perspective on Bangladesh's history. I tried to remonstrate with him over his feeling of creeping mortality, but he would gently brush my protests away.

Matin Bhai and I have talked long and deep over the way in which Bangladesh's history took a nosedive after August 1975. He loved Bangabandhu without reservation; and he was truly glad that my appreciation of Bangabandhu was something that approximated his.

Abdul Matin was a Bengali nationalist in every sense of the meaning. Despite the fact that he was away from the country, his soul always remained in Bangladesh. In 1971, he played a paramount role in popularizing the Bangladesh cause in Britain. His chronicling of Bangladesh's history effectively began through his account of Bangabandhu's presence in Geneva for medical treatment in 1972. In the following years and decades, Matin Bhai wrote prolifically on politics and history in clear, unambiguous terms. He was a man of strong opinions and brooked no nonsense about Bangladesh's background from anyone and especially Bengali journalists who were his contemporaries. Two years ago, he gave me a copy of a news item published in London's Times newspaper in June 1971. It was a dispatch from one of his friends, today a well-known elderly journalist, informing readers that conditions were returning to normalcy in East Pakistan. In the year or two before his death, he was deeply upset with another friend, who too is a journalist, who he believed had been very economical with the truth in his presentation of realities about Bangladesh's politics. He once told me how Enayetullah Khan, the late founder-editor of Holiday, our Mintu Bhai, had threatened to sue him over something he had written. Matin Bhai sought his lawyer's advice and waited for the lawsuit to be served on him. Eventually, however, matters cooled down.

Matin Bhai was thrilled that I was writing a biography of Bangabandhu Sheikh Mujibur Rahman in English and happily gave me some valuable ideas on how to go about doing it. In our conversations, he enlightened me on matters he had not written about but made it clear that after he was gone, I should be raising them in my writing. I gave him my word I would keep his faith in me.

Abdul Matin – my friend, my teacher, my mentor – has gone the way of all flesh. He joins all those illustrious men from whom I learned and who have passed on – Shawkat Osman, Waheedul Haque, Syed Najmuddin Hashim and Garib Nawaz Khan. The skies change colour. The clouds turn darker.

Journalist Syed Badrul Ahsan's remembers his close friend Abdul Matin
"Shokher Raja Daktikit Shangroho" book and "Attoprokash Stamps '71" documentary
In 2011 General Secretary of Philatelist Association of Bangladesh (PAB), A. T. M. Anowarul Haque Quadir, wrote the book "Shokher Raja Daktikit Shangroho" (Stamp Collecting - the king of hobbies) where he speaks about how Biman Mullick designed the first stamps of Bangladesh https://www.facebook.com/biman.mullick.
In 2013 M. A. Saif Mahabub produced and directed a short documentary on the first set of postage stamps of Bangladesh. Entitled "Attoprokash Stamps '71" the 20-minute long documentary features an extensive interview Biman Mullick who gives in-depth insight on the days leading to the creation of the stamps. Others who also appear in the documentary are A. T. M. Anowarul Haque Quadir, Salam and Murtaja Basser.
Both "Shokher Raja Daktikit Shangroho" and "Attoprokash Stamps '71" have been highly praised by Biman Mullick himself for their authenticity.
Dear Saif, Thank you, thank you, thank you. I think it is a great, great, great film. Congratulations! Congratulations! Congratulations! My thanks to all who worked behind the film. Best wishes. Onek onek shubhechh-chha [Thanks a lot!].

Biman Mullick ecstatic after watching "Attoprakash stamps '71"
A. T. M. Anowarul Haque Quadir

(Born 29 May 1960)

M. A. Saif Mahabub

()
Storyteller, poet, social activist and 72-year-old marathon runner
In addition to his great contribution to the history of Bangladesh, Biman Mullick has also actively participated in other social and educational activities. He is the Honourable Director for Cleanair, a non-profit organisation he founded in 1972 to promote smoke-free environment. In 1988 the World Health Organization (WHO) awarded him an honour in recognition of his contribution towards creating a pollution-free world. The same honour was bestowed upon former US president Jimmy Carter and President Fidel Castro at the same time for the same reason. Biman Mullick also designed posters for World Health Organization's (WHO) 'Framework Convention on Tobacco Control' (FCTC) convention held in Geneva, Switzerland on 12-13 October 2000.
A passionate storyteller and poet, Biman Mullick has also designed the pictures for the children story 'Hanuman Saves the Prince' which featured in a BBC 2's children programme in UK. In 2006 Biman Mullick also completed the famous 26.2 miles (41.195 km) long London marathon at the tender age of 72 after being pushed to jog by his wife Aparajita Mullick who bought him a jogging suit for his 50th birthday, to his horror.
But above all, Biman Mullick is a proud Bengali. His career is full of examples of how he has actively participated to spread the Bengali culture not only within the Bengali community but also globally to the wider audience. His participation in the University of London's "Bengali for non-Bengalis" programme, and production of picture books for children who are growing in non-Bengali environment are two examples of such gallant efforts.
5% of the Bengali speaking population lives outside Bengal (Geographically speaking). So far as I know, there is no book for children to introduce Bengali through English medium. I personally found the need for a long time. In recent years, to introduce Bengali to my grandchildren, I created this book called "My 1st Book of Bengali". I tried not only with my grandchildren but also with other English-speaking children and I received very positive responses.

Though this book is for children I think the adult learners would find it useful. I am looking for a publisher.

This idea can be adapted to introduce other languages such as Hindi, Gujarati and Punjabi etc.

Biman Mullick's efforts to spread Bangla via his book "My 1st Book of Bengali" [information received via email]