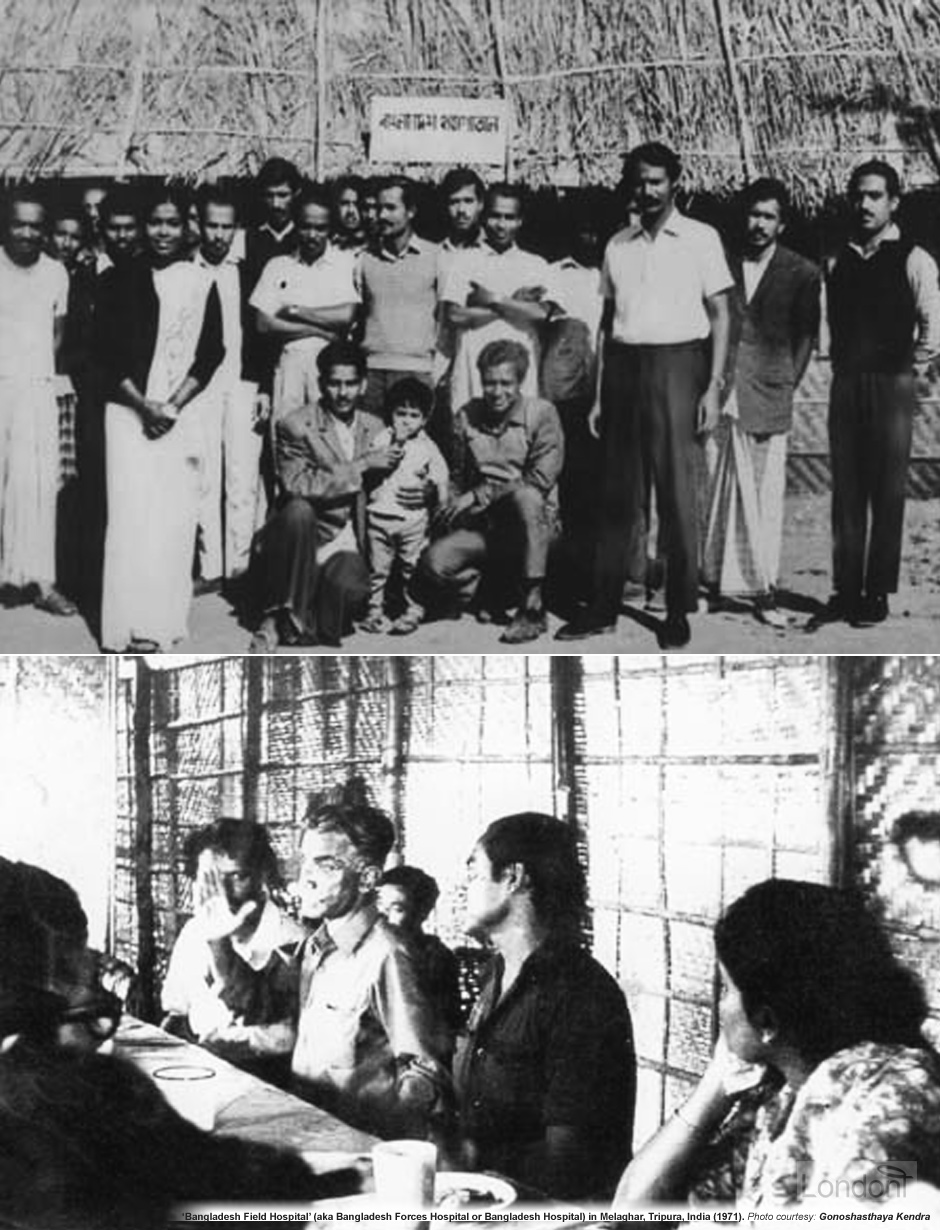 First hospital of Bangladesh, 'Bangladesh Field Hospital', treats wounded muktijuddhas
Bangladesh Medical Association UK sends students to help out
In March 1971, at the height of East-West Pakistan crisis, over 1,000 expatriate Bengali physicians residing in UK formed the 'Bangladesh Medical Association' (BMA-UK) with Ophthalmologist Dr. A. H. Sayedur Rahman as the President and 29-year-old vascular surgeon Dr. Zafrullah Chowdhury as the General Secretary. An office was established at Camden town, North London, from where the Association orchestrated its great war efforts.
Dr. Zafrullah and a few of his colleagues abandoned their studies and hurried to their motherland. In early May 1971, BMA-UK sent Dr. Zafrullah and another young doctor, orthopedic and accident surgeon Dr. M. A. Mobin, to Tripura, India, to help the freedom struggle. The duo visited the frontlines of the war, initally as guerrilla fighters, and later on began treating wounded muktijuddhas and refugees. They eventually set up the first hospital in Bangladesh with the help of Major Akhtar Ahmed, Major Khaled Mosharraf, Indian Dr. Rathin Datta and other fellow Bengalis and Indians.
Bangladesh Medical Association (UK)

()

A. H. Sayedur Rahman

()

Zafrullah Chowdhury

()

M. A. Mobin

()
I attended Nabakumar School at Bakshibazar. And the fun thing was that our house was on the borderline between the old Dhaka and the new Dhaka, which was still nascent but growing very fast.

I was very lanky when I was in (Dhaka Medical) College. But the mischief I committed those days is nothing less than alarming. When I was the general secretary of the DMC students' union, we held the first press conference ever to expose the corruption at the hospital. It made headlines. I was part of a highly-charged political pressure cooker. Even now that I think of those days, it was quite unbelievable that how I was almost kicked out several times.

From 1965 to 1971 I led a very flamboyant lifestyle. You must understand. I was still young, barely in my mid-twenties. And I always liked to indulge in a bit of luxury as I was doing well, too. I used to drive a Citroen DS, and between my postings in Durham, Leeds, New Castle, and finally Middlesex in London, I enjoyed that life. But then came 1971.

The war of independence changed everything. When the Bangladeshi expatriate community, especially the doctors, gathered to do something for the war, my grounding in my college days took hold. With Abu Sayeed Chowdhury as the head, I started organising the community back there. But something had to be done in the field.
Separate hospital for muktijuddhas formed in Melaghar, Tripura
Young, patriotic Bengalis in their drove began joining the Mukti Bahini and were daring to foray into Bangladesh territory still under occupation of the Pakistan army. Casualties started to rise and hospitals were overflowing with the dead and injured. The problem was compounded with the mass migration of refugees and the countless rape victims who required urgent medical attention.
Witnessing this, Sector 2 Commander Major Khaled Mosharraf approached Indian Dr. Rathin Datta, Chief Surgeon of G. B. Hospital and Administrator of Red Cross operations in Tripura, to build a separate temporary hospital and hand over the management to the Mukti Bahini who had the manpower to staff the hospital. This would reduce the enormous pressure and burden that were being experienced by other hospitals in Agartala. Dr. Rathin Datta discussed the matter with the Chief Secretary and the Health Secretary, who was also in charge of the relief and rehabilitation department. Major Mosharraf's proposal was accepted and a designated refugee camp was built in the "Habul Banerjee's Lichu Bagan near Bisramganj" - or to be specific, at Melaghar, south of Agartala city - and modified to be a hospital with quarters for the staff.
In August 1971 Major Mosharraf allocated Tk 50,000 (approx £600 now) - back then a large sum of money - and authorised Dr. Major Akhtar Ahmed to set up a hospital. Major Ahmed was a reputable officer in the Army Medical Corps of the Pakistan Army and a member of the 4th East Bengal Regiment before he switched allegiance. He used the donation money to set up a make-shift hospital of bamboo and wood.
Thus, the 'Bangladesh Field Hospital' - also called 'Bangladesh Forces Hospital' or just 'Bangladesh Hospital' - was formed and became the first field hospital for freedom fighters and refugees. Initially, the make-shift hospital had 25 beds but by the time the war ended in December the hospital had 480 beds.
Rathin Datta

()

Akhtar Ahmed

()
With its close proximity to Comilla district on the eastern border of Bangladesh, the hospital provided quick access to life-saving treatment for wounded and sick Bengalis. It was vital for saving many lives during the war.
Army doctor Sitara Begum was appointed as the Commanding Officer of the hospital. Dr. Sitara is the younger sister of Major A. T. M. Haider, who took over from Major Khaled Mosharraf as Sector 2 Commander from September onwards. Initially, Dr. Sitara ran the hospital along with a team of 5 Bengali doctors and large number of women volunteers who had no previous medical training. With no nurses available, it was left to Dr. Zafrullah Chowdhury to train the young women in the refugee camps to give first aid and assist in operations.
What we practised there was truly unprecedented. Women with no previous training in healthcare were trained within days to help out the scores of injured freedom fighters and refugees that were coming in to through the hospital.
Sitara Begum

()
As the war progressed and the casualties mounted, large number of medical students and young school and college girls joined the hospital to provide good surgical and medical care for the wounded and ill patient. Amongst the female volunteers were Saeeda Kamal (daughter of poet Sufia Kamal and a famous painter), Milia Ghani (a famous Tagore singer), Dalia Ahmed (elocutionist), and Minu Haque (famous dancer and choreographer).
In addition to Dr. Zafrullah and Dr. Mobin, many other Bengali doctors returned from abroad to serve the people and treat the muktijuddhas. Amongst these were Dr. Kiran Sarkar Debnath, Dr. Faruk Mahmud, Dr. Nazimuddin Ahmed, and Dr. Morshed Chowdhury. With medical supply and resources at a low, it was their collective human spirit in face of adversity that transformed a small medical unit into a large professional hospital for the muktijuddhas.
Participating in the relief efforts and guerrilla warfare were Shahadat Chowdhury (eminent journalist and editor of the defunct government-owned weekly Bichitra), Syed Alamgir (son of poet Sikandar Abu Jafar), Linu Billah (singer), Habibul Alam (Bir Protik) and many more.
Kiran Sarkar Debnath

()

Faruk Mahmud

()

Nazimuddin Ahmed

()

Morshed Chowdhury

()

Saeeda Kamal

()

Milia Ghani

()

Dalia Ahmed

()

Minu Haque

()

()

Syed Alamgir

()

Linu Billah

()

Habibul Alam

()
The girls learned very fast in treating the patients, cleaning wounds, giving IV [intravenous] fluids etc.
The situation in what was then still East Pakistan was terrible. The Pakistani military was killing people, raping women, destroying crops and burning houses. Some 10 million people had fled to India. In England, I had been a vascular surgeon, but I felt I had to help my people. So along with other doctors and health workers, we set up a hospital in Melaghar near Agartala, in India's eastern State of Tripura. We were close to the border and treated refugees, but also took care of wounded Mukhti Bahini, as the freedom fighters were called.

The hospital had 480 beds. It was not small. The most important realisation was that doctors alone can not provide health care. We had to run the hospital with a small number of doctors and a large number of volunteers of whom some were medical students, but most had no prior exposure or training in nursing or any other hospital work. Many of the volunteers - young women who had fled from occupied Bangladesh - were given hands-on training to become surgical assistants, medicine dispensers, nurses as well as nursing aids. This experience of successfully training a paramedical force, which was both skilled and caring, in a few weeks convinced me that it could be done on a bigger scale and that health care delivery need not be doctor centred. Nurses and other health workers can play a critical role. Many routine functions of doctors can be delegated to health workers, and if they are skilled and understand their jobs well, they can provide many essential health services without a doctor guiding them.
During the Liberation War, I was a third year student of Dacca Art College (now the Faculty of Fine Arts, University of Dhaka). From the beginning of the war, my family was greatly inclined to help the Freedom Fighters in different ways. I was completely inspired by my mother, poet Sufia Kamal.

During the Liberation War in 1971, we made a plan to go to Comilla with the guidance of Mahmudur Rahman Benu (singer). We were 12 in the group, including Shahadat Chowdhury (editor of the defunct government-owned weekly Bichitra), Milia Ghani (a talented exponent of Tagore songs), Syed Alamgir (son of poet Sikandar Abu Jafar). We first reached Chandina, then crossed the border and stayed at Shonamora village.

After reaching there, we got to meet Fateh Ali Chowdhury (brother of Shahadat Chowdhury). He informed us that Dr. Akhter Ahmed, a physician of Army Medical Core, wanted to establish a hospital in the region. The hospital was founded in a forest bungalow. Khaled Mosharraf visited the hospital and encouraged us with his support and close observation. The hospital started with great zeal. We served the patients as nurses and stayed there from June to the end of the November 1971. We assisted wounded Freedom Fighters and injured villagers. After some days, Dalia Ahmed (elocutionist), Linu Billah (singer), Habibul Alam, Bir Protik and his two sisters Asma and Reshma joined us.

We fought for values and principles. The camp, where we worked, had insufficient food, clothes and medicine. We lived in a tent. However, all these never seemed as any obstacle or difficulties. Patriotism and devotion to the country and its people always was our priority.

The younger generation is learning more about our Liberation War. We must encourage patriotism and knowledge about the values of our Liberation War. We must all work together to build our country.

Saeeda Kamal recalls passionately the most important event in her life
Though a professional artist obtaining a Bachelor of Arts degree in fine arts, specialising in 'painting' from the Institute of Fine Arts, DU late Shahadat Choudhury chose his career as journalist after Bangladesh was liberated from the Pakistani occupation forces in late 1971. Shahadat immediately joined our war of liberation following the Pakistani crack down on the population of East Bengal on the night of 25 March 1971, the blackest day in the history genocide. Ultimately the Pakistani 'Operation Searchlight' which followed a total war imposed on us killed 3 million people of Bangladesh. As mentioned above Shahadat Choudhury was an active and skillful guerrilla fighter who operated in Dhaka under the supervision of General Khaled Mosharraf and Captain Haider, then Commander of Sector-2. He was the coordinator of various guerrilla groups operating in and around Dhaka city. He himself took part in different operations with success with the brave cooperation with his co-fighters including Shaheed Rumi, eldest son of Shaheed Janani Jahanara Begum.

A staunch anti-rajakarism and anti-fundamentalism late Shahadat took active part and cooperated whole heartedly with Shahid Janani Jahanara in floating a platform later to beknown as 'Ghatak Dalal Nirmul Kamiti' (A committee for eliminating Killers andCollaborators) under the dynamic leadership of Jahanara Begum.

Prof. Ajoy Roy, Ekushey Padak awardee (2012)
During the Liberation War, the Pakistani Army wanted me to perform at the Governor House (now Bangabhaban), but I declined and went to India with freedom fighters.

We stopped at Bishramganj, Agartala, Tripura of India where Bangladesh Field Hospital (the first field hospital during the war) was providing medical treatments to the wounded freedom fighters and refugees. It was a 480-bed hospital with both surgical and medical units. It was run by Bangladeshi doctors, medical students and volunteers. I worked there as a nurse and assisted doctors. One of the trustees of Gonoshasthaya Kendra, Bangladesh, Dr. Zafrullah Chowdhury, who joined the Liberation War leaving his FRCS examination to be held that year in England, along with Dr. Mobin Chowdhury and Dr. Captain Akhtar, founded the hospital.

We got inspired when Commander in Chief of the Liberation Forces and of the Bangladesh Forces General M.A.G. Osmani and the first Indian Field Marshall Sam Manekshaw came to visit us. Wounded Freedom Fighters from Sector 2 came to the hospital for treatment.

The hospital was operational from July to December 1971. The Bangladesh Government in exile, the Indian Government and several others nations helped the hospital with medicines, surgical equipments and more. Later in December, when the war tightened its grip, we were shifted to Kolkata.

Liberation War was a demand of the time. I consider my participation in it as the greatest achievement of my life.

Minu Haque, famous dancer and choreographer
According to Milia, she was at her best musically between the ages of 20 to 27 in the 1970s. Going back to the Liberation War days, she has memories of leaving Bangladesh. Her parents took the hard decision of sending Milia and her sister to their uncle in Kolkata since they apprehended that the girls' outspokenness would land them in trouble. And so in this period, she was in Shantiniketan and Kolkata.

In Kolkata, she sang for the Swadhin Bangladesh Betar Kendra and was also a member of a musical squad with many colleagues from Chayyanaut. This squad went from refugee camp to camp, trying to improve the morale of the people. A twin aim was to raise awareness about the Bangladesh cause within India. And so the squad travelled within Kolkata, Delhi and other Indian cities.

'I think that 1971 was an integral part of the Bengali nationalism movement in which I participated. And Tagore was the epicentre of the Bengali nationalism movement,' maintains Milia.

The Daily Star (Bangladesh)
Doctors in Tripura, led by Dr. Rathin Datta, provide mammoth medical service
Specialist surgeries were provided by Dr. Rathin Datta and the team of medical experts in the main, district, and subdivisional hospitals in Tripura. In total these hospitals treated approximately 11,500 Bengali refugee patients. G. B. Hospital alone treated approximately 2,250 major surgical and orthopedic injuries and around 250 rape victims, of which 70 were below 15-year-old virgins. These operations were so severe that they required highly skilled repairs and were handled by Dr. Rathin Datta and his team.
Dr. Rathin Datta mamooth medical and humanitarian effort was supported by many of his colleagues. Amongst these were Dr. H. S. Roy Choudhury, G. B. Hospital superintendent and senior surgeon, Dr. Swapna Datta, In Charge of the maternity and child welfare programme and Dr. Rathin Datta's wife, Dr. Sujit Dey, a Pediatrician, and Professor Benu Majumdar, In Charge of the feeding programme. Such was their dedication that Dr. Swapna Datta sent her 3 year old daughter to Shillong to her mother-in-law's house so she could work full-time, whilst Prof. Majumdar took leave from his college to be free to run his programme, and Dr. Sujit De converted his house to a shelter home.
H. S. Roy Choudhury

()

Swapna Datta

()

Sujit Dey

()

Benu Majumdar

()
There were adequate number of doctors, few nurses and paramedics. From G.B. Hospital we provided the specialist cover, mainly Surgeons and anaesthetists. I regularly visited and performed surgeries with my colleagues. The hospital was only 35 miles from the Agartala city centre and connected by a good road 20 miles from the international border. The place was famously known as "Habul Banerjee's Lichu Garden", a very pleasant place. Indian government treated this hospital as a camp and provided the rations and medicines. My Red Cross used to provide medicines, clothings extra food or whatever it could collect.

This hospital was conceived by Colonel (later General) Khaled Mosharraf to handle the Mukti Bahini casualities but also handled the incoming casualities from then East Pakistan soil following the atrocities of the occupation forces. This ultimately became the largest field hospital with 480 bed and well equipped operation theatres which we (myself, Dr. H. S. Roy Choudhury, Dr. M.S. Rawat and Dr. K. Krisnamohon, the orthopod) occasionally visited as Guest Surgeons to handle major injury cases. Sincerity, skill, hard work, patriotism, intense desire for a independent Bangladesh converted this modest hospital into a marvel.

Dr. Zafrullah Chowdhury, Dr. M. A. Mobin, Major Akhtar Ahmed, Dr. Nazimuddin Ahmed were the names I fondly remember. Captain Dr. Sitara Begum was the administrator of the hospital - a lady with quiet efficiency personified. This hospital became the largest field hospital during the independence war of Bangladesh in 1971. It handled nearly all the casualities among the fighters of the Mukti Bahini and took off a large chunk of the war injuries and other patients from our health service. They would send us only the severely injured patients who could not be handled in the field hospital. G. B. Hospital however received and treated a sizable number and had to open 3 or 4 extra wards to accommodate the huge need.

There were also student nurses and medical students among whom few young men were outstanding - Md. Zubayer and Helal, then they were 4th year Medical students. They were a constant link between us and the Bangladesh Forces Hospital bringing in patients and on return trip used to take back what ever provision we could supply - be it medicine, cooked food or surgical or medical equipments, uncooked food, clothings to help the frugally run but efficient hospital. Worked tirelessly, a real freedom fighter's hospital.

As the I/C [In Charge] of the Red Cross relief operations and a member of the Tripura health service I always considered it to be my duty to help the freedom fighters for most of our forefathers had hailed from the Comilla or Dhaka district - we spoke Bangla 'bhasha' as the evaquees did, with the same accent. In doing so I had with me Dr. H. S. Roy Choudhury, my friend and Surgical colleague and the Deputy Administrator of the Relief operations Red Cross and I/C of the mobile surgical unit. Dr. Swapna Datta, my wife, was I/C of the mother and child unit. She had sent our 3 year old daughter to Shillong to my mother, to be able to work full-time. Mr Benu Majumdar took long leave from his college to be free to run his programme. Dr.Sujit De went one more step ahead - his house became a open-house.
"Bangladesh Hospital '71" documentary
In 2009 Habib Wahid, editor of the 'Aninda' magazine, created the "Bangladesh Hospital '71" documentary to bring awareness of the valiant effort of the Bengali doctors, medical students and volunteering women and girls which is still unknown to many. The 29-minute documentary unearths several untold stories of the war. Lutful Hussain wrote the script for the film.
Habib Wahid

()

Lutful Hussain

()