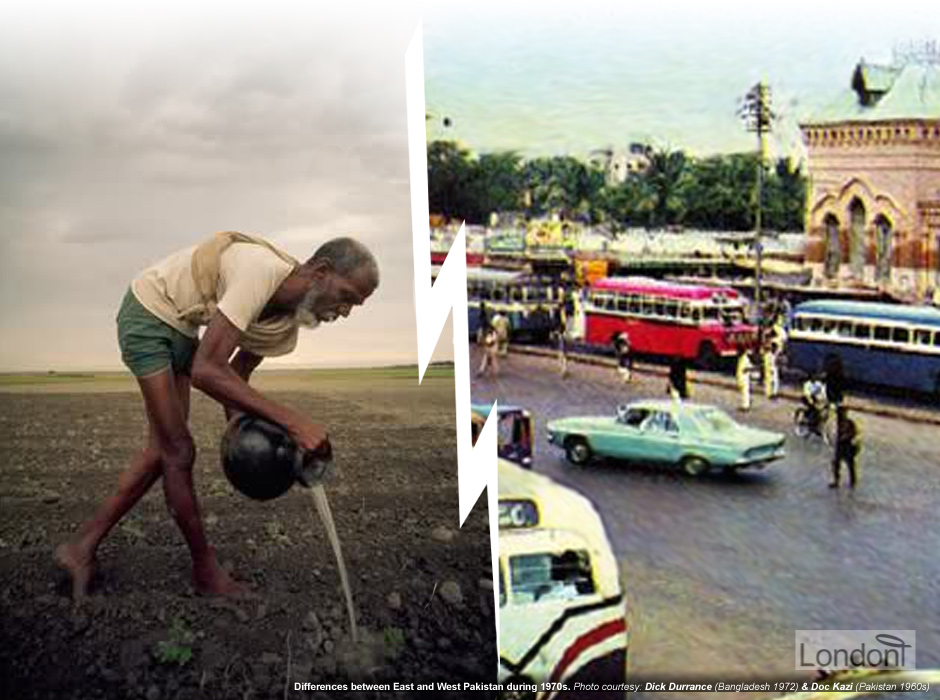 Reasons for East Pakistani grievances
A brief glance in Bangladesh's timeline of historical events post 1947 independence and it's easy to see the reasons for their grievances as Pakistan's eastern wing.
This period is blighted with one tragedy after another - the military imbalances where Bengali officers only made up 6% (army), 15% (navy), and 16% (air force) of Pakistan's force in 1965 and were restricted to meaningless jobs as they weren't considered a 'martial (military) race', economic disparities where the larger population of East Pakistan received less money in the common budget, the language controversy where Bangla was replaced by Urdu, fiasco of Agortola Shorjontro Mamla, poor governmental response to Bhola Cyclone where over half million people died, to name but a few.
Except for religion (Islam), there was nothing common between the two "wings". The Bengalis' language, their culture, their dress, their food habits, and their way of life was different from that of the West Pakistani.
The environment for genocide is often framed by estrangement of people via a dichotomised view of "us vs. them". Minds are ambushed via a devious psychosis: "either you are with us or against us". Such a perspective can turn airplanes into objects of terror, striking people randomly and indiscriminately...

Despite the disproportionate contribution and sacrifice made by Bengal's Muslim majority to bring about independence from colonial rule, the people of East Pakistan were marginalised and exploited soon after partition and, over time, treated as a colony. They became "them" for the ruling and military elite "us" of (West) Pakistan. In this dichotomy, the core hatred underpinning the subcontinent's Hindu-Muslim relationship affected the ties between Pakistan and India, spilling over to those between East and West Pakistan.

Steven L. Jacobs, editor of "Confronting genocide: Judaism, Christianity, Islam" (2009)
The West Pakistanis viewed the East Pakistanis as being inferior, a fact that has been mentioned even in the biography of Field Marshal Ayub Khan. The fact remains, however, that the East Pakistanis were culturally superior to West Pakistanis in their love of art, literacy, interest in music and poetry.

Rizwana Zahid Ahmed, author of "Pakistan – The Real Picture (A Comprehensive History Course)"
West (Poschim/Maghrib) Pakistan enjoying the fruit of East (Purbo/Mashriq) Pakistan's labour
East Pakistan remained the world's most densely populated region and one of the poorest, as well as prone to disaster, afflicted with seasonal floods and cyclones which took a heavy toll in lives and property yearly.
However, as one of the most fertile land in the world, between 1948 and 1960, it contributed to 70% of its export earnings while it only received 25% of import earning. A transfer of $2.6 billion (in 1971 exchange rates) worth resources was also done over time from East Pakistan to West Pakistan - known as Purbo or Mashriq Pakistan and Poschim or Maghrib Pakistan in Bangla and Urdu respectively. Even in the flourishing textile industry, which were mainly owned by West Pakistanis, the number of textile mills in East Pakistan textile rose from 11 to 26 between 1947 and 1971 whilst in West Pakistan it increased from 9 to a whooping 150. Also, 75% of heavy industries of Pakistan continued to be located in the West wing.
From 1947 to 1953 the central government's loan from Karachi was Rs. 2,329 million for West Pakistan and Rs. 164 million for East Pakistan. During this period the total foreign exchange earned by East Pakistan was Rs. 2,900 million, out of which 70% was used by West Pakistan. Although jute and tea grown in East Pakistan earned most of the country's foreign exchange, the major portion of it was used to develop the western wing. Out of Rs 1,000 million spent on development in the 1950s and 1960s, only Rs 300 million (i.e 30%) was the share of East Pakistan. Therefore, rice production remained stagnant as tractors, fertilisers, import of seeds, etc, were unfairly apportioned to East Pakistan which now depended on the import of grain.
The more populous East Pakistan was denied protection from floods and cyclones which brought periodic devastation of life and property in their wake.
Major source of exploitation was the foreign exchange earnings from their 40 jute mills located at Chittagong, Chandpur, Saidpur and Dhaka and the tea gardens at Kaptai, Kishoreganj, Fenchuganj, Chattak and Chittagong. But only one-fifth (20%) of the foreign exchange earnings were made available to the Eastern wing.

Mihir K. Roy, author of "War in the Indian Ocean" (1995)
By the mid-1960s, West Pakistan was benefiting from Ayub's "Decade of Progress," with its successful "green revolution" in wheat, and from the expansion of markets for West Pakistani textiles, while the East Pakistani standard of living remained at an abysmally low level. Bengalis were also upset that West Pakistan, because it was the seat of government, was the major beneficiary of foreign aid.
Military imbalance and political differences
Despite huge defence spending, East Pakistan received none of the benefits, such as contracts, purchasing and military support jobs. Central bureaucracy was more than 80% composed of West Pakistan mostly from Punjab and Sindh. By 1969, only 3 Bengalis were in bureaucracy (out of 20) that reached at the rank of secretary in a ministry, and in the army there was only 1 Bengali out of 25 in the general officer rank.
The British mindset, with regard to Bengalis being less martially inclined as compared to Punjabis and Pathans, persisted in matters of recruitment.

In 1956, the Pakistani Army had a total of approximately 890 officers (Major to Lieutenant General) out of which only 14 were from East Pakistan. Of these, only one was of Brigadier rank. Out of 593 officers in Pakistani Navy only 7 were from East Pakistan. The situation in the Air Force was a little better, out of 640 officers, 40 were Bengalis. This situation had marginally improved in the '60s.

Ravi Shekhar Narain Singh, author of "Asian Strategic And Military Perspective" (2005)
The Indo-Pakistani War of 1965 over Kashmir also highlighted the sense of military insecurity among Bengalis as only an under-strength infantry division and 15 combat aircraft without tank support were in East Pakistan to thwart any Indian retaliations during the conflict.
Although East Pakistan accounted for 75 million of the country's 133 million population, political power remained firmly in the hands of West Pakistanis. After the assassination of first Prime Minister Liaquat Ali Khan in 1951, political power began to be devolved to the President of Pakistan, and eventually, the military. Subsequent prime ministers were frequently sacked by the establishment, acting through the President.
East Pakistanis noticed that whenever one of them, such as Khawaja Nazimuddin (1951-1953), Muhammad Ali Bogra (1953-1955), or Huseyn Shaheed Suhrawardy (1956-1957) was elected Prime Minister of Pakistan, he was swiftly deposed by the largely West Pakistani establishment. In 1958 martial law was declared by Iskander Mirza, and the office of Prime Minister essentially disappeared until 1973. The military dictatorships of Ayub Khan (1958-1969) and Yahya Khan (1969-1971), both West Pakistanis, only heightened feelings of mistrust, frustration and injustice amongst the East Pakistanis. By late 1970, long-standing ethnic, political and economic differences between Pakistan's two wings had descended to its lowest point in the nation's history. Open demands for secession were increasingly heard on the streets of Dhaka.
Feelings of political deprivation also prevailed among the people of East Pakistan who felt they were ruled by West Pakistan in general and Punjab in particular as the political power remained firmly in the hands of Punjabis and Muhajir elite of the West Pakistan.

Despite the numerical superiority, East Pakistan was not given its share in government due to the domination of old landlords and religious leaders, mainly from Punjab and Sindh in Muslim League, the ruling party.

South Asian Studies, journal
Hajji Sir Khawaja Nazimuddin

(1894 - 1964)

Second Governor-General and second Prime Minister (1951-1953) of Pakistan. Knighted in 1934 by King George V. Dismissed as PM by Governor-General Ghulam Muhammad. Nazimabad, North Nazimabad suburbs in Karachi, Pakistan, and Nazimuddin Roads of Dhaka & Islamabad named after him. Born in Dhaka - buried in Suhrawardy Udyan.

Muhammad Ali Bogra

(1909 - 1963)

Became third PM of Pakistan (1953-1955) by replacing Khwaja Nazimuddin. Family descended from Nawabs of Bengal. Restricted to ambassadorial role after disagreement with Governor-General Muhammad Ali Jinnah over Basha Andolan. Tried to bring constitutional reform as PM through 'Bogra Formula' by choosing PM from one Pakistani wing and President from the other. Buried in Bogra, Rajshahi bibhag, Bangladesh.

Huseyn Shaheed Suhrawardy

(1892 - 1963) Fifth PM of Pakistan (1957-1957). One of the founding member of Awami League (1949). Responsible for 'Direct Action Day (Protokko প্রত্যক্ষ Shongram Dibosh)' massacre in Kolkata on 16 August 1946. Formed Jukta Front party along with A.K. Fazlul Huq & Maulana Bhashani to win 1954 East Bengal general election. Pakistan Atomic Energy Commission (PAEC) established in 1956 under his premiership. Disqualified from politics under the military regime of Ayub Khan. Educated family including dad Justice Sir Zahid Suhrawardy, a prominent judge of the Calcutta High Court, and mum Khujastha Akhtar Banu, a noted name in Urdu literature and scholar of Persian. Obtained Law degree from St Catherine's College, Oxford University. Married (1940) then divorced (1951) Russian actress Vera Alexandrovna Tiscenko Calder (aka Begum Noor Jehan) after first wife Begum Niaz Fatima passed away. Died controversially in Beirut, Lebanon. Suhrawardy Udyan in Dhaka, Bangladesh & Khayaban-e-Suhrawardy in Islamabad, Pakistan named in his honour.

(Muhammad) Ayub Khan

(1907 - 1974)

Self-appointed Field Marshall in Pakistan Army. First military dictator and second President of Pakistan (1958-1969). Received military training from prestigious Royal Military Academy in Sandhurst, UK. FIrst native Pakistani to become Commander-in-Chief of the Pakistani Army (1951). Became close ally of US and China who's common enemy was Soviet Union (or Russia). Signed Indus Water Treaty with India to share 6 rivers in Punjab region which flowed between two countries. Restricted Pakistan's nuclear programmed. Signed Tashkent Declaration (in Uzbekistan), a peace treaty of Indo-Pak War of 1965.

(Agha Muhammad) Yahya Khan

(1917 - 1980)

Third president of Pakistan (1969-1971). Joined British Army as India's representative during World War II and captured in North Africa and prisoned in Italy. Escaped on third attempt. Order crack down of Bengali nationalist during Operation Searchlight (25 March 1971). Voluntarily stepped down and handed power to Zulfiqur Ali Bhutto after this debacle. Heavy drinker with perference for whiskey, and mistress named Akleem Akhtar (aka General Rani).

Iskander Mirza

(1898 - 1969)

First President of Pakistan (1956 - 1958), and the first of Bengali origin. Last Governor-General of Pakistan (1955 - 1956). A paternal great-grandson of infamous Mir Jafar, who colluded with British to overthrow Siraj-ud-Daulah during Battle of Plassey. Educated at world famous Royal Military Academy at Sandhurst, UK, becoming the first Indian graduate of the academy. Commissioned into the British Indian Army (1920). Defense Secretary during 1947 war with India. Promoted to Major-General (1954). Appointed Governor of East Pakistan (1954), and Governor-General of Pakistan (1955). Outspoken supporter of "One Unit Programmme" - a programme of integrating the provinces of West-Pakistan into one single province. Often criticised for introducing military martial law. Multiple award winner including India General Service Medal (1909), King George VI Coronation Medal (1937), Companion of the Order of the Indian Empire (CIE, 1945), Pakistan Independence Medal (1948), Queen Elizabeth II Coronation Medal (1953), Grand Collar of the Order of Pahlavi of the Empire of Iran (1956), Order of the Supreme Sun, 1st Class of the Kingdom of Afghanistan (1958). Exiled to London, UK, after General Ayub came into power (1958). Struggled financially and helped by Pakistani expatriates. Died of a heart-attack in London on 12 November 1969, a day before his 70th birthday. Denied burial in Pakistan by then President Yahya Khan, and buried in Tehran, Iran, where Shah of Iran gave him a state funeral out of respect.
A decade-and-half equality with the less populated West Pakistan under 'One Unit' scheme
On 14 October 1955 the four provinces of West Pakistan (Punjab, Sindh, Balochistan, and North-West Frontier Province or NWFP) was merged into one single province and Lahore was made the provincial capital. This was carried out to create political equality or parity between the two wings of Pakistan. The principle of parity (or principle of "50-50" as it came to be called) was the foundation on which the 1956 and 1962 constitutions had been erected.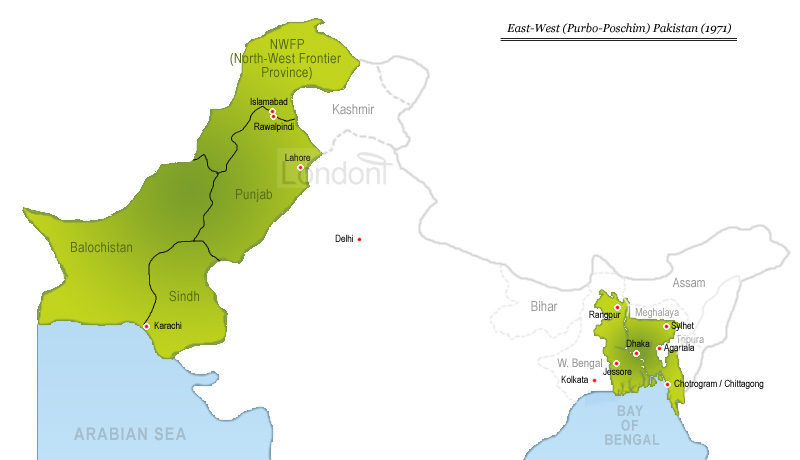 Resistance to the One Unit Scheme grew during the 1960s' anti-Ayub movement. The 1965 war with India contributed to domestic unrest, as did Ayub's ill health and treatment of East Pakistan – which, he remarked, was militarily expendable.
On 26 March 1969, the army commander, General Yahya Khan, removed Ayub, imposed marital law, and dissolved the national and provincial assemblies. One Unit continued until General Yahya Khan, now President, dissolved it on 1 July 1970, a decade-and-a-half after it was introduced. Pakistan's western provinces regained their autonomy once again, and President Yahya adopted proportional representation for the upcoming general election. Under the one-man-one-vote system, East Pakistan, with a population of 75 million, got a larger representation in parliament (known as the National Assembly) than West Pakistan, which had 58 million people. This excited the East Pakistanis as they had hoped this would lead to a constitution which gave greater autonomy to the deprived province. The break up of One Unit scheme also made it possible for any disgruntled units to form a coalition with the eastern wing and dominate the central government.
The tragedy of 1971 could have created awareness among the people of Pakistan that they cannot be misled by the bureaucratic-military elite in the name of national security. Yet things have not changed if we analyse the role of power in Pakistan. Power is still held by the establishment with the collaboration of economic, political and religious groups, and yet nothing is done to break the vicious cycle of elitism and improve the socio-economic conditions of the people...East Pakistan separated from the western wing not because they were unpatriotic but on account of their rejection of a centralised administrative system governed by the bureaucracy and the military from a minority province. In the last 25 years we have been unable to discount the undue and unnecessary influence of these two instruments of power from our society.

Dr Moonis Ahmar, Professor of International Relations, University of Karachi
Identity crisis
Since its inception as Pakistan's eastern wing in 1947, Bangladesh has been suffering from an identity crisis , perhaps not unusual for a new state emerging from a colonial past. In search of an identity of its own, it has been oscillating between Islam and Bengali culture.
Islamic nationalism actually had its ferment in East Bengal. It was here in Dhaka in 1906, that the first meeting of the All India Muslim League was held.

Ravi Shekhar Narain Singh, author of "Asian Strategic And Military Perspective" (2005)
This identity crisis only deepened during the Bengali Language Movement, which became the first major public demand for a new nation.
The Basha Andolan of 1948 - 1952, which resulted in the sacrifice of lives for the "marti basha" (mother tongue), was an occasion of disillusionment for East Pakistani Bengalis. It brought them to the realisation that the end of British colonial rule did not put an end to their subordination and exploitation - they were now under 'Pakistani colonial rule'. Linguistic discrimination was accompanied by economic and political exploitation. This exploitative rule led East Pakistanis to search for a separate national and political identity, and translated into explicit political aspiration in the 1960s, when two distinct visions emerged of what a future imagined as "independence" meant in contemporary political practice.
One vision, outlined by Sheikh Mujib's Six Point Movement (1966), resembled that of the Muslim League before 1941 and sought political autonomy and self-rule for East Pakistan, inside Pakistan. Here, the emphasis was to create a 'free' East Pakistan from domination by West Pakistan.
Another vision emerged outside constitutional politics, and found a voice amongst the students. It resembled the vision of radicals in India who demanded freedom from British India as early as 1905. It also resembled the vision of the Muslim League after 1941, when calls for independence invoked the "two-nation theory". In this vision of independence, which gained momentum and peaked during the 1970's election, a completely new country was sought and finally came into being in East Pakistan.
After 1947, in the context of Pakistan, an old independent spirit took new forms, inside entirely new political boundaries and institutions. A new national identity emerged in East Pakistan.

...These two political visions of independence - federation and sovereignty - had separate origins and thrived in different circles. Yet they informed one another and always overlapped in the context of Pakistan, as they had in the context of British India.

In 1952, students led the Language Movement and established a popular base for Bengali politics outside constitutionalism. In 1954, voters again voiced their independent spirit by supporting the United Front, which demolished the Muslim League in East Bengal elections and framed a 21-point blueprint for regional autonomy. When the new 1956 Pakistan Constitution rejected the idea of autonomy, Awami League president Abdul Hamid Khan Bhashani said that if East Pakistan's grievances were not addressed adequately, Pakistan would become untenable for Bengalis. In 1962, after four years of military rule, following Ayub Khan's 1958 coup, a clandestine group of students, called the Bengal Liberation Force, was formed to develop the idea of a Bengali national revolution. Thus by 1962, the two visions of independence had taken political form and overlapped to some extent.

David Ludden, Professor of History, University of Pennsylvania