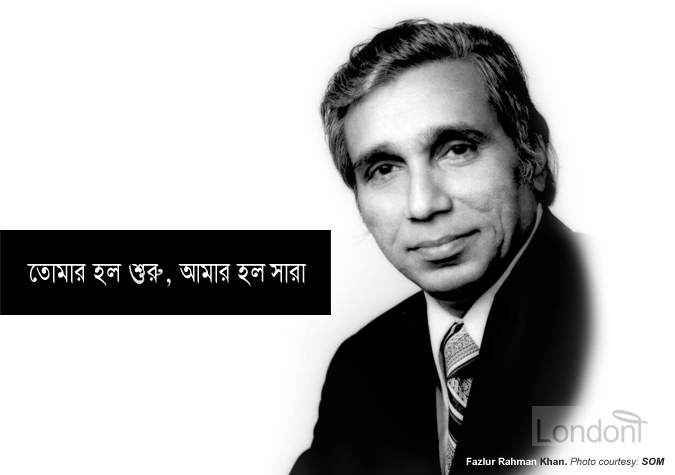 Fazlur Rahman (F. R.) Khan
Born:

3 April 1929, Dhaka

Died:

27 March 1982, Jeddah, Saudi Arabia (aged 52)

Profession:

Bangladeshi-American Engineer

Recognition:

"Einstein of structural engineering" and "Father of tubular design for high-rises"
Hasani? Didn't know that! Passionate Rabindranath Tagore singer. Graduated with 1st class 1st degree for Engineering from Ahsanullah College (now BUET) in 1951

Designs include:

Sears Tower (aka Willis Tower),
John Hancock Center,
Hajj Terminal, King Abdulaziz Airport (Jeddah).
His techniques influenced World Trade Center, Petronas Towers, Jin Mao Building, and most other supertall skyscrapers since the 1960s.
Biography
Legacy
Timeline of few major events in Fazlur Rahman (F. R.) Khan's life
1951 - Graduate in Civil Engineering from Ahsanullah Engineering College, University of Dhaka (now BUET)
1952 - Awarded Fulbright Scholarship and travel to United States to study at University of Illinois, Urbana-Champaign
1955 - Gain two Master's degree (structural engineering and theoretical & applied mechanics) and a PhD (structural engineering)
1955 - Began professional career working as structural engineer for Skidmore, Owings, and Merrill (SOM) in Chicago
1959 - Marry Austrian emigrant Liselotte Anne Olga Turba
1960 - Daughter, and only child, Yasmin Sabina Khan born
1963 - Invented the patented tubular concept
1970 - General Partner at SOM
1971 - Supported Bangladesh Liberation War from US by finding and becoming president of two national organisations, Bangladesh Emergency Welfare Appeal and Bangladesh Defense League.
1972 - Founder president of 'Bangladesh Foundation'. Muhammad Yunus, later a Nobel Peace Prize Winner, selected as first Representative in Bangladesh
10 February 1972 - Engineering News-Record (ENR) awarded 42-year-old F.R. Khan with "Construction's Man of the Year"
1980 - Founder president of 'Bangladesh Association of Chicagoland' in Chicago
27 March 1982 - Pass away in Jeddah, Saudi Arabia with heart attack a week before his 53rd birthday, and a day after Bangladesh's 11th independance anniversary. Buried in Graceland Cemetery, Chicago on 2 April 1982
1983 - Posthumously awarded AIA (American Institute of Architects) Gold Medal for Distinguished Achievement, and Aga Khan Award for Architecture 'for the Structure of the Hajj Terminal, An Outstanding Contribution to Architecture for Muslims' among other awards
1999 - Engineering News-Record lists F. R. Khan as one of the world's top 20 structural engineers of the last 125 years
1999 - Awarded 'Swadhinata Purushkar' (Independence Day Award), country's highest state honour, by Government of Bangladesh. A commemorative postal stamp (4 taka) also published in his memory
May 2005 - Conferred title of most famous Bangladeshi-American of the 20th century by Bangladeshi-American Foundation, Inc. (BAFI)