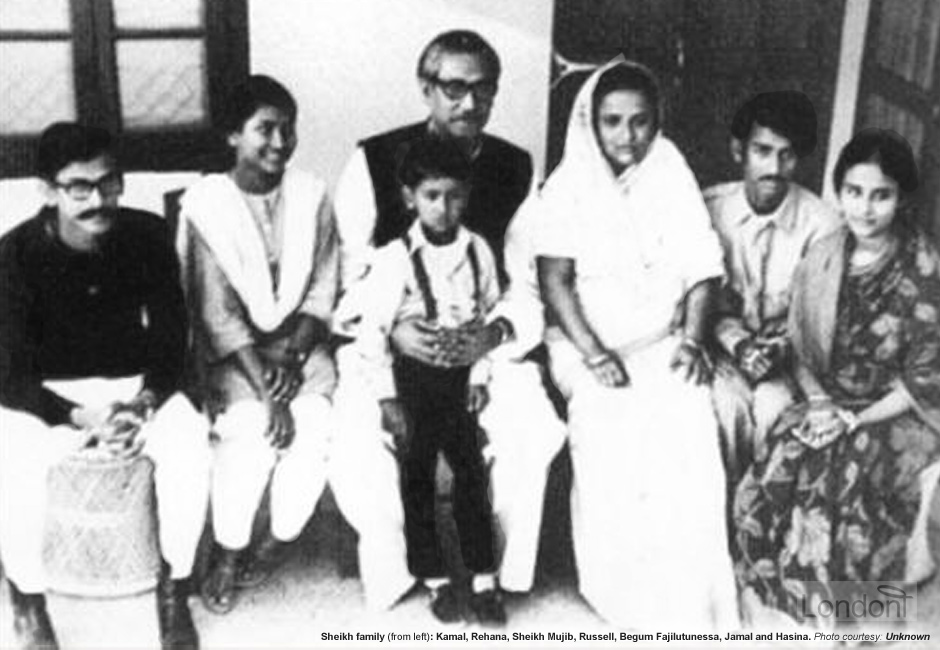 Assassination of Sheikh Mujibur Rahman (1975)
Following the independence of Bangladesh in 16 December 1971, Sheikh Mujibur Rahman returned to Bangladesh, via London and Delhi, with a pomp on 10 January 1972.
But this euphoria would not last long. Four years later, with the country still unable to recover from the destruction caused by Swadhinata Juddho (Independence War) and growing discontent over Sheikh Mujib's self-appointment as President and creation of one party movement, he was massacred at his home in Dhaka along with 21 members of his family and close associates. This killing spree took part in 15 August 1975 and was allegedly carried out by ex-Mujib army officials.
The char netas (four leaders) who worked closely with Sheikh Mujib and who set up the Mujibnagar government, the first government of independent Bangladesh, were captured and also killed in Dhaka Central Jail three months later in 3 November 1975.
History
1972
1974
1975
Aftermath
'Sipahi-Janata Biplob', killing of char netas (which includes Tajuddin Ahmad) at Dhaka Central Jail, Jatiyo Shok Dibosh & Jail Hoitta Dibosh - COMING SOON
Timeline of major events during assassination of Sheikh Mujibur Rahman in 1975
7 March 1972 - Jatiyo Rakkhi Bahini (National Defence Force), or JRB, created
January 1974 - Altercation of officers involving Major Shariful Haq 'Dalim' and Gazi Golam Mostafa. Later that year 22 young officers including Dalim, Major Nur Chowdhury and Captain Huda dismissed from army after 'a breach of indiscipline' at Comilla Cantonment
9 February 1974 - Jatiyo Sangsad (Bangladesh's parliament) passed the Special Powers Act (SPA), 1974
6 May 1974 - Jatiyo Rakkhi Bahini (Amendment) Act, 1974
May 1974 - General Osmani leaves ministerial post
July 1974 - 30 T-54s and 400 rounds of tank ammunition gifted by Egyptian President Anwar Sadat
11 October 1974 - Tajuddin Ahmad criticises government for incompetence
26 October 1974 - Tajuddin Ahmad resigns as Finance Minister upon Sheikh Mujib's request
December 1974 - Major Syed Farook Rahman and Major Khandaker Abdur Rashid hatch plan to kill Sheikh Mujib
January 1975 - General Osmani resigns from Jatiya Sangsad and leaves Awami League party
2 January - Former freedom fighter and anti-Mujib leftist party leader Siraj Sikder killed controversially by police
25 January - Sheikh Mujib amends Constitution and makes himself fourth president of Bangladesh
20 March - Deputy Chief of Army Staff General Ziaur Rahman declines Major Farook's plan but remains passive
30 March - Major Farook forced to abort plan of attack. Same day, Sheikh Mujib's father passes away
2 April - Andha Hafiz (blind holy man) in Chittagong gives Farook guideline for action
7 June - Bangladesh Krishak Sramik Awami League (Bangladesh Farmers and Workers Awami League), or BAKSAL, formed as a 'Second Revolution'
3 July - Farook fixes 15 August 1975 as date of assassination
17 July - Sheikh Mujib's sons, Kamal and Jamal, get married on the same day at a lavish ceremony
2 August - First of series of meetings between Major Rashid and Khandaker Moshtaque Ahmed, the Commerce Minister
10 August - Wedding of Sheikh Mujib's niece brings the clan together in Dhaka. Elsewhere, commander of Rakkhi Bahini, Brigadier AMS Nuruzzaman, was on a visit to Europe and his Second-in-Command, a relatively junior officer who was acting independently for the first time, left in charge
12 August - Farook informs Rashid re 15th August date at Dhaka Golf Club while celebrating his third wedding anniversary
14 August - Rebel officers recruited for operation including Dalim and Nur. Andha Hafiz gives Farook's wife the green light. Elsewhere, Dhaka University prepares to give Sheikh Mujib a reception tomorrow
15 August - Day of assassination. Sheikh Mujib killed along with family members and Colonel (later Brigadier) Jamil Uddin Ahmed, Director of Military Intelligence, at early morning. Major Dalim announces Sheikh Mujib's killing over Radio Bangladesh and declares Khandaker Moshtaque Ahmed as President, who is later sworn into office. New cabinet includes former Mujib loyalists. Pakistan becomes first country to recognise the new regime
25 August - Military restructuring sees Colonel Osmani as Defence Adviser and Lieutenant General Zia as Chief of the Army Staff (COAS)
1 September - BAKSAL abolished
26 September - 'Indemnity Ordinance 1975' granted immunity from prosecution to those involved in the 15 August killings
3 October - President Khandaker declares Farook and Rashid as "surya shontan" (the sons of the sun) of the armed forces during a radio broadcast
5 October - JRB members abosrbed into Bangladesh Army