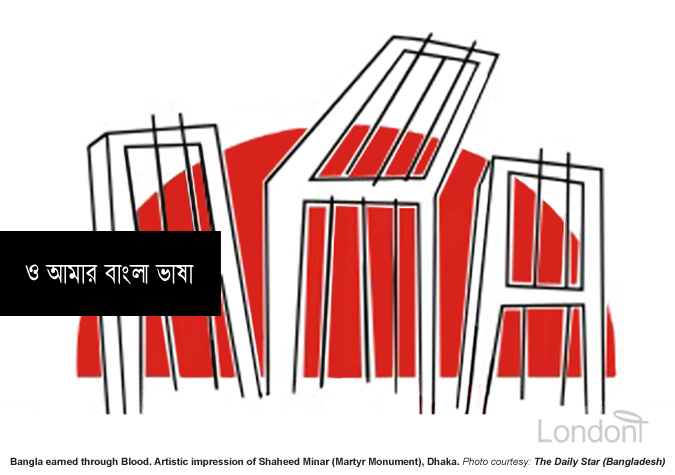 Bhasha Andolon (1947 - 1952)
The question as to what would be the state language of Pakistan was raised immediately after its creation. Muslim scholars and leaders logically believed that Urdu, only spoken by 7%, should be the lingua franca because it had gained a reputation as the cultural symbol of subcontinental Muslims. However, eastern Pakistanis regarded Urdu as the language of the elite, not the language of the people in the eastern province - who made up 56% of Pakistan's population - where Bangla was the mother tongue.
After Pakistan's "founding father" Muhammad Ali Jinnah and, later, fellow Bengali Khwaja Nazimuddin declared Urdu as the official state language, protest erupted throughout the eastern wing. On 21 February 1952 (8 Falgun 1359 in Bangla calendar) students protest led to killing of ordinary citizen by the police. More people were killed the next day. In Bangladesh 21st February - 'Ekushey February' in Bangla - is observed as 'Shaheed Dibosh' (Martyr's Day) whilst the United Nations declared it officially as "International Mother Language Day". The Shaheed Minar (Martyr's Column) in Dhaka, and other replicas around the world, was constructed as tribute to those who lost their lives to protect Bangla.
However, the language movement was more than a fight to preserve a rich language dating back over 1,000 years. It was a fight for social and economic justice. A fight to maintain one's own identity at a time when official measures were taken to crush it. A fight taken up by ordinary people, who just wanted to live. A fight taken up by women and children so future generation can say "moder gorob, moder aasha, a'mori Bangla bhasha". For Bengali speaking people worldwide, the language itself is a big part of their history... the very birth of today's Bangladesh is intimately linked with the Bengali language or Bangla.
Today, Bangla is the 6th most spoken language in the world.
History
Pre-1947
1947
Dr. Muhammad Shahidullah & others advocate Bangla and question suitability of Urdu, Tamaddun Majlish
1948
1949
1950 - 51
1952
Aftermath
Timeline of major events during Bhasha Andolon of 1947-52
(June 1936 - 14-Point Manifesto by Central Parliamentary Board of Pakistan for "protection and promotion of Urdu")
(3 October 1937 - "Urdu should be language of Bengali Muslims" advocated at Lucknow Session of Muslim League)
17 May 1947 - Muslim League leaders announce in Hyderabad, India, that Urdu will become state language for the still to be formed Pakistan
14 July 1947 - Dr. Ziauddin Ahmed says Pakistan should adopt Urdu
29 July 1947 - Bengali Dr. Muhammad Shahidullah defends Bangla
July 1947 - Gono Azadi League (GAL) formed by Kamruddin Ahmed
1 September 1947 - Tamaddun Majlish formed under Professor Abdul Kashem's leadership
6-7 September 1947 - Gonotantric Jubo League (Democratic Youth League or DYL) held conference to resist Urdu
15 September 1947 - Tamaddun publish pamphlet "Pakistaner Rashtro Bhasha Bangla na Urdu?"
27 November 1947 - Fazlur Rahman Khan, Bengali Minister of Education, held Education Conference in Karachi, Pakistan, where Bangla is dropped
6 December 1947 - Dhaka University's teachers & students demand Bangla as an official language
December 1947 - First "Rastrobhasha Sangram Parishad" (State Language Movement Committee) formed by Tamaddun's Professor Nurul Huq Bhuiyan
25 February 1948 - Dhirendranath Datta request Bangla as an official language in Constituent Assembly of Pakistan held in Karachi. Liaquat Ali Khan, Khwaja Nazimuddin & others object
26 February 1948 - Student in Dhaka protest
11 March 1948 - Shamsul Huq forms committee to led student hartal (demonstration) in order to conduct the Language Movement in a systematic way an all party organization named "Rastro Bhasha Sangram Parishad" was formed
March 1948 - Chief Minister Khwaja Nazimuddin signs 7-Point agreement with 'Parishad'
21 Mar 1948 - Md. Ali Jinnah, father of the nation and Governor General of Pakistan, declares "Urdu and only Urdu" as national language of Pakistan in Ramna Racecourse (Suhrawardy Udyan), Dhaka, East Pakistan
24 March 1948 - Jinnah reiterates point in Curzon Hall campus of DU. Bangla students protest by crying out collectively "no, no" in loud voice
11 September 1948 - Jinnah dies. Nazimuddin becomes new Governor-General of Pakistan
8 November 1948 - Nazimuddin delivers watered down version of Bangla policy in the East Bengal Legislative Assembly
27 November 1948 - Golam Azam presents 'Historic Memorandum' to PM Liaquat Ali Khan demanding Bangla as state language
7 February 1949 - Central Pakistan education advisory board recommends Arabization of Bangla after receiving recommendation from Fazlur Rahman
23 June 1949 - Awami Muslim League formed by Maulana Bhashani
6 December 1950 - East Bengal Language Committee, presided by Maulana Akram Khan, recommends Arabization of Bangla
1950 - PM Liaquat Ali Khan declares "Only Urdu will be the national language of Pakistan"
16 October 1951 - Liaquat Ali Khan assassinated in Rawalpindi. Nazimuddin becomes new Prime Minister and Ghulam Muhammad, a public servant, becomes Governor-General
26 January 1952 - Nazimuddin declares "only Urdu" as state language in Paltan Maidan, Dhaka. This enrages people in East Pakistan
31 January 1952 - Kazi Golam Mahboob convenes "Shorbodolio Kendrio Rashtrobhasha Kormi Porishod" (All-Party Central Language Action Committee) with 40 various members. Maulana Bhashani selected as chairman
4 February 1952 - Abdul Matin forms "Dhaka University's State Language Committee" in language protest. Shorbodolio Kendrio Rashtrobhasha Kormi Porishod decide to declare February 21 as the day for strikes throughout the province terming the day as "Bhasha Dibosh" (Language Day). Gaziul Haq and Abdul Matin led student procession
19 February 1952 - Zillur Rahman leads student protest in Amtala of DU
20 February 1952 - Section 144, banning all processions and meetings for 30 days, imposed by District Magistrate of Dhaka on behalf of Pakistan Government
Ekushey (21) February 1952 - Peaceful student, and later public, protest leads to killing by armed police. Amongst the dead is a 9 year old boy. They become the first shaheeds (martyrs) of Bangladesh. Chief Minister Nurul Amin ignores plea by Maulana Tarkabagish and others. Curfew announced by government
22 February 1952 - Gayebana Janaza held for Ekushey shaheeds, but more people killed by police again. First Shaheed Minar created in Dhaka
23 February 1952 - Tamaddun criticises government. Government orders crackdown of student leaders and prominent figures
(17 April 1953 - Ghulam Muhammad dismisses PM Nazimuddin and appoints Bengali Muhammad Ali Bogra, Ambassador to USA, as new PM)
(21 October 1955 - Awami Muslim League renamed to 'Awami League')